Need a New Hampshire Hunting License? DoNotPay Can Help You Get One Easily and Quickly!
In the woods of New Hampshire, you will find many types of animals. Hunting is a popular hobby in the area, and each year, you want to head out in the woods for some sport or to stock your freezer with fresh meat.
Before you can slip on your boots, you need a New Hampshire hunting license. You can try to get a hunting license on your own, but you might find yourself frustrated without one. DoNotPay can help you reach your goal.
Who Is Eligible to Get a New Hampshire Hunting License? 
The state of New Hampshire doesn't require minors under the age of 16 to get a hunting license. Everyone else needs to be aged 16 or older to get a New Hampshire hunting license. You also need to complete a hunter's safety course and present a New Hampshire driver's license or state ID.
Hunting in New Hampshire
In New Hampshire, hunting is diverse. You can hunt in the woods or along lakes and the seashore in some areas. There are licenses to go clamming in the shallow water. Some of the most commonly hunted animals in New Hampshire include deer, turkeys, pheasants, bears, waterfowl, and more.
What Are the Different Types of Hunting Licenses in New Hampshire?
In New Hampshire, there are a few types of hunting licenses to choose from. Depending on your qualifications, here are some of the well-known ones:
New Hampshire Resident - This license is for anyone aged 16 to 67 who is a resident of New Hampshire.
Non-Resident - If you live in another state and want to hunt in New Hampshire, this is the right choice.
Senior - If you're 68 years old and older but born in 1948 or later, you qualify for the senior hunting license.
Permanent Special Resident Milestone License - If you were born in 1947 or earlier, you qualify for this free hunting license, but it's only for New Hampshire residents.
Lifetime - If you plan to live and hunt for many years in New Hampshire, you can purchase this license. It's also marketed as a wonderful baby gift.
Hunting License Costs in New Hampshire
The cost of a New Hampshire hunting license ranges from free to $113. In addition to the cost of the license, there's a transaction fee, tag fees, and a habitat fee. Here are a few common hunting license costs:
| | |
| --- | --- |
| Type of License | Cost |
| Resident | $32.00 |
| Non-Resident | $113.00 |
| Senior | $7.00 |
Lifetime license varies and you need to contact the New Hampshire Fishing and Game Department directly for more information.
How to Get a New Hampshire Hunting License on Your Own
Depending on which is more convenient for you, there are three ways to buy your New Hampshire hunting license:
Online
From Walmart
Through the mail
It's important to note that you can only secure a hunting license online or at Walmart if you've already held a hunting license in New Hampshire. When it's your first time getting a hunting license, you'll need to print the application and send in proof of your hunter's education course.
Solve the Challenges of Getting a New Hampshire Hunting License With the Help of DoNotPay
Before you can head out into the woods for a day of hunting, you need a New Hampshire hunting license. While you can legally hunt, it can be a pain and take a lot of time you can't spare to get one. DoNotPay should be your first choice to help you get the hunting license you need.
Here's how you can use DoNotPay to get your hunting license:
1. Search "hunting license" on DoNotPay and select the state you would like a hunting license for.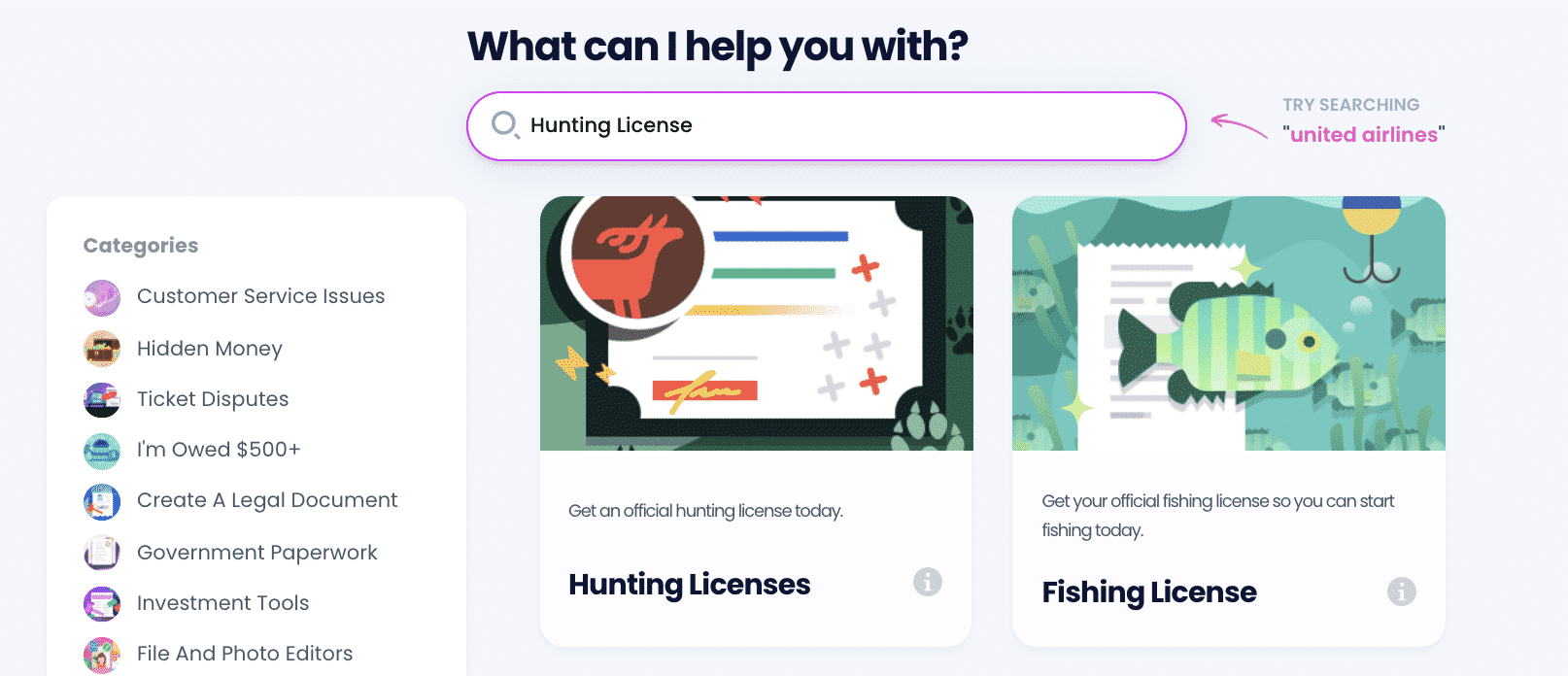 2. Indicate whether you are a resident or non-resident, and choose the type of license you want. For example, an annual or one-time pass, big game or small game license, bear tag, etc.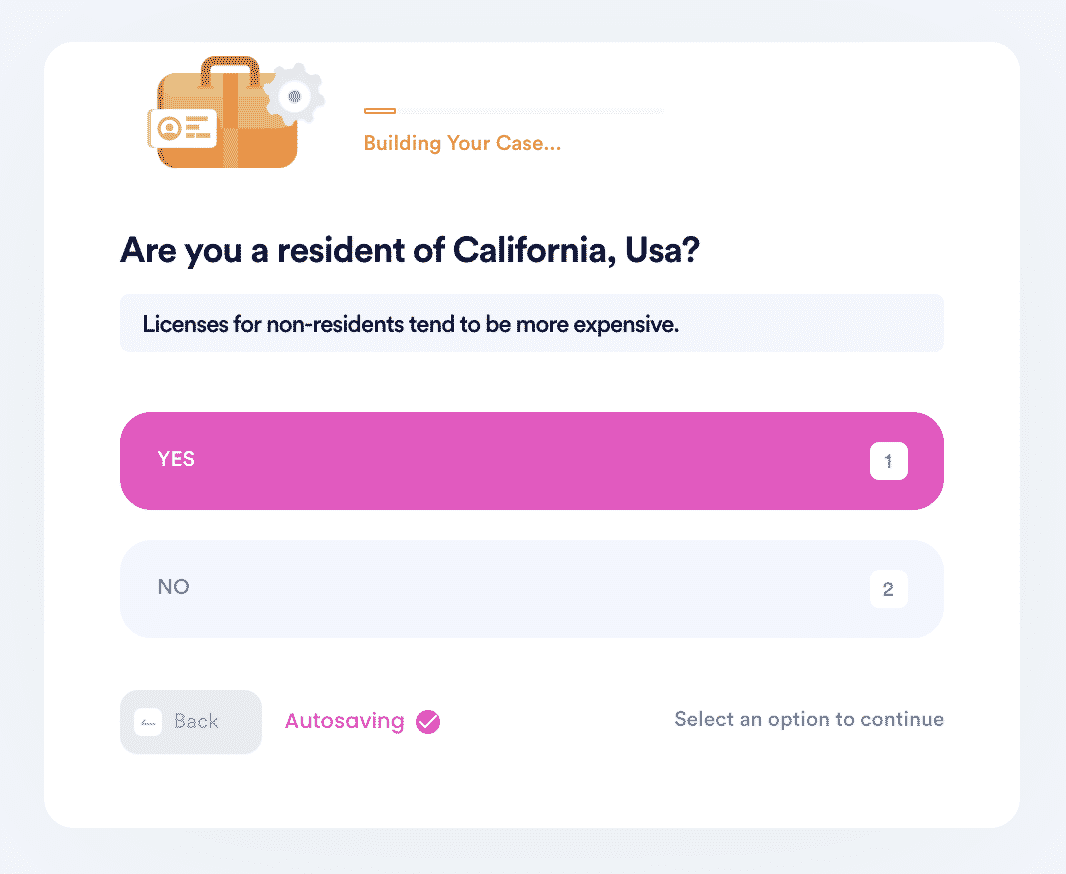 3. Provide your contact information, a copy of your government-issued ID, and pay the fee required by the state.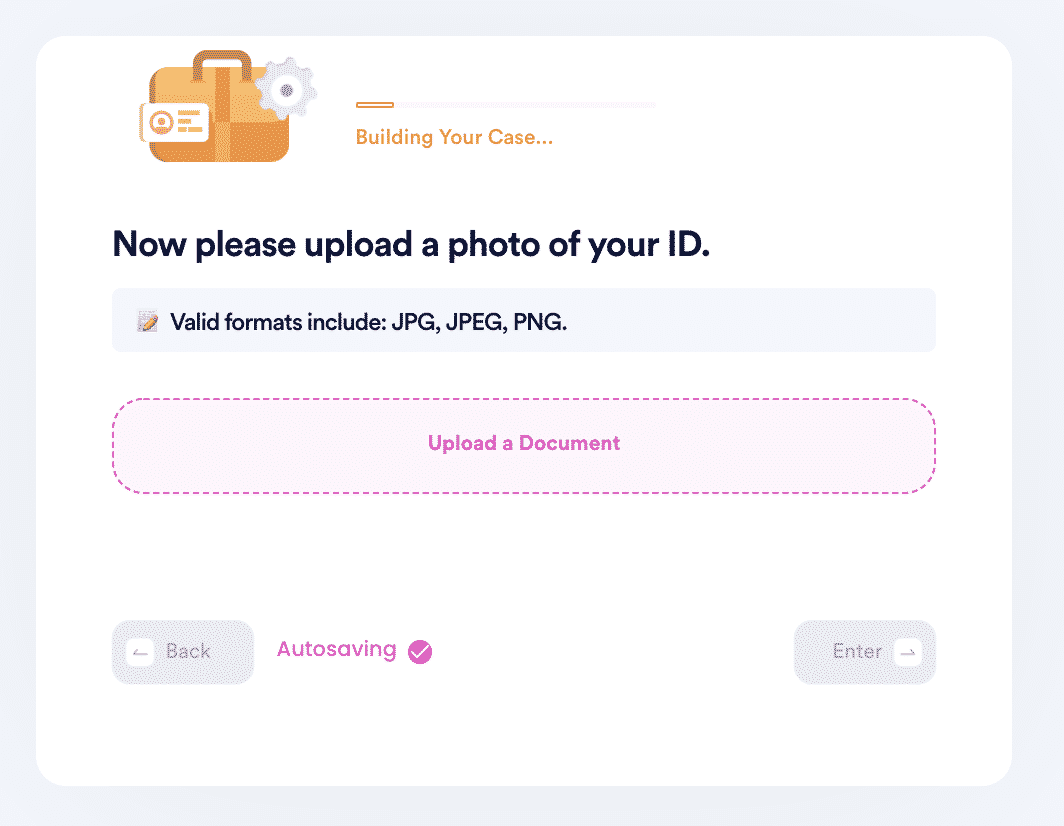 And that's it! DoNotPay will get the hunting license on your behalf, which will be valid immediately. Just download the file and print it as a temporary license, while a physical copy gets processed and sent to you by mail.
Here's the Notion link if you want to learn more about DoNotPay's Product for this problem: https://www.notion.so/donotpay/Hunting-Licenses-a9776479275d4ae8be8bda63a984fa8f
​​Why Use DoNotPay to Solve the Challenges of Getting a New Hampshire Hunting License
If you need a New Hampshire hunting license, you want to use DoNotPay to ensure a smooth process. Here are some reasons to use the DoNotPay app:
DoNotPay is fast! The availability of a New Hampshire hunting license from Walmart or by mail, may change from time to time. The process can be confusing and exasperating especially if you are racing against time. DoNotPay ensures you can sit back and relax as we process your hunting license for you quickly
The app makes everything easy. We eliminate redundant steps and paperworks so you avoid unnecessary trouble.
DoNotPay is successful. Out of all available platforms that you can use, we guarantee results 100%. No need to brace yourself and hope for the best, with DoNotPay you can count on getting what you asked for and more.
DoNotPay Works Across All Companies/Entities/Groups With the Click of a Button
When you've ordered your New Hampshire hunting license, you might have other questions about hunting. In some cases, your friends might see you as the expert since you were able to secure a hunting license so quickly. DoNotPay offers advice and help on my hunting license topics, including:
What Else Can DoNotPay Do?
With your New Hampshire hunting license in hand, it's time to learn about some other things you can do with DoNotPay. Here are a few:
Order your New Hampshire hunting license with DoNotPay today!