How To Get a New Zealand Tourist Visa With Minimal Effort
From breathtaking scenery to excellent food, wine, and overall hospitality of 'Kiwis,' New Zealand has everything it takes to be a dream destination.
Do you need a New Zealand tourist visa if you are going there for vacation? Bureaucracy is the least exciting part of travel preparations due to various requirements and necessary steps you should take. What documents should you submit, and what are some recommendations for staying in the Land of the Long White Cloud? This article contains all the info you should have and helps you go through the application process smoothly.
Do U.S. Citizens Need a Tourist Visa for New Zealand?
The answer is no because the United States has been on the New Zealand Immigration's visa waiver country list since 2019. Instead of a visitor visa, U.S. citizens are required to obtain a New Zealand Electronic Travel Authority (NZeTA or New Zealand eTA) to visit the country.
How Does an NZeTA Work?
As a U.S. traveler with the NZeTa, you are allowed to enter the country regardless of the purposes that, besides regular tourism, may include:
Visits to friends or family
Business trips, including conferences, seminars, or meetings
Entering the country as a member of an airline or cruise ship crew
Traveling to another destination by transiting through New Zealand
The document is digitally connected to your passport and remains valid for two years after the issuance date. During this period, you can visit New Zealand multiple times, but you can't stay for more than 90 days at a time.
NZeTA Requirements and Application Process
Before filing an NZeTA application, you must prepare the following:
U.S. passport that has been valid for at least 60 days
Recently-taken passport-style photo
Valid payment method for the process fees, such as:

Credit card
Debit card
Waiver fee
Tourism fee

Valid email address to which your permission will be sent
Proof of sufficient funds—usually around 1,000 NZD for each month you are planning to spend in the country
35 NZD to pay for International Visitor Conservation and Tourism Levy (IVL)
There are two ways to apply for NZeTA:
By completing an online form—You must enter personal and contact info, submit the required passport details, and respond to a couple of questions regarding your criminal convictions. If you are traveling to New Zealand to seek medical care, this should be stated in your application as well
Via the free NZeTA app that can scan your passport and credit/debit card quickly
Request expenses may vary depending on the application method. You must pay 12 NZD for online request completion or 9 NZD for the app request.
What Is the Processing Time for the NZeTA?
The processing time frame may vary from ten minutes to 72 hours.
How Did COVID-19 Influence the New Zealand NZeTA Policy?
Due to the pandemic, each person above the age of two must have a negative COVID-19 test not older than 72 hours. The accepted types of tests include the following:
TMA
PCR
RT-PCR
LAMP
NAAT
Antigen
Before boarding a flight to New Zealand, you must also show a voucher confirming your managed isolation allocation.
These rules are likely to change, which is why it's super important to check the New Zealand Immigration website and get the latest updates.
A Few Words on New Zealand Customs and Communication
Here are some quite significant but also interesting details you should know about staying in New Zealand:
You must be at least 18 to drink alcohol in this country
Smoking is usually banned in public places. Even when it's permitted, you should ask the people around you if they are bothered by this
'Kiwis' love hanging out and socializing. You will never get bored as they can always recommend a bunch of activities or places with great food or drinks
Even though they are sociable, New Zealanders don't like talking about themselves too much. Personal questions related to income, marriage, or having children are considered impolite
If you visit a New Zealander's home, make sure you:

Take off your shoes before you come in
Avoid sitting on tables or pillows
DoNotPay Can Make Your Visa Application Process a Breeze
Regardless of the country you are traveling to, getting a visa can be difficult due to the lack of information or outdated websites. If you want to avoid the hurdles and get a detailed guide on the steps you should take to go through the procedure effortlessly, DoNotPay is the way to go!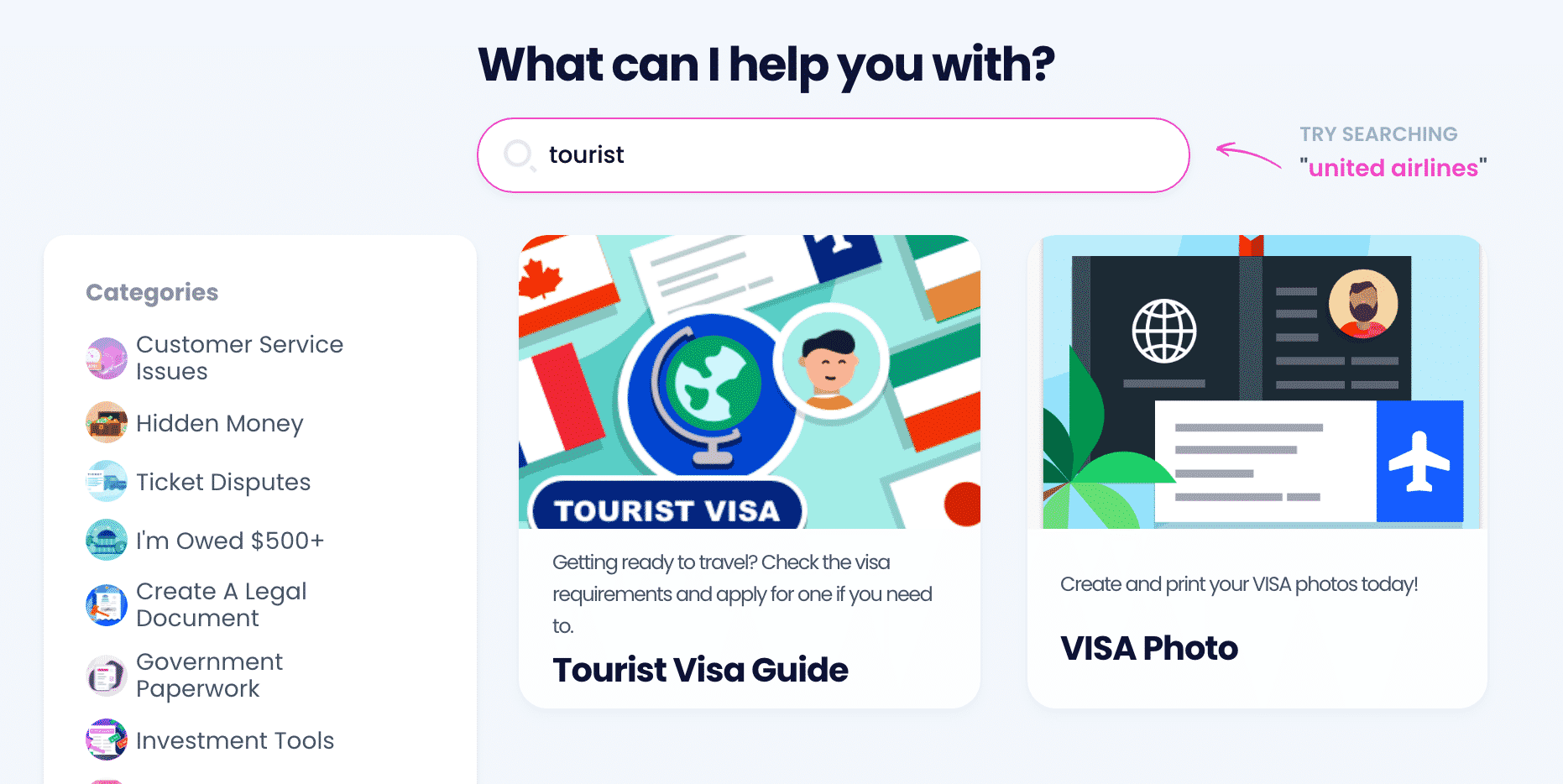 Don't waste your time cobbling the information for multiple websites—our app will:
Help you find out if you need a tourist visa for traveling to a particular place
Assist you in checking whether you have all the necessary application documents if you need a visa
Contact the embassy in your name to see if it accepts email applications
Give you a direct link to a suitable online application portal if available or provide you with a PDF application form
Here's how to get this done:
Search for the Tourist Visa Guide product
Tell us if you have a U.S. passport and choose the country where you want to travel

Isn't Oceania Lovely? Explore It Without Fuss Using DoNotPay
Have you decided to visit other countries in Oceania after a pleasant trip to New Zealand? Besides using DoNotPay for tackling your visa issues, you can read the rest of our guides on visa applications for:
Only the Sky Is the Limit for DoNotPay
DoNotPay has an insane number of features that keeps growing. Our platform can help you:
Say Goodbye to Spam Mail With DoNotPay
DoNotPay has designed a feature that will put a stop to the flood of junk and spam mail into your inbox! We can help you join a class action against a spammer or take any person or company that's wronged you to small claims court!
Need a virtual credit card number or a fake phone number to protect yourself from scammers? We've got you covered! We can help you fight text spam or even assist you in sending mail without any chance of error.
Our users' safety is our number one concern, so we've developed a feature that will protect you from cyber stalking or harassment!