A Step-by-Step Guide to New York Trademark Registration
Are you looking into New York trademark registration? If your brand operates in the state and is successful enough to attract competitors, it is a wise course of action.
Attaining a trademark is a critical step in any business' development. It is a relatively simple and inexpensive way to protect the brand consumers associate with your product.
Regardless of how direct the registration process may be, it will still demand some time—if you want to skip the tedious paperwork, you can for you.
What You Should Know About New York Trademarks
New York state law defines a trademark as any word, name, symbol, device, or their combination used by a person or another entity to identify and distinguish the goods of such a person (unique products included) from those produced and sold by others and to indicate the source of the goods, even if it is unknown.
In addition to those detailed above, the brand components included in this definition are:
Service marks protect service providers as opposed to trademarks, which cover goods. Trademarks and service marks are categorized into 45 distinct classes. Copyright protects creative works and recordings.
You are not required by law to register a trademark. It is a voluntary business practice that provides legal powers to organizations like yours. These legal distinctions allow you to protect the value you have built for your brand. Once registered, a trademark is valid for ten years and can be renewed every five years if still in use.
What Is the Difference Between New York State and Federal Trademarks?
The breadth of protection available is the key difference between state and federal trademarks. A New York trademark only protects your brand against infringement within the state, whereas a federal trademark applies nationwide.
Registering your trademark at the state level in New York makes it open to public scrutiny, helping to confirm it does not conflict with another mark already in use.
If you want to register your trademark at the federal level, you have to do so with the United States Patent and Trademark Office (USPTO) and consult their database to ensure your brand does not infringe on another on file.
How To Establish a New York Trademark
Establishing your New York trademark is relatively simple. You only need to start using the trademark in association with your goods or services.
By branding your product, marketing your company, and getting your name out there, you establish your trademark use. However, this does not officially register your trademark.
How To Register a Trademark in NY
Formally registering your trademark in New York is a matter of applying with the New York State Department of State. Follow these steps to do so:
Navigate to the Department of State website
Open a new application
Fill in the requisite information
Provide three specimens of your mark
Submit your application
How To Register a Trademark at the Federal Level
To trademark your brand at a federal level, follow these steps:
Go to the Trademark Electronic Application System (TEAS)
Log into or create an account for TEAS
Open an application for your specific trademark class
Provide the requisite information about your brand
Submit the application
How Much Do Trademarks Cost?
Both state- and federal-level trademarks involve the following two expenses:
Filing fees
Legal expertise
The New York State Department of State and the USPTO demand a nonrefundable filing fee for each trademark class you apply to:
| Application Type | Fee |
| --- | --- |
| New York State | $50/class |
| Federal—TEAS Plus | $250/class |
| Federal—TEAS Standard | $350/class |
TEAS Plus is for new businesses that fit a set description listed in the Trademark ID manual. TEAS Standard is available for brands seeking a custom definition.
In addition to the filing fee, you will likely need to hire a trademark lawyer since the process is sensitive.
Can You File a New York State Trademark Registration Without a Lawyer?
Yes—it is possible to apply for a trademark independently, but we do not recommend it. The application process (especially at the federal level) is time-consuming and error-prone. Any mistake could result in a failed application and a waste of money spent on filing fees.
New York State commonly denies trademark applications because of the:
Lack of necessary information
Errors in information and/or mandatory fees
Infringement on an identical or similar mark on file
The USPTO has a formal process in place for addressing application errors. They may issue an Office Action regarding two potential issues with your application:
Objection on substantive grounds—Your mark may too closely resemble a previously registered brand
Technical matters—Your application lacks the necessary information
Once the Office Action is resolved, the process will continue. If you do not resolve the issue in good time, the application will be denied.
That is why businesses often hire legal assistance for their trademark application, which is expensive because a lawyer can cost more than $300/hour.
DoNotPay Makes Federal Trademark Registration Easy and Inexpensive
Do not let the prospect of a trademark lawyer's billable hours keep you from protecting your brand—you can hire DoNotPay. Our AI-powered robot lawyer will handle the entire process at a fraction of the price.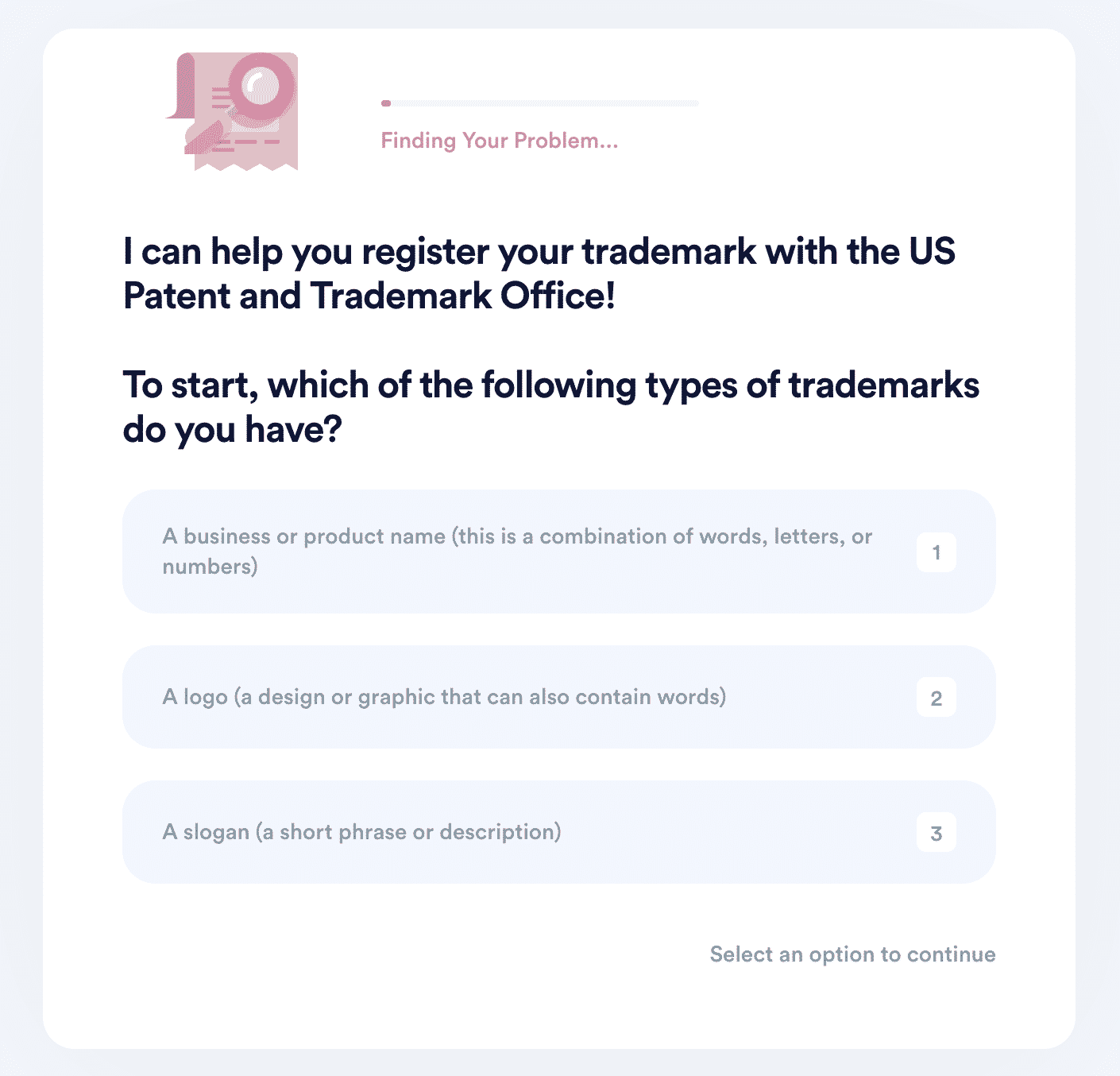 Here is what we can do for you:
Gather necessary information for the application
Ensure you review and sign all documentation
Follow these steps to :
Log in to your account
Select the Trademark Registration tool
Answer a few critical questions about your brand
Upload an example of your mark
You can leave the rest to DoNotPay. We will provide you with a tracking number for your application and ensure those reviewing your application have your contact info.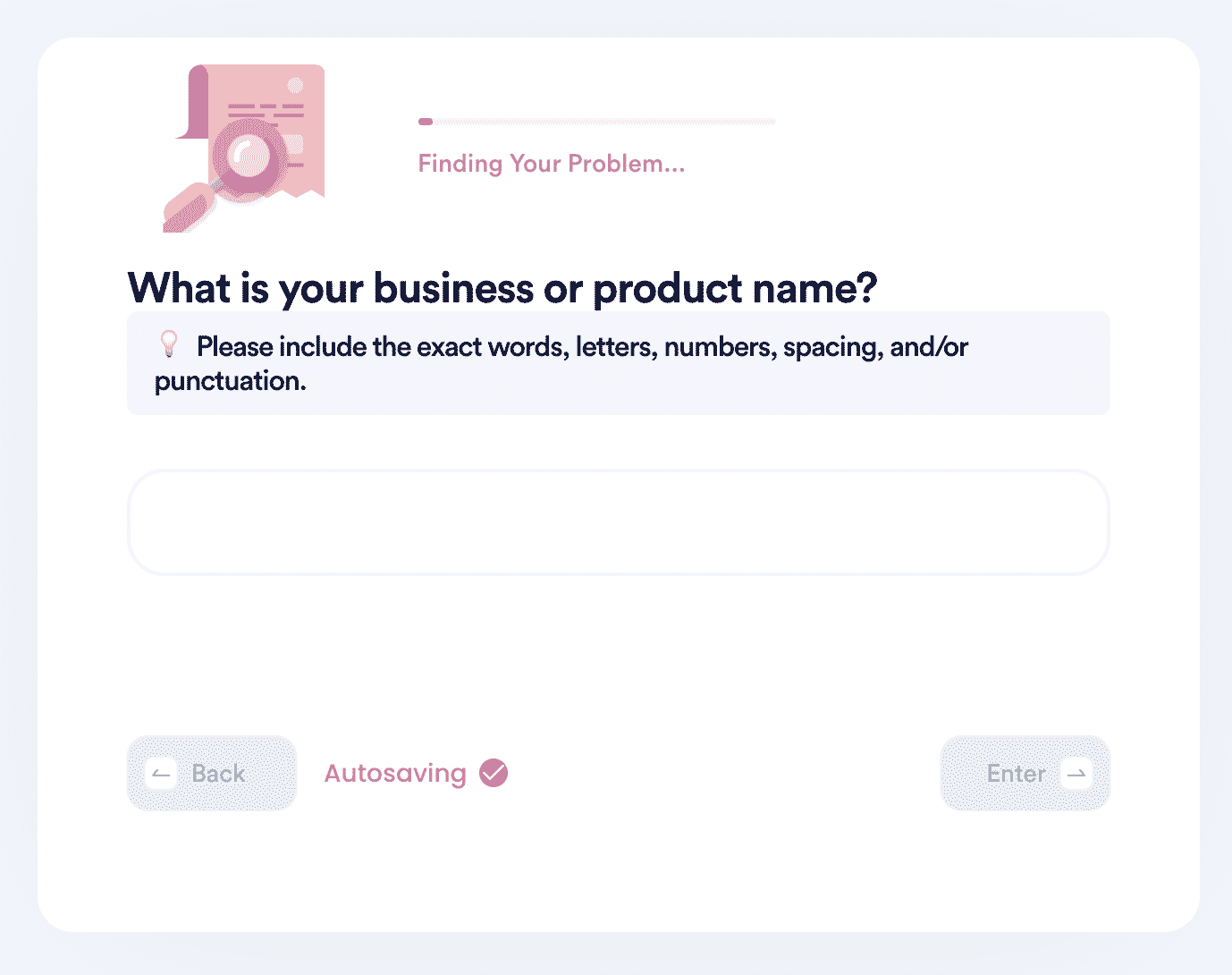 DoNotPay Has Everything You Need for Your Small Business
Navigating numerous business procedures can be overwhelming, especially if you don't have much experience. DoNotPay strives to make the situation easier for business owners, which is why we offer a number of simple-to-use products that can help you take care of various processes, including DMCA agent and Employer Identification Number registration, Privacy Shield program self-certification, and trademark registration and protection.
If you are not sure how to manage the filing of 83(b) election forms, DoNotPay has a solution that will automate the entire process and help you save time. Our app can even generate a convincing small business loan request letter for you. Don't feel like walking or driving to the post office to send the letter? Use DoNotPay to fax or mail any document in a matter of clicks!
DoNotPay Helps You Deal With Bad Clients
If you need help handling unpleasant situations with your clients, you can rely on DoNotPay. We have created various products to assist you in:
Making sure your business is free of negative, illegitimate online reviews—DoNotPay will analyze the review in question, estimate the best reason for reporting it, and report the review until it is deleted
Dealing with clients who breach the contract and refuse to pay—We will generate and send a demand letter requesting what's rightfully yours
Fighting unjustified chargebacks—Our app will create a personalized chargeback rebuttal document to help you keep your revenue
Resolve various business issues without wasting time or money—DoNotPay has got your back!