The Deadline for Filing—New York Statute of Limitations for a Breach of Contract
Have you reconsidered your decision not to pursue a breach of contract case? If you would like to make the other party fulfill the contractual terms after a few years, you need to check the New York statute of limitations for a breach of contract first.
Before determining the time limit for filing a lawsuit, you should check out other options to compensate for losses you have suffered because of the breach.
Breach of Contract Statute of Limitations in New York
You need to file a lawsuit for a breach of contract before the statute of limitations expires.
The New York statute of limitations for a breach of contract is six years. It means that if you do not initiate legal proceedings within this filing deadline, a court will not accept your claim.
Keep in mind that the statute of limitations starts from the date of the breach (when the offense was committed), not from the date you discovered it.
It means that the six-year time limit is counted from the moment when either:
A payment was due, or
The debtor, i.e., the breaching party, made the most recent payment
Is There a Way To Get Around the Statute of Limitations for a Breach of Contract in New York?
There is usually no way to get around the statute of limitations, i.e.:
You have to file a lawsuit at court within six years of the breach of contract in New York
There is almost nothing even an experienced lawyer can do for you if this legal deadline has passed
Keep in mind that some exceptions could extend or toll the statute of limitations, e.g., the COVID-19 pandemic. In this case, executive orders need to be issued.
The Elements of a Breach of Contract in New York
If you have determined that the statute of limitations for a breach of contract in New York has not expired yet, you need to make sure you meet other requirements as well.
You should start by confirming the following breach of contract elements:
Elements of a Breach of Contract
Details
Formation of the contract
To prove that a valid contract exists, you should show it consists of:

An offer
An acceptance of the offer
Consideration, i.e., both parties benefit from the agreement in some way

Plaintiff's performance
You—i.e., the plaintiff—must prove that you have performed your contractual obligations
Defendant's failure to perform
You should provide evidence that the breaching party—i.e., the defendant—has failed or refused to fulfill the terms of the contract
Resulting damage
When filing a lawsuit, you need to specify what damage you or your business has suffered as a result of the breach
If the above-listed elements are fulfilled, you can:
Keep in mind that the other party might try to raise affirmative defenses that might prolong the legal process and contest your claim.
Is Suing the Best Option?
As litigation can be complex, expensive, and time-consuming, you should try to reach an out-of-court settlement with the other party. You can do that by creating a breach of contract demand letter that should include the following:
Facts regarding the agreement you have entered into
A reminder of the contractual terms that:

You have honored
The breaching party has not fulfilled

A solution to the problem
When drafted carefully, this letter improves your chances to resolve the dispute directly with the other party without involving judges and pricey attorneys. To ensure success, register for DoNotPay to receive an airtight demand letter.
DoNotPay Helps You Create a Demand Letter
You do not need the services of costly lawyers and debt collectors to draw up a demand letter and seek damages.
While using online templates might seem useful if you would like to prepare the letter by yourself, you should inspect them carefully. Some are too generic and will not meet legal and case-specific requirements.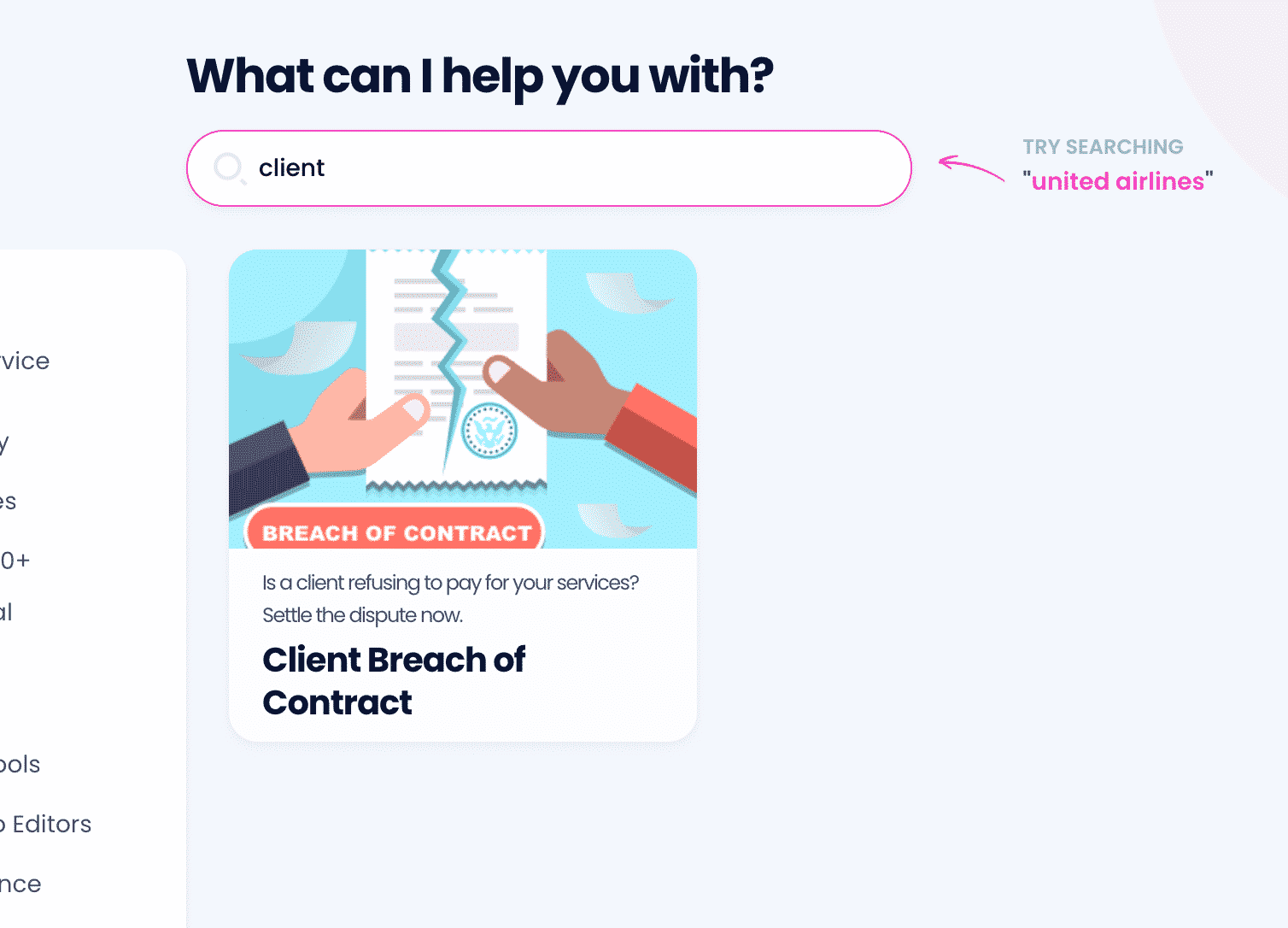 Our AI-powered app is familiar with relevant state laws and can generate a demand letter for you in a matter of minutes. The process is quick and straightforward—sign up for DoNotPay and:
Start typing Client Breach of Contract
Enter information about the contract and breaching party
Choose a new payment or delivery deadline
Describe the performed services
Provide documents that could support your claim (if available)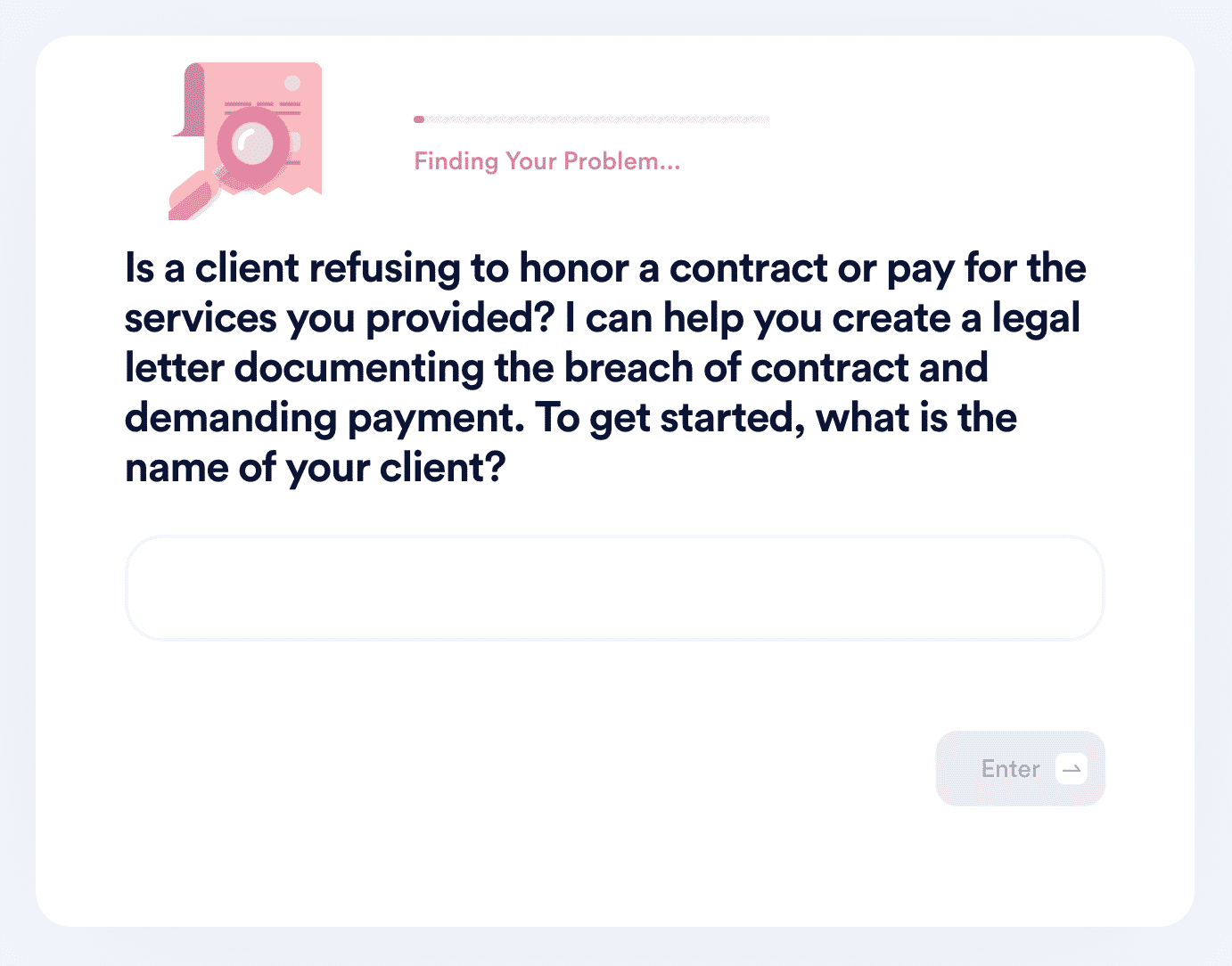 In case the other party does not respond or informs you they do not want to discuss the issue, you should start legal proceedings. DoNotPay can also provide assistance with this step as we can help you sue in small claims court.
Get Down to Business With DoNotPay
If your to-do list is getting longer by the day, we offer numerous solutions. You can focus on growing your business while we handle the endless administrative tasks.
Here are some of DoNotPay's products and services that will assist your company tremendously:
DoNotPay Feature
Our App Will
Trademark Registration

Complete your company name, logo, or slogan registration application
Submit the application in your stead

Trademark Protection

Perform monthly checks
Notify you in case there is any trademark infringement
Help you file cease and desist letters

EIN Registration

Fill out and file your Employer Identification Number (EIN) application
Notify you of your new EIN

Register a DMCA Agent

Complete the DMCA agent registration process
Register the designated agent with the U.S. Copyright Office
There Is Even More We Can Do for You
Navigating the business world can be overwhelming. If your paperwork is piling up and disputes keep emerging, start using our app and declutter your workday from numerous chores.
The world's first robot lawyer can help you deal with the following:
Chargeback scams
Business loan applications
Faxing and mailing
Negative online reviews
83(b) election forms
Self-certification with the Privacy Shield program