Everything You Should Know About New York State Financial Aid
Students residing in New York State find different ways to cope with hefty college tuition. Besides taking up a full-time job to pay for university costs, they also turn to various financial aid options available on a federal, state, or institutional level.
Are you thinking about requesting such support but don't know where to start? This guide is all you need to have your questions answered! Read through our article to learn everything about New York State financial aid and how to apply for it with zero stress. We will also show you how signing up for DoNotPay can help you submit an appeal if the awarded sum isn't what you were expecting.
What New York State Student Aid Programs Can You Apply For?
The Empire State provides various financial support schemes for its students. These don't come from a single source—they can be offered by:
Federal government, which usually awards specific financial aid types to students from all states
New York State, which provides support to New York colleges and students residing in this state
Particular colleges or graduate schools, which have their own financial aid schemes, deadlines, and eligibility criteria
Federal New York Financial Aid
Here's the table representing the financial aid options provided by the Federal government:
Grants
Loans
Loan Forgiveness Programs

Pell Grant
TEACH Grant
Iraq and Afghanistan Service Grant
Supplemental Educational Opportunity Grant

Direct Subsidized or Unsubsidized Loan Programs
Direct Professional PLUS Loan Program
Direct Parent PLUS Loan Program
Direct Graduate PLUS Loan Program

Perkins Loan Cancellation Programs
Loan Forgiveness for Teachers
Loan Forgiveness for Public Service Employees
There are also federal work-study programs, which depend on the available types of part-time jobs on campus.
Regardless of the financial support type you choose, you are required to file a Free Application for Federal Student Aid (FAFSA). It's a special form containing various questions related to your income, taxes, and other financial matters that may affect your eligibility for financial aid. FAFSA must be submitted every year within the deadlines established by Federal Student Aid (FSA).
New-York-State-Based Financial Aid
You can also complete FAFSA and apply for numerous state-specific financial aid programs. Check out the list of available support schemes in the table below:
Grants
Loan Forgiveness Programs
Scholarships

NYS Aid for Part-Time Study
Tuition Assistance Program (TAP)
Part-Time Tuition Assistance Program

NYS Child Welfare Worker Loan Forgiveness Program
Loan Forgiveness for District Attorneys and Indigent services Attorneys
NYS Teacher Loan Forgiveness Program
Loan Forgiveness for Licensed Social Workers
New York State Young Farmers Loan Forgiveness Incentive Program
Nursing Faculty Loan Forgiveness Incentive Program
New York State 'Get on Your Feet' Loan Forgiveness Program

Numerous programs, including:

Excelsior Scholarship
New York State Part-time Scholarship
New York State Achievement and Investment in Merit Scholarship
NYS Child Welfare Worker Incentive Scholarship
NYS Scholarships for Academic Excellence
Other Available Financial Aid Options
Other financial aid offers usually consist of private/third-party programs. They include:
Awards
Private loans and scholarships
Institutional scholarships
What Do You Need for Your New York State Student Aid Application?
Before filling in your FAFSA, you must take a few preparatory steps, including:
Gathering the required paperwork to be able to extract the necessary information, such as:

Tax return documents
Bank statements
Personal documents—an ID or a passport

Searching for current financial aid application deadlines
Ensuring you are eligible for completing FAFSA
Considering the best way to fill out and send the form—online or by mail
Creating an FSA ID—these credentials will enable you to sign your FAFSA digitally if you are submitting it online
Fill in answers to the questions provided in FAFSA carefully—they must be correct and reflect accurate information. The institution in charge—FSA—will consider your income, potential financial difficulties, and family circumstances to decide how much financial support you can get. If you make any mistakes, you can fix them upon receiving your Student Aid Report (SAR) and send the application again.
DoNotPay Has the Best Way To Get You More Financial Aid
Are you thinking about giving up your dream university because the institution has offered an amount that can't cover your tuition, books, housing, and other expenses? Don't do it—sign up for DoNotPay, let us file an appeal on your behalf, and increase your chances of getting more financial aid!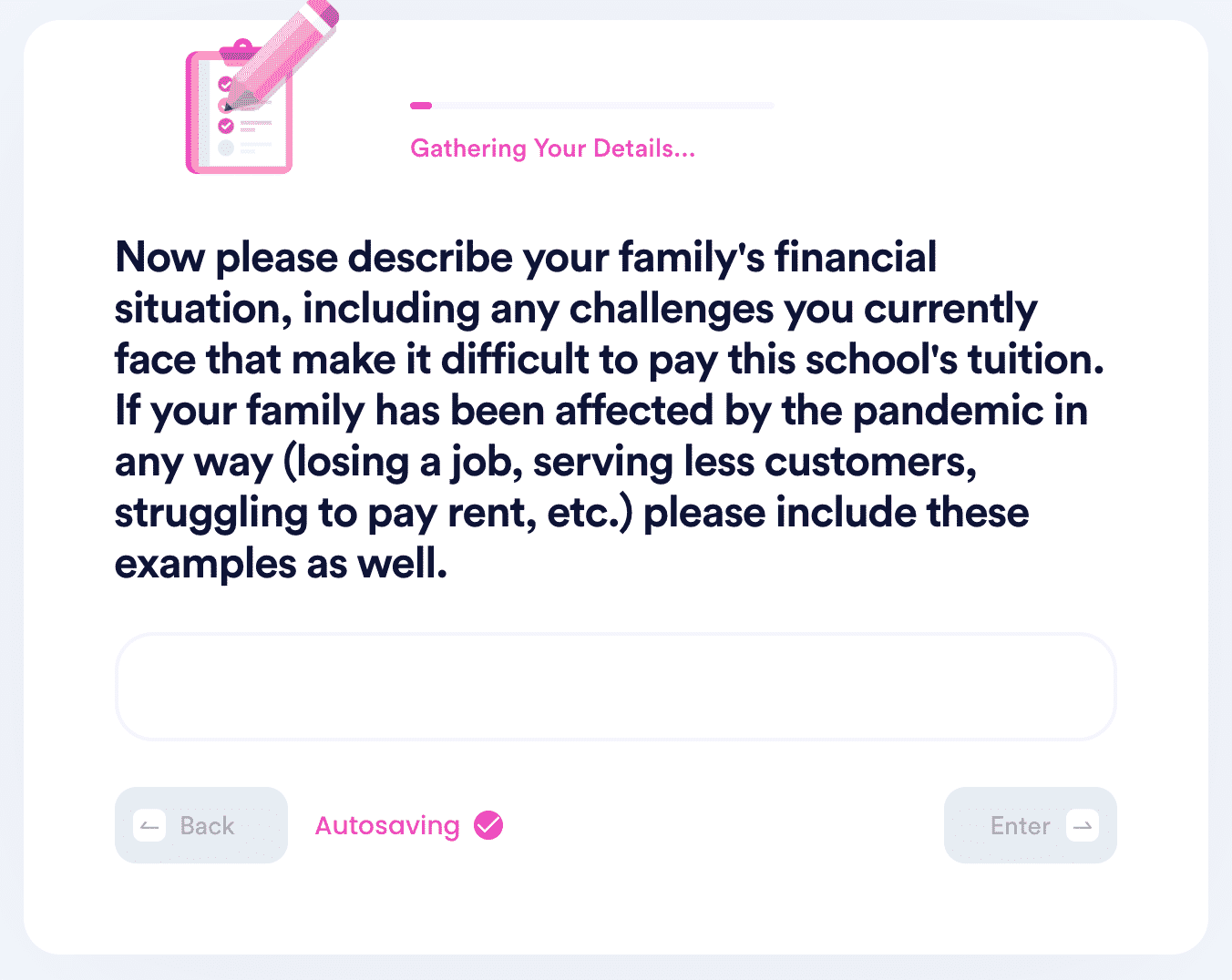 Follow the instructions below to get our help with this matter:
Select Appeal for More Financial Aid
Enter the name of the university you want to attend and names of other institutions you are considering
Go through a short questionnaire with our chatbot to introduce us to your financial circumstances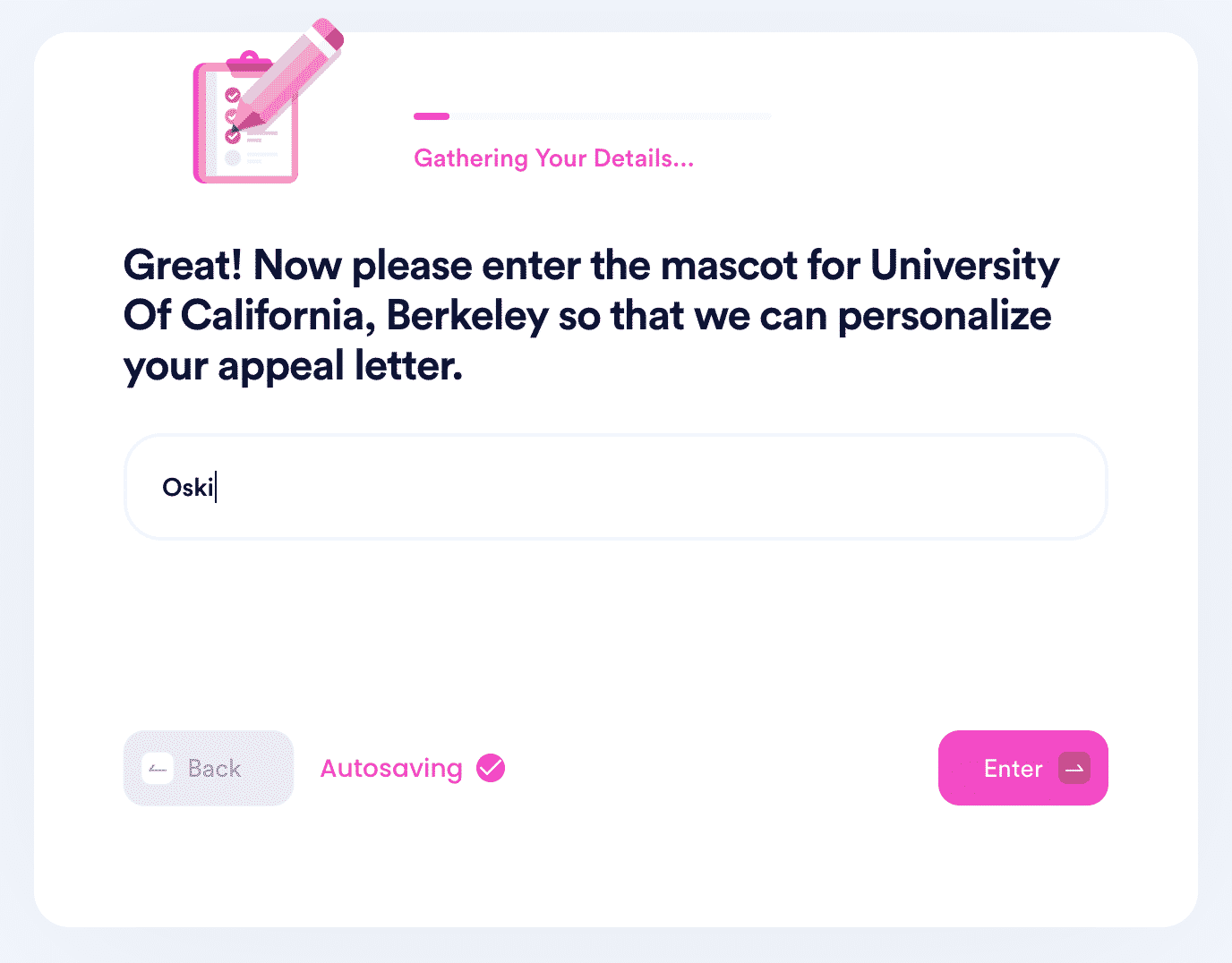 Upon processing the disclosed details, we will automatically compose an appeal letter based on your needs and submit it to the university.
Our learning center boasts many handy guides to financial aid application procedures at the most prominent universities in the U.S., including:
Is Bureaucracy Giving You a Headache? DoNotPay Can Help!
Bureaucracy is a big part of our lives that we can't escape. We understand the struggle over at DoNotPay—that's why we've created various features that can help you out! The world's first robot-lawyer app can assist you with:
DoNotPay's Arsenal of Features Doesn't Stop Growing
DoNotPay's number of handy features keeps growing by the day. Our platform can help you with various issues ranging from filing insurance claims to finding clinical trials. Want to save money on unused subscriptions? DoNotPay has got your back! We can help you cancel them and fight any subscription spam email that you get. Your AI assistant can also get you free raffle tickets or find any missing money in no time!
With DoNotPay, you'll have access to countless features that grow in numbers by the day! You'll be able to block robocalls, deal with tedious neighbors, and much more!