Access Elite Education Options With the Finest New York Scholarships
New York is one of the top ten states with the highest college tuition costs in the U.S. The Empire State is the home of Ivy League powerhouses like Cornell University and Columbia University—and both have annual tuition expenses upwards of $55,000!
Looking for scholarships and grants is a proactive way to fund your education in an elite school without going broke. The issue with New York scholarships is that many students aren't even aware of all the opportunities available to them.
This article will help you evaluate the existing NY scholarships and also lead you to other scholarship options in the U.S.!
Looking for Scholarships in New York? Here's How To Streamline Your Options
Most New York students work rigorous part-time jobs to support their tuition, transportation, and living and boarding expenses. This hardly leaves them with enough time to dive into the state's scholarship pool.
To make scholarship hunting easier for you, we have categorized New York's most sought-after scholarships into three sections:
NY State Scholarships for High School Students
You can find four types of scholarships for high school students in New York:
Here are some examples of the active high school scholarships in NY:
New York State College Scholarships Explained
At present, most New York colleges run scholarship programs for:
Students with a permanent residence in New York State
Transfer students (who have transferable credit hours and bring adequate recommendation letters issued by previous schools)
Refer to this table to understand the types of financial aid available to undergraduates in New York State:
Scholarship Type
Details
Need-based financial aid

NYS's federal and state grants or scholarships are offered with the purpose of:

You need to provide your income certificate to qualify for any need-based scholarship. Here are some examples:

The Excelsior Scholarship is offered to students from families who earned less than $125,000 in a year
The Loan Forgiveness for Licensed Social Workers wipes out existing student loans for students displaying exemplary social work for one year

Merit scholarships
Merit scholarships in NY are awarded to students who have outstanding performance in a particular major, for example:

Examples:

Minority scholarships
These scholarships are strictly offered to students from a certain demographic group. Check out some examples:

New York Women In Communications Foundation College Scholarship
ATHENA Adult Scholarship (for adult learners, like mothers, senior citizens, teachers, etc.)
Scholarships for Graduate School in NYS
The majority of academic scholarships for graduate school students are sponsored by NYC universities and research institutions. Such scholarships may have established terms regarding:
Tuition assistance for a masters' course
A fixed monthly stipend (for fellowships)
A post-degree service agreement (usually for doctoral programs)
Hard To Access the New York Scholarship Database? We Can Help!
If you have been on the lookout for scholarships in New York, you'll know how difficult it is to find relevant results. Whether you're using a scholarship search engine or checking individual websites of public and private schools, the chances are that you've faced problems such as:
Finding outdated scholarships
Failing to understand the eligibility requirements for scholarships
Wasting time on scholarships that you don't qualify for
Missing out on deadlines for your favorite scholarships
If you're looking for a single-source solution to finding scholarships, turn to DoNotPay's scholarship search tool.
Our app maintains a comprehensive database of the latest scholarships in the U.S. All you need to do is and provide your student details to our chatbot—we will use your info to match you with all scholarships that tag you as an eligible candidate!
You can browse the generated list and note down the deadlines and application details of the best scholarships that fit your student profile—all within a couple of minutes!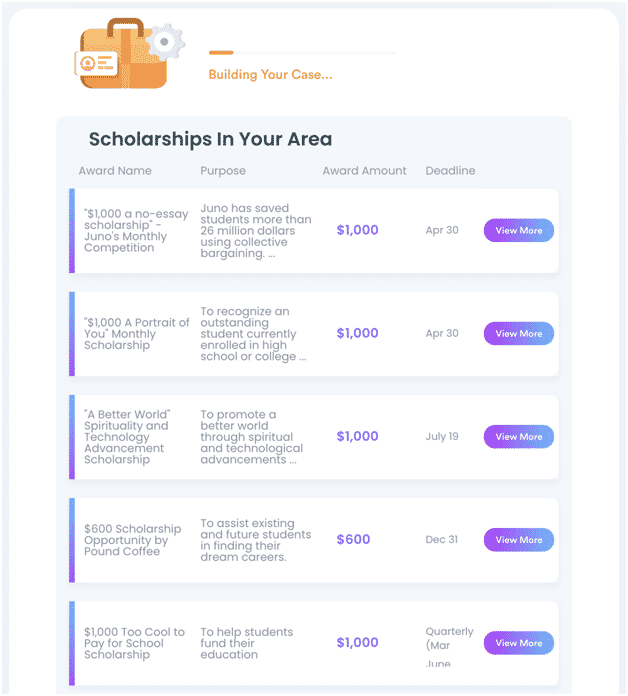 Timesaving Tip—Use DoNotPay As Your Application Assistant for Selected Scholarships
Many students back out from applying for scholarships because they feel it's a pointless chore that sucks out their time and mental energy.
We understand that there's not a sure-fire way to get a scholarship in New York, but you can raise your chances of winning by applying for more of them—and DoNotPay can help you do that in seconds!
Our scholarship search tool can double up as an application assistant that helps you apply for no-essay scholarships directly through the app.
When you choose our application option, we generate a filtered list of no-essay scholarships in the U.S. that complement your student profile. You need to select the ones you like, and we'll apply for them in your stead! You'll get a confirmation email to help you keep tabs on all the scholarships you applied for.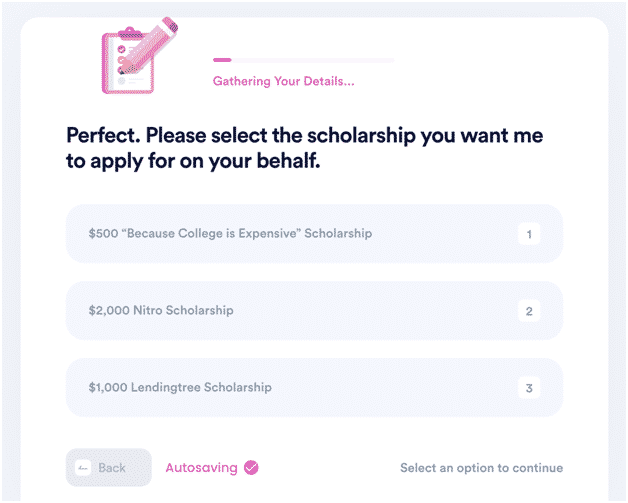 Our scholarship search and application support is three wee steps away:
and select our Apply for Scholarship tool
Enter your details—like your grades, qualifications, extracurriculars, etc.
Tell us if you'd like to search or apply for scholarships
Use our app every week to stay up to date with the latest scholarship options!
What's Next?
Once you complete the task at hand, you don't have to stop there—we offer a myriad of products that can relieve you of the stress that comes with dealing with admin and legal hurdles.
DoNotPay can assist you in drawing up a divorce settlement agreement, child travel consent form, power of attorney, and other legal documents, contacting government representatives, getting tourist visas, fighting workplace discrimination, getting a burner number, appealing banned accounts, getting access to public records, scheduling a DMV appointment, and much more.
Tackle Any Energy-Draining Task With DoNotPay
With DoNotPay by your side, you don't have to worry about how you'll cover your utility bills at the end of the month—we'll provide swift assistance as soon as you sign up!
Wondering what else our app is capable of? Check out how we can: