New York Health Care Proxy Statute Unriddled
Letting your healthcare provider know about your health care wishes if a serious injury or illness leaves you incapacitated can be difficult or even impossible. This is why most states have specific laws allowing residents to pick an alternative way to inform doctors and dear ones about their medical care preferences.
In this guide, we will explain the basics of the New York Health Care Proxy Statute. You will find out:
What Is a New York Health Care Proxy Law?
A NYS Health Care Proxy Law is a statute that allows New York residents to appoint another person as their health care agent. This individual gets the right to make medical care-related choices on your behalf if you are severely injured or terminally ill. The medical staff and health care providers need to respect their decisions as if you were the one who made them.
What Is a New York Health Care Proxy/Medical Power of Attorney?
You can appoint an agent via a New York health care proxy. It's a written statement that confirms the designation and lists:
Your agent's personal details
Powers you transfer to them
Alternate agent's info (if your primary agent fails to perform their duties)
Potential limitations to the agent's powers
Special instructions
Many people combine this document with another type of New York advance directive—a state-specific living will. This form contains precise guidelines related to your future medical care in case of incapacitation.
How Should You Choose a Health Care Agent in New York?
Your agent must be a person who is:
Of legal age
Mentally competent to decide in your stead
Close to you, which means it can be your parent, sibling, spouse, child, or a dear friend
You should speak with your agent before transferring your decision-making rights to them and inform them about your beliefs and personal preferences. If you get too ill, they should make medical care choices based on the information you gave them.
What Can Your Health Care Agent Do?
As per the New York State Health Care Proxy Law, the person you choose as your agent can make decisions related to the following matters:
Life Support
Treatments
End-of-Life Care

Nutrition and hydration via a tube
Artificial breathing
Dialysis
Bypasses
Cardiopulmonary resuscitation (CPR)

Surgeries
Chemotherapy
Antibiotics
Other medications you want or don't want to take

Hospice care
Pain relief
Organ donation
Eye and tissue donation
Anatomical gifts
Funeral organization
DoNotPay Comes Your Way With a High-Level Advance Directive
Composing a health care directive may take up too much time, especially if you haven't written any similar documents before. If you don't want to spend your hard-earned money on lawyers or take risks with unreliable online samples, DoNotPay is the solution you are looking for!
Our app features a user-friendly chatbot that gathers info about your health care preferences. Once we have the necessary details, we need a few minutes to generate a unique document ready for signing!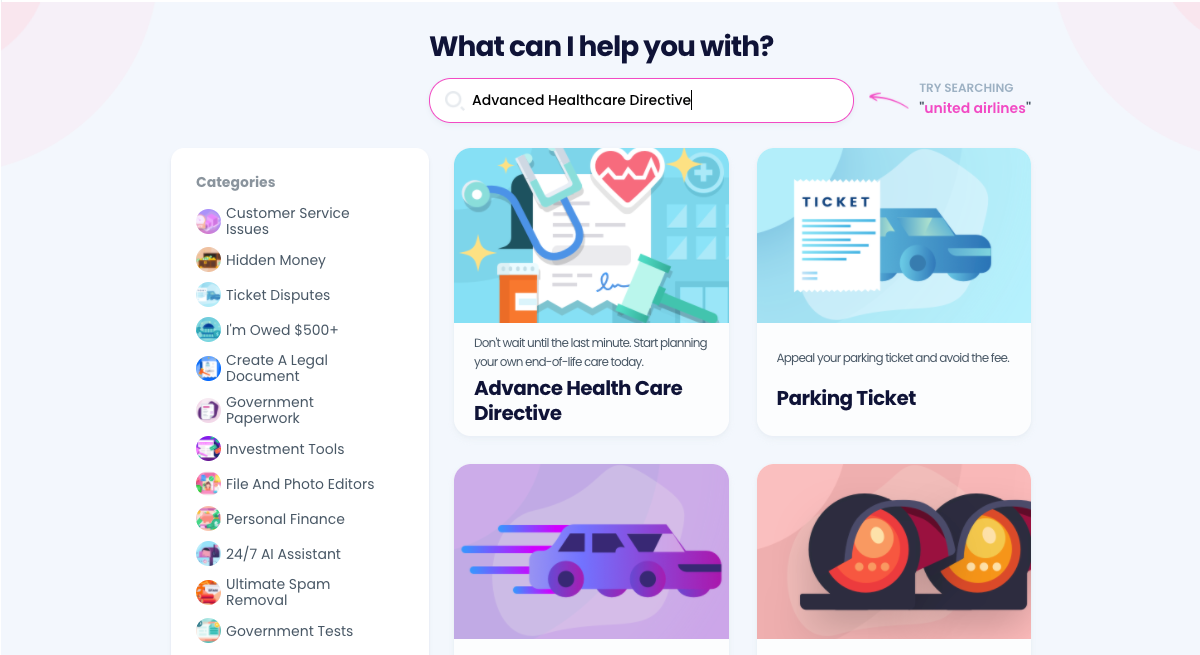 Here's the drill:
Search for Advance Health Care Directive
Designate your primary health care agent and witnesses
Answer a few questions concerning your preferred future health and end-of-life care
If your state requires the document to get notarized, you don't need to spend hours waiting in lines in front of a notary's office. DoNotPay can help you set up an appointment with a remote notary public who can notarize your document at your earliest convenience!
Another perk we offer is our vast knowledge base. Our guides can teach you about the living will costs and creation, help you compare health care proxies with standard powers of attorney, and much more!
DoNotPay Offers More Assistance!
Our app boasts many features that can make your life easier.
Do you need help searching for unclaimed money or covering bills? Are you looking for clinical trials you can sign up for to earn some extra money? We can help you out in a flash!
Other tasks we can streamline for you are the following:
Forget Hiring a Lawyer—Use DoNotPay Instead
You don't want to spend a fortune on lawyer fees? No problem! DoNotPay—the world's first robot lawyer—is here to assist you! With our help, you'll be able to file complaints, sue anyone in small claims court, handle stalking and harassment, get crime victims' compensation, and draft numerous documents, including:
If you need to get a document notarized, you can also count on our help. We'll connect you with an online notary who will notarize your document in a flash.