New York County Uncontested Divorce Checklist—Get Ready for the Separation Process
If your marriage doesn't work and you and your partner agreed to an uncontested divorce, the friendly separation process should be simple and quick. Figuring out how to file for divorce and whether you need a lawyer are the first steps to take. To ensure you don't miss any crucial elements of this demanding procedure, use the New York County uncontested divorce checklist.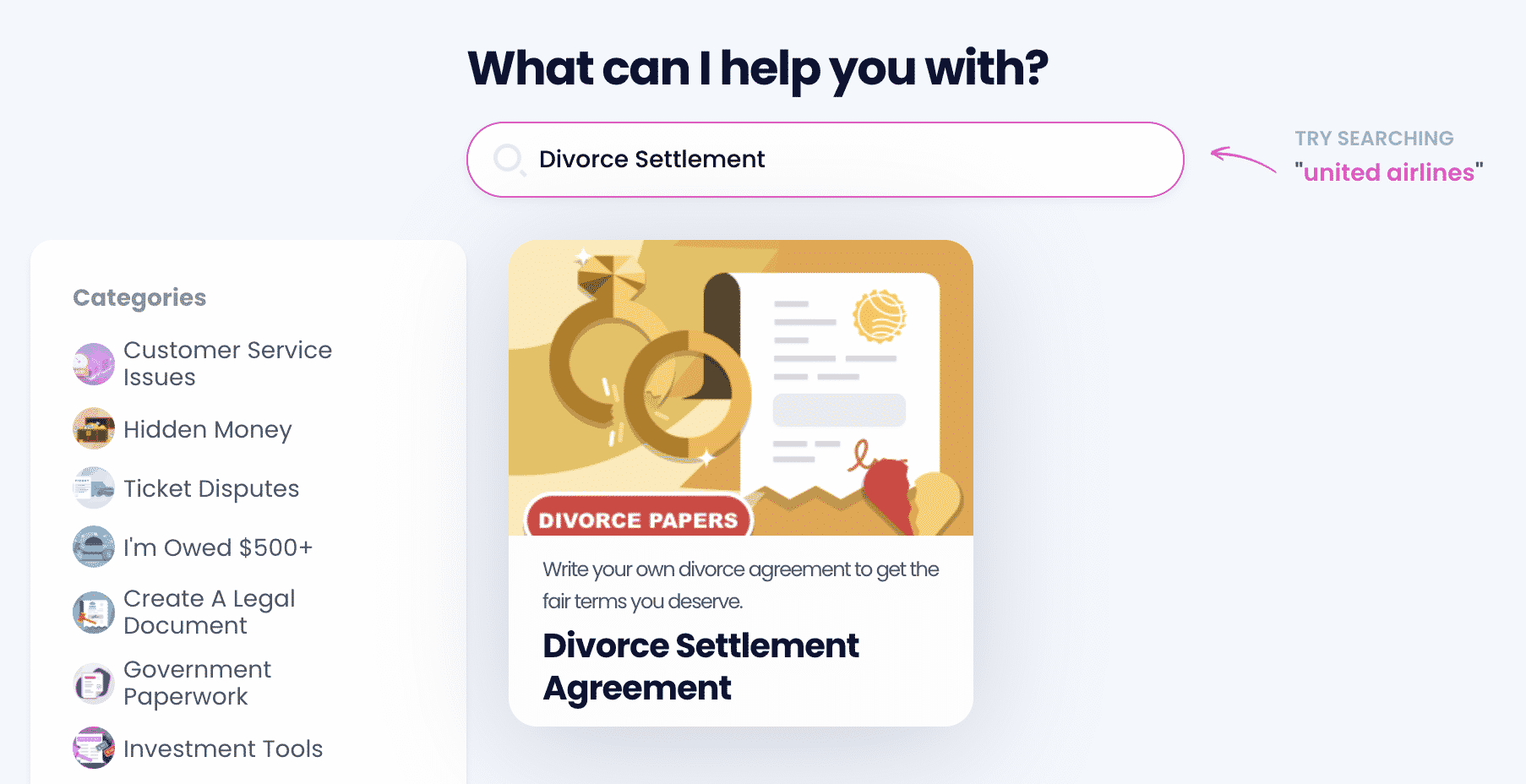 An uncontested divorce is a popular choice because it allows you to settle without going to court or even online. To end the marriage this way, you must agree on crucial terms and enclose the divorce settlement agreement.
Save time and money with . We can help you draft this essential document without breaking a sweat.
New York County Uncontested Divorce Checklist—Everything You Should Know
You can make sure you won't miss a thing during your uncontested divorce process by referring to the New York County uncontested divorce checklist. It helps you understand the entire procedure and allows you to tick off every task you complete. For a detailed overview, check out the following table:
| Checklist Item | Details |
| --- | --- |
| Residency requirements | Do you live in New York long enough to apply for divorce? |
| Post-divorce arrangements | Have you sorted out issues, such as dividing marital property, and child custody? |
| Process | Did you collect the necessary paperwork, send forms, and honor filing requirements? |
Because New York is a no-fault divorce state, you don't need to state the separation reason. Declare the irretrievable breakdown of your marriage at least six months before initiating the procedure and submitting NY divorce papers.
Checklist Item Number One―New York County Uncontested Divorce Residency Requirements
To be eligible for an uncontested divorce in New York county, you have to fulfill the following residency requirements:
You or your ex must live in NY for two years before starting the procedure
Either spouse must be a state resident for at least a year before filing for divorce
Checklist Item Number Two―What You Must Agree On To Get an Uncontested Divorce
Friendly or uncontested divorces are the cheapest and quickest option for marriage dissolution. To cut the costs and the duration of the procedure, you must agree on the post-divorce arrangements, such as:
Alimony (spousal support)
Child support and custody
Division of mutual property
Finding common ground allows you to bypass lawyers and end your marriage sooner and with less stress.
If you can't agree on everything at first, consider mediation in divorce as the most affordable yet helpful solution.
Alimony
Alimony is the financial support for the spouse with no income or limited means.
Note that you might not receive spousal support if your income is sufficient. The awarded period can also be quite short as these funds should help the lower-earning spouse until they become self-supporting.
Child Custody and Support
Child custody determines who takes care of the children. Various options are on the table, and children can express a preference. In case you fail to find a suitable solution, the court will decide in the children's best interests. The parent spending less time with children usually pays child support for:
Basic care
Education
Health insurance
Medical expenses
Division of the Property Acquired During the Marriage
Splitting assets is tricky and can cause issues during negotiations. Dividing the property 50-50 is common practice, but it doesn't mean it's fair.
Checklist Item Number Three―The Process and Paperwork
To initiate the divorce procedure, you must prepare uncontested divorce papers and deliver them to your ex-partner. This process includes the following actions:
Preparing paperwork
Purchasing an index number
Delivering divorce papers to your spouse
Filing the documents
Completing the process
Preparing Paperwork
The forms and papers you'll need to obtain are:
Summons
Verified Complaint
Settlement Agreement
Purchasing an Index Number
Purchase an index number at the County Clerk's office and add the number to Verified Complaint and Summons.
Delivering Divorce Papers to Your Soon-To-Be-Ex
Deliver copied documents to the other party alongside the Affidavit of the Defendant. You can continue the process when your spouse signs and returns the papers to you. If your spouse doesn't comply, you must serve the forms through official channels.
Filing the Documents
When you receive signed divorce papers, file them at the same County Clerk's office.
Divorce Completion
After reviewing and approving the paperwork, the judge signs the Judgement of Divorce. Filing the document at the County Clerk's office is all that remains to be done.
Generate a Divorce Settlement Agreement With DoNotPay To Save Time and Money
Most divorce forms can be found online or at your county house and are pretty easy to fill out. The divorce settlement agreement is more complex and requires expertise and great care to draft. To make your divorce cheaper by avoiding pricey services, turn to DoNotPay for help.
We can generate this document in no time and help you skip dragging through courts. and:
Choose Divorce Settlement Agreement
Answer our questions about your spouse and children
Specify how you wish your assets allocated
DoNotPay generates a customized divorce settlement agreement ready for signing. Since this sensitive contract requires notarization, we will connect you with an online notary for consultations via video call.
DoNotPay Is the Best Solution for Your Bureaucratic Problems!
A wide range of handy features DoNotPay offers can assist you in resolving administrative issues without breaking a sweat! Our app provides the easiest way to:
Get What You're Owed in a Few Taps!
Shopping is fun, but retailing companies can sometimes be difficult to negotiate with, especially when things go wrong. With DoNotPay, you can reach their customer service without spending hours on hold and get a refund fuss-free! Should the merchant refuse to collaborate, we can help you get justice by suing them in small claims court.
Our app can also file an insurance or warranty claim in your name, request gift card cash back, or initiate returns for dissatisfying products.
If you want to check whether you have any unclaimed money in old bank accounts, using DoNotPay is the easiest way to do it!