Which New Mexico Scholarships Can Work for You? DoNotPay Knows!
New Mexico has several renowned schools and universities that offer top-class degrees, but the average tuition fees can cost you a pretty penny. As a result, most students in this southeastern state burden themselves with crippling loans and exhausting part-time jobs to pay for college and cover living expenses.
If the thought of acquiring education funds is keeping you up at night, New Mexico scholarships can comfort you and help you graduate debt-free. The state has abundant scholarship and grant opportunities for students from high school to postgraduate studies—this article will tell you where to find them!
How To Find a Scholarship in New Mexico ASAP
Navigating through the available scholarships in New Mexico can be a frustrating ordeal. Many students spend hours using obscure scholarship search engines only to be disappointed as the search rarely yields useful results. To make matters worse, most New Mexico schools fail to maintain a compiled database of the scholarships offered in the state, causing students to miss out on the majority of opportunities.
If you want an efficient and time-saving way to search for scholarships, turn to DoNotPay's product.
Our app has a comprehensive database of all active scholarships in the U.S. All you need to do is fill out a student questionnaire, and we will generate a personalized list of scholarships that mark you as an eligible candidate!
Our scholarship report filters out irrelevant results, so you will never have to waste a single second on directionless scholarship hunting! Sign up now to view your tailor-made scholarship list within five minutes!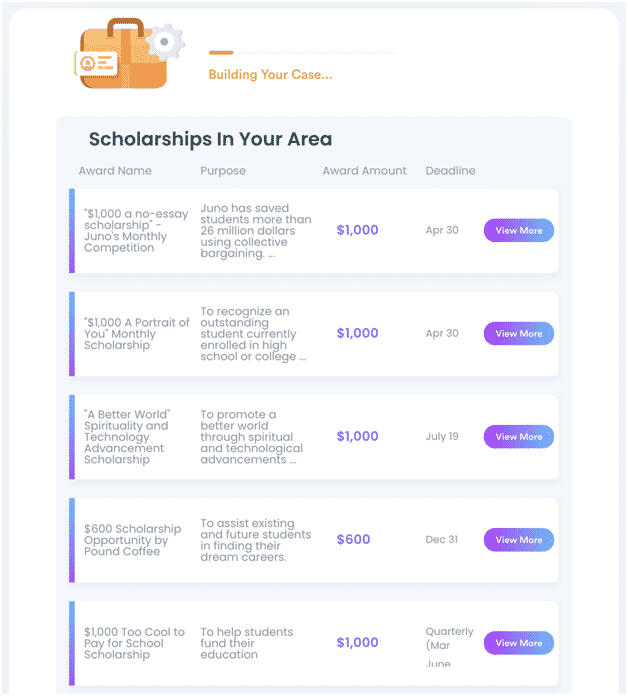 Scholarships in New Mexico—An Overview of the Opportunities Available
New Mexico has a massive pool of scholarships for every student in the state, but most never find them on time.
If you're looking for scholarships, you should try to understand the options available to you. Currently, you will find New Mexico scholarships belonging to the following four categories:
Scholarships for vocational or professional school
New Mexico Scholarships for High School Students
Many students never consider applying for scholarships until they're ready for college. In reality, applying for scholarships throughout high school gives you a solid chance to save up for college.
Whether you are in your freshman, sophomore, or junior year of high school, you'll find a plethora of scholarships that award a monetary prize for:
High school seniors should start looking into eligibility requirements and full-ride scholarship deadlines for their favorite New Mexico colleges.
Here are some examples of high school scholarships available in the state:
The Notah Begay III Scholarship Program—Available to high schools students who:
The Dan and Lucille Wood Athletic Scholarship is awarded to high school students who have played a sport sanctioned by the National Collegiate Athletic Association (NCAA)—like baseball, soccer, golf, volleyball, track, or wrestling
New Mexico College Scholarships
There are dozens of colleges, universities, non-profit organizations, and companies offering scholarships to incoming or existing college students. We have created a list of some of the most sought-after undergraduate scholarships in the state:
Scholarship
Details
Legislative Lottery Scholarship Program
This is a renewable scholarship offered by the New Mexico Public Education Department to:

Students who attend a standard four-year college
Community or junior college students

The reward covers only a portion of the tuition fee and may vary from student to student

New Mexico Scholars Program
This scholarship is awarded to students who enroll full-time at a public or private school and have a low annual family income
The University of New Mexico scholarships
The University of New Mexico offers several annual academic scholarships to:
New Mexico State PEO Scholarship
This scholarship carries a reward of $5,000 and is offered by the Philanthropic Educational Organization (PEO) to students with strong volunteering history. Your application for this scholarship should be backed by:

A degree transcript from each school you attended (to demonstrate your scholastic ability)
Graduate School Scholarships in New Mexico
Depending on your specialization, you can find grad school scholarships for advanced degrees in fields like:
Here are some examples:
The Steven G. King Play Environments Scholarship awards $5,000 to graduate students studying landscape architecture
New Mexico graduate scholarships or grants are offered by the New Mexico Department of Higher Education to students who agree to a ten-hour weekly unpaid internship at a designated educational institution
Vocational, Professional, or Technical Education Scholarships in NM
Vocational, professional, or technical scholarships are usually offered to dropout students who wish to increase employability by developing a particular skill. Notable examples include:
The Andrew Piech Memorial Scholarship—offers $4,400 to learners seeking jobs in New Mexico's automotive industry
The Palo Alto Rotary Club Vocational Scholarships—caters to students enrolled in an accredited career program to find entry-level jobs in emerging fields, such as creative writing, art, music, aviation, baking, cosmetology, filmmaking, etc.
Use DoNotPay To Apply for Selected Scholarships in a Jiffy!
DoNotPay is not your average scholarship search tool—we can also help you apply for some of them!
Our scholarship product uses your questionnaire answers to match you with no-essay scholarships. You can review the auto-generated list and tap on the ones you like. Once you're done selecting, we will apply for the chosen scholarships on your behalf!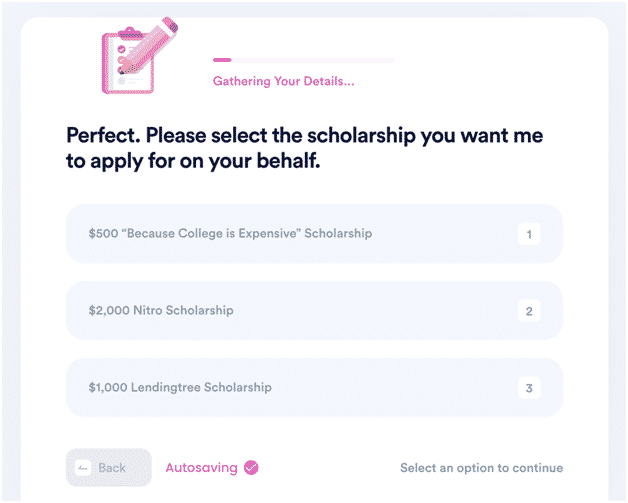 To use the full spectrum of our scholarship services, do this:
Log in to DoNotPay and search for Scholarships
Fill out the questionnaire with details such as your grades, location, extracurricular interests, and qualifications
Tell us if you want to search or apply for scholarships
As new scholarships are launched every other day, you'll benefit from using our scholarship search and application tool weekly. It'll take only a couple of minutes to keep tabs on the latest scholarships through our app, and doing so will maximize your chances of winning more of them!
Tips for Spotting the Best Scholarships in New Mexico
While using our scholarship tool, make sure to scan through options based on your demographic data. New Mexico has a host of scholarships aimed at specific population groups—for example:
Before you apply for these scholarships, make sure to write impactful cover letters to describe why you deserve them.
Save Time With DoNotPay
DoNotPay is not done helping you! We offer you assistance in completing a variety of tasks quickly and efficiently, such as:
Canceling Subscriptions Has Never Been Easier!
If you keep getting charged a monthly subscription fee even though you no longer want to use a certain service, don't let your money go to waste! Some companies tend to renew your subscription automatically, but that doesn't mean you have to put up with it—use our app to terminate your membership or subscription in a few clicks!
Do you want to sign up for free trials and create a virtual credit card or a burner phone number to protect your sensitive info? Once you subscribe to DoNotPay, we will walk you through the process of doing all of the above in no time!
You can also count on our assistance if you need to get rid of spam or robocalls.