A Guide to Getting New Mexico Property Tax Exemptions

Even though New Mexico is one of the states with the lowest property taxes, many people with low incomes can't afford to pay them. Do you struggle to pay your property tax bill? If so, you should check if you're eligible for one of the New Mexico property tax exemptions.
DoNotPay will help you determine which exemptions in New Mexico you qualify for and generate a personalized guide to help you pay your property taxes.
New Mexico Property Tax Exemptions—From A to Z
Most New Mexico counties offer four types of property tax exemptions for a primary property of New Mexico residents:
Property Tax Exemption
Exempt Amount
Eligibility
Head of Household

Up to $2,000

Married citizens

Widow(er)

Head of household who covers half of the costs of a relative

Single people

Veterans

Up to $4,000

Honorable service

Veterans who have served continuously for 90 days

Surviving spouses 

Disabled Veterans

Full exemption

Honorable service

Veterans who are disabled because of a service-related injury

Surviving spouses

Low-Income Value Freeze

Freezes the property's assessed value even if the market value increases
Some counties or school districts could offer additional property tax reliefs. You should check your taxing jurisdiction's website to check if you can apply for any other exemption.
DoNotPay Helps You Get New Mexico Property Tax Exemptions Hassle-Free
DoNotPay's practical Property Tax feature will provide all relevant info regarding the New Mexico property tax exemptions. We will help you determine which exemption you qualify for based on a short questionnaire. Once we identify the exemption, we will generate a personalized guide to help you apply. 
Every county has different rules, application forms, and due dates. Having every piece of info in one place makes the entire process much easier.
To apply for a New Mexico property exemption in a few easy steps, do the following:
Access

DoNotPay

Click on the

Property Tax

feature

Answer the required questions, such as those about your:

Age

Income

Property location

Follow the instructions provided in the guide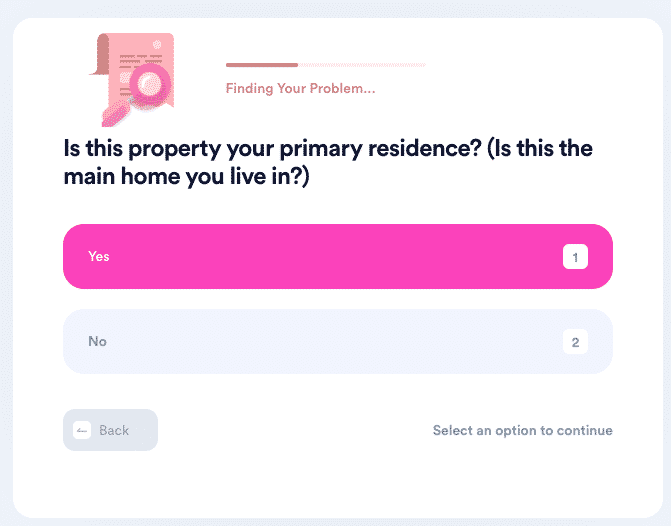 With our help, you can apply for property tax exemptions in any American state or county, including:
Why Do You Have To Pay Property Taxes?
If you're a homeowner, you might be wondering why you're getting a property tax bill every year. By paying your property taxes, you help the local jurisdiction fund various beneficial services, including:
Roads

Healthcare

Education

Law enforcement

Fire department
The property tax rate in every county is different, and it depends on the financial needs of the area. Here are some of the U.S. states with the lowest average property tax rate:
Louisiana

—0,18%

Hawaii

—0,26%

Alabama—0,33%

Delaware—0,43%

District of Columbia—0,46%

West Virginia—0,49%

South Carolina

—0,50%
If you don't pay your property taxes, the taxing authority has the right to sell your home to cover the debt.
Property Tax Assessment Explained
Your property tax bill depends on the county's property tax rate and your property's assessed value. The local assessor will perform a property tax assessment by inspecting your home and evaluating its:
Curb appeal 

Location

Proximity to important facilities, such as schools and hospitals

Neighborhood 

Interior and exterior

Special amenities
You have the right to request the Notice of Value (NOV) after the assessment. If you think that there's been a mistake, you can file a petition with the local assessor within a month from the date the NOV was mailed. If the taxing authority accepts the petition, you can schedule a reassessment.
Ways To Lower Your Property Taxes in New Mexico
If you'd like to lower your New Mexico property taxes, you could try one of the following strategies:
Walk with the assessor during the property appraisal. You will be able to show him or her the issues your property has to ensure the assessment is fair

Wait until after the assessment to renovate your home. Every new home improvement can increase your property's assessed value and your property tax bill

Apply for one of the New Mexico property tax exemptions if you qualify

Analyze your property tax bill to check for inaccuracies

File a

property tax appeal

if you think there's been a mistake
The Best Way To File a Property Tax Appeal Is With DoNotPay
If your attempt to lower your property taxes wasn't successful, you should consider filing a property tax appeal. DoNotPay's guide will help you handle the appeal quickly and effortlessly. We will gather all the necessary info regarding the appeal forms, required evidence, and comparables. The guide will also provide instructions on how to negotiate with the assessor.  
DoNotPay Can Do Your Paperwork for You! 
Feeling like you're in bureaucratic hell? Our app will draft the paperwork you need and get you out of any hurdle before you know it! 
We can compose most of the documents that you require for any administrative purpose in your jurisdiction, most notably:
More of What We Can Do for You 
Our multifaceted app can call and record the conversation with the customer service of the company that just won't let you go! If you are having trouble canceling an unwanted service via the traditional channels, use DoNotPay to get it over and done with!
We can help you stop the persistent robocalls and robo texts from the nagging company and request a refund for unused services in a matter of minutes.
We'll also lend a helping hand in stopping spam mail—whether it's electronic or paper. Our Spam Collector product unsubscribes you from unwanted emails and cleans up your physical mailbox too!