A Rundown on the
New Mexico Lease Agreement
Leasing a property in New Mexico requires a solid contract to prevent miscommunication and disputes between the owner and the renter. 
Unfortunately, not everyone is proficient in writing legal documents because of the lack of legal knowledge. The primary goal of this article is to highlight the essentials of the New Mexico lease agreement and teach you how to write it without a lawyer. We will show you how to do it in record time and with zero fuss!
Why Do You Need a Lease Agreement in New Mexico?
A residential lease agreement is a legal document validating a verbal deal between a property owner (lessor) and a lessee, a person who rents the residence. By creating such a contract, the property owner confirms they allow the renter to occupy their house or apartment in return for money. 
The rental period is usually fixed. In most cases, the lessee rents the space for six months or more. For people who believe a short-term or month-to-month contract is more convenient for their situation, rental agreements are a better solution.
The document states all the regulations the parties agree upon and formalizes them, consequently protecting both entities' rights. 
How Difficult Is It To Draw Up a New Mexico Lease Agreement?
New Mexico laws recommend written lease agreements, as it's almost impossible to prove an oral agreement in court in case of rule violations or any other incidents that require a lawsuit. 
Writing this legal document isn't easy because you must provide an abundance of information. If you want to draft a lease contract yourself, make sure to add all the relevant details to the document. Each clause needs to comply with Sections 47-8-1 through 47-8-2 of New Mexico Statutes, regulating landlord-tenant relationships in the state.
Here are the details every lease agreement in New Mexico should contain:
Names of the landlord and tenant

Full address of the leased property

Type of residence

Lease duration—start and end date

Number of bedrooms and bathrooms

General condition of the habitable premises

Availability of appliances and furniture

Rent details, including the amount, payment schedule, and payment method

Security deposit—according to state laws, the landlord can't take a security deposit that exceeds the amount of one monthly rent installment, and they need to return it to the tenant within 30 days after the lease ends

Potential damages and necessary repairs

Parking spot availability

Utilities

Violation of the rules

Pet and smoking policy

Applicable laws

Both parties' signatures
Other recommended clauses include:
Move-in checklist

Bed bug disclosure

Asbestos disclosure

Mold disclosure

Medical marijuana use
Are There Mandatory Disclosures Required by New Mexico Laws?
According to New Mexico Statutes, most lease agreements in this state must include the following terms:
Identity disclosure

—The landlord must provide the names of the authorized individuals who can act in his/her name

Late fees disclosure

—This section states that if the tenant doesn't pay their rent on time, they will be charged an additional fee. State laws don't allow landlords to set a fee that exceeds 10% of the overdue rent amount

Lead-based paint disclosure

—The landlord must notify the tenant about the possible presence of lead-based paint in the building if it was constructed before 1978
Do You Have To Notarize a Lease Agreement in New Mexico?
The state doesn't mandate the lease agreement notarization. The parties involved can do it if they want a higher legal security level. It's enough to sign the document along with the other concerned party to make it valid.
How Can DoNotPay Help With Your Contracts?
If you have trouble creating your lease agreement or don't want to take any chances, DoNotPay comes to save the day! With our customizable legal templates, you can generate a state-specific lease contract in a few taps.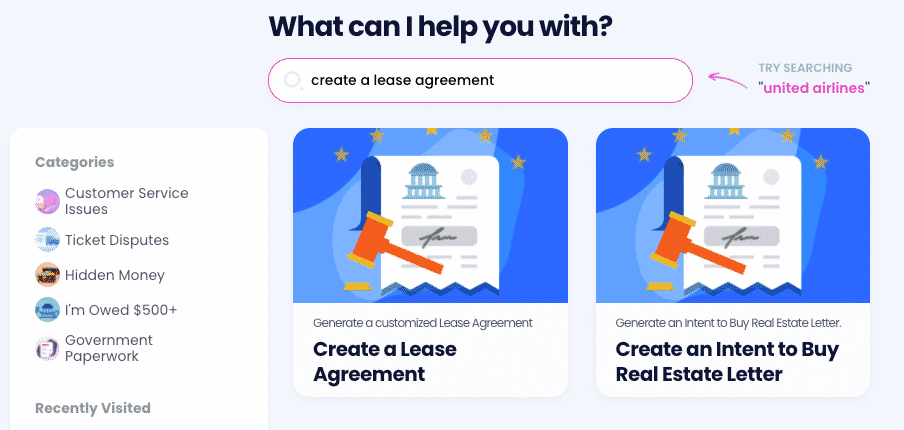 You don't need to go through complicated procedures:
Log in to DoNotPay in any

web browser

Locate the desired document in our database

Enter a few essential details
You will get a personalized version of the document as soon as we receive your information. Once you and the other party sign it, it becomes legally binding.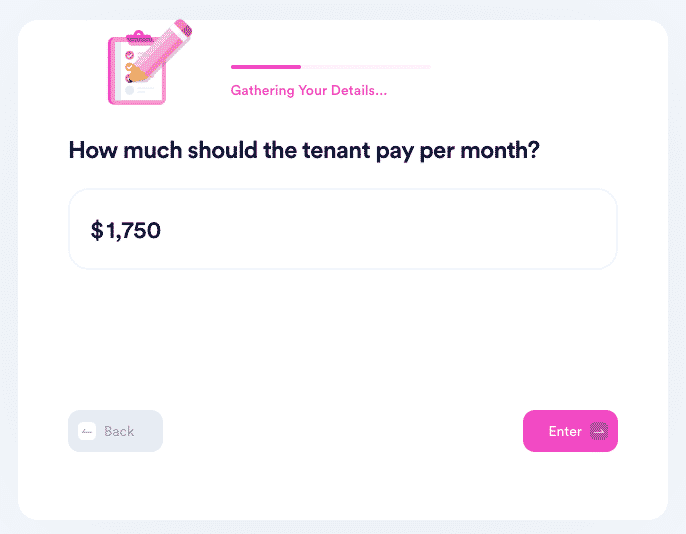 Apply this short and simple procedure to other contracts, including:
Quitclaim Deed

Intent To Purchase Real Estate

Child Care Authorization Form

General Business Contract

Estoppel Certificate

General Affidavit

Promissory Note

Residential Lease Agreement
Learn More From DoNotPay's Amazing Contract Guides
Our agreement-related service doesn't end with templates. We also offer super useful articles to help you find out more about other legal documents. Get familiar with numerous contract types by checking out DoNotPay's knowledge base!
You can find some practical advice in our guides to:
| | |
| --- | --- |
| Miscellaneous Contract-Related Guides | State-Specific Residential Lease Contract Guides |
| | |
Discovering DoNotPay Will Make Your Day
If you feel overwhelmed by tons of paperwork flooding every area of your life, you can finally breathe out and let go of that stress. DoNotPay is the world's first robot lawyer that handles your bureaucratic chores for you. 
Some of the benefits that come with our service include:
Why Get a Lawyer When You Have DoNotPay?
Our agenda has one major goal—provide easy legal access to anyone who needs it. Every new feature we come up with relies on AI technology that simplifies bureaucratic procedures and saves you time and money. 
If you're wondering how to navigate tasks like contacting imprisoned friends and family members or reducing your property taxes, DoNotPay has the answers. Our service cuts through the red tape even if you need to deal with stalking and harassment, claim forgotten assets the proper way, or secure compensation for crime victims.