New Mexico Jury Duty—Everything Prospective Jurors Should Know
Have you been called for New Mexico jury duty? If you are eligible, it is bound to happen eventually.
Serving on a jury is one of your important civic duties as an American. You can be called as often as once every 36 months in order to help the court system try cases.
You may be worried about what jury duty means for your day job. Whether you can get time off and afford to go without your normal pay can be stressful. This guide will answer your questions—and DoNotPay can assist with your jury duty leave request.
All About New Mexico Jury Duty
The selection process works by choosing citizens in a random draw. Eligible jurors must be:
U.S. citizens
At least 18 years of age
New Mexico residents living in the county for which a jury may be convened
These prospective jurors answer a series of selection questions to eliminate any potential bias against the court or the accused person(s). This ensures the jury can rule fairly on the evidence presented to them when the case is tried.
You will serve on one of two types of juries:
Trial jury—Six or 12 jurors rule on whether a defendant is guilty of an accused crime
Grand jury—16 jury members hear the charges of an accused crime and decide whether an indictment is necessary
The key differentiator between these trial types is that a grand jury does not allow the defendant to argue their side of the case. Grand jury cases tend to last longer than trial juries.
From selection to verdict, New Mexico jury duty tends to last 2–7 days. State laws stipulate that the court will pay you $7.50 each day you serve as a juror. This nominal fee will only earn you $15–$52.50 over the course of a case. While most state juror compensation rates are lower than daily income, New Mexico is among the lowest in the country.
Federal jury duty operates differently than service in state courts. For example, you are paid $50 per day as a federal juror.
Are You Exempt From Jury Duty in New Mexico?
New Mexico offers the following jury duty exemptions:
| Vocation/Condition | Exempt (Yes/No) |
| --- | --- |
| Military | Yes |
| Breastfeeding mother | Yes |
| 75+ | Yes |
| Disability | Yes |
| Elected official | No |
| Student | No |
| Law enforcement | No |
If you do not qualify for an exemption, do not make the mistake of skipping your jury duty. Consequences include:
You will be held in contempt of court
You will be charged a fine
Do You Need Time Off for Jury Duty in New Mexico?
Preparing for jury duty starts by arranging time off with your employer. State law ensures you cannot lose your job because of jury duty, so don't worry about making your boss mad. They can verify your jury duty with your summons or with a Certificate of Attendance.
DoNotPay Can Assist With Your Time Off Request
Still not sure how to ask your boss for time off for jury duty? Allow DoNotPay to help—we offer a tool explicitly intended to facilitate the process.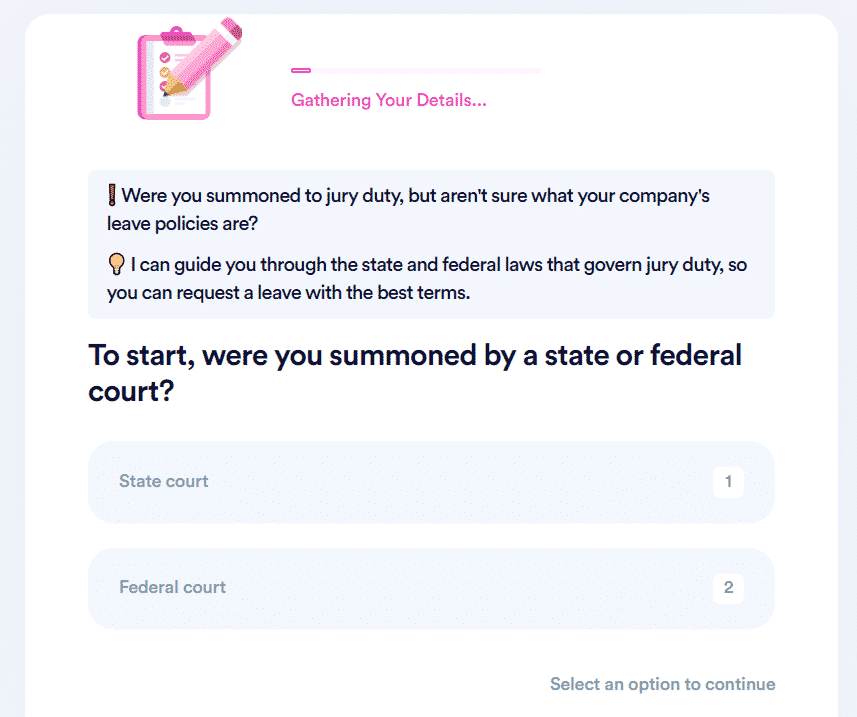 Here is how it works:
Select the Request Jury Duty Leave tool
Provide the specific information about the court detailed in your summons letter
State the days on which you require time off
Upload a photo of your summons letter for verification
Once you have completed those steps, we will compile all the details in a professional letter. You can then download and send the letter to your employers or have us do it for you—whichever you prefer.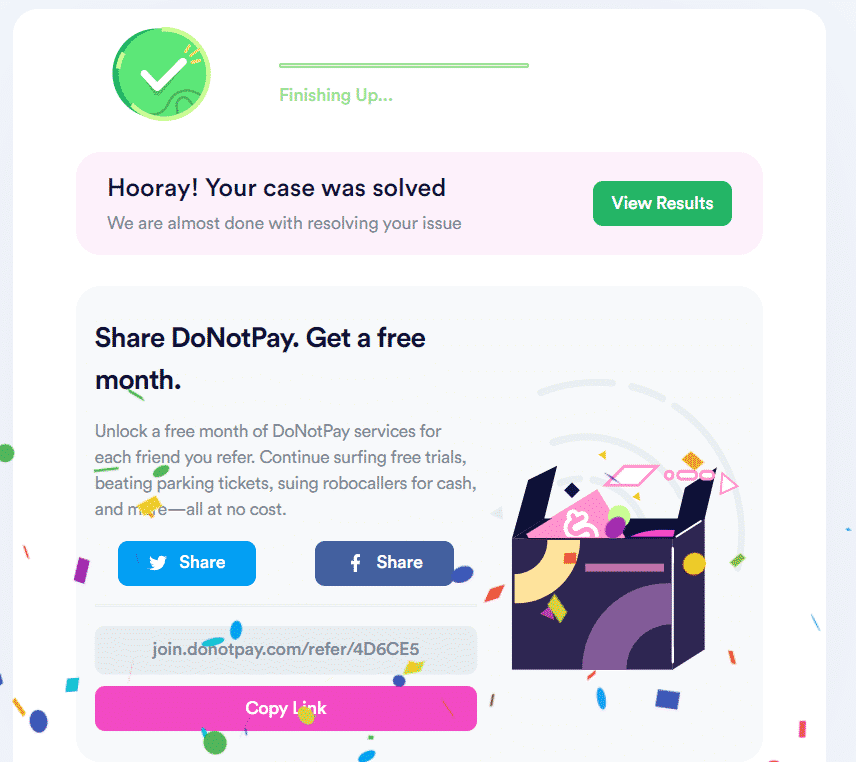 Put Greedy Companies in Their Place
If being on hold with customer service and requesting refunds and cancellations is your idea of the worst nightmare, we come to the rescue!
When you create a DoNotPay account, you'll be able to do the following with ease:
If worse comes to worst, we can guide you through suing any company in small claims court.
Use DoNotPay To Resolve Numerous Issues
The number of products we offer keeps growing. From simple chores to bureaucratic tasks and serious issues, there's not much DoNotPay won't be able to handle in a few clicks.
Would you like to search for unclaimed money you may not know about? Are you trying to save your work from copyright violations? Do you want to contact government representatives? Once you have a DoNotPay account, you will get everything done in a flash.
Even if you are a victim of stalking or harassment, violent crimes, or workplace discrimination, we can help you out! DoNotPay can also perform a sex offender search in your area and give you weekly updates.
If robocalls and spam are what's bothering you, our app will free you from such annoyances for good. Whether the spam is coming via email or text, we'll know what to do.