How Long Is the New Jersey Statute of Limitations for Breach of Contract?
What to do when someone does not fulfill the obligations you have agreed upon in a contract? Giving up might be an option if pursuing the issue will cost you more than dropping it.
A breach of contract also offers other options, such as warning the other side of the breach, asking them to respect what they have signed for, or claiming damages.
If you are considering starting a lawsuit, you need to check what the statute of limitations is in your state. This article presents the New Jersey statute of limitations for breach of contract.
DoNotPay will show you the options to resolve the issue outside of court, but we can also help you sue the other party.
What Is a Breach of Contract in New Jersey?
A breach of contract occurs when a contractual party fails to perform terms of the contract you have entered into—both a written and oral one. A breach can happen when someone, for instance:
Fails to perform the terms of the agreement
Performs the job or delivers goods or services late
Does something that the contract limits or prohibits
Prevents the other party from fulfilling their agreed-upon obligations
Keep in mind that New Jersey law distinguishes among different types of breaches. The one that gives rise to a claim in NJ court is a material breach of contract, for which you can seek damages or other remedies.
What Is the Statute of Limitations for Breach of Contract?
A statute of limitations for breach of contract is a law that defines the maximum amount of time that contractual parties involved in a dispute have to start legal proceedings from the date the breach happened.
How long you have to bring legal action against the breaching party depends on:
Your state law
Type of contract you have entered into (e.g., sales or non-sales contract)
Nature of the offense (e.g., fraud)
Why Do You Need To Check the NJ Statute of Limitations for Breach of Contract?
In case you decide to file a claim for a breach of contract, you need to ensure you submit it on time. You—as the plaintiff in this case—need to prove that your case complies with the New Jersey statute of limitations.
Your claim might be extinguished unless you file a suit within the applicable NJ statute of limitations. It means that there is a time limit on how long you have to file a breach of contract claim in NJ court.
Breach of Contract—NJ Statute of Limitations
To understand how long you have to start a lawsuit, take a look at the following table that presents the exact timelines:
Type of Claim
Description
Breach of Contract Time Limit
For non-sales contracts
A non-sales contract is an agreement you have entered into not involving the sale of goods, such as service contracts and other business ones
Six years
For sales contracts
A sales contract is an agreement involving the sale of products
Four years
For fraud
Fraud is a calculated misrepresentation that:

Misleads one contractual party
Causes damage to a party

Fraud can also arise by omitting to disclose damaging circumstances intentionally in different situations, such as:

Sales
Real estate transactions
Disputes among shareholders and partners in a corporation

Six years
Keep in mind that the statute of limitations can change. You should check out the latest revised version before starting a lawsuit.
How Do You Get Around the New Jersey Statute of Limitations for Breach of Contract?
While in most cases there is no way to get around the statute of limitations, New Jersey has a special mechanism called the discovery rule. This rule allows the plaintiff—i.e., the injured party—to file a claim beyond the regular statute of limitations.
Based on the discovery rule, the statute of limitations is calculated from the time when:
You discovered the harm
The injury or harm was supposed to be discovered
Keep in mind that this rule does not apply to sales contracts.
Try To Resolve the Dispute Before Suing
You could try to settle the dispute with the other party outside of court because:
Litigation can be lengthy and expensive
You will need to prove all breach of contract elements
The defendant could raise affirmative defenses, and you might not win
To let the breaching party know that you are not willing to give up on the agreed terms and obligations that easily, you should send them a demand letter.
How To Draw Up a Demand Letter
Here are some options you can consider while creating a breach of contract demand letter:
Hire a lawyer—Keep in mind that you do not have to pay for a pricey attorney to prepare a demand letter for you
Visit a collection agency—This is another expensive way to try to resolve a contract breach, so you should think it through before you hire a debt collector that will take 25%–50% of the amount collected
Do it yourself—You could use online demand letter templates. Keep in mind that most are too generic and might not be appropriate for your specific situation
Register for DoNotPay—We have the latest versions of state laws and can fit your case into the legal framework smoothly
Use DoNotPay To Generate a Demand Letter in a Matter of Minutes
Our AI-powered app keeps track of all revisions and changes to relevant state laws to ensure your demand letter meets legal requirements.
DoNotPay is the world's first robot lawyer that helps clients prepare legal documents quickly and affordably yet efficiently.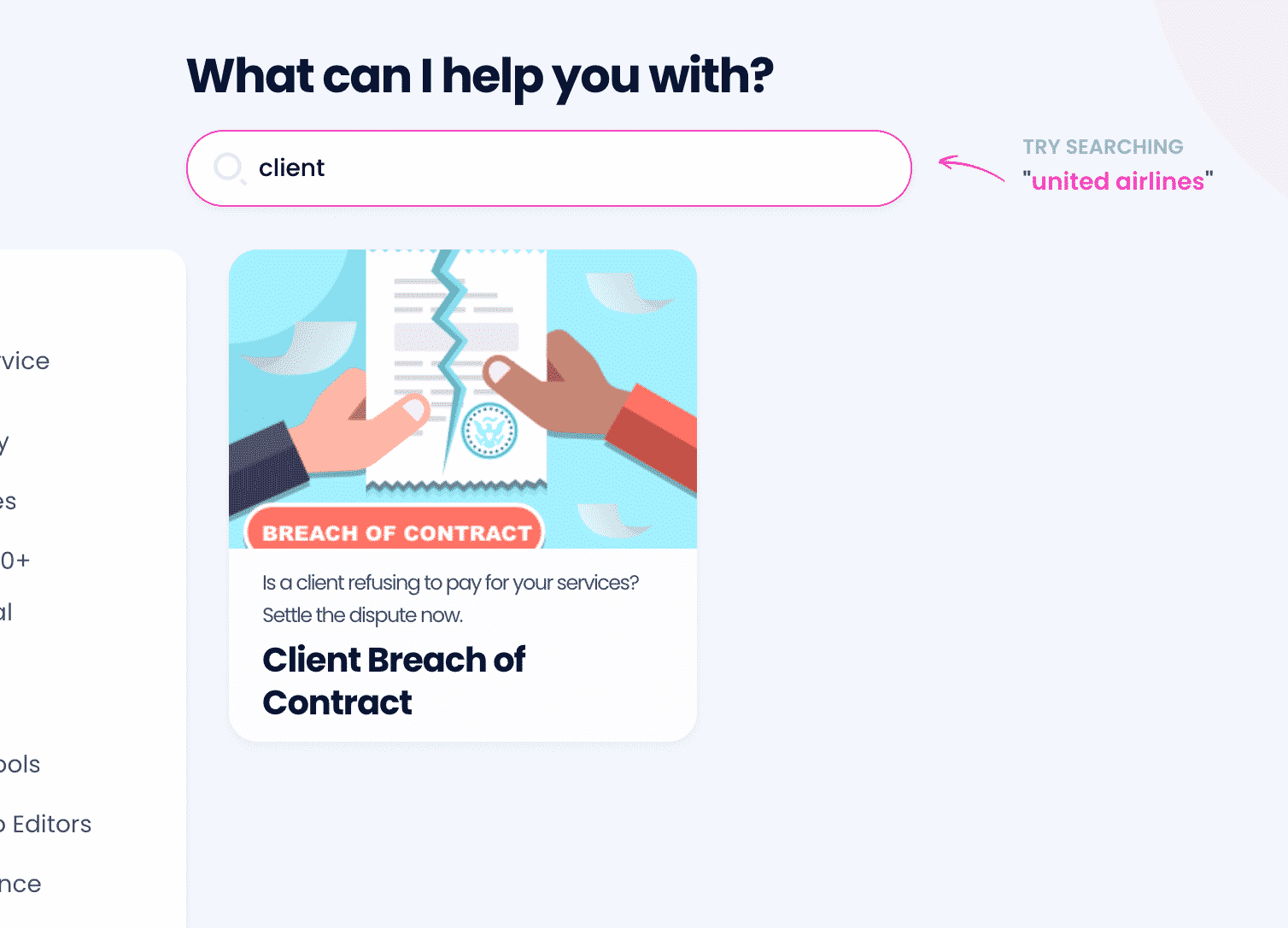 Subscribe to DoNotPay and take the following steps:
Open the Breach of Contract feature
Answer the chatbot's question to let us know about the specifics of your contract
Provide the payment or delivery deadline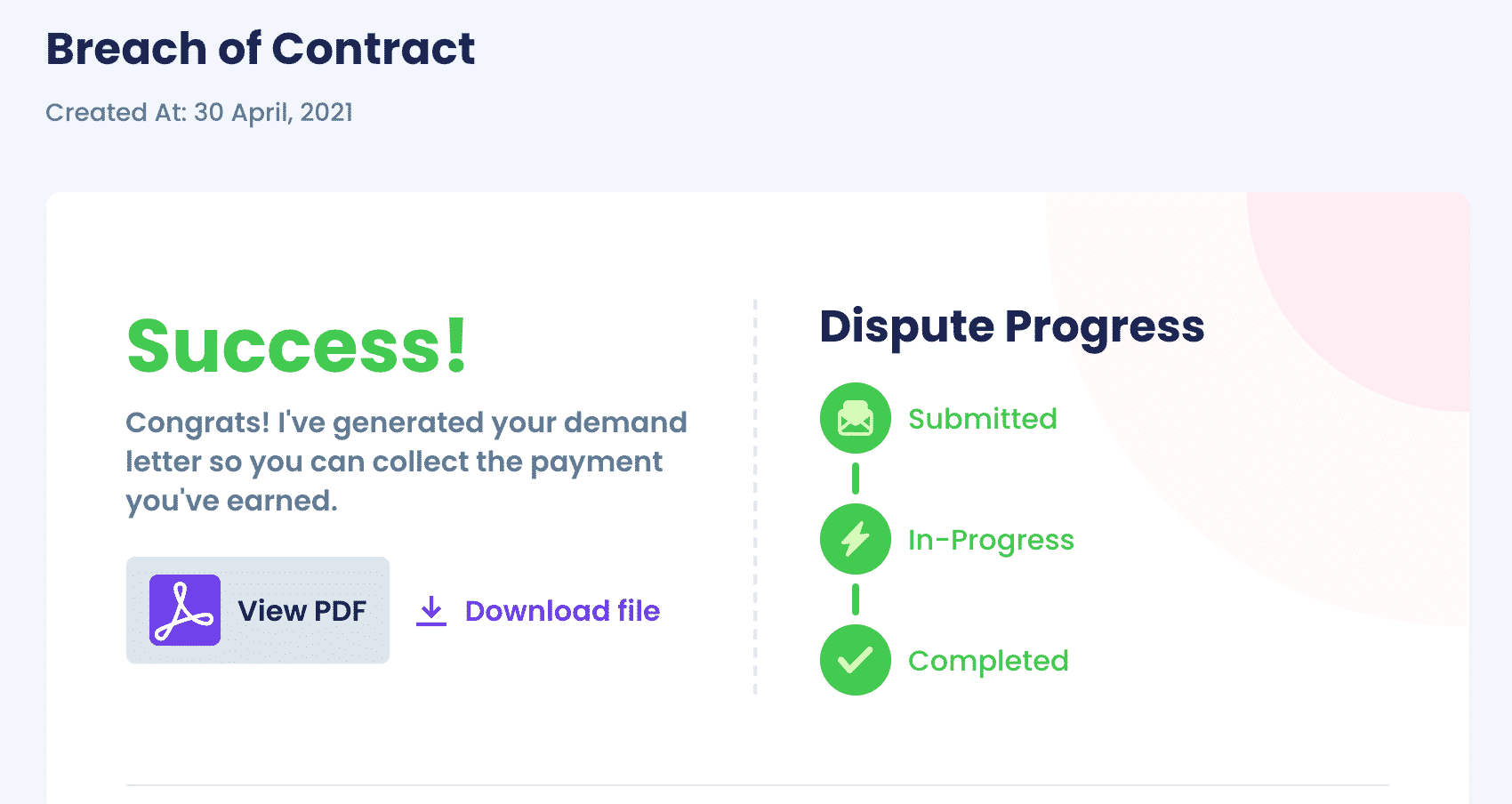 As soon as we get the details about your contract, we will generate a demand letter that complies with relevant regulations.
What if you do not get what you have asked for in the demand letter? DoNotPay can help you sue the other party in small claim court successfully!
Get the Upper Hand With DoNotPay
The business world is extremely competitive—that is why it is always good to have some extra capital set aside when you need to invest in your company. You can leave the bureaucratic task to us—DoNotPay will draw up business loan request letters in your stead.
If your finances are taking a hit, rely on our app. With our assistance, you will be able to:
Fight fraudulent chargebacks
Remove fake negative reviews online
Register and protect your trademark
Send mail and faxes at no additional cost
Handle clients breaching contracts and get what you are owed
Whatever the task at hand, our AI-powered app will see it through successfully.
DoNotPay—The Assistant Every Business Needs
You cannot escape bureaucracy in business. What you can do is let DoNotPay deal with it. Whether you need to register a DMCA agent or complete an Employer Identification Number (EIN) registration, our app will lead the way.
Using DoNotPay, you will also not have to worry about 83(b) election forms or Privacy Shield self-certification. From generating to filing important documents and from dealing with employees to handling clients on your behalf, our AI-driven app is your go-to solution.
Grow and protect your business with the world's first robot lawyer!