Find a Safe Haven With the New Jersey Law Against Discrimination at Work
If you are experiencing discrimination at work, New Jersey is a good place to be.
While all U.S. employees enjoy the protection of federal anti-discrimination laws, New Jersey residents benefit from extra protection under state law that goes beyond what federal legislation can offer.
DoNotPay has all the info about the New Jersey Law Against Discrimination (LAD) and ways it can protect you!
What Are the Differences Between Federal Law and the NJ Law Against Discrimination?
The federal laws that protect you against discrimination at work are:
Title VII of the Civil Rights Act of 1964

The Pregnancy Discrimination Act
These laws offer protection against most forms of discrimination, including cases based on:
Gender

LGBTQ+ status

Color
Nation of origin
Under the terms of all anti-discrimination laws, discriminatory behavior can take the form of de facto or de jure discrimination, harassment (including sexual in all its forms, verbal, email, and cyber harassment), and retaliation.
The NJ LAD was enacted in 1945 and was the first of its kind in the United States. New Jersey law goes to eleven, though, by adding elements and clauses that close some of the loopholes left by federal law.
The main differences are in the following areas:
Age discrimination
Disability definition
Employers covered
Individual liability
Punitive damages capping
Age Discrimination
The New Jersey LAD protects employees under the age of 40 as well as those over 40 who are covered under the ADEA. If you are over 70, you cannot claim age discrimination when applying for a job, but you can if you are being discriminated against by a current employer.
Disability Definition
The ADA limits your claims for disability discrimination if your disability means you cannot perform "major life functions" such as reading, writing, typing, or bending. The NJ LAD makes no provision for this and recognizes all types of disability.
Employers Covered
All employers, regardless of the number, are bound to comply with the LAD. Federal law only applies to companies of 15 employees or more.
Individual Liability
Even if you are not the employer, you are liable under the LAD if you aid or assist in discrimination against an employee.
Punitive Damages Cap
Federal law places a cap on the amount of punitive damages that can be awarded as follows:
| | |
| --- | --- |
| Company Size | Amount |
| 15–100 employees | $50,000 |
| 101–200 employees | $100,000 |
| 201–500 employees | $200,000 |
| 501 employees or more | $300,000 |
The New Jersey LAD has no such cap, so judges may award what they feel is justified.
Should You Use State or Federal Law To File Your Case?
A discrimination lawyer will advise you to file under the legal framework that offers you the best protection.
In many cases, this will be state law in New Jersey, but it is worth bearing the following points in mind:
State courts may be more prone to be lenient towards an employer that is important to a local economy
The LAD applies to any employer regardless of size—your company may not be covered under federal law
State authorities may be more willing than the federal enforcement agency to prosecute local cases
Who Enforces the LAD and Federal Law?
Federal anti-discrimination laws are enforced by the Equal Employment Opportunities Commission (EEOC), whereas the NJ LAD is under the jurisdiction of the New Jersey Division on Civil Rights (DCR).
If you want to lodge a complaint of discrimination against an employer with either authority, the process is similar.
You must submit a written complaint—known as a charge of discrimination—and include as much factual evidence as possible, including:
Dates and times of the incidents you experienced
Names of the people and company you are accusing of discrimination
Type of discrimination you are alleging
Details of the incidents
Names of any witnesses
Once you have submitted your complaint, both the EEOC and the DCR will proceed to investigate your case and move towards a settlement.
Although both authorities claim it is easy to file a charge of discrimination, the EEOC often requires you to attend an in-person interview before accepting your case. This can be complex and time-consuming, but DoNotPay has the answer—we can !
How To File Your EEOC Charge of Discrimination Using DoNotPay
DoNotPay is here to make your life easier!
Filing a charge of discrimination with the EEOC is a great example of what we can do—here's how to lodge your complaint in three easy steps:
Go to DoNotPay in your web browser and
Search for our Fight Workplace Discrimination product
Give us the details of your case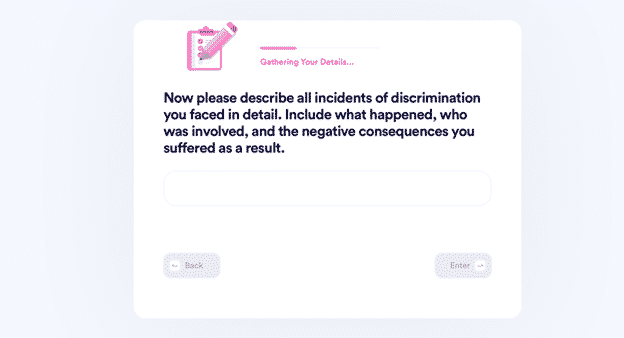 Job done—your nearest EEOC office will contact you to walk you through the next steps!­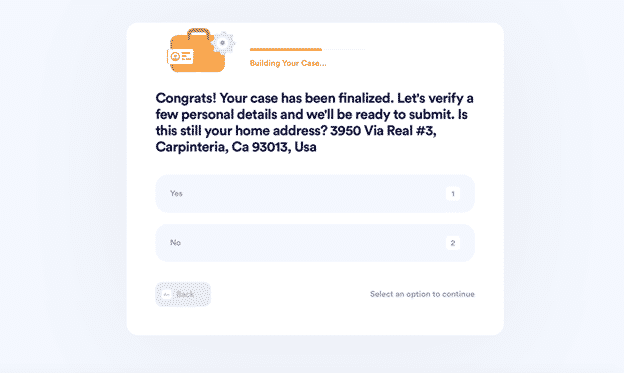 Thinking About Hiring a Lawyer? Think Again!
After you report discrimination in the workplace, you can only hope everything will turn out great. We sure hope so too, but having a backup plan doesn't hurt. If the report with the EEOC backfires, getting a lawyer will be the next logical step.
While you may understand the importance of professional legal help, you might be surprised by how much our virtual lawyer can do for you. Thanks to advanced AI technology, our app can assist you with:
By subscribing to DoNotPay, you won't have to waste hundreds of dollars on lawyers for the help you can get for a few bucks!
DoNotPay Provides Shortcuts Through Bureaucracy
Have you ever thought that corporations and government administration make everything more complicated than it should be? We feel you. That thought is the cornerstone of what DoNotPay is all about!
Our developers keep coming up with products that win against complicated bureaucracy left, right, and center. Some of the tools and services we're most proud of help our subscribers with:
And we're just getting started!