Set Up a New Jersey Durable Power of Attorney To Secure Your Financial Future
Preparing for a time when you are no longer able to look after your financial affairs is never pleasant.
It could help you and your loved ones bypass endless difficulties, though, so the sooner you prepare a power of attorney (POA) to regulate your future, the better.
If you are a New Jersey resident, DoNotPay has all the resources you need to set up a New Jersey durable power of attorney.
What Is a NJ Durable Power of Attorney?
A durable power of attorney hands over control of aspects of your life to a trusted person—called an agent—to manage when you are no longer capable of doing it yourself.
The areas of your life that can be handed over through a medical or financial power of attorney include:
Healthcare
End-of-life decisions
Financial affairs
A financial POA is the most important form to make sure the needs of your loved ones are looked after in both the short and long term.
Financial powers of attorney come in different variations that determine:
When they come into effect
How long they last
What powers they give the agent
The main differences between the variations are:
Type of POA
Explanation
Limited POA
This is a POA that cedes control of either limited financial areas or all your financial affairs for a limited time
General POA
A general POA covers all your financial matters but terminates when you are deemed to be incapacitated. It must then be replaced by a durable POA, a springing POA, or a conservatorship
Springing POA
This comes into force when you are declared incapable of managing your finances
Durable POA
A durable POA is the most wide-ranging of the forms. It covers all aspects of your financial affairs and is valid until:

You pass away
Your agent becomes unwilling or unable to carry out their function
You revoke the POA
A durable POA is the safest way to guarantee your financial affairs will be looked after when you can no longer do the job yourself.
What Are the Specifics of NJ Power of Attorney Law?
A New Jersey power of attorney is similar in form to most other states, but there are a few points to note in the way it must be set up:
Wording
Eligibility of principals and agents
Signing
Limitations on financial decisions
Wording
To qualify as a durable POA in NJ, your POA document must contain the phrase "this power of attorney shall not be affected by subsequent disability or incapacity of the principal or lapse of time."
Eligibility of Principals and Agents
Anyone can become a principal or agent in a New Jersey power of attorney provided they are:
Aged 18 or over
Of sound mind
Signing
You, as the principal, must sign the POA in the presence of a notary who is licensed in New Jersey.
The notary will verify that:
You are who you claim to be
You understand the contents of the document you are signing
No pressure or duress is being exerted on you
Under NJ law, you can also use an online notary to have your signature verified.
You will also need two independent witnesses who can verify you are of sound mind at the time of signing.
Limitations on Financial Decisions
The most important point under New Jersey law is that there are limitations on who can make financial decisions for you if you become incapacitated and if no POA is in place.
NJ law states that:
A spouse does not have the legal authority to make financial decisions for you if you are incapable
Parents are not legally empowered to make financial decisions for disabled adult children
If no POA is in place and you become incapacitated—or your adult child suddenly becomes disabled and unable to run their affairs—you or your spouse would have to apply to the court for a guardianship. This is a lengthy and expensive process.
A well-written durable power of attorney can save you from protracted legal problems.
How Do You Set Up a Durable Power of Attorney in New Jersey?
The steps to setting up a NJ durable POA are straightforward:
Choose an agent
Prepare the POA letter
Sign the document
Choose an Agent
Your choice of agent is crucial. It should be someone who has your best interests at heart. If you can't decide who to choose, you can opt for multiple agents by using a joint power of attorney.
Prepare the POA Letter
Your POA should be clear enough to avoid misunderstandings or ambiguities. The more detail you put into how you want your financial affairs to be run, the more likely your wishes will be followed. You should include instructions on:
Property
Investments
Your business
Paying bills
Ensuring your family's wellbeing
Paying day-to-day expenses
Giving gifts
Sign the Document
The POA comes into force as soon as it is signed unless you have stated otherwise.
You can use a lawyer to help you set up your durable POA in New Jersey, but this can become an expensive and time-consuming process. A much better option is to in a few clicks!
Use DoNotPay To Create Your NJ Power of Attorney

DoNotPay is the master at simplifying legal processes, and a power of attorney is one more way we can help you get what you need!
To generate your customized power of attorney, all you have to do is:
in your web browser
Click on our Power of Attorney feature
Fill in the details you want included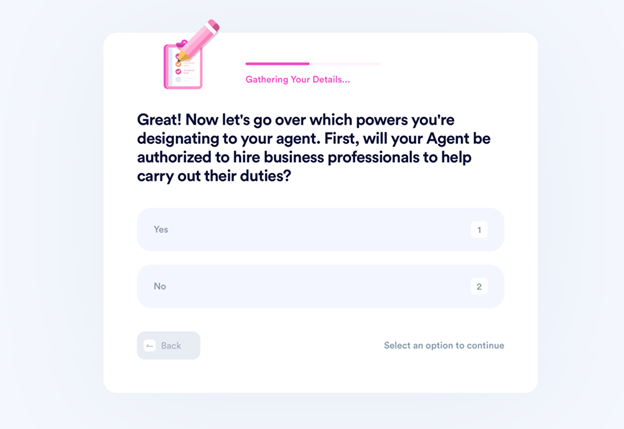 Once you're done, DoNotPay will generate your document. As soon as you have signed it and had it notarized, your financial affairs are in safe hands. To make the process even easier, you can use DoNotPay to have your POA notarized online.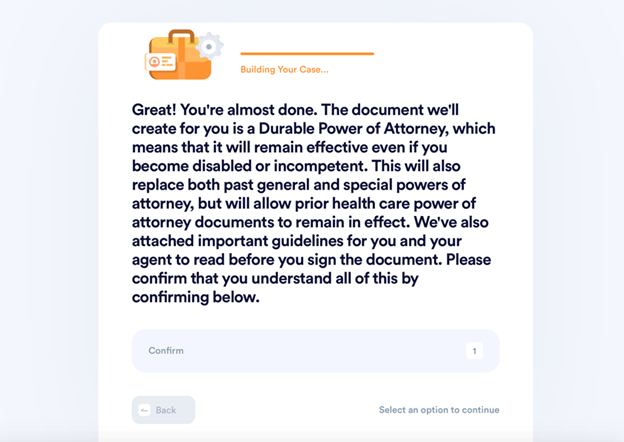 Not Sure if You'll Have Enough Money at the End of the Month? We Can Help
Most Americans go through financial hurdles daily. You don't need to put up with it all—as soon as you sign up for our app and voice your struggles, we will provide our assistance! DoNotPay is capable of:
Dealing With a Greedy Company? No Need To Worry
Are you dealing with a company that doesn't want to cooperate and keeps ignoring your consumer rights? No problem—DoNotPay can help you sue the company in small claims court and win your case.
If you need us to draw up a legal document, get it notarized, and fax it to the court, we can do that as well.
Have you been trying to reach the company's customer support reps with no success? Don't get stressed—our app will gladly wait in the phone queue in your stead and notify you as soon as someone picks up.