Ch-Ch-Changes—New California Sick Leave Law
As there's no permanent federal law that regulates paid sick leave, rules differ from one state to another. Only a handful of states—15 and D.C.—have local- or state-level laws about paid leave.
One such state is California, which introduced California's Healthy Workplace Healthy Family Act in 2014. There have been recent changes to it, though. In this article, we'll show you what the new California sick leave law brings and explain how you can call in sick hassle-free if you subscribe to DoNotPay.
How California Paid Sick Leave Law Works
California law offers paid sick leave to full-time, part-time, seasonal, and temporary workers of all industries.
The minimum paid leave you can accrue is 30 hours in a year, but some cities have local laws that overrule that limit and offer more generous leaves. Take a look at the following table to find information about the amount of paid sick leave in certain California cities:
City in California
1–9 Employees
10–24 Employees
25 or More Employees
Oakland
40 hours
72 hours
/
San Francisco
48 hours
72 hours
/
Santa Monica
/
40 hours
72 hours
Berkeley
/
48 hours
72 hours
San Diego
40 hours
Los Angeles
48 hours
Bear in mind that under the law, you are not required to obtain a doctor's note to ask for sick leave, so the employer can't force you to work sick if you don't have one.
What Changes the New California Sick Leave Law Brings
In 2021, California introduced new legislation that covers sick day rules concerning COVID-19. With the new law, companies with at least 25 employees must provide supplemental paid sick leave to staff members for the following reasons:
Quarantine or isolation
Vaccination appointment
Symptoms related to a COVID-19 vaccine
Symptoms of the virus
Caregiving to a family member with COVID-19
Caregiving to a child whose school closed due to the pandemic
Keep in mind that the new law:
Doesn't apply to work-at-home employees
Allows the employer to ask for a doctor's note
Other Laws and Rules You Can Turn To
Outside of the state law, you can get sick leave based on:
The Family and Medical Leave Act (FMLA)
The first two are federal-level acts. The FMLA provides 12 weeks of unpaid sick leave per year, while the EPSLA is a temporary law that applies to employees with COVID-19.
Note that many companies often offer better sick leave terms to have more appeal. Check your company's policy to see if that's the case with your employer.
How To Get Sick Days Off Easily With DoNotPay's Help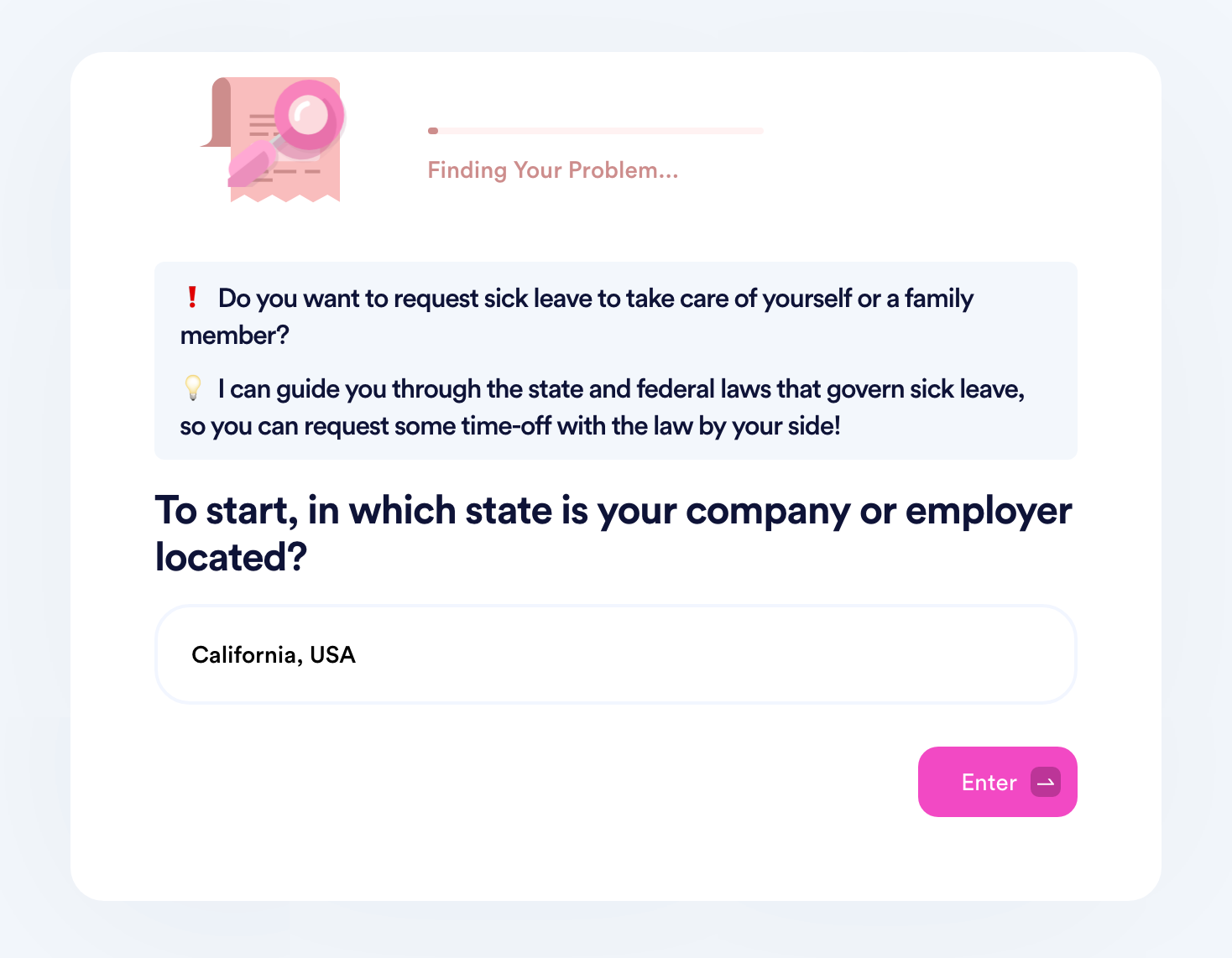 You shouldn't go to work when feeling sick, especially if you have Coronavirus or experience the symptoms. Luckily, the new California law allows you to get paid while on leave, but you still need to call your employer or send an email request.
If you don't know how to write a request or are too sick to do it, DoNotPay will do it for you in no time. Our Request Sick Leave product will draft a professional sick leave request letter based on the applicable law and the information you provide.
You only need to sign up for DoNotPay, locate the product, and:
Insert the state the company is in
Answer a few questions about the company
Enter the dates on which you'll be absent from work
Choose to download the letter or have DoNotPay send it to your employer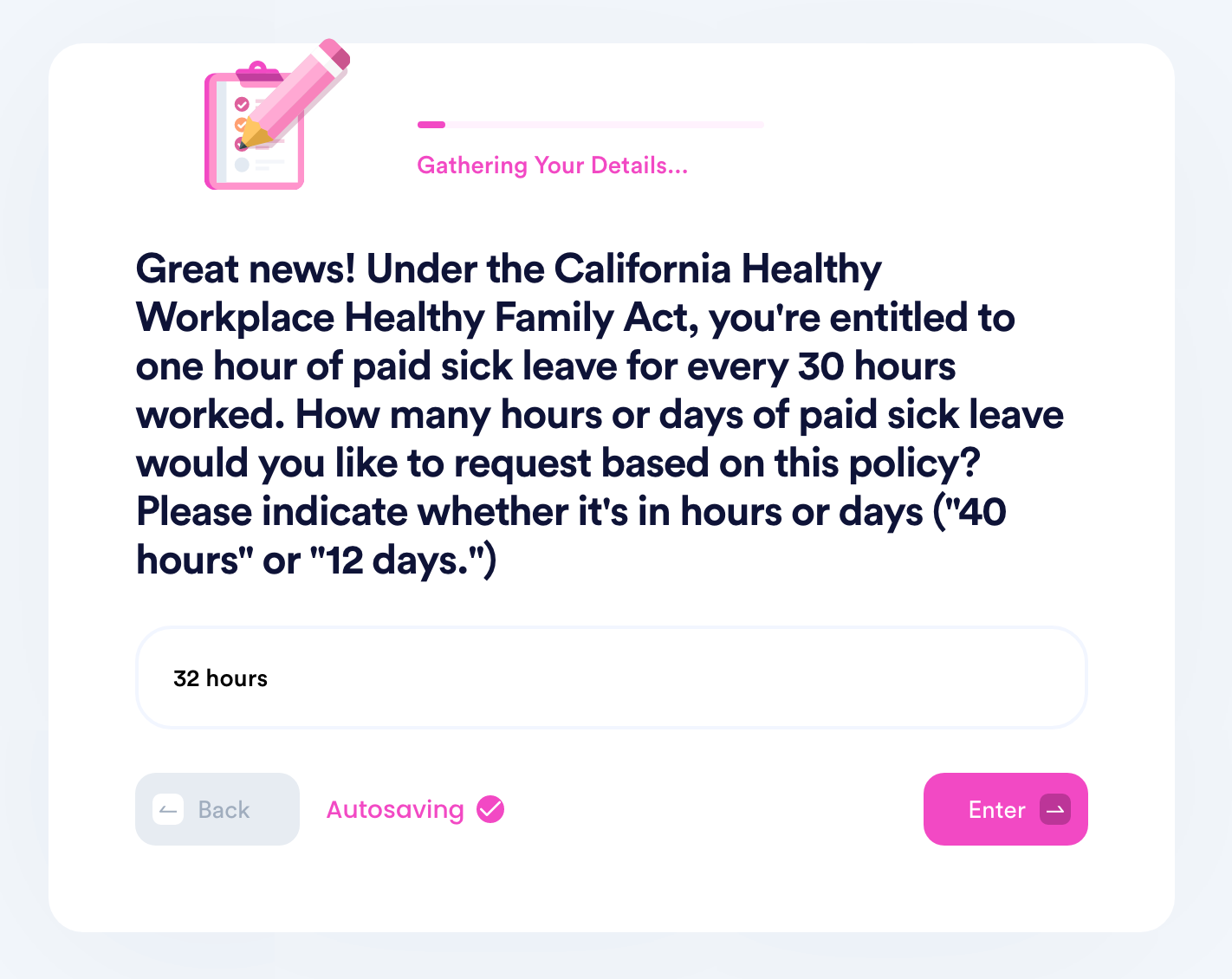 If your employer denies your lawful right and rejects your request or punishes you for it, you can—and should—sue them for mistreatment. Use our Small Claims Court tool to guide you through the process.
DoNotPay Handles Lengthy and Challenging Tasks on Your Behalf
No time to dedicate yourself to drawn-out procedures or solve administrative issues yourself? Keep calm—that's why DoNotPay is here! By creating an account on our platform, you will be able to:
Keep the Cash in Your Pockets With Our App
DoNotPay doesn't bring you money-saving hacks—it actually assists you in cutting out expenses and living more economically. The tools we provide are made to help you pay less for utilities, end unwanted paid memberships, have college fees waived, or get lower tax bills. You can also save more on education-related costs by applying for scholarships and other financial aid via our app!
If you have a few forgotten gift cards lying around, don't let them go to waste. DoNotPay can cash them out and send the remaining funds to your home address!