Nevada Lease Agreement Explained 
Signing a lease agreement when renting an apartment or other property in Nevada is a must for a peaceful landlord-tenant relationship. Unlike verbal deals, which are difficult to enforce, written documents offer more security and help you list the responsibilities of both signing entities concisely. 
The bad news is that drafting a contract is usually tiresome and complicated. Searching for the appropriate templates or state-specific requirements may prove to be demanding, so we are here to help you avoid potential failures. We gladly share our best tips on Nevada lease agreements and reveal the quickest and simplest way to create them!
What Is a Lease Agreement?
Making a residential lease agreement means creating a legal document that regulates all rent-related conditions the property owner and tenant agree upon. It's an arrangement that enables the occupant to use the landlord's real estate while paying a predetermined monthly amount. 
The lease agreement is the most common choice for the renters who want to stay on the property for a fixed period—usually from six months to a year. The maximum lease duration in Nevada is one year, but the parties can renew it if they want. 
Do You Need To Have Your Nevada Lease Agreement Notarized?
Some residential agreements in Nevada need to be notarized. If the landlord doesn't sign the contract but authorizes another person to do it on their behalf, notarization is mandatory. 
You can also take the document to a notary to fortify the protection of your rights, but no laws in Nevada require this.
What Sections Should Your Lease Agreement in Nevada Contain?
Chapter 118A of Nevada Revised Statutes explains the main rules all Nevada property owners and renters must comply with during the rental period. You have the right to include any section you consider important in your contract, but you must ensure it aligns with state laws. 
Below is the list of the recommended clauses and terms that will ensure a clear agreement without ambiguities:
Date of creation

Signatures of both involved parties

Identification details of the signing parties

Real estate address and description

Agreement start and end date 

Rent amount, due date, and proration

Services and maintenance

Pet policy clause

Notice requirements

Other optional terms:

Bed bug disclosure

Mold disclosure

Asbestos disclosure
What Are the Required Disclosures According to Nevada Laws?
Besides the recommended sections, certain clauses must be included in Nevada lease agreements. The following table shows the disclosures mandatory in specific cases, according to state laws:
| | | |
| --- | --- | --- |
| Clause | It Is Mandatory For | Explanation |
| Foreclosure disclosure | Any properties with foreclosure proceedings | If the rental unit in question has any current foreclosure proceedings at the time of signing the contract, the landlord needs to include this info in the agreement |
| Lead-based paint | Any properties built before 1978 | This section informs the tenant about the potential presence of lead-based paint in the building structure |
| Non-refundable fees | All properties | The agreement needs to contain a specific clause that will state the exact rent and security deposit fees |
| Utility charge breakdown | All properties | The parties need to determine who will pay the utility bills and decide whether this payment will be included in the rent amount |
| Move-in checklist | All properties | This clause contains a description of the property general condition at the time when the occupant is moving in |
| Violation and nuisance penalties | All properties | The landlord and tenant must create an agreement regarding potential rule violations and their consequences |
| Right to display the U.S. flag | All properties | This section enables the landlord to decide whether they will allow the tenant to raise the U.S. flag on the rented property. It's usually approved except when the flag contains advertising |
How To Create a Proper Lease Agreement in a Snap With DoNotPay
Are you trying to draft your agreement, but the right words and terms keep slipping your mind? It's a common problem, as most people don't know how to compose such documents without professional assistance. Luckily, you don't need to worry about it because DoNotPay offers a convenient solution!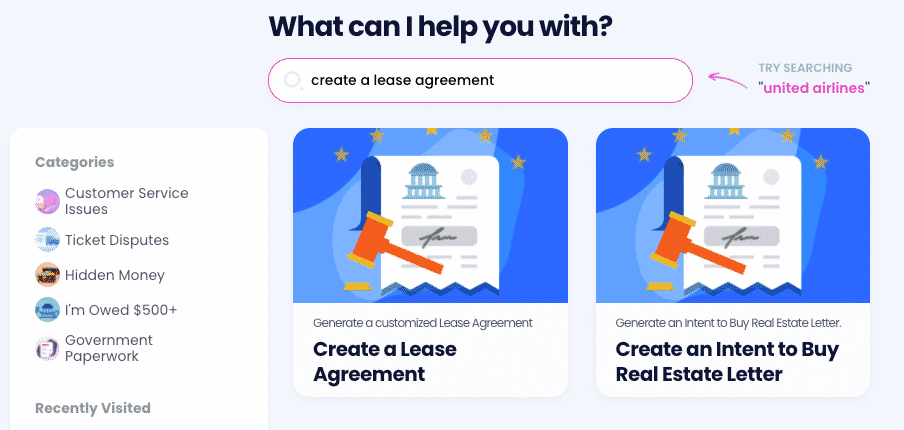 Our app provides the best legal document templates you can modify and tailor to your needs. Instead of wasting exorbitant amounts on lawyers, rely on us and get a personalized contract in no time!
Here are the steps you need to follow:
Visit DoNotPay

in any web browser

Find the contract template you need

Enter the required information to complete your document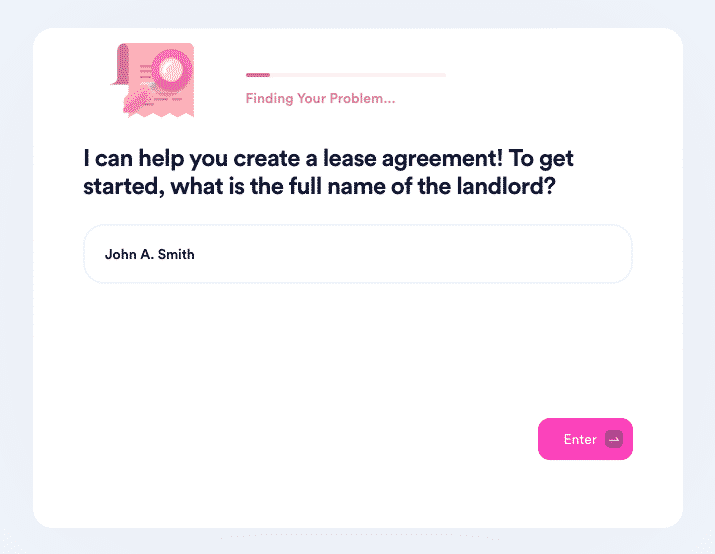 Our system will automatically generate a contract that aligns with all state rules and regulations and contains all necessary sections and terms. This means you will be able to make killer lease agreements for other U.S. states, including:
What Other Legal Documents Can DoNotPay Generate for You?
Here's the entire list of the document templates DoNotPay can provide:
Estoppel Certificate

General Business Contract

Quitclaim Deed

Promissory Note

Intent To Purchase Real Estate

General Affidavit

Residential Lease Agreement

Child Care Authorization Form
Our Robot Lawyer Gets Rid of All Admin Tasks
What makes DoNotPay so unique is that it helps you get back what is rightfully yours in many different ways. You can appeal parking tickets, find unclaimed money, demand a refund for canceled or delayed flights, get help with bills you cannot pay, or get your college application fees waived with the help of our platform.
If you're sick and tired of annoying robocalls, spam emails, copyright violations, text message spam, or stalkers and harassers, DoNotPay can assist you in getting rid of them once and for all.
DoNotPay Can Help You Save Money
Have you ever subscribed to a service's free trial you forgot about after a few days? Many Americans have, which is why DoNotPay has a free trial feature that will help you avoid getting charged once the trial is over.
If you want us to scan all your active memberships and help you not pay for the ones you don't use, connect your email address or credit card to DoNotPay. Our cancel feature will ensure that you don't waste your money on subscriptions you don't even remember exist.
If a merchant charges you once the free trial is over, though, you can use our robot lawyer to request a refund and skip the phone queue when doing so.
In case a company refuses to grant you a refund, you can also use our app to sue them in small claims court.