Laying Out the Details of the Nevada County Jury Duty Policy
Jury duty is an important civic duty that serves the same purpose across the country, but its implementation across counties and states doesn't always follow the same rules.
The Nevada County jury duty policy establishes the rules that guide the responsibilities of trial and grand jurors, the duration of service, their compensation, and exemption conditions. This article will reveal all this information and show you how to be better prepared for your jury service by using DoNotPay.
Trial Jury Service in Nevada County
If you are put on a jury after the jury selection process, you and 11 other people will hear the testimonies in an assigned case, deliberate over them, and reach a verdict.
The duration of Nevada County's jury service is a one-day/one-trial policy, like in the rest of California. This means that you have fulfilled your jury obligation if:
You have served in a single trial until the verdict
You responded to the jury summons but didn't pass selection
Your assigned case settled out of court before the trial date
Nevada's 12-month gap between summons ensures you can't be called up too soon after a concluded jury duty.
Trial Jury Duty Exemptions and Postponements
Jurors have one chance each year to reschedule their date of jury service by:
Visiting the Juror Status page on the Nevada Courts website
Calling the Jury Commissioner's office
Only a judge can sign off on an exemption request when you appear in court. You can request an exemption if you:
Are not an American citizen
Are younger than 18
Do not live in Nevada County or are not domiciled in California
Have a misconduct conviction on your record or are a registered sex offender
Don't possess the required English language skills
Are serving on another jury at the moment
Have a mental or physical challenge or are taking care of someone with one
Are on parole, probation, or any kind of mandated supervision
You must honor your summons. If you ignore it, you will be held in contempt of court and may receive a fine, jail time, or both.
Trial jurors receive $15 per day and one-way transportation compensation of 34 cents per mile—compensation for federal jurors in California and other states follow a different pay structure.
Nevada County's Grand Jury Duty
How does jury duty work for a grand juror? These jurors are active for an entire year. They meet twice a month at 9 a.m. as a full panel and commit 10–25 hours of their week for 12 months.
The table below summarizes the qualifications and disqualifications for a prospective grand juror:
Qualifications
Disqualifications

U.S. citizenship, older than 18
Residency in the state and county for at least a year before receiving the summons
Good working knowledge of English
Sound mind and judgment, good health, unbiased evaluation, and solid investigative skills
Good understanding of the county government's powers and authority

Serving as an elected public officer at the moment
Being discharged as a grand juror
Being a trial juror anywhere in the state
Having misconduct or felony on the record
Grand jurors receive compensation of $15 for every meeting attendance. The court reimburses trip expenses at the federal mileage rate.
DoNotPay Can Request Jury Duty Leave on Your Behalf Stress-Free!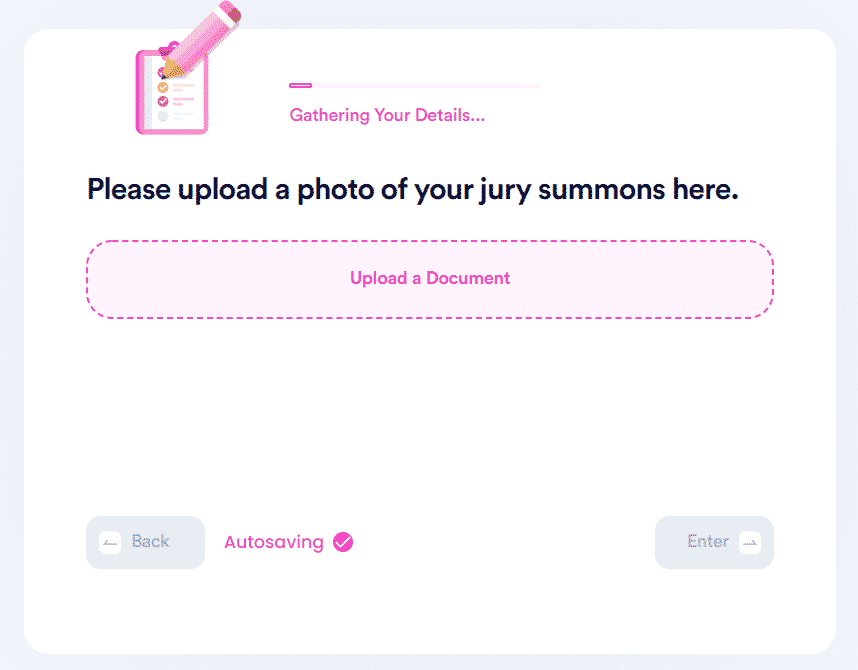 When a court summons you, your employer will require proof of your summons to give you time off work. Even though your employer cannot fire you, they can't verify your summons without proof. DoNotPay's jury duty leave request can help with the paperwork.
Take these steps to get your custom request letter:
Sign in to your DoNotPay account and search for the Request Jury Duty Leave feature
Answer the chatbot's questions about your jury summons and upload photo proof
Choose whether you want DoNotPay to email your letter to your employer for you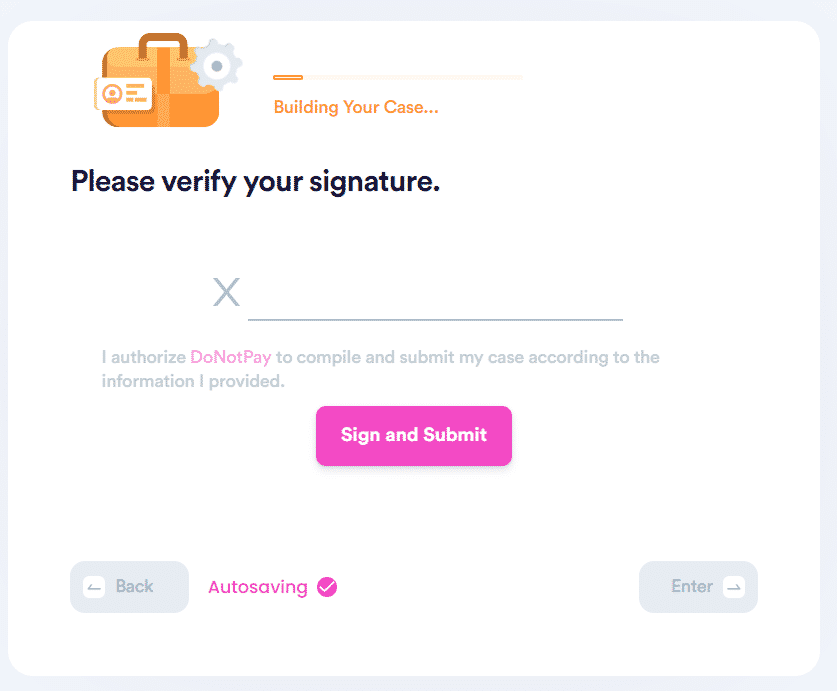 You can also download the request letter from the platform, print it, and submit it in person.
Check out our learning center for other California-related jury service information:
Jury duty postponement in:
Our App Offers Assistance in More Ways Than One
As a multifaceted app, DoNotPay creates solutions to numerous problems. Check out the table below and get to know a fragment of what our app can do:
| Keep Your Privacy Intact | Deal With Legal Problems | Solve Money Issues |
| --- | --- | --- |
| | | |
Use DoNotPay To Streamline Different Tasks
Tick the items off your to-do list faster by signing up for DoNotPay. In record time, you'll be able to request a refund, cancel a subscription, and get a free trial.
If talking on the phone is your worst nightmare, don't worry—you can use our app to schedule a meeting with an online notary, reach customer service with ease, and make a DMV appointment.
Feel free to also rely on our app when you want to prep for government tests, file FOIA requests, or connect with loved ones in prison.