What Is a Netspend Virtual Card?

Virtual credit/debit cards are getting more and more popular with the increase in cybercrimes and personal information being stolen.  Many credit card and prepaid debit card companies offer them to their customers as a way to protect their personal information.
Netspend Virtual Cards are offered to customers that have a prepaid Netspend account, to protect themselves and their personal information from hackers. You can use your virtual card to pay for purchases online, or use anywhere that you would use your prepaid account. You must first have a Netspend prepaid account before you can have access to the Netspend virtual card.
DoNotPay also has a virtual card that you can use when starting a free trial and never worry about getting charged if you forget to cancel before the free trial period ends. And DoNotPay makes it easy and quick, and you don't need a prepaid account to use it. You can use DoNotPay for free trials with various services and subscriptions.
What Is a Virtual Credit Card?

Virtual credit cards are numbers generated by a company that are created to protect your primary credit card number.  When backed by a prepaid account, the virtual card allows you to make purchases from that account without ever divulging your account numbers.  When using DoNotPay's virtual credit cards, a credit card number, expiration date, and security code are generated that will bypass any card verification.  But since DoNotPay's virtual card is not tied to a debit or credit account, nothing can be charged to it.
How Do I Get a Netspend Virtual Card?
In order to get a Netspend Virtual Card, you must first sign up for their prepaid debit card.  Prepaid debit cards through Netspend are expensive alternatives to checking accounts.  Prepaid cards are good for people who are working to improve their credit, have trouble charging over their credit limit, or want to give allowances to teenagers in virtual form.
Here are the features of Netspend Virtual Card:
Credit Check
No
Monthly Fee/Fee per Purchase
Yes
ATM Access
Yes

You have access to over 130,000 ATMs, but there is a fee for using them.

Customized with photos for personalization
Yes
Virtual Accounts
Can generate up to six temporary virtual account numbers.
Virtual Numbers
Virtual numbers can be used for online or phone transactions only
Why Should I Use a Virtual Credit Card?
Virtual cards may be used for a number of reasons.  If you are an online shopper like over 225,000 other people, you may want to get a virtual credit card for one simple reason: protection. Using virtual credit cards will hide your real credit card digits. This helps protect you from data breaches, credit card fraud, and identity theft.
There are also other ways to use a virtual card:
Take advantage of free trials.  Companies count on you forgetting to cancel free trials or trial subscriptions and automatically charge your card when the trial period ends.  By using a VCC, you can cancel the card once the initial trial is signed up for.  No charges can ever be made to it.  With DoNotPay's virtual card, we simply generate a number and automatically cancel it after one use.
VCCs allow more than one family member to use an account, and you have the ability to see who made the purchase and when.  You can also turn off the card after the agreed-upon number of uses.
You can control your spending or set limits on others when using an account.
You may find it ultimately more convenient to have a virtual card that cannot be damaged or lost.
How Can I Use DoNotPay's Virtual Credit Card?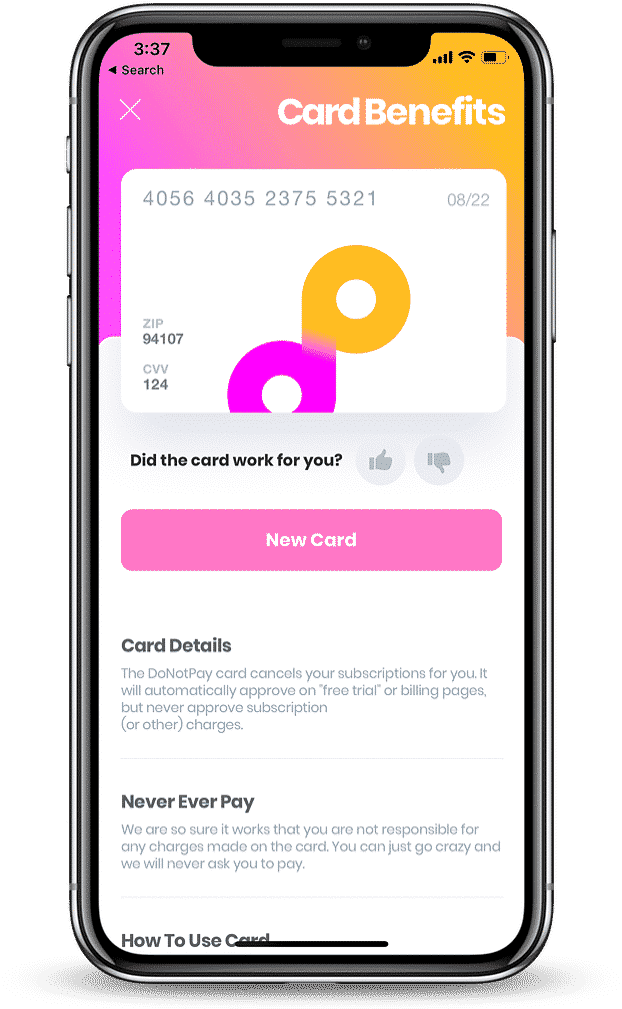 DoNotPay makes it easy and quick to get a virtual credit card to use to get free trials. DoNotPay will generate the virtual credit card numbers, expiration date, and security code that will bypass the authentication process.
The card will not actually process any charges. Never again worry about getting charged for a product or service once the free trial period expires.
Not only do you not have to worry about getting charged, but you also are protecting your personal information at the same time.
When signing up for a free trial virtual card with DoNotPay, here is all you need to do:
Search Free Trial Card on DoNotPay
Enter the company name you want a free trial for.
We'll automatically generate a virtual credit card that you can use for that merchant.
Copy the card details shown on your screen.
Use the card to sign up for your free trial and sit back to relax and enjoy yourself!  You will never be charged once your free trial expires.
What Companies Will DoNotPay's Virtual Credit Card Work With?
DoNotPay's virtual credit card will work with nearly every company that requires a credit card to sign up for a free trial.  Such as:
DoNotPay can help with many of the problems you have each day. Let us help you!