The Netherlands Tourist Visa—What You Need To Know
Can you already imagine yourself buying tulips from street vendors, biking into the sunset, or enjoying the Amsterdam nightlife? If yes, it means that your planned trip to the Netherlands is approaching! The first item on your to-do list before traveling to this lovely country is understanding the requirements for entering it.
This article will answer some of the most common questions related to the administrative part of your trip preparations, such as:
Do you need the Netherlands tourist visa?
What are the main requirements for entering the Netherlands?
What did the COVID-19 pandemic change related to traveling to this country?
How can signing up for DoNotPay help you obtain tourist visas without searching for information on multiple websites?
Are You Required To Have the Netherlands Tourist Visa?
The Netherlands is part of the Schengen area, which approves visa-free trips for all travelers from the USA and many other countries around the world. In other words, U.S. passport holders traveling to this country for tourism don't have to get a Dutch tourist visa for stays of up to 90 days.
Requirements for Entering the Netherlands as a U.S. Citizen
Even though a tourist visa may not be required for visiting the Netherlands, you must consider other travel requirements that must be met.
To ensure a fuss-free entry to this country, you must:
Possess a passport that:

Has been issued in the last ten years
Will remain valid for at least six months beyond your estimated arrival date
Has at least two blank pages for entry stamps

Provide proof of sufficient financial assets—This should confirm that you will have enough money to cover all the expenses during your stay. The minimum sum per day is $65
Elaborate on the purpose of your trip to the immigration officials
Prepare the proof of travel health insurance
Have an onward or return ticket to the desired country
Are There Any COVID-19 Restrictions Related to Traveling to the Netherlands?
The Government of the Netherlands has listed the U.S. as a safe country due to low COVID-19 risk. This means that you don't need to:
Provide a negative COVID-19 test when entering the country
Self-quarantine upon your arrival in the Netherlands
Travelers coming by plane or ship are required to fill out a Health Declaration Form. Besides approving a printed form, certain airline companies will let you complete it, save it on your smartphone, and show it when necessary.
If you refuse to comply with local restrictive measures, you may have to pay fines ranging from 48 euros to 339 euros.
How To Contact Dutch Embassies or Consulates in the U.S. for Help
If you need additional information about your trip to the Netherlands, you can contact the nearest embassy. The table below lists all Dutch embassies and consulates in the U.S. along with their contact details:
Embassy or Consulate
Location
Phone Number
Embassy of the Netherlands in Washington
DC Washington
(202) 244-5300
Consulate General of the Netherlands in Los Angeles
California
(310) 268-1598
Consulate of the Netherlands in San Francisco
Consulate General of the Netherlands in Chicago
Illinois
(312) 856-0110
Consulate of the Netherlands in Seattle
Washington
(206) 954-1961
Consulate of the Netherlands in San Juan
Puerto Rico
(787) 759-9400
Consulate of the Netherlands in Salt Lake City
Utah
(801) 364-1981
Consulate of the Netherlands in Orlando
Florida
(321) 282-3894
Consulate of the Netherlands in Miami
(786) 866-0480
Consulate of the Netherlands in New Orleans
Louisiana
(504) 586-1200
Consulate of the Netherlands in Minneapolis
Minnesota
(612) 371-5790
Consulate of the Netherlands in Kansas City
Missouri
(816) 741-1152
Consulate of the Netherlands in Houston
Texas
(713) 622-8000
Consulate of the Netherlands in Honolulu
Hawaii
(808) 954-6101
Consulate of the Netherlands in Grand Rapids
Michigan
(616) 285-9998
Consulate of the Netherlands in Detroit
(248) 901-4050
Consulate of the Netherlands in Denver
Colorado
(303) 592-5362
Consulate of the Netherlands in Cleveland
Ohio
(440) 324-4164
Consulate of the Netherlands in Boston
Massachusetts
(617) 542-8452
Consulate of the Netherlands in Atlanta
Georgia
(770) 390-3550
Consulate of the Netherlands in New York
New York
(212) 246-1429
Get the Tourist Visa Application Info for Any Country With DoNotPay
Finding accurate visa application propositions isn't simple, especially if you keep finding different information on various websites. Before you waste hours on your Visa application, give DoNotPay a try—we can save the day!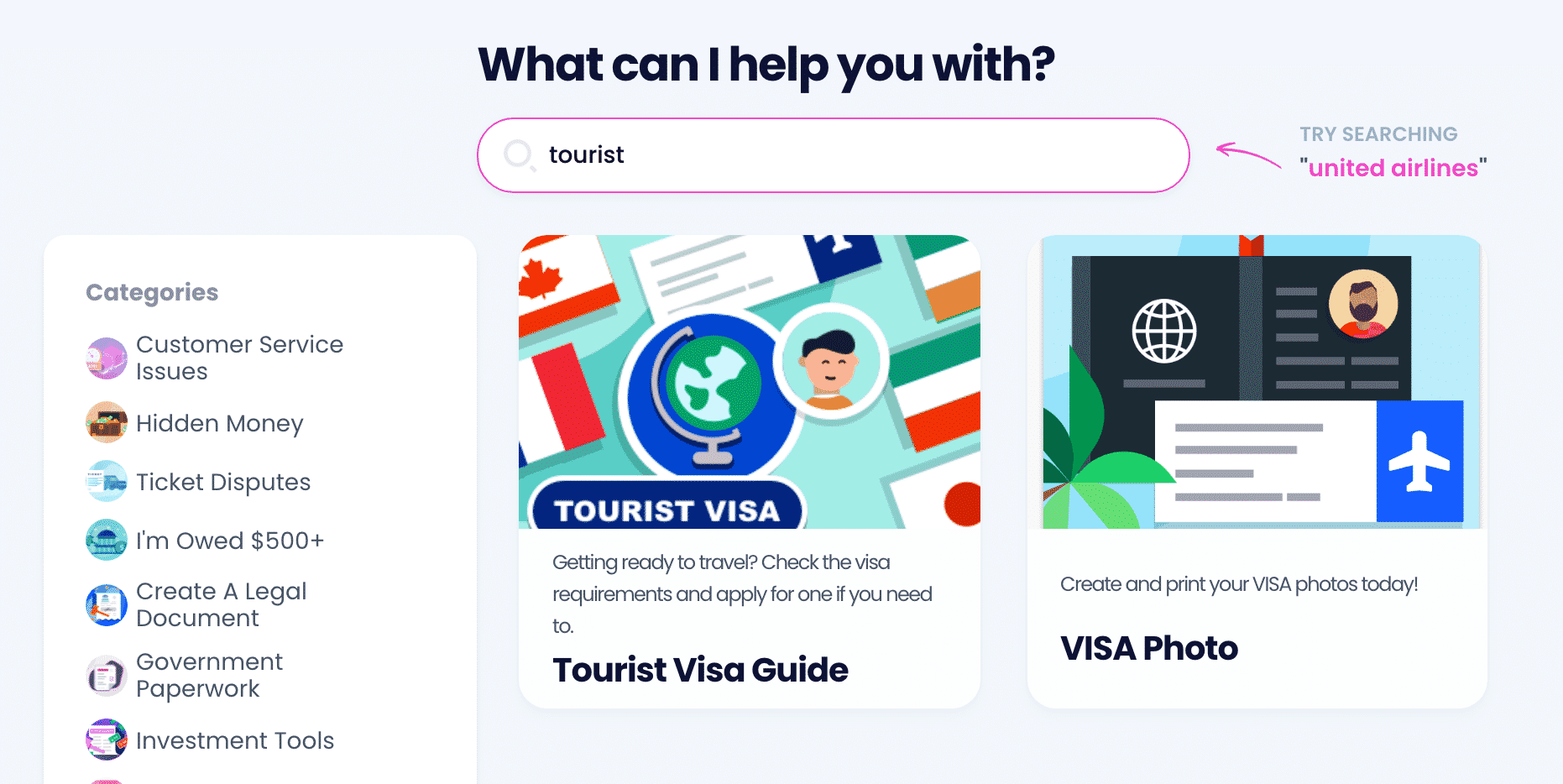 Our app will perform the necessary checks and determine whether you need a tourist visa. We will then help you collect the mandatory paperwork and contact the embassy on your behalf to check if they receive email application forms.
To get our help with your tourist visa, do the following:
Select Tourist Visa Guide
Click to confirm your U.S. citizenship or passport ownership
Select the location where you want to travel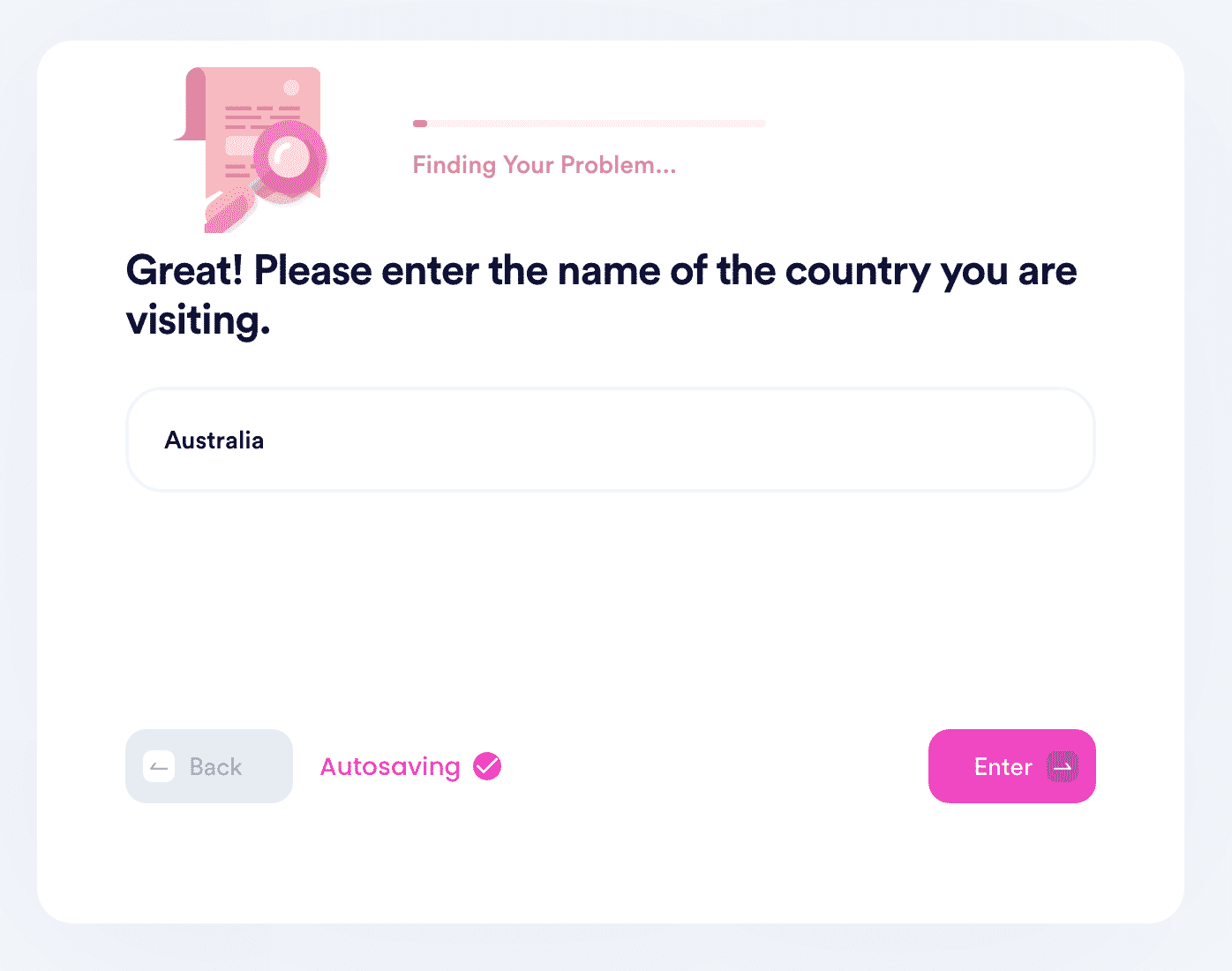 DoNotPay can also help you obtain tourist visas for other countries in Europe, such as:
Choose From a Variety of DoNotPay's Amazing Tools
Did you manage to solve the issue with our app? If the answer is yes, you may also be interested in checking out other interesting features we offer. DoNotPay can help you:
| Get Rid of Spammers By | Deal With Uncooperative Merchants By | Get Help With Your Studies By |
| --- | --- | --- |
| | | |
Let DoNotPay Prepare Important Documents for You
Are you having a hard time drawing up a contract due to insufficient legal expertise? Say goodbye to failed drafts—DoNotPay can generate divorce settlement agreements, powers of attorney, child travel consent forms, and many other legal documents in under five minutes!
We will also help you create anonymous HR complaints and demand letters for your neighbors if you are experiencing any issues with them.