Get in Touch with the Embassy of the Netherlands in Washington, DC
The Embassy of the Netherlands in Washington, DC serves the following U.S. states:
Delaware
Maryland
District of Columbia
West Virginia
North Carolina
Virginia
If you do not live in any of these states, other consulates may serve your jurisdiction better. 
Should You Obtain a Visa from the Netherlands or Schengen Countries?
If you are a citizen of Canada, the United States, or any of the Schengen area countries, you do not need to obtain a visa to enter the Netherlands if you are going to be staying for less than 90 days. If you plan on entering the Netherlands for a non-specific period of time, you can obtain a residence permit through two avenues:
A Dutch Residence Permit through a host in the Netherlands
A Dutch Residence Permit through the Dutch Embassy or Consulate
How to Obtain a Visa from the Netherlands Embassy in Washington?
If you want to visit the Netherlands, Curacao, Aruba, or other Caribbean territories that are owned by the Kingdom of the Netherlands, you will not need a visa if you plan on staying for less than 90 days.
The process of obtaining a visa is entirely online, with some in-person finalizations
To begin, you must fill out an application form for the Dutch Schengen Visa or MVV, fill in and print out a hard copy
Enter the number of days you plan on spending in Dutch territory, prove your nationality and submit the online form
Book an online appointment
Prepare your documents to bring to the embassy, ensure your passport has two blank and undamaged pages
If you are not a permanent resident of the United States, provide proof of your legitimization to be in the United States
Attach a flight reservation for legitimization
Add travel insurance documents, mandatory for trips to the Netherlands or Dutch territory — it must have the equivalent of 30 000 euros in coverage
Provide a hotel booking
Provide means of sustenance (bank records) that prove you are financially stable
Once you've provided these documents, you can now apply for an in-person interview.
To do this, you must go to the Embassy in Washington and appear in person, lodging your case
Finally, you can track your visa online
The Process of Applying for a Passport or ID Card as a United States Resident
If you are a Dutch resident living in the United States who wants to apply or renew a Dutch passport or ID card, you can obtain an application at the Embassy in Washington. Follow these steps to expedite the passport or ID card obtaining process:
Create a checklist
This checklist should be an outline of personal documents, requirements, and more.
Provide documents in the following approved languages:
French
Dutch
German
English
Spanish
 Audit Additional Requirements for United States residents. You must provide proof of legal residence:
A valid visa and supporting documents
A valid residence permit
A valid American passport
A certificate of naturalization as a US citizen or proof of birth abroad
If you do not have valid United States legal documents, you must have a "Certificate of Non-existence of a Record of Naturalization"
If you've never had a Dutch passport or ID card, bring a birth certificate or marriage certificate that is from the United States and that has been legalized with an apostille
Apply at an Embassy or Consulate-General and appear for a passport, regardless of age.
All minors must be present for the application process
You must make an appointment and lodge your application and pay the fees

Passports for adults are 175 USD
Passports for children (under 18) are 150 USD
ID Cards for adults are 163 USD
ID Cards for children are 124 USD

You can also apply at VFS Global, a Netherlands-approved service provider that charges extra to expedite the visa application process
This entire process should take 3 weeks, and you can track your application using the "track and trace" code that is given at the Consulate/Embassy when you lodge your application
How to Contact the Embassy of the Netherlands in Washington DC?
Address
4200 Linnean Ave

North West, Washington District of Columbia, USA

20008

Email
was-ca@minbuza.nl
Phone Number
General Inquiries

202-244-5300

Fax Machine
202-362-3430
Office Hours
Monday, Tuesday, Wednesday, and Friday

8:30 a.m. — 12:30 p.m.
Directions to the Embassy from Washington's Union Station
Directions to the Embassy in Washington from Washington's Union Station: 
Board the Red M Train towards Shady Grove
Ride for 4 stops
Disembark at Van Ness-UDC Station
Walk 1.2 km, 14 minutes
Enter the Embassy of the Kingdom of the Netherlands
Contact the Embassy of Netherlands With DoNotPay Now!
DoNotPay understands and is familiar with how time-consuming it is to write emails, find correct addresses, and not receive timely replies to urgent matters. Let our AI-powered robot lawyer handle everything, fast! To contact any Consulate or Embassy, all you need to do is:
1. Enter "Contact Embassy" on DoNotPay.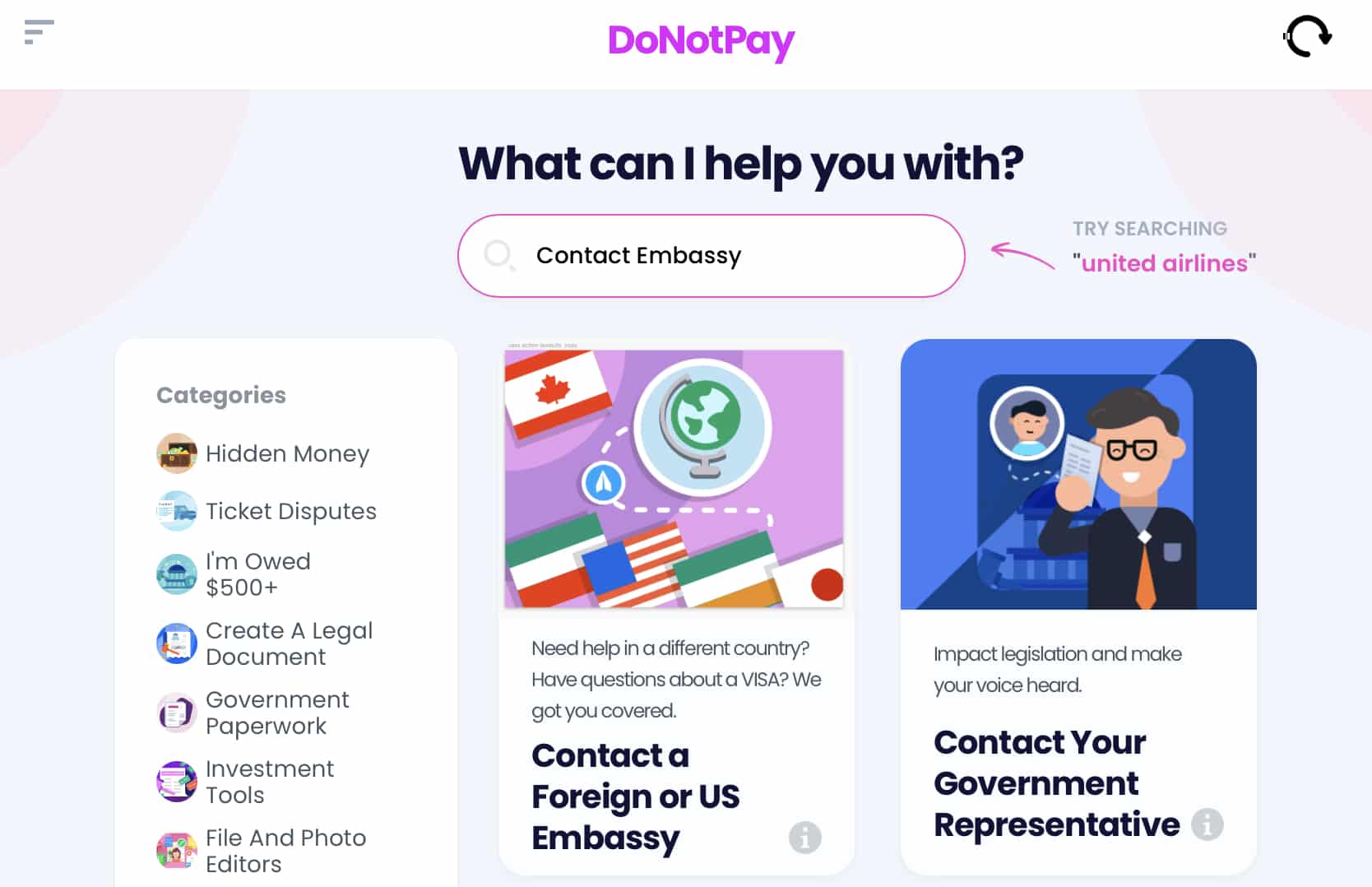 2. Choose if you want to contact a foreign embassy or consulate in the U.S.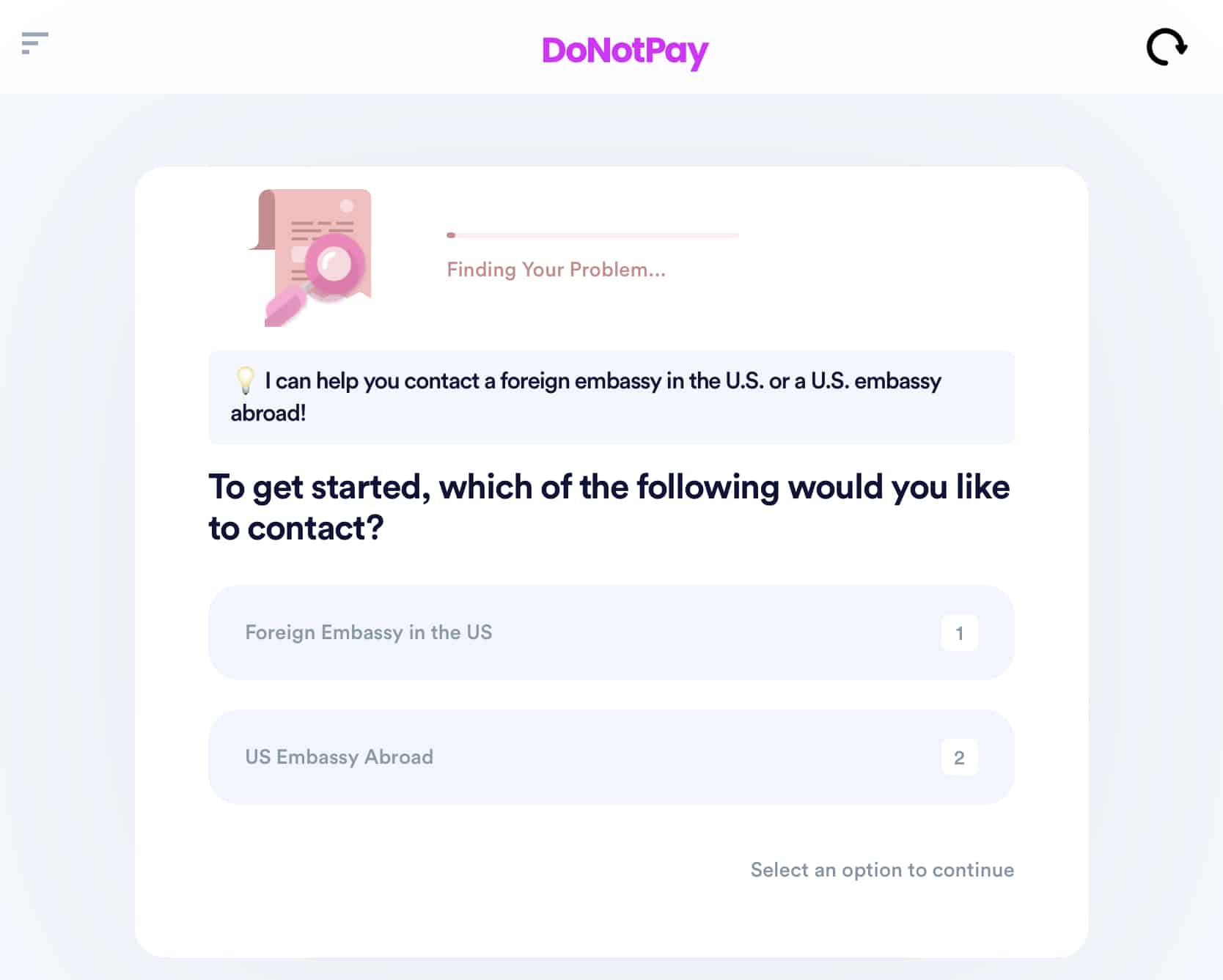 3. Explain your issue and any questions you may have.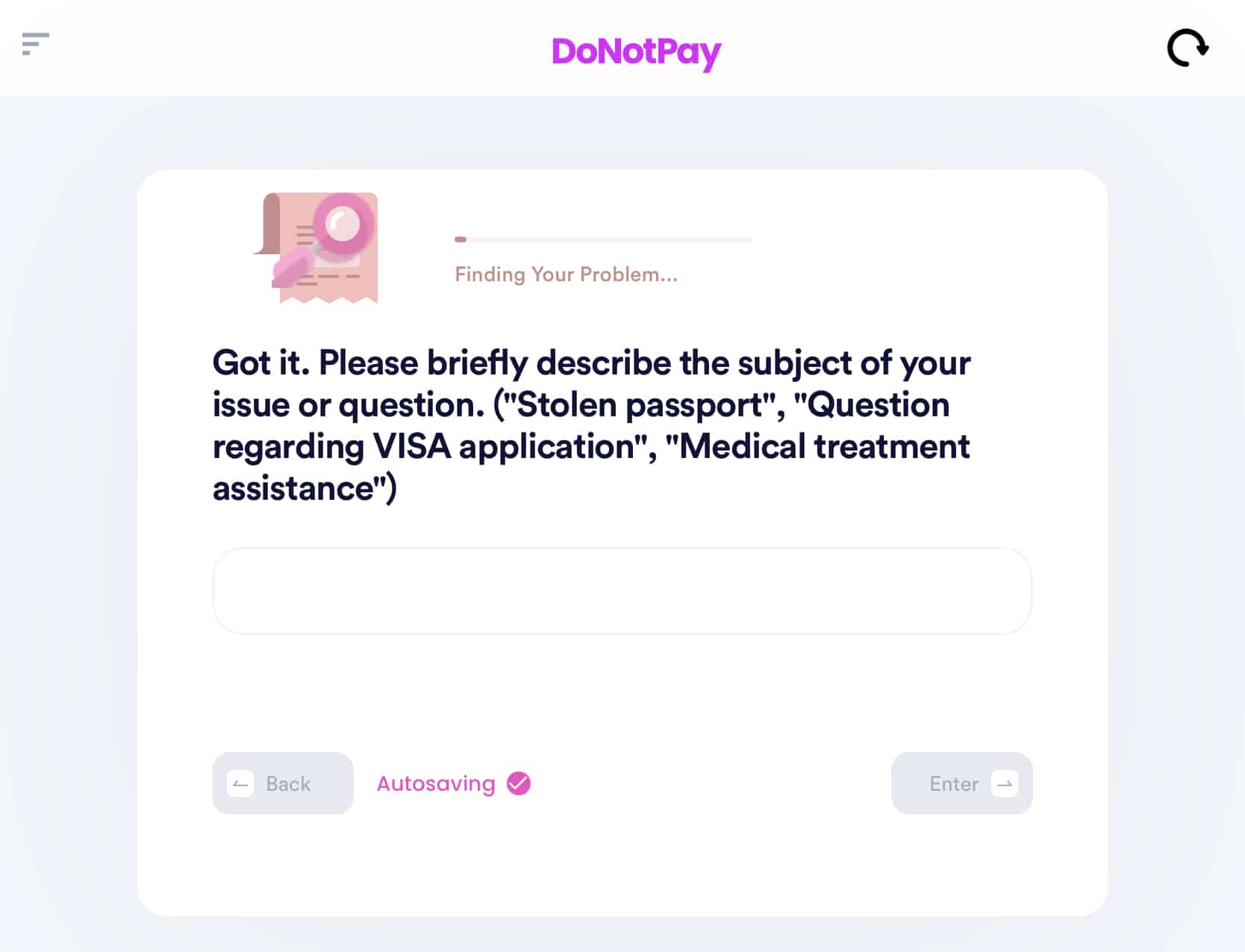 4. Tell DoNotPay which embassy or consulate you want to contact by typing in the country.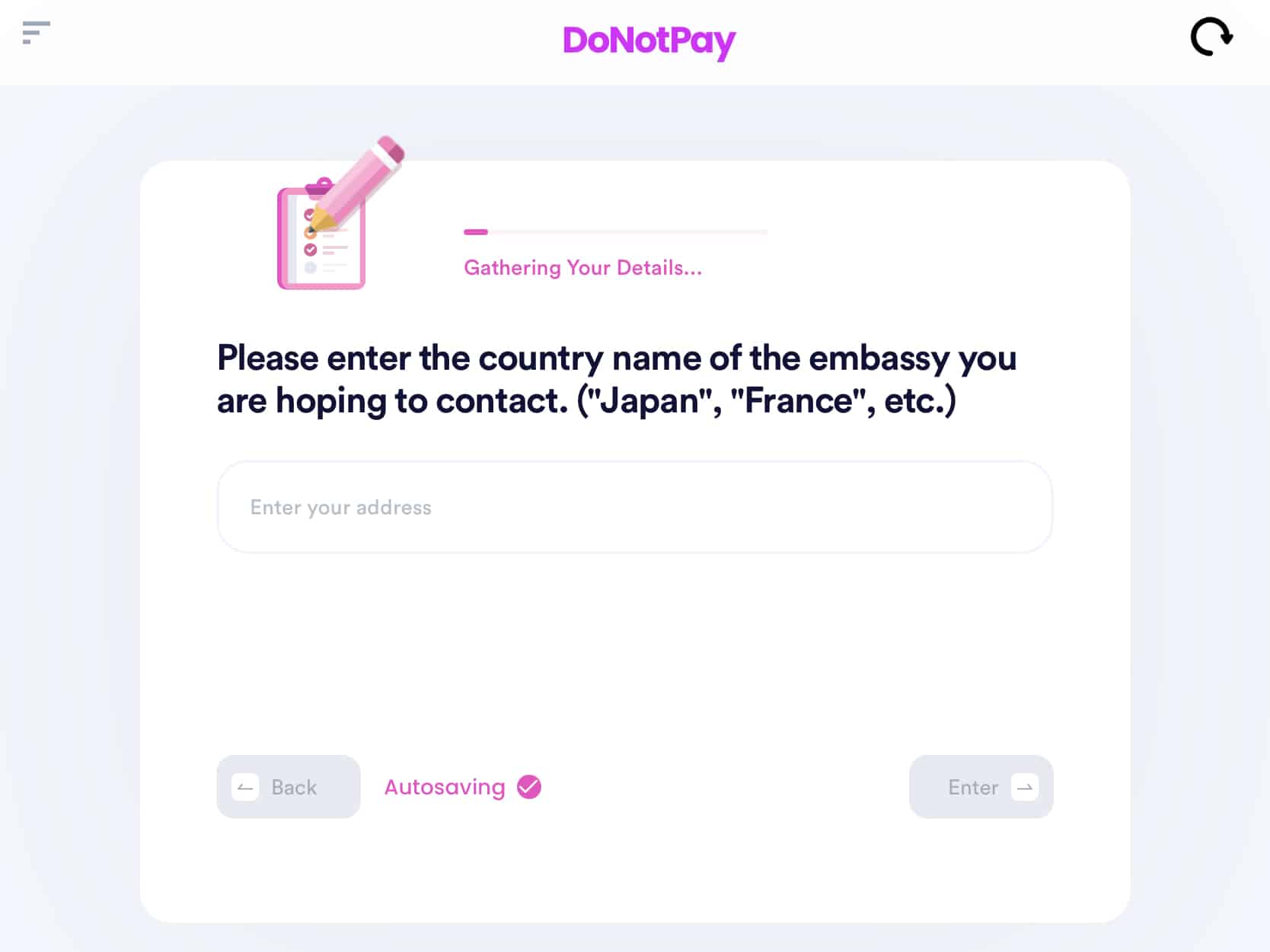 That's all! With DoNotPay's reliable, efficient and accurate services, you can expect to receive an email directly from any consulate or embassy! 
Who Else Can DoNotPay Help You Contact?