Get a
Net 30 Terms Agreement Template
To Improve Customer Loyalty
Small businesses often have to balance cash flow with keeping customers loyal. If you're looking to motivate your customers to place regular orders and not go elsewhere, you may want to consider offering them a net 30 terms agreement.
We know that writing legal documents and creating contracts that hold water can be a daunting task if you're not a trained legal expert. DoNotPay has a net 30 terms agreement template for you that fits the bill!
What Is a Net 30 Terms Agreement?
As the owner of a business selling products or services to customers, your job is to grow a loyal client base that you can rely on to give you regular—and profitable—income.
One way to incentivize your clients to stay loyal is to offer them the opportunity to pay 30 days after you invoice them.
Such a 30-day payment arrangement sends out some positive messages to your clients, including that you:
Trust your clients to pay later

Are interested in a long-term relationship

Want to help them manage their business and cash flow
Offering seller credit of up to thirty days is a great client relationship booster, but it needs to be governed by a solid agreement to make sure you get your money and reap the benefits of the customer goodwill you generate.
Are There Any Variations to the Net 30 Agreement?
If you don't want to wait 30 days for payment, you can offer a shorter period—common payment holidays are 10, 14, 15, and 20 days. If you are dealing with clients who need time to make money before they can pay you, you can also go beyond 30 days by offering 60- or even 90-day terms.
Further variations on the payment term agreement you can consider are:
Net 30 EOM

2/10 net 30
Net 30 EOM
This means that payment is due 30 days after the end of the month in which the invoice was generated.
2/10 Net 30
You offer payment terms of 30 days after invoice but are prepared to offer a 2% discount if the invoice is settled within ten days. You can vary this to offer whatever terms you like, such as 5/15 net 30 or 3/5 net 20.
Once you have offered the payment terms to your client, you need to make sure your account's receivable function keeps track of all the payments and their due dates.
What Should a Net 30 Terms Agreement Template Look Like?
As with any agreement between you and your clients, you should capture everything in writing and keep full records of what has been agreed to.
Your template needs to contain the following:
Agreement Element

Explanation

Names and details of parties

You should include:

Your business name, address, and contact details

Those of your client

Description of services or goods sold

You should briefly explain what you sell to the client, how often you typically sell it, and which products or services are included in the agreement

Offer of terms

You can use a phrase like

"We are happy to offer you the following payment terms on purchases made with us

[list terms you are offering]"

Date of commencement and term of the agreement

You should set the time limits of the agreement using a sentence similar to

"This agreement is valid from

[date]

and will continue as long as the business relationship between the parties exists

or

until

[end date]"

Acknowledgment

You should make sure that the client understands what they are signing by including a phrase such as

"I certify that the information herein is true and correct. I agree to abide by the payment terms set out in this agreement."
Once the client agrees to the terms, you can both sign the agreement. If you want to add more legal weight to it, you can have it notarized.
Where Are Net 30 Terms Agreements Used?
You can offer payment terms like net 30 or any of its variations as a supplement to:
Consultancy agreements

Service agreements
Net 30 payment terms are not always signed as a separate agreement but may be inserted as a clause into a general contract. If net 30 is your standard operating procedure, you may want to add the terms as a note on each invoice.
Bear in mind, though, that you cannot downgrade a client once you have offered these payment terms—once agreed to, you will need to honor these terms for as long as you deal with the client.
Need more help with legal documents? You can count on !
Can DoNotPay Help Me With a Net 30 Terms Agreement?
If you use the guidelines above, setting up a net 30 terms agreement should be easy.
If you are looking for other legal documents or contract templates, DoNotPay is your go-to resource.
We have a range of documents you can customize to your requirements in a flash—all you have to do is:
in your web browser

Search for the document you want

Fill in the required details

Wait while we generate your customized document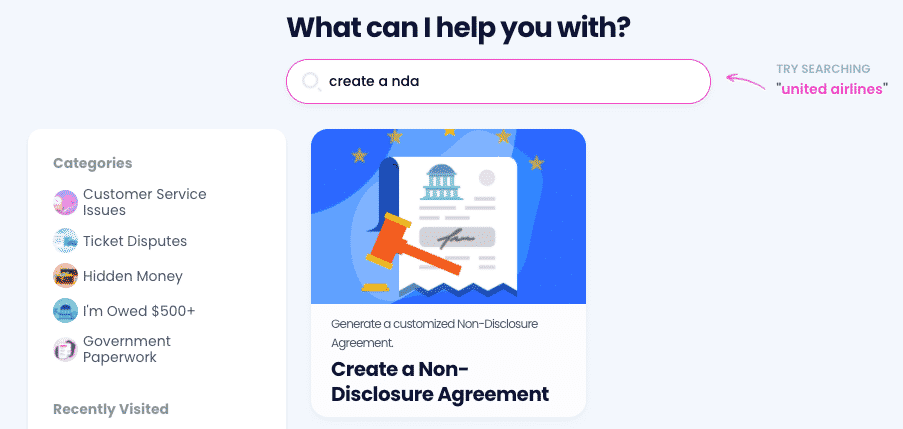 What Kind of Documents Can DoNotPay Offer?
In our growing portfolio of customizable document templates, you can find:
Business documents

Independent contractor agreement

General business contract

Property documents

Lease agreement

Estoppel certificate

Quitclaim deed

Intent to purchase real estate

Personal documents

General affidavit

Promissory note
Shortcuts and Solutions at Your Fingertips
DoNotPay provides both the easy way out and the easy way in. Use our app to get rid of spam emails, text spam, unwanted services, and unpaid parking tickets. We can also assist you in signing up for services without revealing your real number and getting free trials using our virtual credit card.
Our app is all about saving you time and money. Forget about the obsolete fax machine and post office—you can use DoNotPay to send faxes, mail letters, and connect with your incarcerated loved one.
DoNotPay Goes Above and Beyond To Help
We understand how bureaucratic hurdles get too much to handle. This is why so many of our products deal with these types of issues. From getting a document notarized, filing a warranty claim, and skipping the phone line when calling customer service to requesting a refund, booking a DMV appointment, and drawing up legal documents—there's not much we can't do for you.
Dealing with the never-ending paperwork is a thing of the past for DoNotPay users! Our app makes it easy to: