Do U.S. Citizens Need Nepal Tourist Visas? Find Out Here!
Has visiting Nepal been on your bucket list for quite some time, but you keep on postponing your visit because you're worried about needing a tourist visa? DoNotPay is here to put an end to your worries and explain all you need to know about Nepal tourist visas!
If you are wondering whether you need a visa for Nepal, how to apply for one, where to find an application form, and what the requirements are, sign up for our service and find out!
Do U.S. Passport Holders Need a Tourist Visa for Nepal?
If you're a U.S. citizen, you'll need a tourist visa for visiting Nepal. The good news is, Nepal's government doesn't make you jump through hoops to get one. There are three tourist visa options that can be used for multiple entries into the country:
15-day visa ($30)
30-day visa ($50)
90-day visa ($125)
What Are the Nepal Tourist Visa Requirements?
To get a Nepalese tourist visa, you need to meet the following requirements:
Present a U.S. passport that remains valid for at least six months after leaving Nepal and has at least two blank pages
Provide a recent passport-sized photograph
Fill in a visa application form and submit it in person to the Nepal embassy responsible for your state of residence
Pay the visa fee
Send a prepaid return envelope with a tracking number if applying via mail
Note that visa applications can be submitted only during business days, from 10 a.m. to 12:30 p.m. Visa processing time is usually between four and five business days. Visas can't be withdrawn, and visa fees are non-refundable.
Your entry permit can be extended at the Immigration Office in Kathmandu once you're in Nepal. Those who overstay long beyond their visa is valid may face deportation, fines, arrests, and bans from entering the country.
Tourist Visa Nepal Application Process for U.S. Citizens
U.S. residents may apply for a Nepalese visa at the Consulate General of Nepal in New York or at the Embassy of Nepal in Washington D.C. Refer to the table below for their contact info:
Washington Embassy
New York Consulate

Address—2730 34th Place, NW, Washington, D.C. 20007
Phone—202-667-4550
Email address—consular@nepalembassyusa.org

Address—216 E 49th Street, 4th Floor, New York, NY-10017
Phone—917-675-6783
Email address—cgnnewyork@mofa.gov.np
The Washington embassy accepts online applications via Nepal's Department of Immigration website. The New York embassy requires complete physical application forms, which you need to submit in person or via mail. You need to fill out the form correctly and submit it alongside everything else that is requested.
Nepalese tourist visas can alternatively be bought in cash (U.S. dollars) on Nepal's land border crossings at:
Mohana, Dhangadhi
Gadda Chauki, Mahendranagar
Kodari, Sindhupalchowk District
Birgunj, Parsa District
Kakarvitta, Jhapa District
Belahia, Bhairahawa
Jamunaha, Nepalgunj
Everything You Need To Know About Nepal's COVID-19 Policies for Tourists
Nepal is strict with COVID-19 measures for tourists. To be allowed to enter the country, you will need to do the following:
Provide a negative COVID-19 test taken no earlier than 72 hours before departing for Nepal (children under the age of five don't need the test)
Quarantine for ten days upon entering Nepal regardless of vaccination
Take another PCR test after the quarantine
Comply with the mandatory health screening on all entry points
Wear a mask indoors and in public transportation and taxi vehicles
Get a Complete Nepal Tourist Visa Guide From DoNotPay!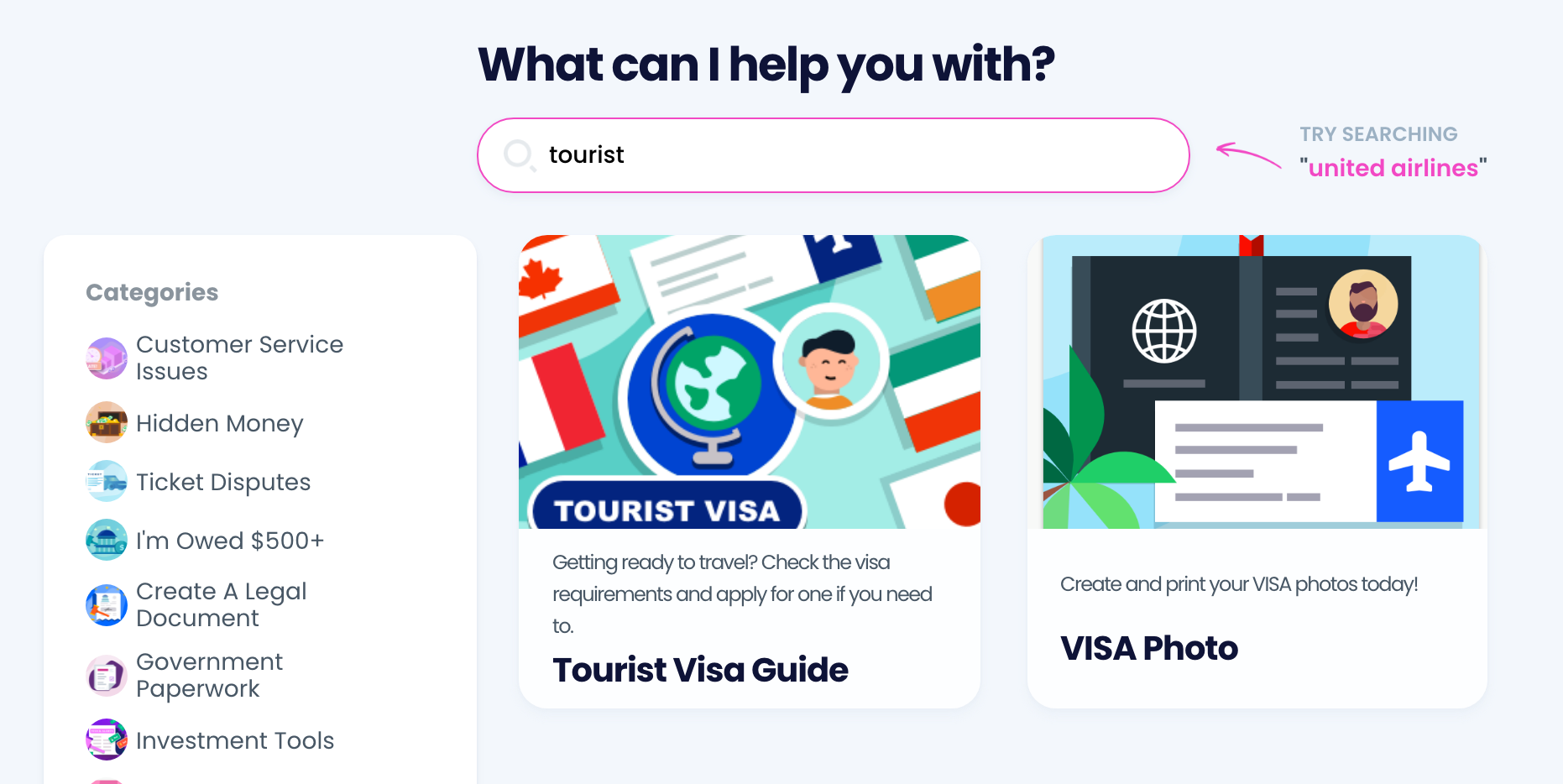 Spending hours on your computer trying to find out which requirements you need to fulfill and which documents you need to prepare can take the fun out of traveling. Another issue is that, by doing research on your own, you risk making a mistake. DoNotPay has an error-free solution!
You can rely on our assistance with any visa, not just the one for Nepal. Using our Visa Tourist Using our feature is easy if you follow the prompts below:
Click on the Tourist Visa Guide product
Enter the required information to confirm you're a U.S. passport holder
Select your destination country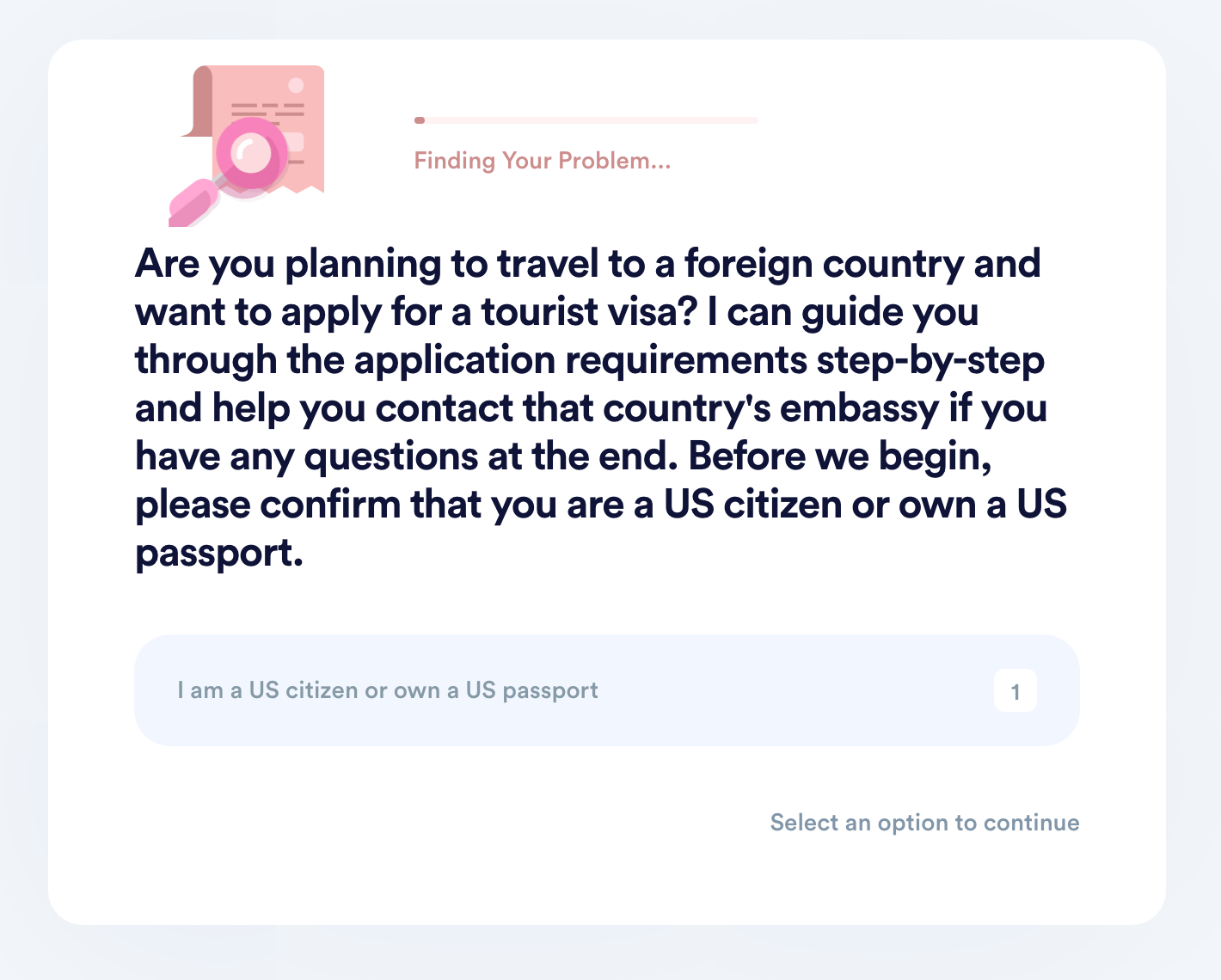 The first info you'll receive is whether a visa is necessary or not. If one is needed, we further assist you by:
Checking if there's an online visa application portal and giving you a direct link
Providing you with a PDF visa guide and application form if a physical copy is necessary
Contacting the embassy in question
DoNotPay's Guides for Tourist Visas Across Asia Save Valuable Time
Traveling to Nepal offers a unique, spiritual experience, which is why you might want to visit other countries in the vicinity too. You can plan your trip and focus on sightseeing while relying on DoNotPay to give you the most recent visa info.
Check out our tourist visa guides for numerous Asian countries in the table below:
Explore DoNotPay's Vast Database To Handle Administrative Issues Head-On
Dealing with administrative issues is never a fun experience, but you can save yourself from unnecessary hassle with our app! Once you sign up for DoNotPay, there is little you can't do. Aside from helping you deal with everyday tasks, such as reaching customer services, you can also use our app to:
Make Your Legal Troubles Disappear
Is a company giving you a hard time? Don't fret! DoNotPay can walk you through the process of suing it in small claims court and help you get the justice you deserve!
The best part is that assisting you take companies to court isn't all our app can do! We can also help you with: