A Neighbour Damaged My Fence—'Good Fences Make Good Neighbors' Gone Wrong
We have a fence to keep our neighbors and their pets away from our yards, and yet, they manage to ruin even that.
If you can't find the answer to the question 'what can I do if a neighbor damaged my fence?', DoNotPay can help you. We have a solution that will settle your neighbor disputes in a peaceful manner.
Ways a Neighbor Can Damage Your Fence
Your neighbors can be creative when it comes to possible ways of damaging your fence. Sometimes it is entirely their fault, but other times, Mother Nature takes the wheel. Here are some of the causes for fence damage:
Tools and other heavy machinery leaning on the fence
Items hanging on your fence
Dogs chewing the fence
Fence getting hit by a car
Whatever the reason for the damage, the neighbor is the one responsible, and they should pay for the repair under the law of nuisance.
How To Deal With Bad Neighbors Who Damaged Your Property
If you don't know how to react when a neighbor damages your property, we will provide you with solutions. Check out a few options:
Talk to your neighbor
Write a complaint letter
Find a mediator
Raise the matter with your insurance provider
Sue your neighbor in a small claims court
Why You Should Talk to Your Neighbor
Talking to your neighbor is the first step when dealing with an issue. You should be able to explain the problem to them and find a solution together. As long as they are willing to pay for the damage to your fence, you can find a compromise and let them pay you in installments if needed.
Why You Should Consider Writing a Complaint Letter
Putting your words on paper adds a more serious note to the entire situation. Your neighbor may change their mind about paying for the repair if you present the problem in a more formal way.
How a Mediator Can Help You With the Problem
Bringing in a third party who is a neutral individual can calm tempers and help come up with a reasonable solution. You should definitely consider involving a mediator if talking to your neighbor does not solve the issue.
Why You Should Consult Your Insurance Provider
If the neighbor who damaged your fence refuses to pay for the repair or doesn't have insurance, you will need to talk to your insurance provider. They should be able to settle the claim, then recover their costs from the neighbor or their insurance provider.
When Should You Take Your Neighbor to Small Claims Court?
Suing your neighbor should be your last resort, in case everything else you tried fails. This option can help you get money damages, which is a good way to solve the issue. When choosing to go this path, you should make sure to:
Take photos of the damage on the fence
Show footage from when the damage happened if you have a security camera
Make copies of the letter asking the neighbors to pay for repairs
You should to make the process of going to small claims court a breeze. We'll help you gather all the paperwork and provide strong arguments at court!
We can also help you give your neighbor another chance before heading to court—DoNotPay will create a demand letter for you!
Write a Demand Letter in a Heartbeat With DoNotPay
If your neighbors are being annoying in any way and talking to them does not yield results, you should send them a demand letter. DoNotPay can help you handle the process in a few minutes. We will list everything that will ensue in case they keep disturbing your peace.
You only need to follow these instructions:
in any web browser
Tell us how your neighbor is being problematic
Provide us with more details regarding the issue with your neighbor
DoNotPay will mail the demand letter to your neighbor on your behalf as soon as possible.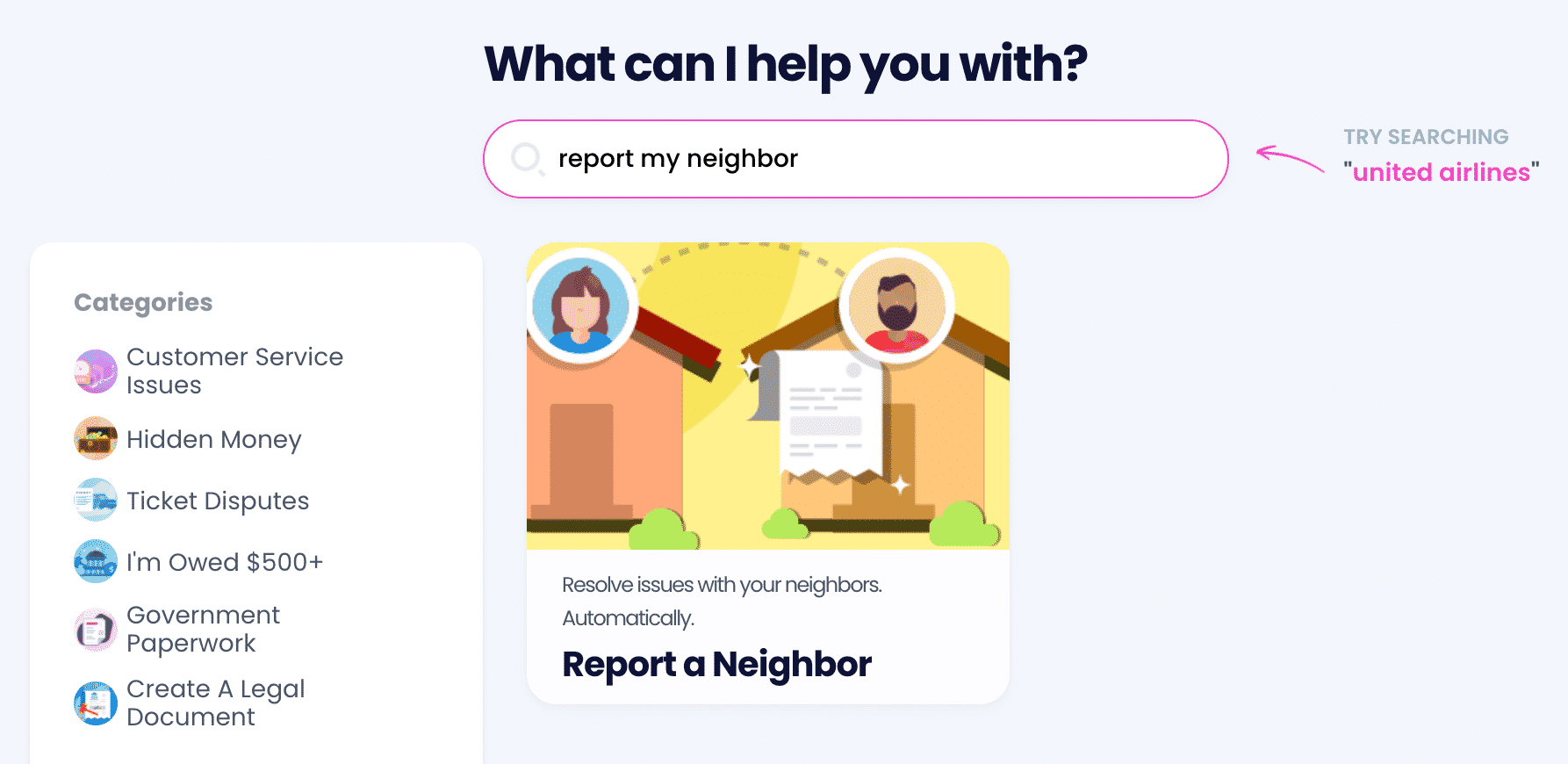 Other Problems DoNotpay Can Help You With
Depending on your luck, you can end up living near less or more annoying neighbors. Sometimes the issues your nearby residents can cause are serious enough to file a complaint against them. Even if they are only being noisy, you should always try to solve the problem legally, preferably with evidence of harassment. A good way to do so is to write them a complaint letter about the noise.
Check out the table below to see some of the issues your neighbors from hell can cause:
| | | | |
| --- | --- | --- | --- |
| Illegal Activities | Pets | Noise | Other |
| | | | |
Use DoNotPay's Features to Your Advantage!
DoNotPay offers a myriad of helpful services you can use to resolve your everyday hurdles.
Do you need help paying bills or finding and claiming missing money? Are you interested in applying for clinical trials in your area? We can help you solve these and many more issues in no time!
Here are some other problems you can handle effortlessly with our help:
Hiring a Lawyer Can Cost a Small Fortune—Rely on DoNotPay Instead
If you're on a tight budget and can't pay a lawyer to help you create legal documents, file a claim in small claims court, or handle stalking and harassment, DoNotPay has a solution for you.
Our app will help you create various documents, including child travel consent forms and complaint letters for a problematic neighbor.
Are you a victim of a crime and need help applying for reimbursement of your crime-related expenses? You can sign up for DoNotPay and allow us to handle your crime victims compensation on your behalf.
DoNotPay can also connect you with an online notary and enable you to get your documents notarized from the comfort of your home.