What Can You Do When a Neighbour Is Causing Damage to Your Property?
If you're lucky enough, you have friendly neighbors who are there for you in difficult situations. Sometimes, though, you'll end up next to neighbors that are plain obnoxious.
What can you do when a neighbor is causing damage to your property? This article will show you how to handle bad neighbors legally.
DoNotPay can offer an ideal solution to your problems with neighbors, whether they're noisy, nosy, or harassing.
What Counts as Damage Caused by a Neighbor?
If you have a reason to suspect that the damage to your property was caused by your neighbor, you need to know how to recognize that kind of damage. Check out the table below for details:
Damage
Details
Broken window
A broken window can be a result of many things, such as bad weather, but your neighbor can also cause this damage.

Here are some possible scenarios:

Cracked garden path

The roots of your neighbor's tree can cause damage to your garden path or your part of the land
The construction work that your neighbor did could be the cause of your cracked garden path

Damage caused by trees or pets
Water damage
You may live in a house with a yard, and your neighbor's water runoff flooded your garden.

You can also live in an apartment, and your upstairs neighbor flooded theirs, which resulted in damages to your ceiling
Any type of damage that your neighbor caused on purpose must be proven. If you notice your neighbor damaged your property purposefully, immediately start documenting the damage so you can file a complaint against them.
Inform Your Neighbor About the Damage They Caused
Before taking any drastic measures, try talking to your neighbor—they might be open for discussion. You can follow these steps to approach your neighbor in a friendly manner:
Be patient and sympathetic
Go over to your neighbor when you know they're at home, but be careful not to go during inappropriate hours
Be calm but assertive when talking to your neighbor—you want to be friendly but not too lenient
Inform your neighbor that the damage occurred
Take your neighbor to the damaged area
Start negotiating on the compensation you seek
Check with your neighbor if they're insured and whether their insurance might cover your damage
Be polite and friendly—you don't need to start a dispute with your neighbor if there's no need for it
If your neighbor refuses to pay for the damage, but it is their responsibility, it's time to take some further action, like sending a demand letter with DoNotPay.
Let DoNotPay Help You by Creating a Demand Letter
DoNotPay can resolve your issues with neighbors in minutes. After you , you'll be able to access our Neighbor Complaints product and send a demand letter to your neighbor with the following contents:
The details of your complaint
Arbitration notice
The amount of compensation you seek
Warning of further legal action you might take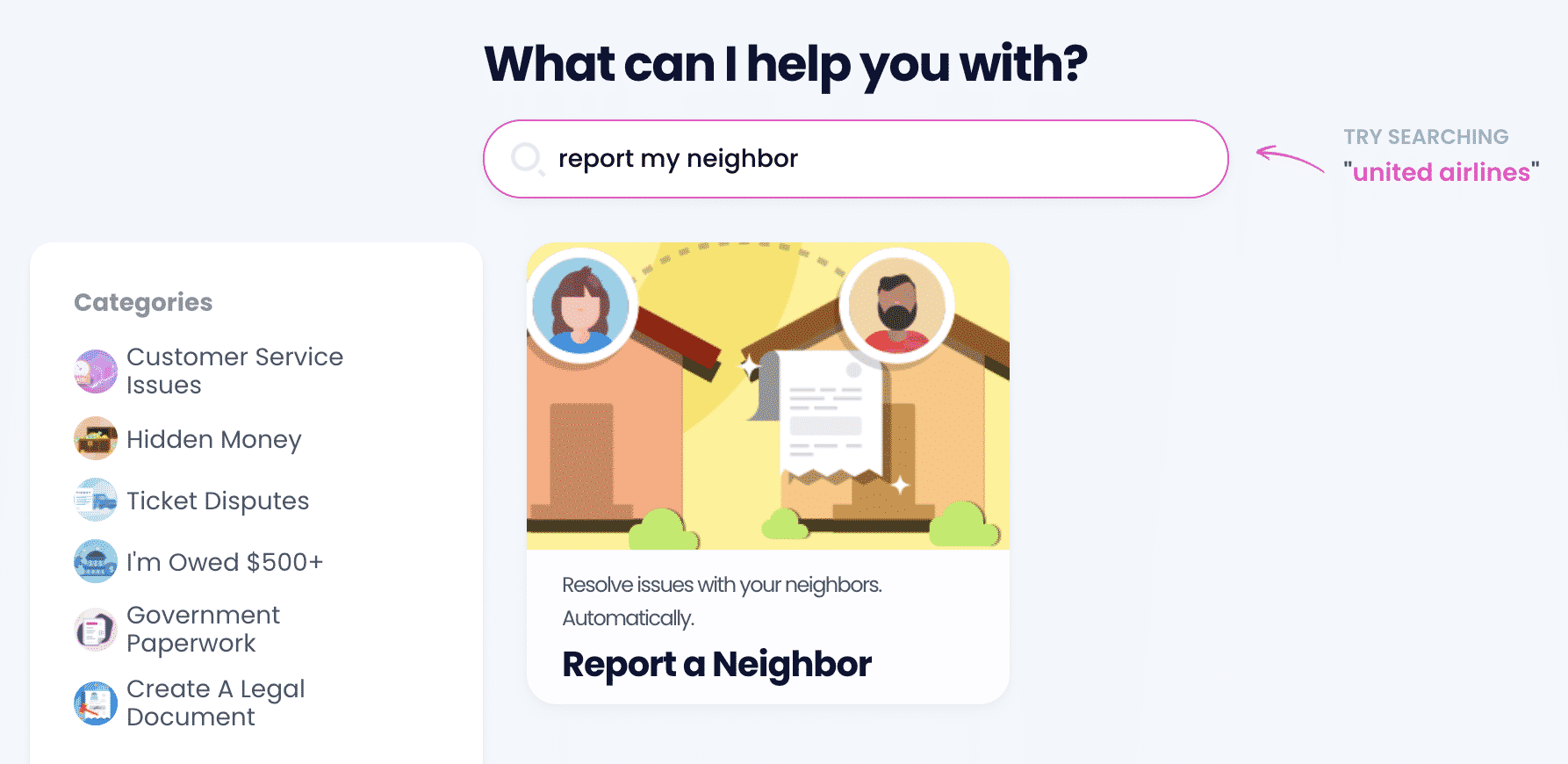 How To Use DoNotPay's Service
When you , follow these steps to create a demand letter:
Enter Report a Neighbor into the search field
Choose which type of issue you're having
Give details about your complaint—whether you've tried talking to your neighbor, what the date when the damage occurred was, etc.
After you finish these three steps that will take you less than five minutes, DoNotPay will generate your demand letter and mail it to your neighbor on your behalf.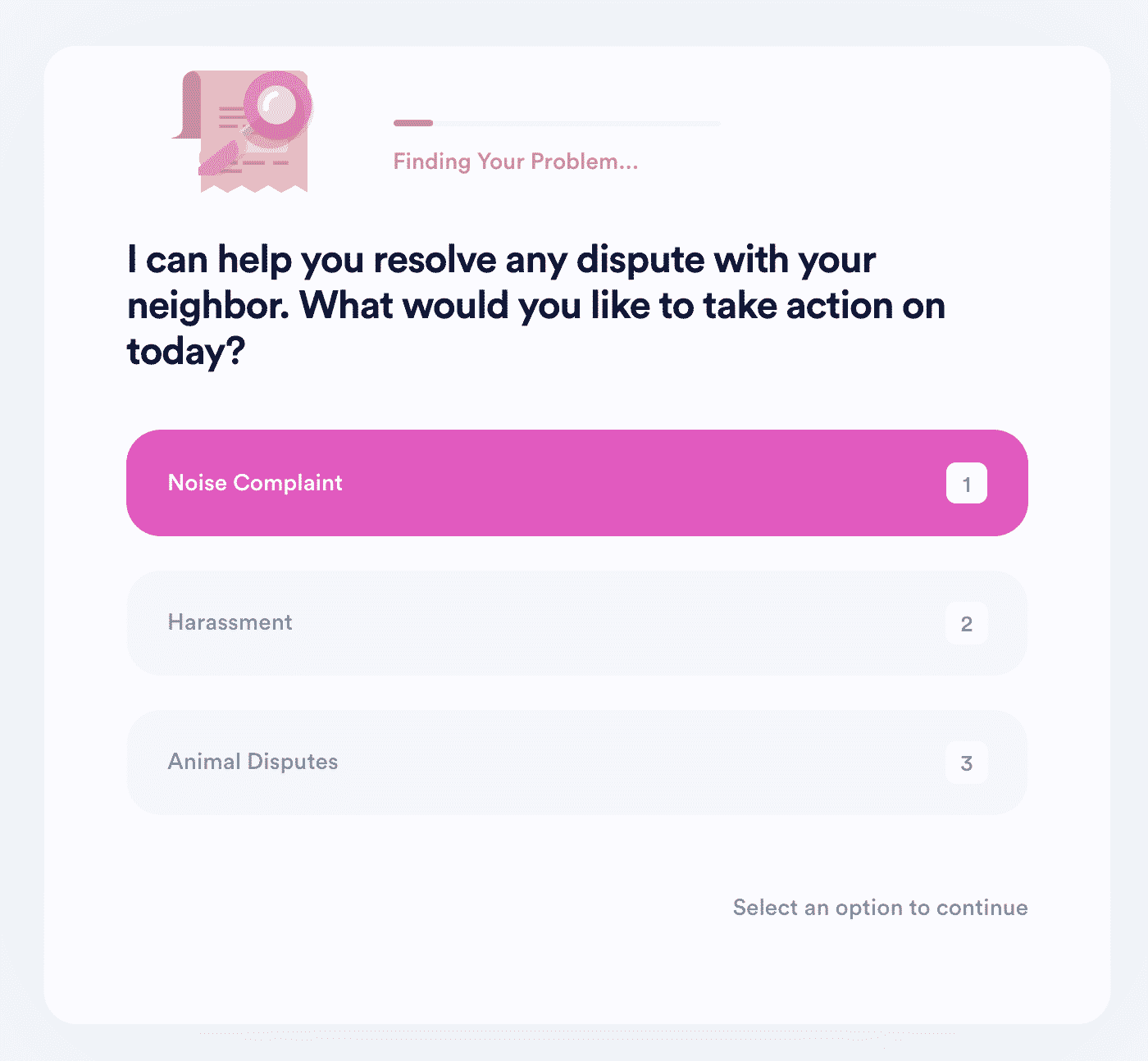 DoNotPay Helps With Other Neighbor Problems
You can turn to DoNotPay for help when it comes to other troubles with neighbors. Some of the questions we can help you answer include:
If you access our learning center, you can find out even more or let DoNotPay solve your problems right away.
A Neighbor Damaged My Property—Can I Sue?
Suing your neighbor for the damage depends on the circumstances under which the damage occurred. If you can prove that the damage was your neighbor's fault, you can sue them.
Try going to their insurance provider before going to court because the court will involve hefty fees and costly lawyers. You may want to consider your other options before taking your neighbor to court.
Explore DoNotPay's Products and Save Both Time and Money
Are you sick and tired of spending ages on the phone with customer support trying to get more info about how to return a faulty product and get a refund? Maybe you'd like to cancel memberships you don't use but can't find that unsubscribe button anywhere? DoNotPay can help you sort out all of these issues in a jiffy!
Contest parking tickets, claim your car warranty and insurance, schedule a meeting with the DMV, and handle your other problems through the same app on your tablet or smartphone.
Getting access to public records or drawing up various legal documents with DoNotPay is child's play.
That's Not All!
The first thing you'll notice when you open DoNotPay is that you can use our app for almost anything.
Do you wish to enter raffles or sweepstakes? Are you interested in applying for paid clinical trials and earning some cash? Would you like to send mail without going to the post office? You're in the right place!
We will help you feel safe while browsing the Internet by assisting you in blocking and reporting spam emails, suspicious text messages, and pesky robocalls.