A Neighbor's Tree Fell on My House—Who's To Blame?
Neighbors often cause inconvenient situations—sometimes even unintentionally. How do I deal with my noisy neighbors? Can I take legal action against them? What if my neighbor's tree fell on my house—can I sue? We provide answers to all of those questions and more!
, and deal with any neighbor-related issue like a pro!
If My Neighbor's Tree Falls on My Property, Who Is Responsible?
Most people have trees around their houses and on their property. Having them is beneficial, but they can also cause a number of issues, such as falling on your house.
This may happen due to:
Storms
Strong winds
Tornados
Hurricanes
If, however, your neighbor's tree falls on your house due to their ignorance, they should be held responsible. Establishing the cause of the tree falling will dictate your next step.
If it turns out to be a natural occurrence, you should submit a claim to your insurance company to cover the damage caused.
Your neighbor will be held liable in case he or she:
Tried to cut down the tree without professional help
Had knowledge of the tree being unstable and didn't do anything about it
In such scenarios, your neighbor's insurance company should take care of the damage.
What Should I Do if My Neighbor's Tree Falls on My Property?
The first step you should take is to talk to your neighbor. Straightforward communication is key in these situations, and you should make sure you're not being impolite nor loud.
Don't point fingers nor pass the blame around. Speak to your neighbor calmly, and explain the issue. You should try working together toward finding a solution and figuring out what caused the tree to fall.
Contacting an insurance company is the next step. Your neighbor's or your insurance should cover the damage. In case your neighbor refuses to cooperate and won't listen to how severe the issue is, DoNotPay will jump in and draft a demand letter in your stead! You can give it to your neighbor to explain the consequences if they keep ignoring the situation.
Neighbor's Tree Fell in My Yard—Can I Sue?
Going to court in situations like these is a bit extreme and should be treated as a last resort. It's complicated, expensive, and often unnecessary since the issue can usually be resolved without a lawsuit. If you insist on suing your neighbor, you can do it only if you have proper evidence.
You would have to prove that your neighbor had knowledge about the tree being unstable or dying or offer proof that they tried to cut the tree down by themselves.
Should I Contact the Authorities if My Neighbor's Tree Fell on My House?
Before deciding to report your neighbors to the authorities, you should exhaust every other possible option. Check out the table below to see when to reach out to the authorities:
| | |
| --- | --- |
| Contact the Authorities If | Description |
| You feel unsafe | If you find yourself in a heated argument with your neighbor and they make you feel afraid or think they will do something to you, dial 911 and don't leave anything to chance. It's better to be safe than sorry |
| Your neighbor breaks the law | In case you have knowledge of your neighbor breaking the law, avoid talking and negotiating with them. Report the issue to the authorities and let them handle it |
| You can't find another solution | Let's say you exhausted every other possibility, and nothing worked. You can call 911 and report your neighbor, but refrain from doing this if you're dealing with a minor issue |
DoNotPay Helps You Draft a Demand Letter in a Snap!
Use DoNotPay to create a demand letter for your neighbor in three simple steps! You can give the letter to your neighbor as a warning. If they don't grasp the seriousness of the situation, your demand letter will show them the gravity of the issue and the possible consequences of their actions.
and complete these steps to get started:
Pick the Neighbor Complaint feature
Choose the type of neighbor complaint you're experiencing
Provide the required info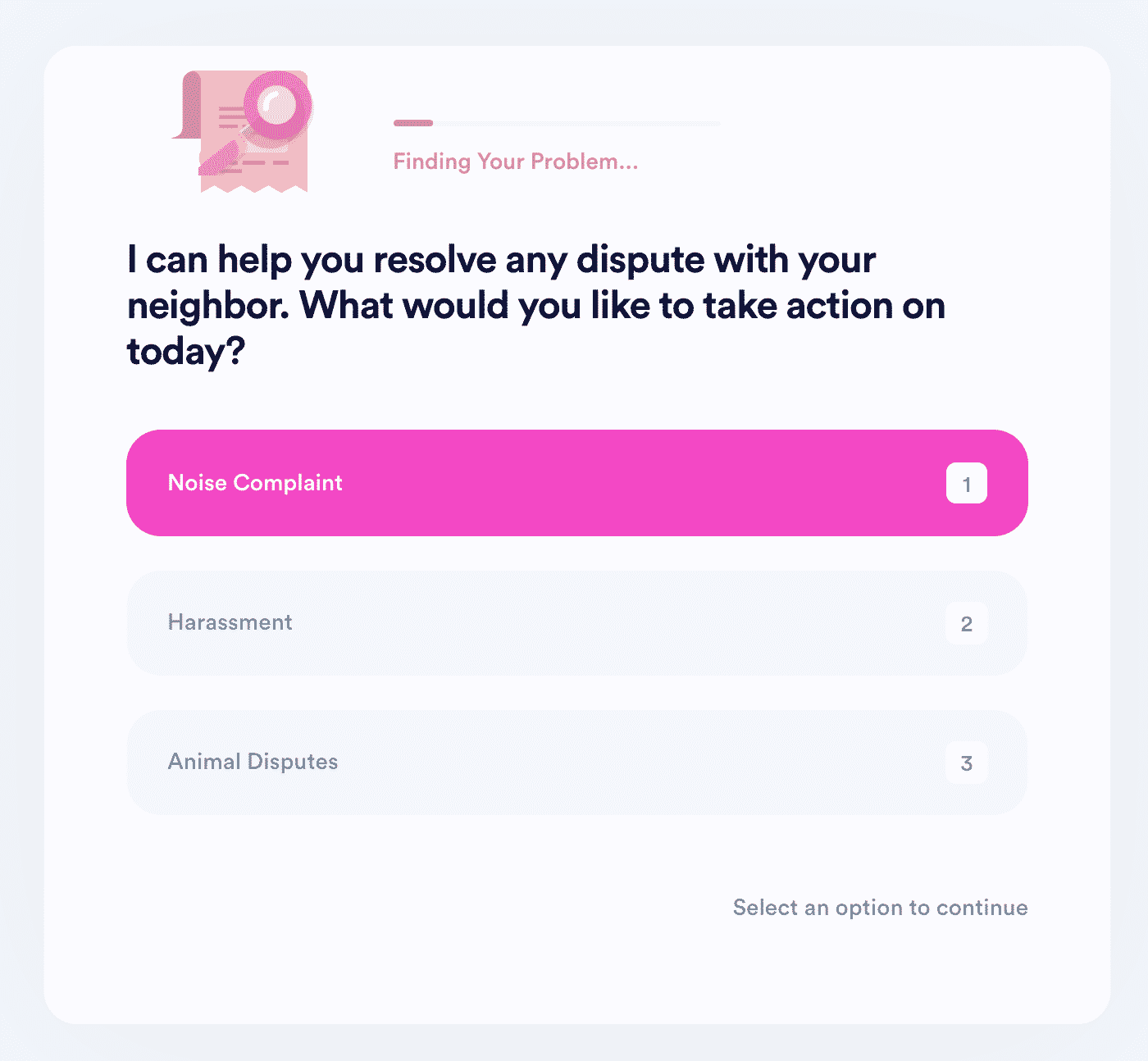 Learn How To Solve Any Neighbor-Related Issue With Ease!
Apart from showing you what to do if your neighbor's tree causes damage to your property, DoNotPay will also assist you in solving numerous other issues! Check out the list below for the commonly asked questions we provide answers to:
DoNotPay Gets the Job Done—Solve Any Issue Within Several Clicks
DoNotPay is an ever-growing app, which is constantly adding new ways to help you with your everyday tasks and those not so common.
Count on your virtual assistant when you need to:
Reduce your tax bill

Deal with noisy and rude neighbors
Have Your Cake and Eat It Too—Earn, Save, and Get Your Money Back
Not only can we help you complete numerous tasks, but we can also make sure your money stays where it belongs—in your wallet. Let DoNotPay assist you in getting different types of refunds and compensation:
Late delivery refund
Gift card cash back
Our app can also help you find your unclaimed funds, get free trials and free raffle tickets, and obtain a college fee waiver.