Neighbor's Smoke Is Coming Into My Apartment—What Should I Do?
Neighbors can disrupt your life in a lot of ways. Some can be extremely noisy, while others are outright bullies. They may be thieves who steal your Wi-Fi or have dogs that won't stop barking.
"My neighbor's smoke is coming into my apartment" is a common complaint, but the solution to the problem is not an easy one. Fortunately, DoNotPay has all the answers when it comes to dealing with bad neighbors.
Can I Report My Neighbor for Smoking?
Although smoking is a personal choice, it stops being personal when other people are exposed to smoke. Secondhand smoking is unpleasant and potentially dangerous. Some of the obvious problems are:
Your house and clothes stink of smoke
You are allergic to cigarette and pot smoke
Your children are exposed to smoke and fumes
Passive smoking is as dangerous as active smoking
Before filing the complaint, check your state laws to confirm if you have grounds to report your neighbors.
Since smoking is not an illegal activity, cops are unlikely to intervene. In case it's not allowed in your building or your neighbor is smoking in a communal area, you have a stronger case to present to your landlord or building manager.
Check if there is a no-smoking policy in the building or other related house rules. It is essential to have documented proof of your neighbor's smoking and the smoke harming you.
It would be unfair to your neighbors to involve the building manager without attempting to negotiate with them first. Opt for a friendly approach. If that doesn't work out, you can request your landlord to intervene on your behalf.
How Should I Deal With Smoking Neighbors?
The most suitable methods of dealing with a neighbor's smoke coming into your apartment include:
Talking to your neighbors
Involving the landlord or building manager
Sending a demand letter
Reporting your neighbors to the authorities if possible
Talk to Your Neighbors
The first thing to do is approach your neighbor and let them know how you feel. People often don't realize their actions are harmful to other people. You can start by taking the following steps:
Go to their house and introduce yourself
Tell your neighbors their smoke is harming you and your children
Inform them of the harmful effects of passive smoking
Avoid throwing accusations and be kind and considerate
Offer suggestions, such as smoking in a well-ventilated room, using scented candles, or switching to vapes
If you're not comfortable talking to them in person, send a letter with some snacks as a sign of goodwill.
Involve the Landlord or Building Manager
If you notice no change in your neighbor's smoking habits, talk to your building manager. Some buildings have policies against smoking, and others have policies prohibiting smoking in communal areas. Try finding house rules that can help your case, and request your building manager to intervene on your behalf.
You can also talk to other neighbors to see if they're facing the same problem. If you present a collective case to your building manager, they will be more likely to take strict action or introduce stricter rules for smoking and vaping. You can also start a petition for a smoke-free building.
Send a Demand Letter
If the friendly and polite approach doesn't work, it's time to take the matter further. Sending a demand letter to a neighbor gives them one last chance to rectify their actions before you file a formal complaint against them. It warns them of the potential legal consequences if they don't change their behavior.
Do you need help writing a demand letter? and draw one up in an instant!
Can DoNotPay Help Me Create a Demand Letter for My Neighbors?

Regardless of the issue, we can create demand letters to warn your neighbors about their rude and inconsiderate behavior. A formal warning will also make them realize that actions have consequences, especially if they are harmful to others.
All you need to do is follow these instructions:
in your web browser
Select the Neighbor Complaints service
Choose the specific type of neighbor complaint
Provide more info about the problem you're experiencing
We will generate and send the demand letter to your neighbors, and you can expect an appropriate response soon.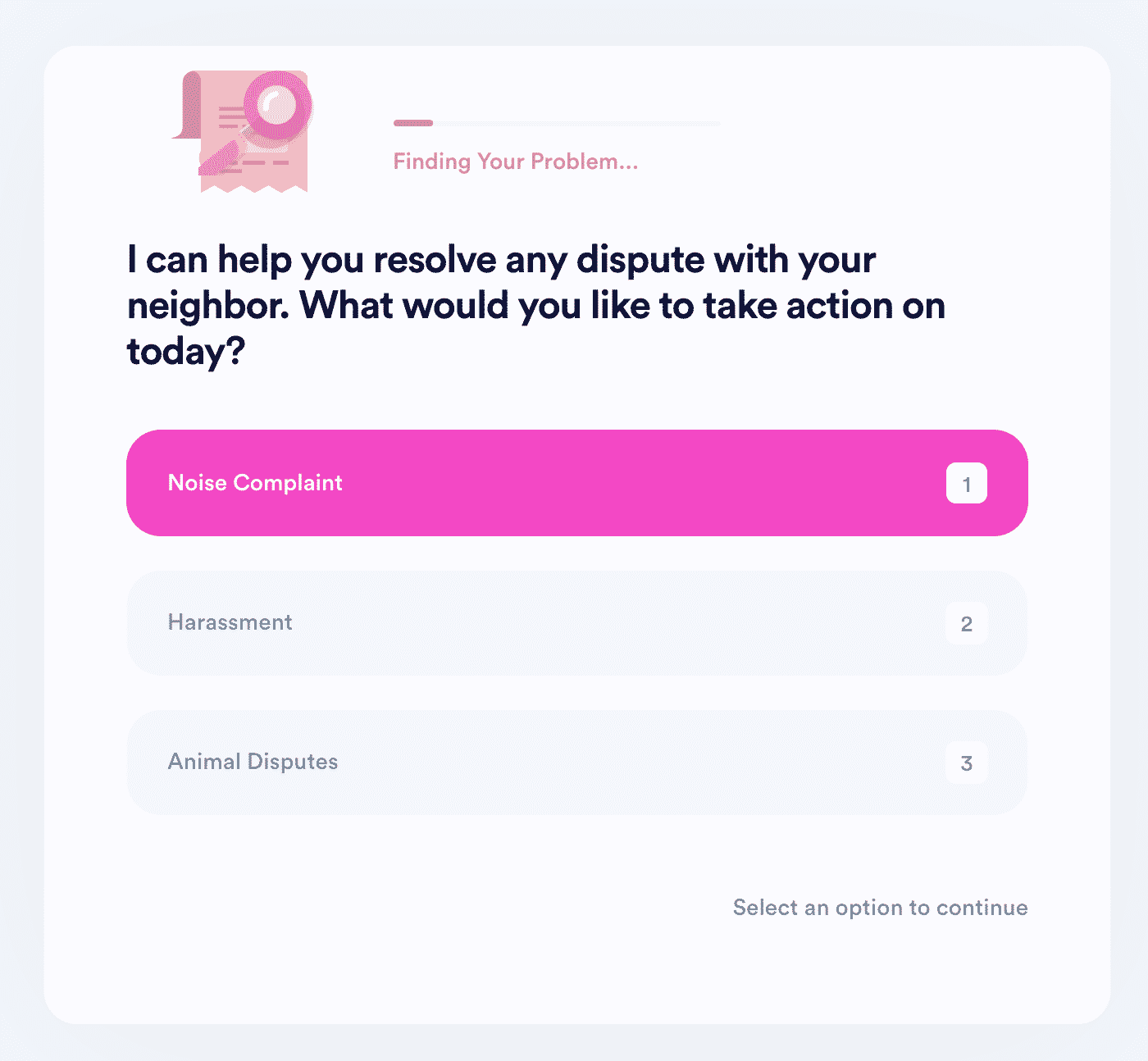 Can DoNotPay Help Me With Other Neighbor Complaints?
DoNotPay learning center offers various articles on how to deal with different neighbor issues, such as:
| | | |
| --- | --- | --- |
| Noise | Criminal Behavior | Pets |
| | | |
When You're In Over Your Head, DoNotPay Swoops In
With your virtual assistant extraordinaire, many tasks will be a breeze to deal with.
No fax machine? No problem! Use DoNotPay to send faxes online. If you don't want to waste time waiting in lines or on the phone, we come to the rescue with many of our products that will help you:
What Else Does DoNotPay Have in Store for You?
You can count on our assistance when you want to get rid of:
Our app has even more to offer—try out our hacks that will save you money and do the heavy lifting in numerous tasks: