The Best Tactics To Deal With Your Neighbor's Light Harassment
Were you excited to have new neighbors move in only to have them install blaring lights all over their property? How do you deal with neighbors who are becoming a bigger nuisance with each passing day? DoNotPay can help!
In this article, we will explain what constitutes light harassment, how to deal with a neighbor's light harassment, and how to escalate the issue if a neighbor goes too far. and get all the advice you need about neighbor-related issues!
What Constitutes Light Harassment?
Poorly aimed lighting can have a negative impact not only on the neighborhood but on the environment as well. Light harassment is the projection of lights onto neighboring property, such as:
Porch lights shining into a neighbor's bedroom window
Exterior security light
Floodlights for sport facilities
Decorative lightings of buildings or landscapes
Motion sensors
Laser shows
How To Document Light Harassment
The best way to tackle your neighbor's light harassment is to get documented proof. Here are a few ways you can collect evidence:
Photos and videos—Having tangible evidence is your best bet. Take photos and videos of the blaring lights, especially when they disturb your sleep
Notes—Start taking notes as soon as you begin experiencing light harassment. Make sure to note the date and time of the incidents
Witnesses—Other people in the neighborhood may also be affected by your neighbor's behavior. Talk to them and see if they can make a statement confirming the issue
Can You Sue Your Neighbor for Light Harassment?
Similar to noise pollution, light pollution is recognized as a nuisance by U.S. courts. Although most states do not have specific light pollution laws, you can still take legal action based on nuisance. Several assessments should be made, such as:
The physical and mental effect it can have
Frequency of light harassment
Timing and duration of light nuisance
Actions you took to fix the problem
How Can You Prevent Light Harassment Yourself?
Before talking to your neighbor, try acting on these tips to block your neighbor's glaring lights from disrupting your sleep:
Get blackout curtains to block out light effectively
Buy blindfolds for a peaceful night's sleep
Invest in reflector sheets to reflect the light on their house (to give them a taste of their own medicine)
Plant fast-growing trees to block the light. Although it is time-consuming, it obstructs light and is a good way to give back to the environment
Talk to Your Neighbor
The best way to deal with neighbor-related issues is to communicate. Often, your neighbors are not aware that their lights might be causing a disturbance and would like to help resolve the situation in any way possible. Here's a list of steps you can take:
Go over to their place with home-baked cookies
Explain how their lights are disturbing, especially if you are sensitive to light
Describe how the light makes it difficult for your to fall asleep
Offer potential solutions, such as changing the angle of the light or removing it entirely
When talking to your neighbor, be polite and friendly. Even if you are sleep-deprived, starting an argument with your neighbor is likely to worsen the situation.
Send a Demand Letter
If your neighbors refuse to take any action on your polite requests, you should escalate the issue and send them a formal warning. Explain the gravity of the issue and warn them of possible legal consequences if they fail to cooperate.
A well-drafted demand letter is enough to convince your neighbor to respond to your demands. Do you need help drafting one? Subscribe to DoNotPay, and let us do it for you!
DoNotPay Can Set Your Neighbors Straight With a Killer Demand Letter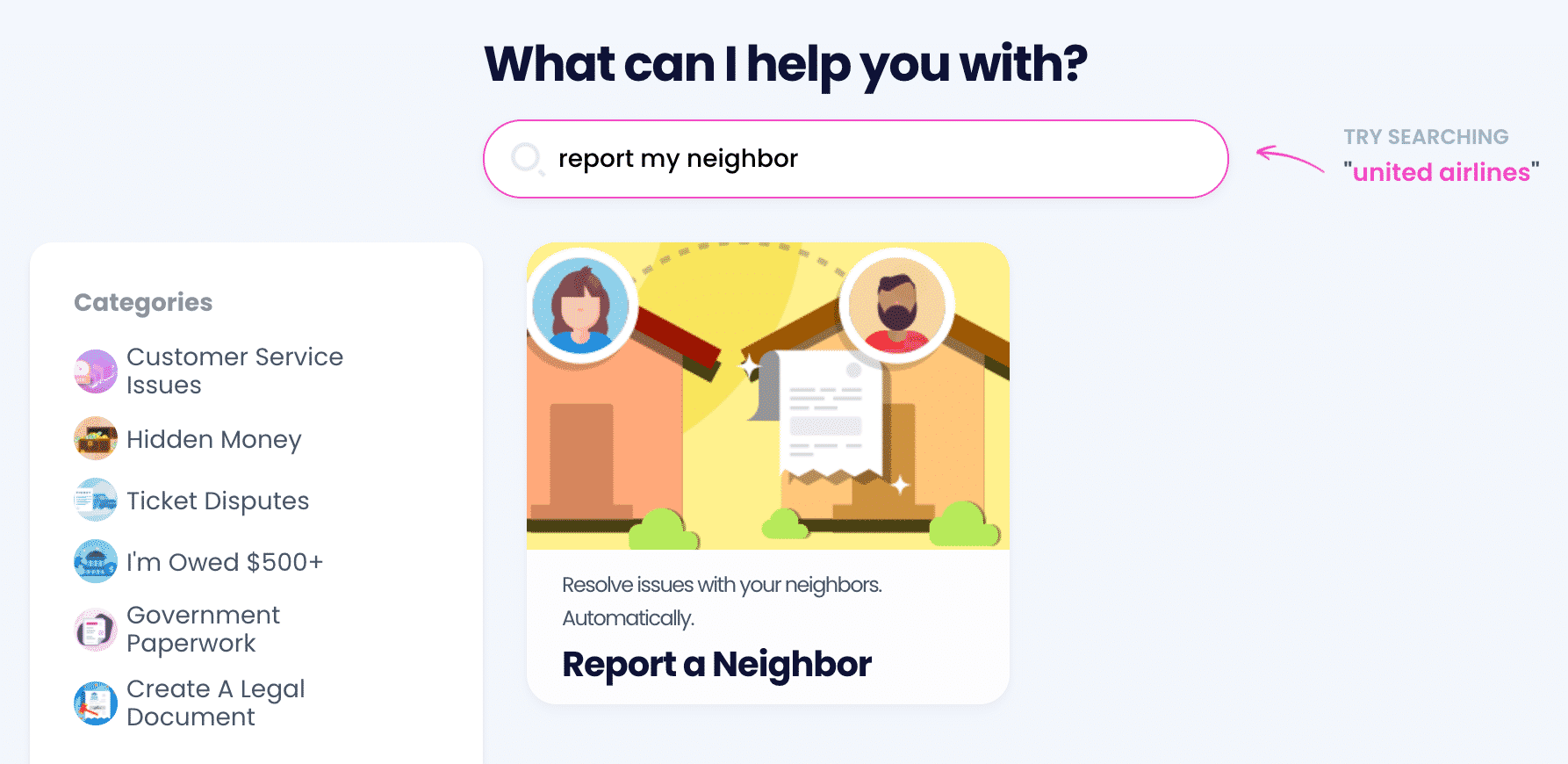 Do you have neighbors who make your life more and more miserable with each passing day? If you're reluctant to involve the local authorities but also want to deal with harassing neighbors, DoNotPay can help you send a demand letter within minutes. Here is what you need to do:
Choose the Neighbor Complaints product
Specify the issue you are facing
Provide more information to personalize the letter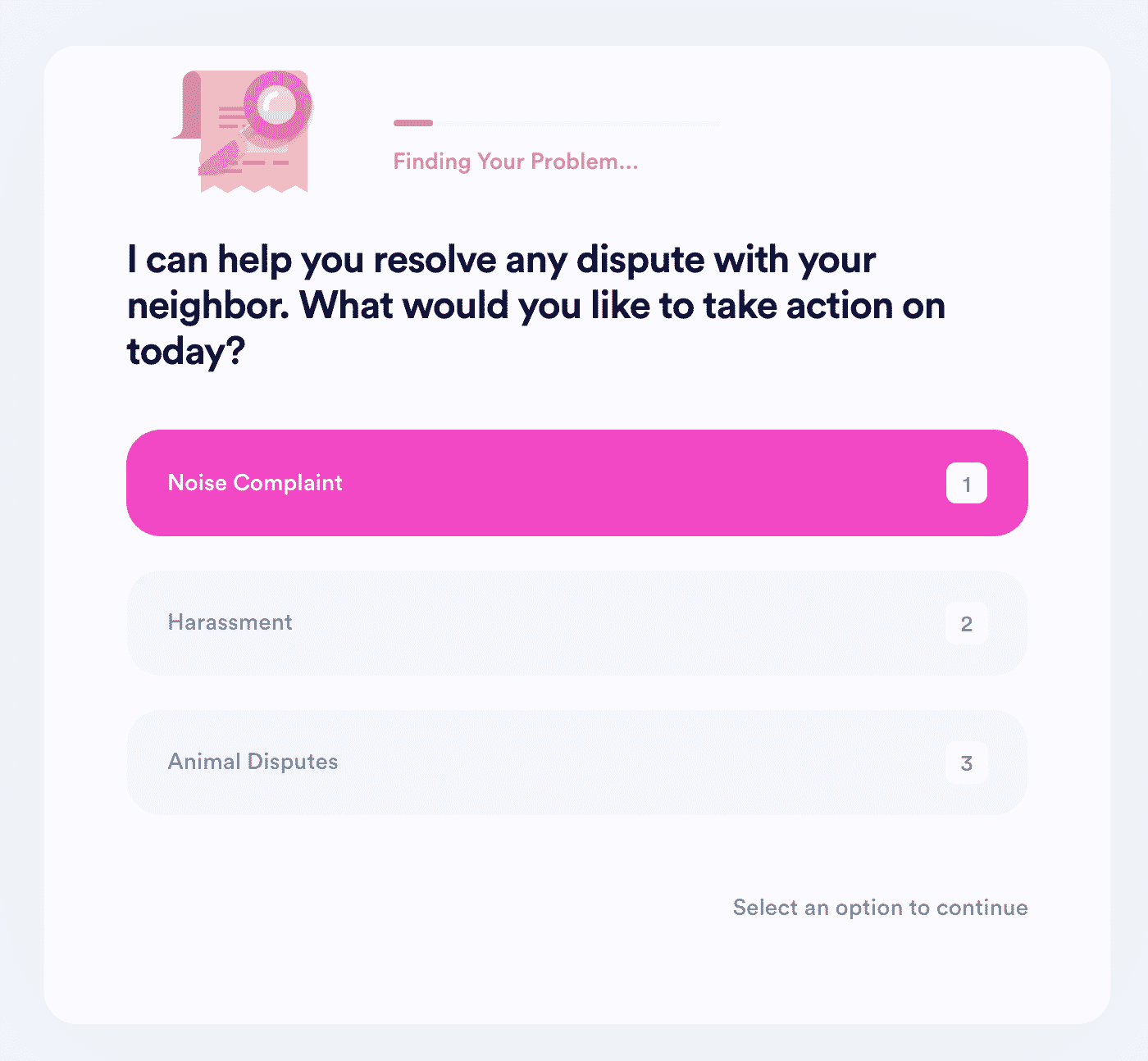 We will complete and mail your demand letter with ease. Your neighbors will think twice before causing any trouble to you. If they ignore your request, you may want to file an official complaint.
DoNotPay Can Help You With Other Neighbor-Related Issues
DoNotPay provides all sorts of advice for dealing with neighbors, whether it's related to noisy neighbors or inconsiderate ones. Check out some problems that we can help you with:
| | | |
| --- | --- | --- |
| Noisy Neighbors | Criminal Neighbor Behavior | Neighbor's Pets |
| | | |
When You're In Over Your Head, DoNotPay Swoops In
With your virtual assistant extraordinaire, many tasks will be a breeze to deal with.
No fax machine? No problem! Use DoNotPay to send faxes online. If you don't want to waste time waiting in lines or on the phone, we come to the rescue with many of our products that will help you:
What Else Does DoNotPay Have in Store for You?
You can count on our assistance when you want to get rid of:
Our app has even more to offer—try out our hacks that will save you money and do the heavy lifting in numerous tasks: