Have Your Neighbors Let Their Dog Run Loose? Learn How To Set Boundaries
If you live in a communal area, you have to deal with noisy or harassing neighbors. In case they have a dog that is not properly trained, your life can become a living hell. Dogs can seem aggressive and intimidating, especially when they're not on a leash.
If you're scared of canines and your neighbor has let their pet run loose, you should let them know how you feel about it immediately. helps you solve the problem with your neighbor elegantly. We can assist you in figuring out how to file a formal complaint or take legal action if your neighbors let their dog run loose.
Why Do Neighbors Let Their Dogs Run Loose?
There are several reasons why neighbors let their dogs run around:
They don't believe in dog chaining
The dog can be suffering from some illness
Your neighbors are not aware their dog is not tethered
Most communities have clear laws on loose canines and mandate all owners to ensure their pets are leashed, especially on public property. They can run loose on private property, provided the owner supervises them.
Should Untethered Dogs Worry You?
Most dogs are friendly and don't bite, but some can be possessive and vicious. Check out why and when to worry about loose dogs in the table below:
| | |
| --- | --- |
| Common Issues With Untethered Dogs | Brief Explanation |
| Attacking a passerby | Canines can attack and cause harm to bystanders, especially if they're untrained |
| Cynophobia (fear of dogs) | If someone has cynophobia, they can get a panic attack if they see a dog running loose |
| Untrained dogs | Some dogs are untrained or aggressive enough to attack little children |
| Accidents | If the house gate is open, they can run out on the street and risk getting injured |
| Invade other people's property | Dogs can get onto other people's properties and create a mess |
| Accidentally run into a shooting range | They can even get into a shooting range and risk getting shot |
How To Prevent Neighbors From Letting Their Dog Run Loose
There are three ways to solve this issue before reporting your neighbors to the authorities:
Befriend the dog
Address your concerns
Mail a warning letter
Befriend the Dog
If you feel the dog is friendly enough and won't bite you, you can try befriending the furry prankster. Some breeds are pretty sociable and love making new pals. You can ask your neighbor to let you spend some time with the dog, but make sure the owner is present at all times.
Once you get to know them, their running around won't bother you, and the dog may even react to your commands.
Express Your Concerns to Your Neighbor
If dogs scare the living daylights out of you, talk to your neighbor. A straightforward conversion tends to be the best problem-solving method. Your neighbors might not even be aware that their dog's behavior is annoying or disruptive.
When you approach your neighbors, make sure to remain polite and calm. Explain the issue, and try coming up with a solution together. Here's what you should do:
Describe the incidents when the dog has run loose and disrupted your activities
Show documented proof if your neighbor doesn't take your word for it
Let the pet owner know how it has affected you or other people in the neighborhood
Advise your neighbor what they can do (train the dog, tie it up, or walk it on a leash)
If the dog is violent and dangerous, you need to be firm and assertive when talking to the neighbor. Let them know that they need to keep the dog properly leashed at all times or you might have to call animal control.
Mail a Warning Letter
If your neighbor does not take your complaint seriously, send them a formal complaint to express the gravity of the situation.
Before writing the complaint, check out what the local rules state about dogs running loose because it's crucial to include all facts and elaborate on the potential consequences.
You can also talk to other people in the neighborhood to check if they feel the same. A collective neighborhood complaint has a bigger impact than an individual one.
Let DoNotPay Deal With Neighbor-Related Issues for You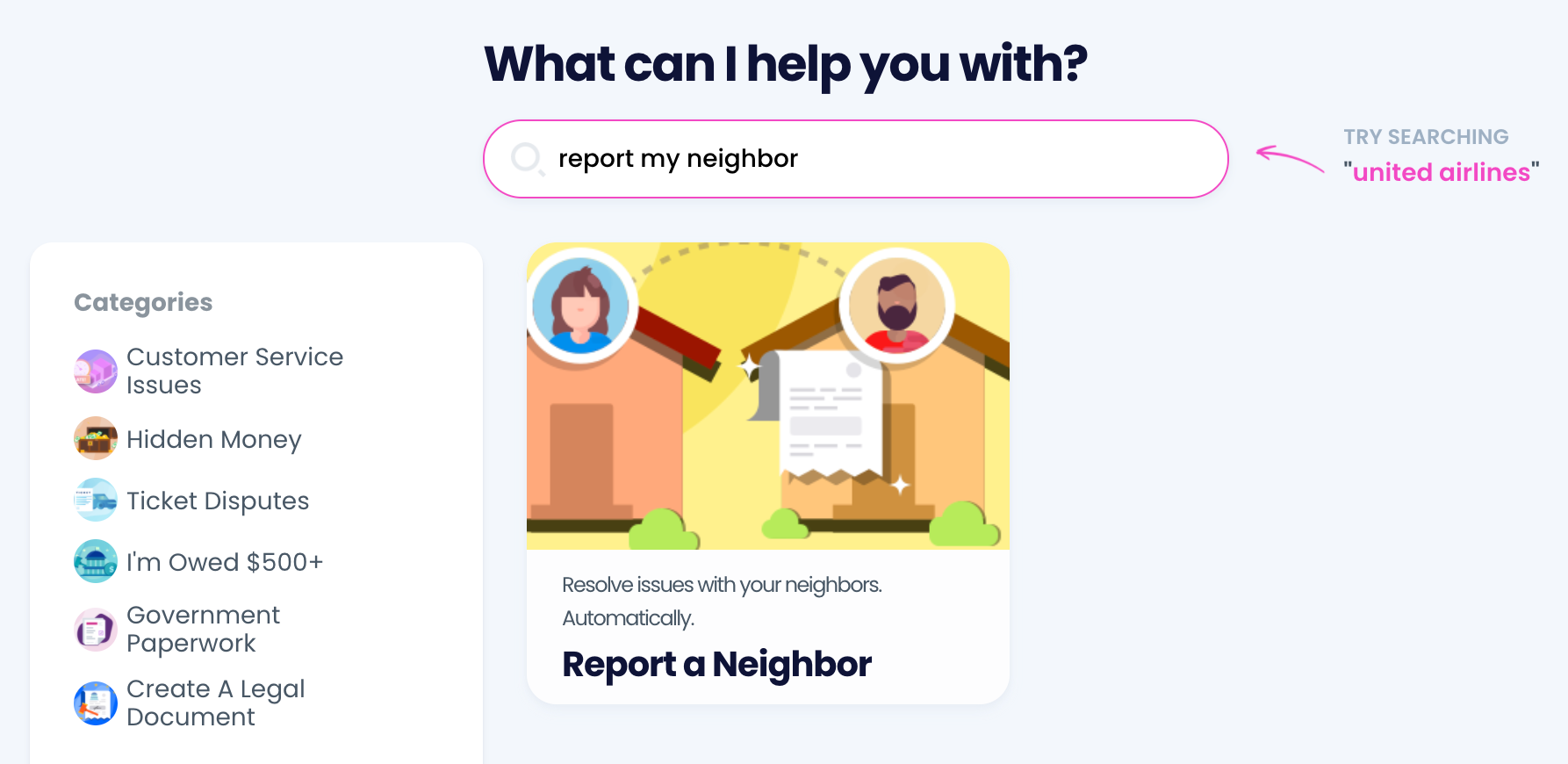 If you can't be bothered with the neighborhood hassle, use DoNotPay to draft a demand letter and teach your neighbor and their rude dog a lesson. Here's what you need to do:
in your web browser
Search for Neighbor Complaints
Choose the issue you want to address
Provide additional details about the situation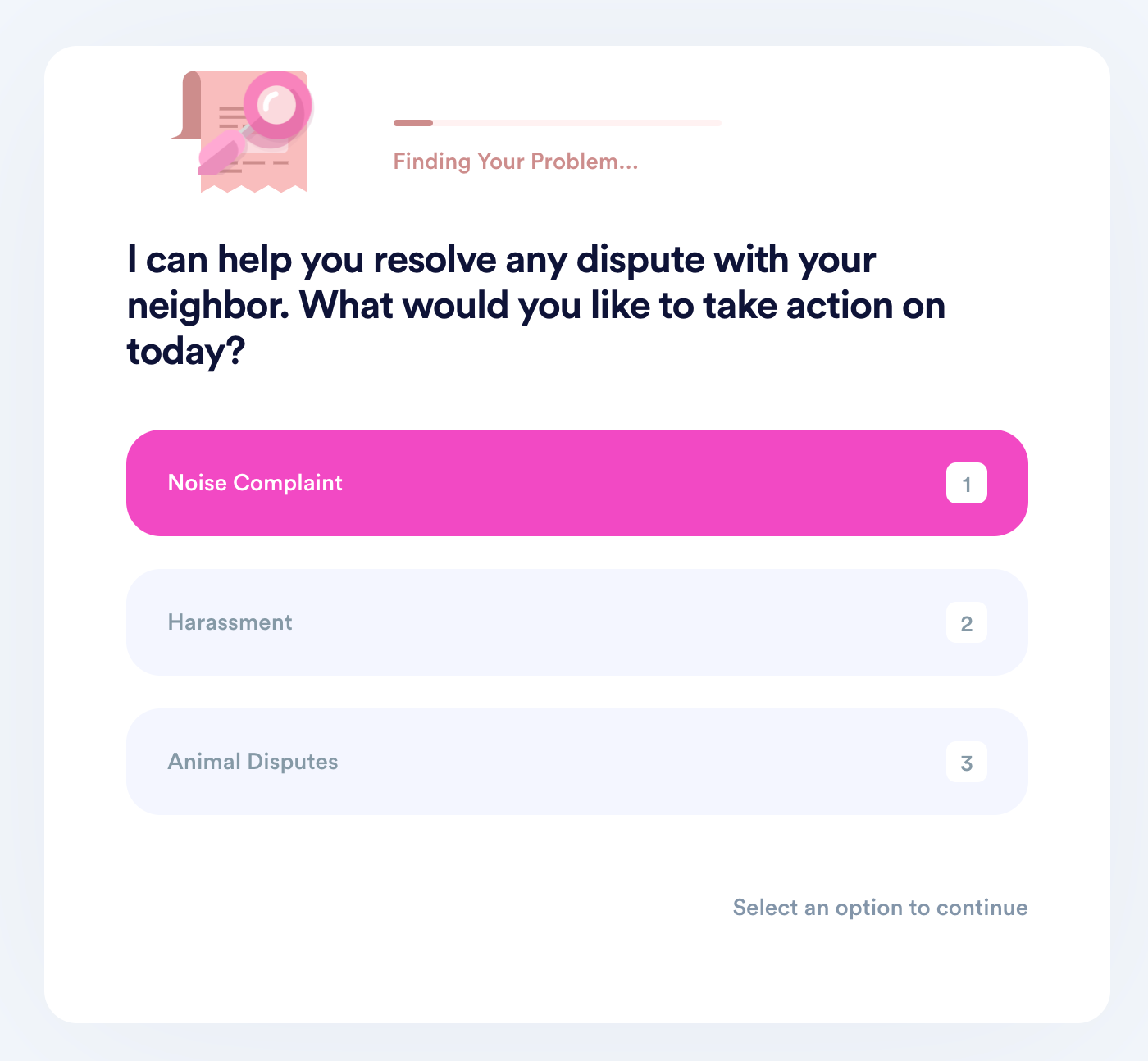 DoNotPay will create and send the document on your behalf. It should be enough to prompt your neighbors to fix the problem. If not, you can file a formal complaint with the local authorities or take legal action.
Facing other canine problems? DoNotPay can help you figure out:
More Nifty Solutions to Annoying Problems
If you're dealing with problematic neighbors or coworkers, you're not alone—our app can help you handle these issues with our Neighbor Complaints and Fight Workplace Discrimination products.
No problem is too big or too small for DoNotPay! Check out the best time- and money-saving solutions to different nuisances:
| | |
| --- | --- |
| Issues | Solutions |
| Email spam | Using DoNotPay's spam collector |
| High college fees | Applying for college fee waivers |
| Bothersome robocalls | Getting back at robocalls |
| Late delivery | Requesting a late delivery refund |
| No fax machine | Sending faxes online |
| High property taxes | Applying for property tax exemptions and appealing your property assessment |
An Array of Hacks To Help You Deal With Greedy Companies
Nobody likes to spend more money than they have to. DoNotPay is here to offer many penny-pinching hacks and also stop companies from taking advantage of you.
Almost every free trial nowadays isn't really free. Companies request your credit card info and auto-renew subscriptions. Fight this sneaky practice by using DoNotPay's virtual credit card next time you want to snatch a free trial. We'll also uncover any unwanted memberships you have mooching off of you and help you cancel them in a few clicks.
If you need to contact a company's customer service, avoid wasting your time and money on hold and count on our app to wait in your stead.
Do you need to get your money back, but you don't know how? Use DoNotPay to: