Neighbor's Dog's Poop Smells—What To Do When It Becomes Unbearable?
Neighbors' pets can be a source of frustration even for the biggest animal lovers. Whether they are running around your property unattended, barking non-stop, or pooping in your yard—you should address the issue before your neighbors take it too far.
Your neighbor's dog's strong poop odor may seem insignificant but can be highly disruptive and problematic if it happens regularly.
If you're wondering what you can do when your neighbor's dog's poop smells overwhelmingly strong, you've come to the right place. DoNotPay will give you helpful pointers to eliminate the unpleasant smells once and for all!
Possible Reasons the Neighbor's Yard Smells Like Dog Poop
No matter how bad the smell gets, you should never take your frustration out on the animal. Even if the neighbor doesn't respond to your complaints, poisoning or shooting the pet is never an option. Apart from being unnecessary and cruel, it can result in a hefty fine or even jail time for the perpetrator.
Luckily, there are many constructive ways to resolve the smelly poop issue. For starters, understanding why the poop smell is so overwhelming can help you deal with the problem efficiently.
Possible reasons can be that:
Your neighbor has become lazy when it comes to picking up the dog poop—Delaying the chore for hours or days can cause the smell to linger in the air for a long time
The dog is suffering from bacteria imbalance, sickness, or a health condition—Health issues can make the dog's poop smell strong
The weather is hot—High temperatures can elevate the poop smell
Once you understand the cause of the smell, you should try resolving the issue peacefully. A friendly approach will bring fast results and keep you on good terms with your neighbors.
How To Eliminate the Dog Poop Odor From Your Yard
One of the most efficient ways to deal with your neighbor's dog's poop smell is addressing the problem face to face.
Talking to your neighbor about this sensitive subject can be tricky. If you don't approach the conversation sensibly, you may provoke a defensive reaction and eliminate any chances of resolving the matter peacefully.
The factors you should consider when confronting your neighbor about their dog's poop odor include:
Picking the appropriate time for a conversation
Using a suitable tone
Offering constructive suggestions
Thanking them for their consideration
Choose the Right Time
One of the most important factors to consider is timing. If you start the conversation on your way to the store or when your neighbor comes home from work tired, it may not go too well. You should wait and talk to them on the weekend or at any time your neighbor is relaxed and has enough patience to listen.
Mind Your Tone
Try not to sound accusatory or judgemental when talking to your neighbor. However inconsiderate you think they are, your goal is that they react positively to your complaint and correct their behavior. If you start yelling or threatening them, you will not get the desired results but only provoke them to continue bothering you out of spite.
Offer Practical Solutions
If the neighbor seems receptive to your tone, you should try offering them suggestions on how to fix the problem. You can advise your neighbor to:
Change the dog's diet
Ensure the dog is healthy and hasn't eaten anything bad
Re-train the dog not to poop all over the yard
Pick up the poop regularly and place it in a containment bin
Reduce the smell by using a homemade spray made of:

Vinegar
Baking soda
Citrus peels

Buy a premade spray
Thank Your Neighbor for Listening
Once you finish the conversation, thank your neighbor for listening to you and taking your complaint seriously. Such politeness will prompt any neighbor with a conscience to change their behavior.
What Happens if My Neighbor Doesn't React to My Complaint?
If your neighbor refuses to cooperate, your next move is to send them a carefully drafted demand letter informing them of the potential legal consequences of their actions. You should first get acquainted with your state laws and become aware of your legal rights.
A demand letter should provide the following information:
Arbitration notice
Legal actions you are willing to take unless they correct their behavior
Compensation amount they will have to pay
The demand letter should be professional and comprehensive, which is why you shouldn't write it yourself. , and let us create one for you in the blink of an eye!
DoNotPay's Demand Letter Will Chase the Smell Away
Our Neighbor Complaint product is all you need to ensure the annoying neighbor will stop bothering you once and for all. DoNotPay covers a wide range of neighbor-related issues, as presented in the table below: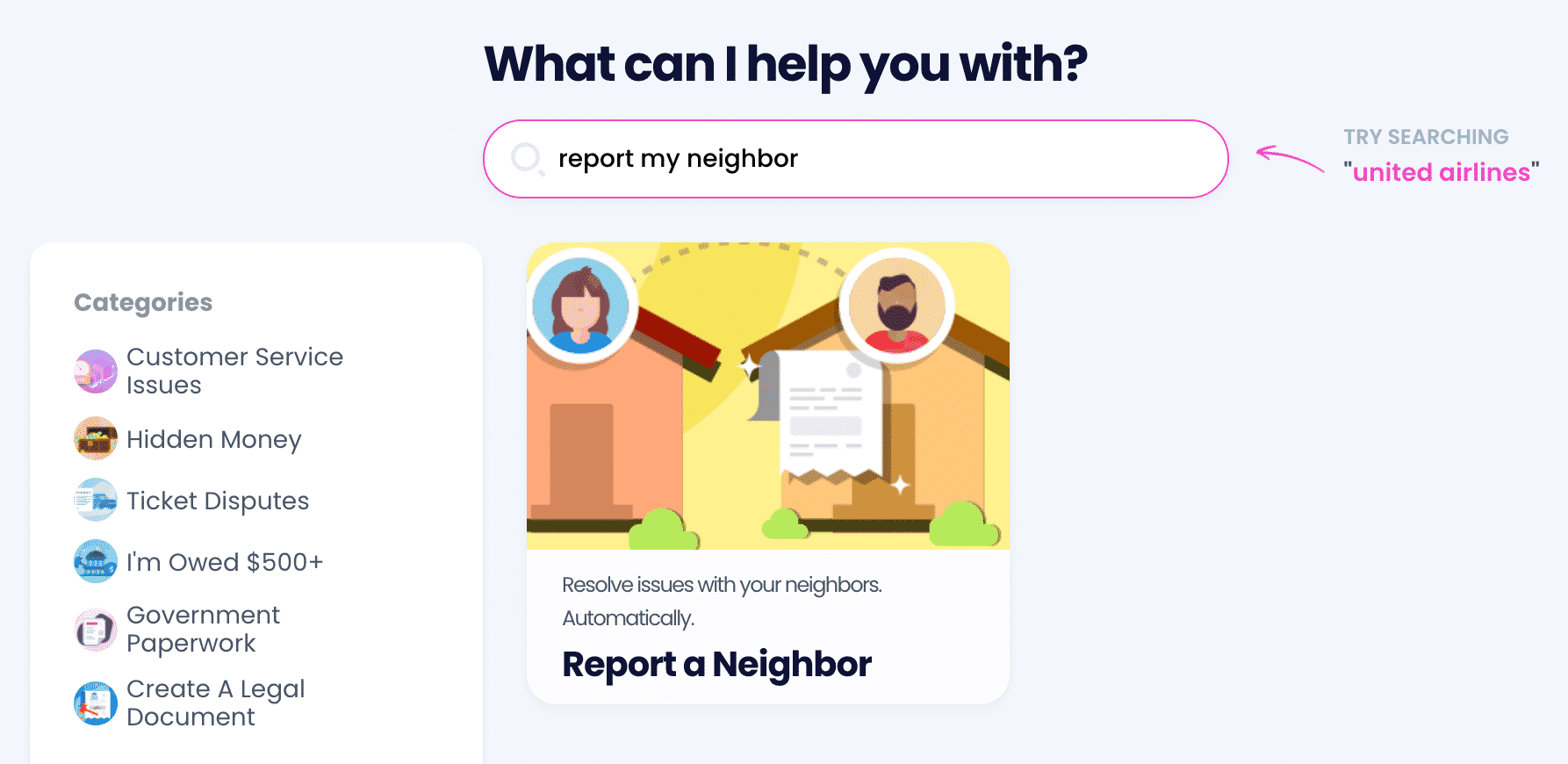 Creating a demand letter with our help is a piece of cake. You should:
in a web browser and pick the corresponding product
Specify the type of problem
Answer our chatbot's questions
Our app uses the provided details to create a personalized letter. It will take us mere minutes to draft and send the letter to your inconsiderate neighbor!
Our app can do so much more for you! Since noise is a common grievance, you should know how to create a letter of complaint to your neighbors. When there is no other way but to contact the police, we can show you available legal options and teach you how to: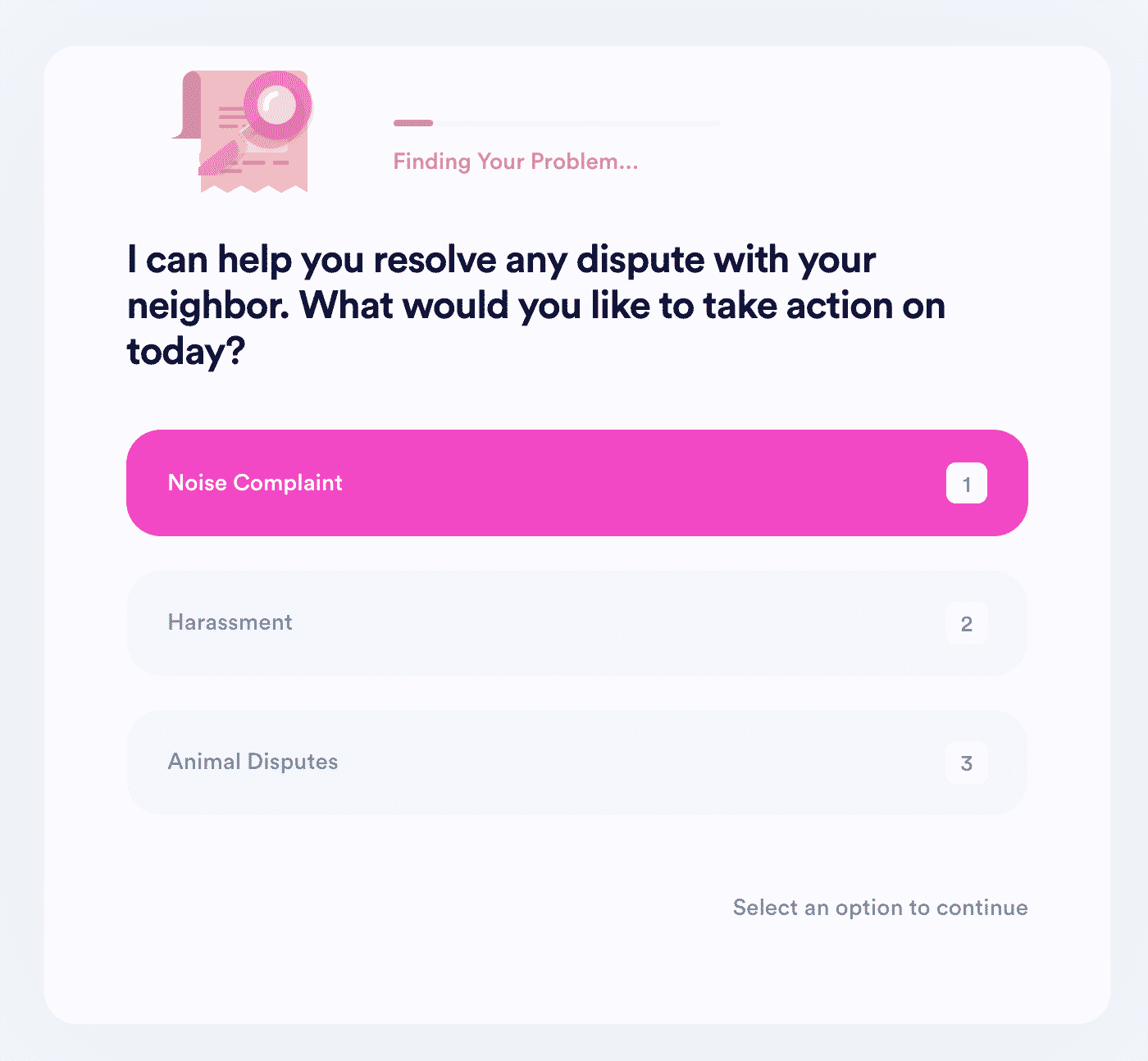 Rely on DoNotPay To Solve Your Administrative Issues
Getting your documents notarized, drawing up legal paperwork, appealing parking tickets, and similar activities usually require a lot of effort. DoNotPay offers various useful products that can help you deal with administrative problems quickly and save a lot of time. We can assist you with:
Protect Your Consumer Rights With DoNotPay
Companies complicate cancellation and refund processes intentionally, hoping that consumers wouldn't want to spend hours trying to solve the issue they're having. DoNotPay knows how important consumer rights are, and that's why we created numerous products that can help you:
Many people forget to cancel their free trials on time and end up paying for the services they don't even use. To prevent that, DoNotPay has developed a nifty virtual credit card that will allow you to enjoy free trials risk-free. Our virtual credit card will also help you avoid spam email notifications by generating a random email address that you can use when signing up for a free trial.