The Neighbor's Dog Killed My Cat! What Are My Next Steps?
Did you have a cute furry pet you adored, but your neighbor's dog killed it? Let us help you seek justice!
"The neighbor's dog killed my cat" is a situation that many devastated cat owners have to face. Once you , DoNotPay can guide you on what steps you need to take if you find your cat fatally injured and how to escalate the issue to get your cat the justice it deserves.
Who Is Responsible if the Neighbor's Dog Killed My Cat?
Dog owners are responsible for the actions of their dogs. Even if your cat was testing their dog's patience, the onus is on your neighbor to prevent their dog from hurting others.
If you're sure that your cat was killed by a neighbor's dog and you have documented proof, you can:
Press legal charges and file a lawsuit
Make a civil claim and seek appropriate compensation for medical bills and the market value of your cat
It is best to consult a lawyer before taking any action. They can help you figure out the most suitable damages you can seek in your particular situation.
What Should I Do if a Neighbor's Dog Killed My Cat?
Although you might be tempted to shoot the dog (or your neighbor), violence is not the solution. You have three options:
Reason with your neighbor
Send a demand letter
Press legal charges
Talk to Your Neighbor
Before you talk to your neighbor, you should lay your cat to rest to let go of unresolved emotions. Try and calm yourself; drink a glass of water, or listen to soothing music. Give your neighbor the benefit of the doubt before storming to their front door. The chances are that your neighbor might not even be aware of the whole situation.
The trick is to talk to your neighbor politely. You can mention the following:
Detailed explanation of the fatal injuries your cat has suffered because of their dog
Documented proof of the injuries and a vet's note of the cat's situation
Possible solutions to the problem—compensation for your pet's loss and medical bills
Polite suggestions to train their dog to not injure other animals or people
Get a Mediator Involved
If your neighbor refuses to listen to you, request an independent mediator to get involved. A mediator will listen to both sides of the story separately before coming with a proposal that is fair to both you and your neighbor.
Send a Demand Letter to Your Neighbor
Is your neighbor not open to resolving the issue? Do they still believe their dog was harmless and your cat is to blame for what happened? Send them a warning letter. The letter should contain accurate information about the incident and possible legal consequences if they don't offer compensation for your loss.
You can also talk to other people in the neighborhood if they witnessed the incident or if they have any valid complaints with your neighbor.
Since every state has different animal regulations, you should research your state's laws to get familiar with the legalities.
Press Legal Charges
If the dog owner does not respond to the demand letter, it's time to escalate the issue further. Rules vary throughout the U.S., but most states have strict liability laws that make pet owners responsible for their pet's actions.
You can sue the owner if they knew the dog had a predatory tendency and could harm other animals. If the owner states they did not know, it is considered negligent behavior, and you can still demand compensation.
DoNotPay Can Send Demand Letters in an Instant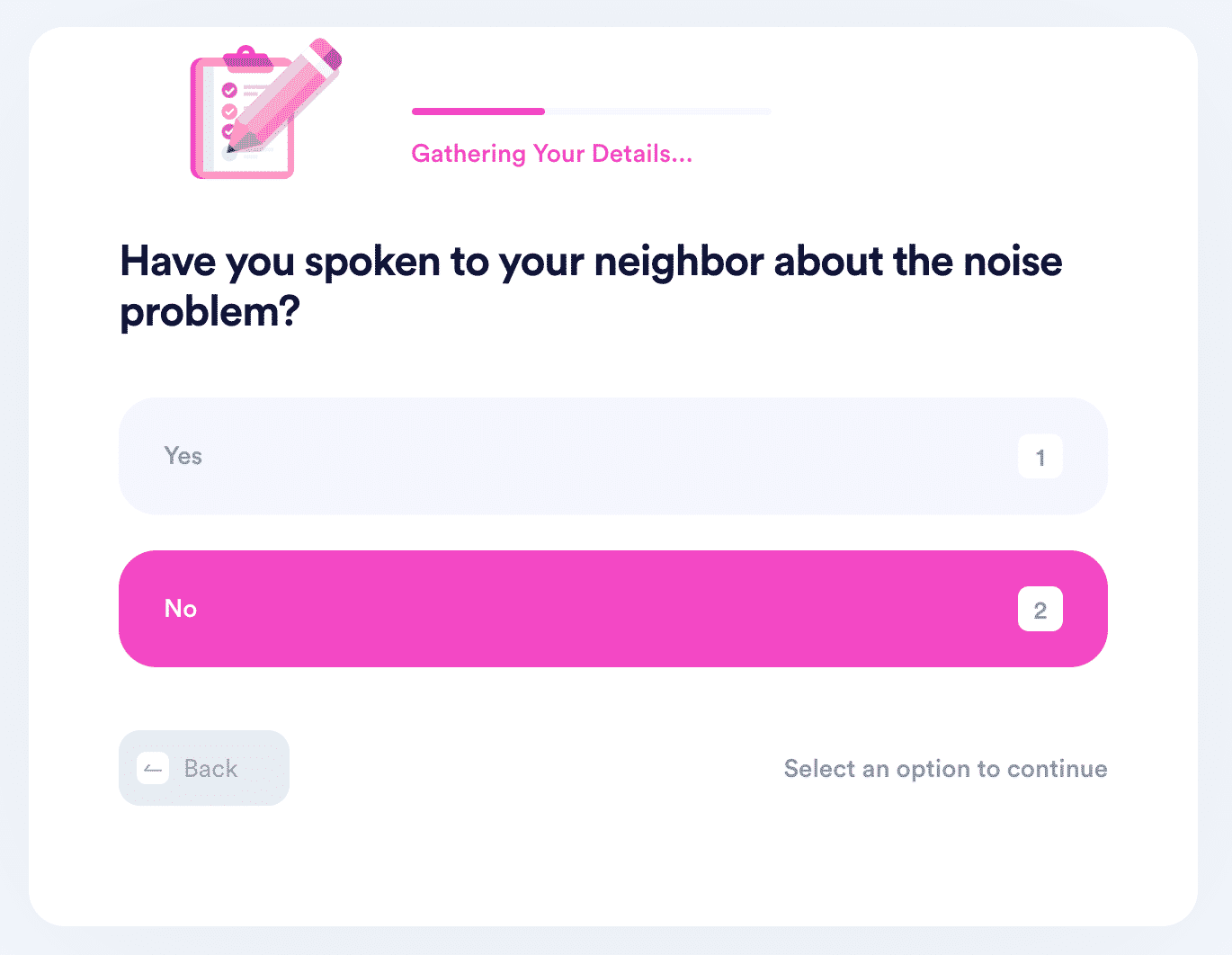 Do you need help dealing with noisy, harassing, and inconsiderate neighbors? We've got you covered! Our Neighbor Complaint feature can help you send warning letters to bad and noisy neighbors and those with loud, aggressive dogs.
All you need to do is follow these instructions:
in your web browser
Choose the Neighbor Complaint service
Select the issue you're facing
Elaborate further on the issue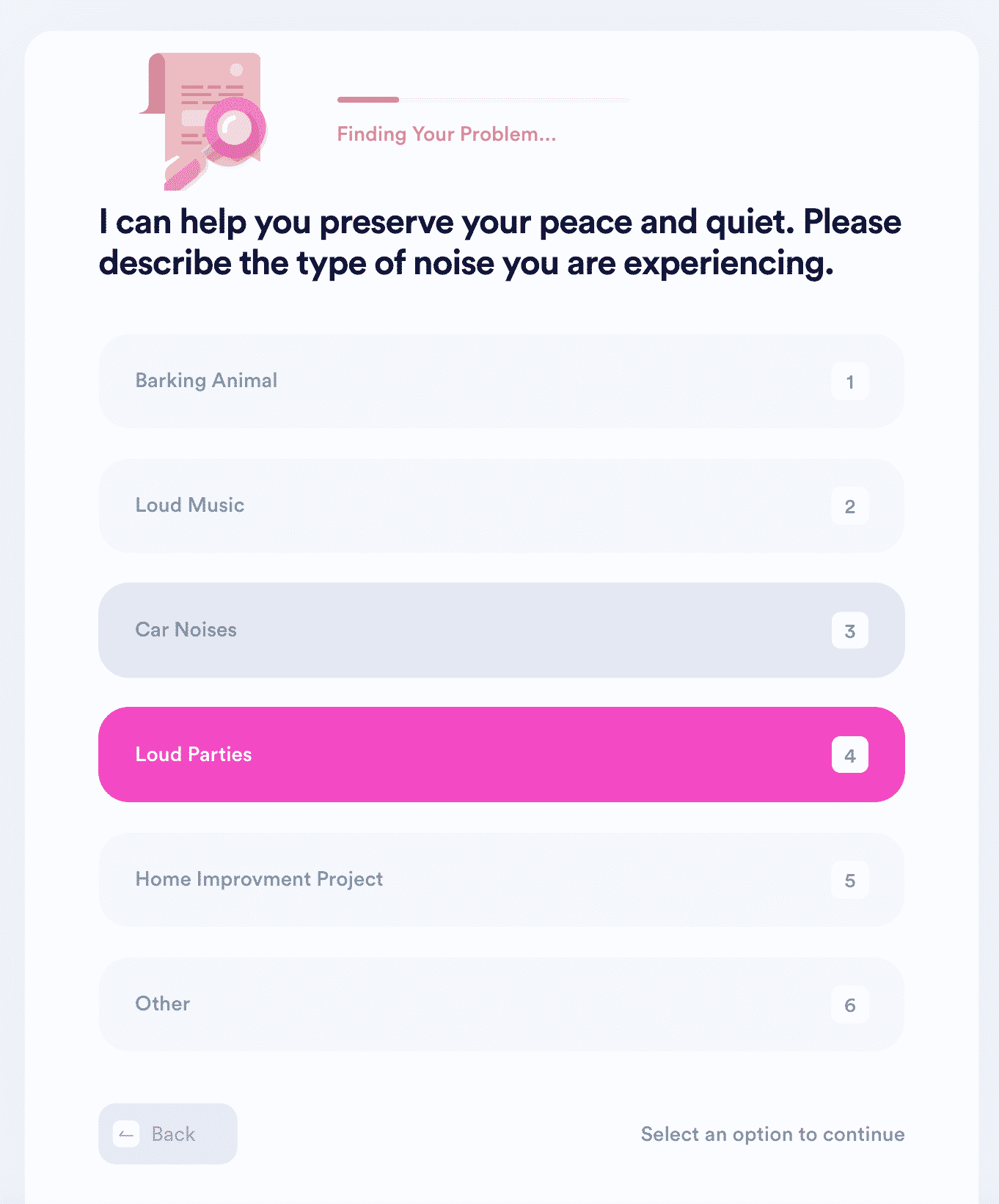 Leave the rest up to us! We will draw up the demand letter and mail it to your neighbor. People are usually scared of having a permanent record on their file, so they do their best to handle the issue promptly.
Did your neighbor refuse to respond to the demand letter? File a complaint to the police department or seek legal action.
Can DoNotPay Help Me With Other Neighbor-Related Issues?
We can help you solve various neighbor complaints, such as:
Easy-Breezy Ways To Deal With Not So Breezy Issues
Administrative and similar tasks don't have to be as complicated as we've known them to be. With DoNotPay, dealing with paperwork and companies is done in a few clicks. Let the world's first robot lawyer help you:
Draft various legal documents
Money Troubles? I Don't Know Her!
As our app's name says, DoNotPay's mission is to put a stop to losing money and overpaying. We will help you get your hands on free trials and snatch free raffle tickets. DoNotPay can also provide solutions for you to get help covering bills and reduce your property taxes.
If you want to get some additional funds, use our app to sign up for clinical trials. You may also take our practice tests to ace a government test and land a better-paying job.
It doesn't hurt to check whether you are owed some unclaimed money, and we can help you with the application.