What Steps Can I Take if a Neighbor's Dog Bit Me?
Were you out on a stroll in your neighborhood, and a neighbor's dog attacked and bit you? Whether you love dogs or are scared of them, a dog bite can be a very traumatic experience, especially if the dog belongs to your neighbor.
Have you searched "neighbor's dog bit me" endlessly with no success? We can help you deal with dog bites and neighbors who refuse to cooperate. If you need assistance with other pet problems, such as dealing with a neighbor's aggressive dog or preventing a dog from peeing or pooping in your yard, we've got you covered!
What Actions Should I Take if a Neighbor Dog Bit Me?
If your neighbor's dog bites you, accidentally or intentionally, here are the steps that you need to take:
Seek medical attention
Reason with your neighbor
Send a demand letter
Seek Medical Attention
The first thing you need to do is get the injury checked out. Dog bites can lead to infections, broken bones, lacerations, and even lifetime disfigurement.
Reason With Your Neighbor
Most pet owners treat pets as their children and tend to overlook bad behavior, but if the dog has bitten you, you should take immediate action. It's essential to communicate the issue to your neighbor, but it's also important to remain calm and composed. Try not to be too angry, or your neighbor will become more defensive and try to put the blame back on you.
Here are a few steps you should take:
Document the injury—Take photographs of the injury and keep the medical bills
Figure out the time of day your neighbor is available to talk
Call them beforehand to make sure their dog is leashed properly
Explain to them what happened and how you were physically and emotionally affected
Offer solutions to the problem, such as having their dog trained so it doesn't run loose
Send a Demand Letter
If your neighbor thinks their dog is just being playful even after you show them the documented evidence and will not compensate you, you should send them a demand letter. It should include evidence of your injuries along with a factual summary of the incident.
It would help if you could talk to other neighbors to check if something similar has happened to any of them.
Do you need help drafting a professional demand letter? Use !
Can I File a Lawsuit if a Neighbor's Dog Bites Me?
You need to meet certain conditions to file a lawsuit over a dog bite:
Documented proof of sustaining serious injuries, including medical bills, photographs, and videos
In extreme cases, you can also sue your neighbors for emotional trauma and distress
Proof of loss of income if you were unable to go to work because of the injuries
You don't have an indefinite period to sue your neighbor. Laws vary from state to state, but most states allow up to three years from the date of the incident to press charges
Liability for Dog Bites
If you can prove that your neighbor's dog attacked you, your neighbors will have to face penalties, depending on the severity of the situation, as mentioned below:
| | |
| --- | --- |
| Liability | Explanation |
| Dog-bite statutes | An owner is responsible for providing compensation for any damage their dog causes unless it was provoked |
| One-bite rules | Owners might have to pay a fine if they were aware that their dog is capable of causing an injury or posing a threat to others |
| Negligence laws | Pet owners can face penalties if they are careless in training and controlling their dogs. This is not limited to injuries. If a dog knocks someone over in excitement, the owner can be penalized |
What Compensation Can I Seek if a Neighbor's Dog Bit Me?
If you can prove that your neighbor's dog is the reason for your injuries, you can claim compensation for:
Medical bills
Income lost if you miss work
Clothes, glasses, or shoes that were damaged in the incident
Lasting disability or scars
Emotional trauma
How Can DoNotPay Help if a Neighbor's Dog Bit Me?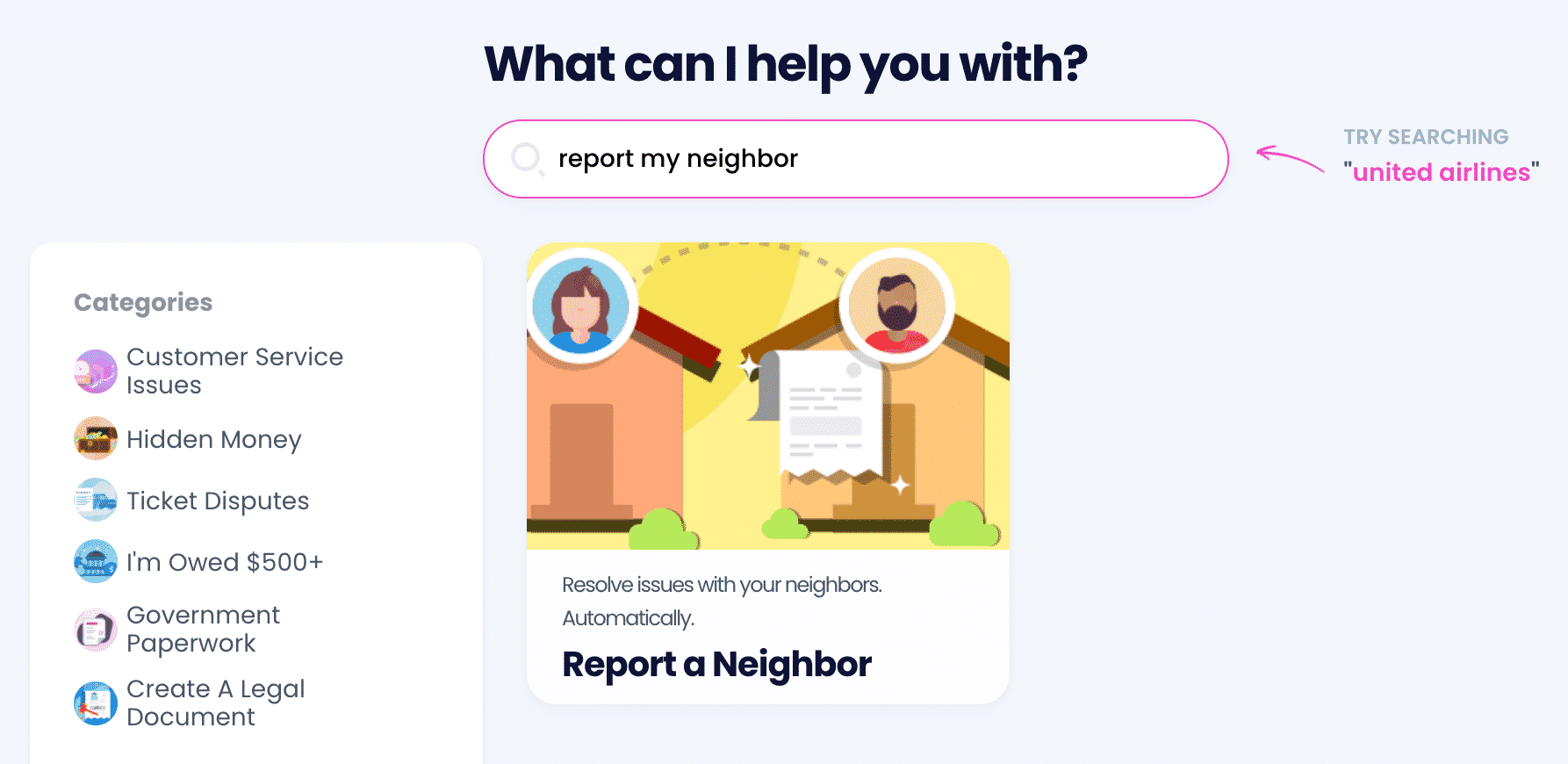 If your neighbor is not ready to take the blame, you should send them a demand letter. Dog bites can be traumatizing, so try and relax while we draft the letter for you! All you need to do is follow these quick instructions:
in your web browser
Find the Neighbor Complaint product
Select the type of neighbor issue
Provide additional information about the incident—the dog bite, the injury, the trauma, medical bills, etc.
Your letter should also include the financial compensation you wish to seek and the further legal action you intend to take if the neighbor doesn't respond.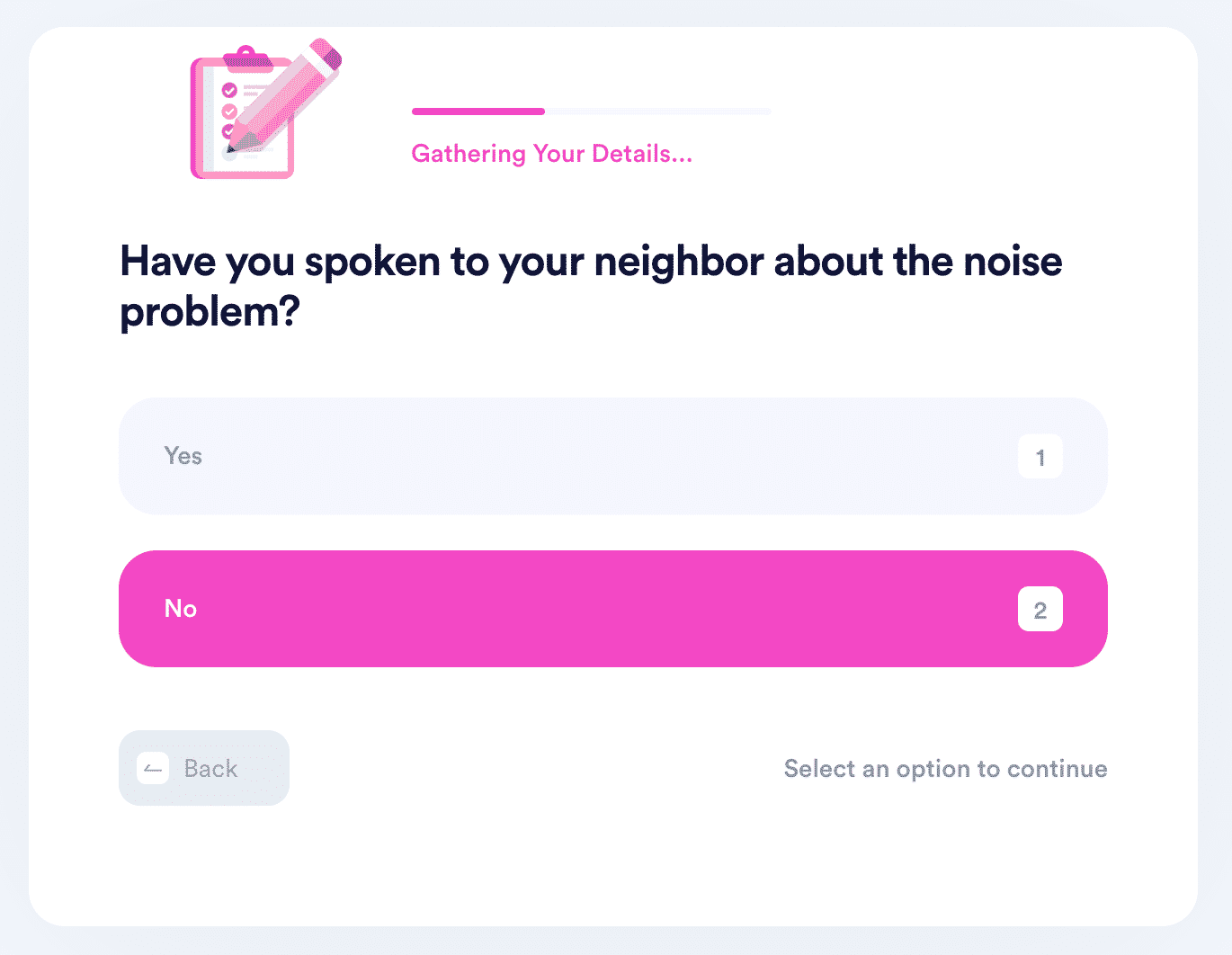 We will draw up the demand letter and send it to your neighbor. If that doesn't work, you should file a formal complaint with the local authorities.
DoNotPay can help with other neighbor problems, including:
When You're In Over Your Head, DoNotPay Swoops In
With your virtual assistant extraordinaire, many tasks will be a breeze to deal with.
No fax machine? No problem! Use DoNotPay to send faxes online. If you don't want to waste time waiting in lines or on the phone, we come to the rescue with many of our products that will help you:
What Else Does DoNotPay Have in Store for You?
You can count on our assistance when you want to get rid of:
Our app has even more to offer—try out our hacks that will save you money and do the heavy lifting in numerous tasks: