Neighbor's Construction Noise—A Quiet Way To Fix a Loud Issue
It's not uncommon for neighbors to be inconsiderate and disrespectful, but that doesn't mean that you have to put up with them. If you're looking for a simple way to deal with your neighbor's construction noise, we got you covered.
, and learn how to deal with your rude neighbors easily! We also show you how to make a demand letter to give your neighbor a warning in a few simple steps.
Neighbor Construction Noise—Talk It Out
Not all neighbors want to make your life hellish. In some instances, they aren't even aware of the ruckus they're causing, which is why you should approach them calmly and explain the issue first.
Don't communicate your feelings when you're angry. Wait until you are calm and composed, and talk to your neighbor then. The goal isn't to start a fight and worsen the already bad situation—you want to resolve the issue and have peace of mind going forward.
Explain to your neighbor how the construction noise is affecting you, and try to come up with a mutually beneficial solution.
How To Quiet Your Neighbor's Construction Noise
You can try to block the construction noise coming from your neighbor's yard on your own. Check out the table below to see some of the common ways to do so:
Method
What To Do
Wearing earplugs or headphones
Buy a pair of earplugs or invest in a pair of noise-canceling headphones. These headphones will:

Block out any unwanted frequencies
Help you get some peace and quiet until you find a more permanent solution

Using a white noise machine
Get a white noise machine to lessen the construction noise coming from your neighbors. The white noise machine will help you reduce stress and can be super useful if you're unable to fall asleep
Insulating your windows
Install proper insulation and double-glazed windows. This will help quiet the outer noise
Moving your furniture
Move your bed if the construction is happening near your bedroom. This will help you get some rest and not be woken up by the drilling noise
Playing loud music
Play some of your favorite songs loudly and make it a party. This will take your focus off the construction noise. If your neighbors are intent on making noise, you can do it too and have a good time
Should I Try To Negotiate With My Neighbor?
Negotiating with your neighbor and reaching a compromise would be beneficial for both sides. You can check the house rules and local laws to see what you can achieve and expect from the neighbor.
If your neighbor violates the law in any way, though, you shouldn't try to negotiate. Contact the authorities immediately and let them handle it instead.
Neighbor's Construction Noise—Use an Intermediary
If you tried everything but your neighbor can't be reasoned with, it's time you contact an intermediary. Reach out to whoever is responsible for dealing with neighbor disputes, such as:
A landlord
A building manager
If you don't have such a person to turn to, you can compose a demand letter and give it to your neighbor as a warning. Luckily, you don't have to struggle with creating a letter on your own! We're happy to jump in and assist you in the process.
Make a Demand Letter With DoNotPay Easily!
Did you give your all to quiet your noisy neighbor, but they don't seem to grasp the seriousness of the situation? Should they refuse to cooperate, you can compose a demand letter and inform your neighbor of the possible consequences of their actions. DoNotPay can assist you in drafting your letter in three quick steps:
Look for Neighbor Complaint and say what problem you're facing
Provide the required details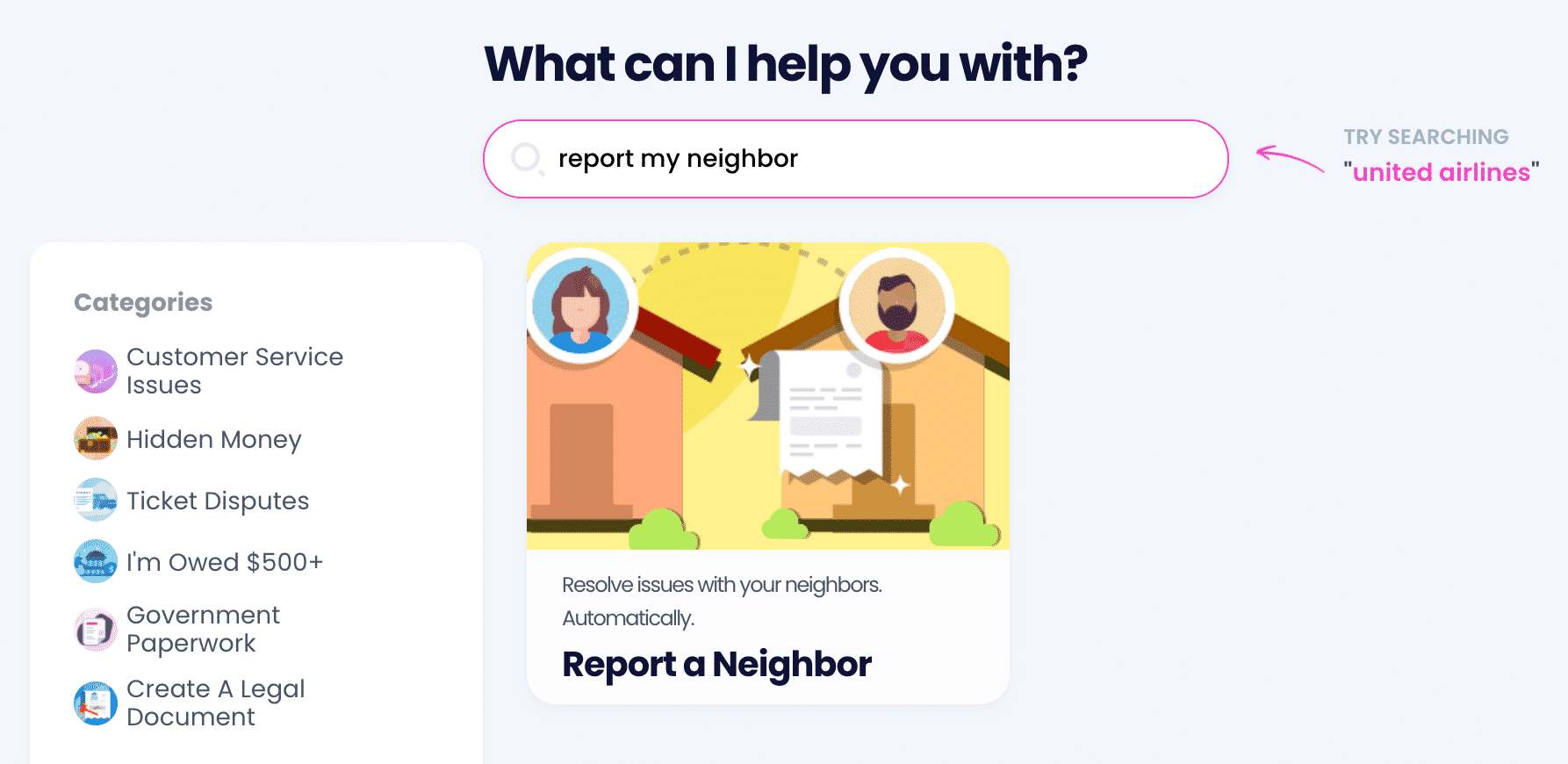 DoNotPay will draft and send your demand letter quickly. Your neighbor should realize how serious the issue is as soon as they get the letter.
If you need additional assistance, DoNotPay will explain how to:
Can I File a Complaint About My Neighbor's Construction Noise?
If you want to report the issue to the authorities and file a complaint against your neighbor, you should figure out who to reach out to. Calling 911 is an option only if it's an emergency. If it's not a pressing matter, you should avoid the 911 line.
Make sure to keep any evidence you have to back your claim and prove your neighbor's irresponsible and careless behavior to the authorities.
DoNotPay Gets the Job Done—Solve Any Issue Within Several Clicks
DoNotPay is an ever-growing app, which is constantly adding new ways to help you with your everyday tasks and those not so common.
Count on your virtual assistant when you need to:
Reduce your tax bill

Deal with noisy and rude neighbors
Have Your Cake and Eat It Too—Earn, Save, and Get Your Money Back
Not only can we help you complete numerous tasks, but we can also make sure your money stays where it belongs—in your wallet. Let DoNotPay assist you in getting different types of refunds and compensation:
Late delivery refund
Gift card cash back
Our app can also help you find your unclaimed funds, get free trials and free raffle tickets, and obtain a college fee waiver.