Neighbors Complaining About Noise From My Apartment—What Should I Do?
Is your downstairs neighbor constantly knocking on your door (or their ceiling) asking you to keep it down? You might have a Mr. Heckles in your building!
If other building residents labeled you as "that noisy neighbor," you can try improving your behavior to avoid consequences more severe than the name-calling.
Is there anything you can do if the accusations aren't justifiable? What should you do when the downstairs neighbor's complaining is on the verge of becoming harassment?
Now you're wondering how to deal with neighbors complaining about "noise from my apartment." In this article, you can find the answer to that dilemma and get the scoop on the noise complaints and ways to handle them!
Is Your Neighbor's Noise Complaint Valid?
Before confronting your neighbor about the noise complaint you received or apologizing to them, you should think about the behavior they say was problematic. The fact that your neighbor complained about noise doesn't necessarily mean their accusations are valid. After all, we all have to make some kind of noise from time to time.
What's most important is determining whether the noise was normal or excessive. Everyday activities—walking, talking, or closing doors and windows—cause normal noise.
Noises that many people consider excessive include:
Partying
Yelling
Arguing
Moving furniture
Slamming doors
Possible Reasons Why Your Neighbor's Complaining About Noise
Different people find different noises irritating and disrupting. In the table below, you can see various types of loud noises that are the most common reasons for complaints:
| | |
| --- | --- |
| Reasons for Complaints | Explanation |
| Loud music | Playing instruments, singing karaoke, or turning up the volume when listening to music are the most common reasons people write letters to complain to neighbors about noise. You shouldn't stop doing what you love, but you should consider turning the volume down a bit |
| Parties | People usually throw parties during the night, which is one of the main reasons they bother so many people. If you love having parties and don't intend to give this up, consider throwing them on the weekends and notifying your neighbors in advance |
| Loud pets | Your neighbors may love dogs, but they don't find them that cute once they start barking and howling. If you have a dog that can't stop barking at night or when you leave it to go to work, you should train it or get a pet sitter when you have to go out |
| Crying or screaming children | Even if your neighbors have kids of their own, they probably won't find it entertaining when your toddler starts screaming at the top of their lungs. Kids are unpredictable, and there is not much you can do. Take your children to the park, let them run and scream, and try to calm them down when the shouting starts at home |
| Construction work | Maybe the most annoying of all the loud noises is the sound of drilling on a Saturday morning. Unfortunately, when you're renovating, there is not much you can do about the noise. You can ask your neighbors, at least the nearest ones, about the time of the day they mind the contraction work the least |
How To Deal With Neighbors Complaining About Noise
Your neighbor complained about the noise from your apartment? There's no need to fret! Apologize for your behavior and consider the following methods of dealing with noise-sensitive neighbors:
Turn the volume down—The easiest and most reasonable solution is to turn down the volume and stop organizing parties. If your neighbor has a problem with your kid or pet, try to modify their behavior but don't feel bad if it doesn't change drastically
Give the neighbors your number—It sounds a little insane, but it might work. If your neighbor's constantly calling the police on you, you should give them your number and tell them to contact you before calling 911. It will be easier to communicate the problem and resolve it without the officers of the law. Besides, they have much bigger issues to deal with
Discuss the problem—Try to be as friendly and compassionate as you can. Tell your neighbor you'll improve your behavior before they even mention it. You should also ask them to be more understanding if their problem is with your pet or child. If you don't want to stop having parties, notify them a week earlier
Get a mediator—If your neighbor is stubborn and lacks compassion, there's no point in arguing with them. This is why you should hire a professional who will help you find the middle ground
If your neighbor is complaining and bothering you so much it's nearly considered harassment, you should to file a demand letter.
Can I Get Evicted if the Neighbors Complain About the Noise From My Apartment?
One of the responsibilities of a landlord is to address and discuss all issues and complaints with their tenant. They should inspect and determine whether the noise complaint is justifiable and act accordingly. This means that they can evict you. Usually, landlords give their tenants a probation period to see if the behavior changes. If it doesn't, they will probably have to look for a new tenant.
Can DoNotPay Help Me Deal With My Neighbor-Related Issues?
If you're not a noisy neighbor but have bad neighbors yourself, DoNotPay can help you! Use our Neighbor Complaint feature to send demand letters to neighbors who are driving you crazy. Once you , follow these steps:
Locate the Neighbor Complaint product
Inform us about the issue you're having—noise, pets, or harassment
Provide the details of the problem you're experiencing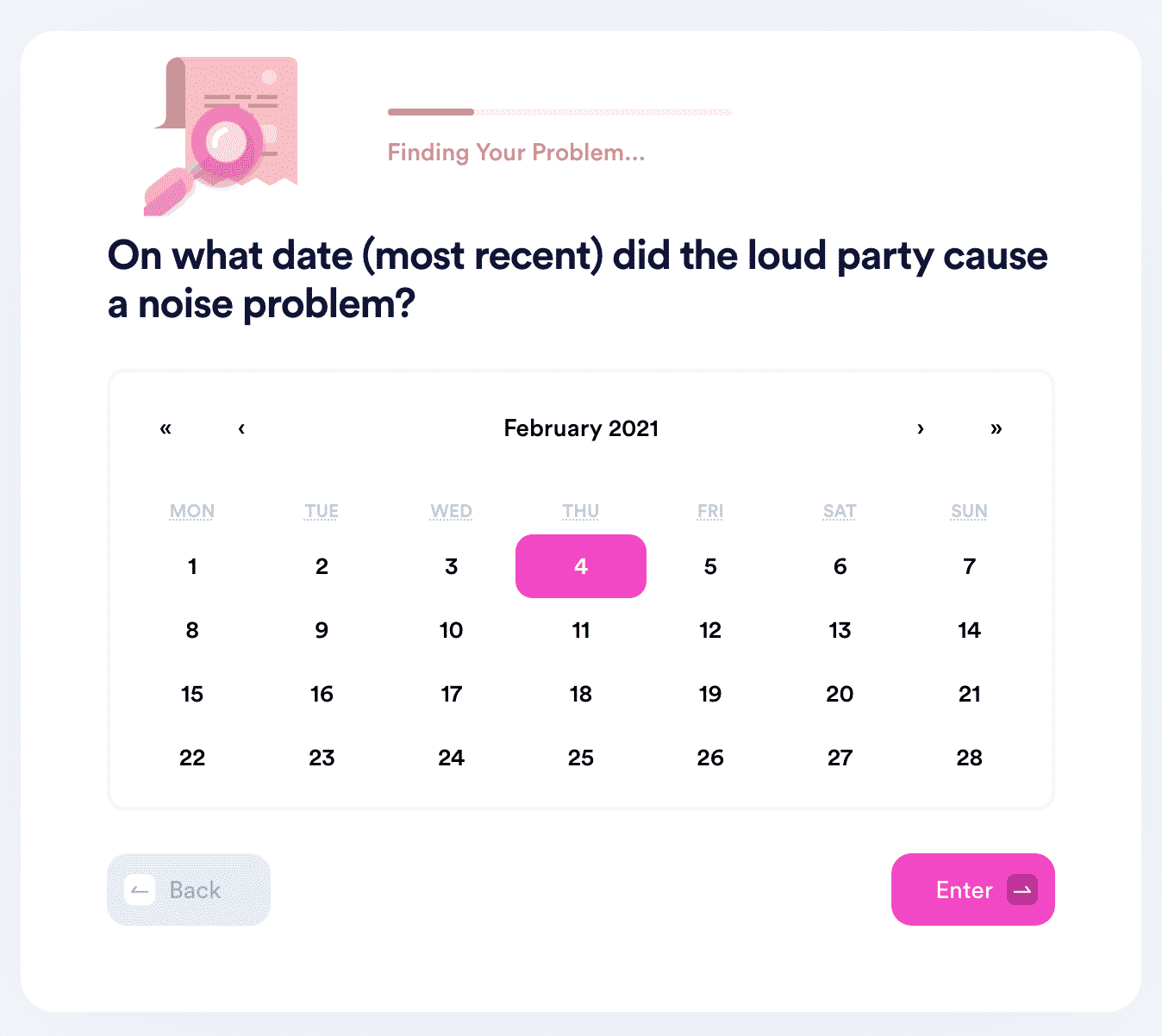 We'll generate a customized demand letter that includes:
Your complaint
The amount of compensation you're asking for
Arbitration notice
Legal actions you may pursue if the neighbor doesn't respond to your demands
DoNotPay—A Pocket-Sized Assistant
If you need protection from stalkers and harassers, we know what to do. Whether you want to deal with a rude or noisy neighbor or fight workplace discrimination, DoNotPay has got your back. Even spammers don't stand a chance against our AI-powered app—both the texters and the robocallers.
If your situation takes a turn for the worse, you may need to take the issue to court. In this case, the world's first robot lawyer swoops in to help! You can count on DoNotPay to assist you every step of the way, regardless of whether you need to take a person or a company to small claims court.
Our App Helps You Through Numerous Red-Tape Issues
Dealing with paperwork doesn't have to be tedious. With DoNotPay's help, cutting through red tape is fast and easy. With a few clicks in our app, you'll be able to: