My Neighbor's Chickens Are on My Property All the Time—Should I Start Prepping for a Barbecue?
Your neighbor's chickens may be nothing but a nuisance that invades your property and disturbs your peace. Have your neighbor's chickens claimed your yard as their own? DoNotPay can help you find a solution to your problem!
If you've had no success with keeping your neighbor's chicken out of your property, we will show you the way. Sign up for DoNotPay to resolve neighbor issues in an instant!
How To Keep Neighbor's Chickens Out of My Yard?
If you keep finding your neighbor's chickens on your property, here are a few ways to get rid of them:
| | |
| --- | --- |
| Ways To Get Rid of Chickens | Brief Description |
| Spray the chickens with water | Chickens are scared of water. Spray them lightly or install motion-sensitive lawn sprinklers. Soon, the chickens will start associating your yard with water sprays and stop coming over |
| Sprinkle spices in your yard | Chickens detest spices such as salt, garlic, paprika, cinnamon, and black pepper. Spray them around your garden |
| Throw citrus peels | Chickens, like cats, hate the smell of citrus fruits. Throw some lemon or orange peels in your yard to prevent all unwanted animals from roaming around |
| Plant some herbs | Some herbs, such as mint, thyme, oregano, lavender, marjoram, and chamomile, have odors that are unappealing to chickens. Consider planting them! Chickens like walking on the bare ground, so if you plant lots of vegetables, flowers, and herbs, you will stop them from invading your yard |
| Install fences | Install wire fencing to prevent chickens from coming over |
| Get a dog (or a cat) | Chickens are usually scared of both dogs and cats, so you may want to consider getting a new pet |
It might seem tempting to do so, but it is not legal to kill a chicken even if it is invading your property. Your neighbor can report you to the authorities for animal cruelty.
Explain the Issue to Your Neighbor
If taking preventative actions doesn't work, go over to your neighbor's house to explain your issue. Even if the chickens have ripped apart all your plants, make sure to remain composed. Anger and aggression will only worsen the matter.
Here is what you should do:
Go over to their house with wings and drumsticks to show how much you like eating chicken
Explain how their chickens are frequently roaming around your property, creating a mess
Describe how their noise is a disturbance, especially if they come over when you are asleep
Offer possible solutions to the problem, such as keeping the chickens inside a cage or putting up protective fencing
If you own a furry pet, such as a cat or a dog, you may want to add that the chickens are in danger of getting hurt by them.
Send a Demand Letter
Have you woken up to yet another rooster call coming straight from your yard? It may time to escalate the issue. Write a demand letter and send it as a final warning to your neighbor. Inform them of the nuisance their chickens are causing, and mention the possible financial and legal consequences they may face if they refuse to cooperate.
A well-drafted demand letter should contain the following information:
Arbitration notice
Documented evidence of the complaint
Demands of financial compensation for the damage the chickens have incurred
Every state has different animal regulations. Check your state laws to see what they say about keeping poultry. If your neighbor is violating animal regulations, you should mention that in the demand letter and let them know you will file a complaint if they don't respond.
If you have no clue how to compose a demand letter, and let us be your savior!
DoNotPay Can Send a Demand Letter in an Instant!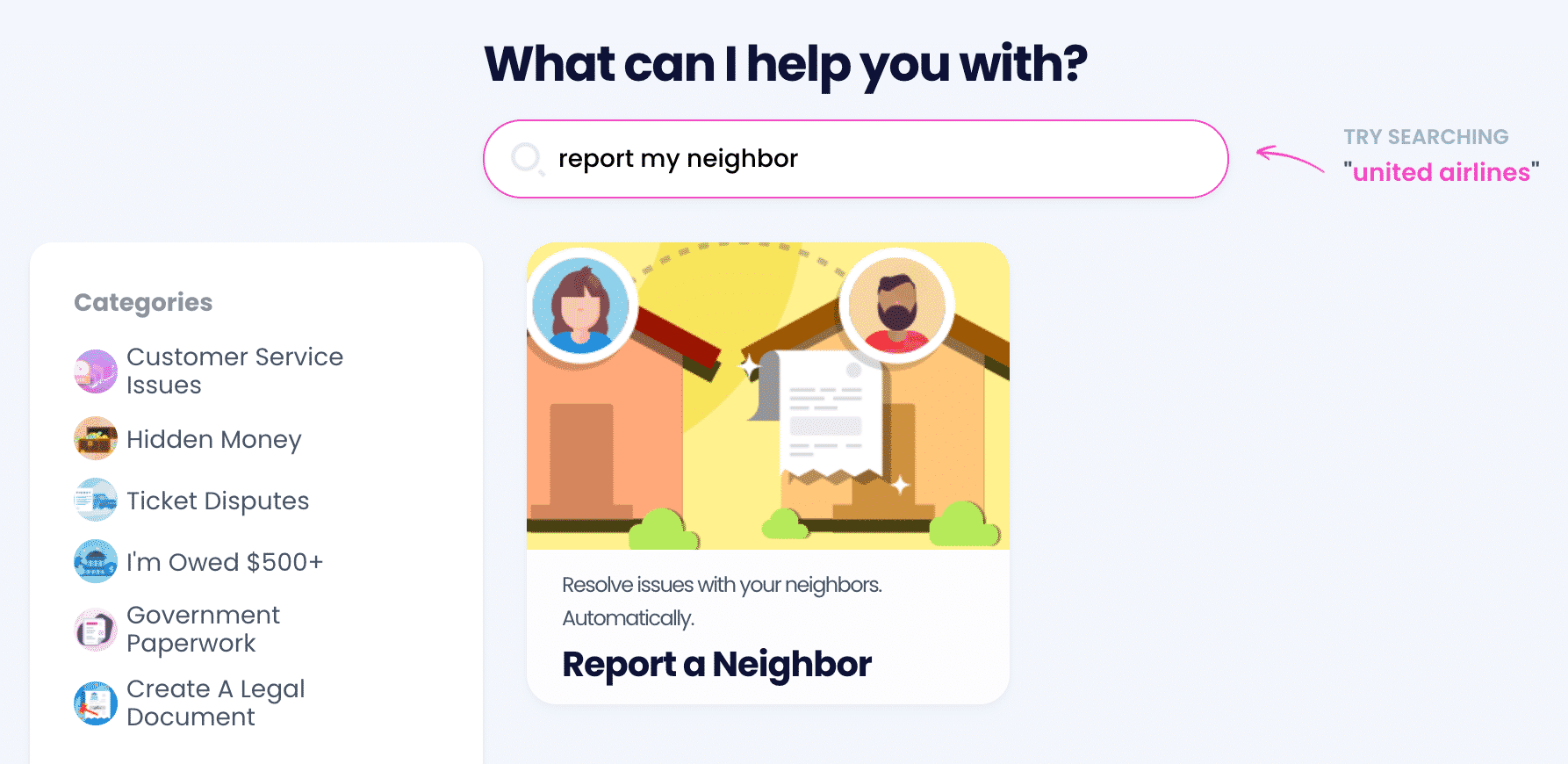 Are you tired of dealing with inconsiderate neighbors who keep making your life difficult? Send your neighbors a demand letter to let them know you mean business! DoNotPay can compose one for you in a matter of minutes.
Here are the instructions you need to follow:
Select the Neighbor Complaints tool
Specify the problem you are having
Provide more details to personalize the letter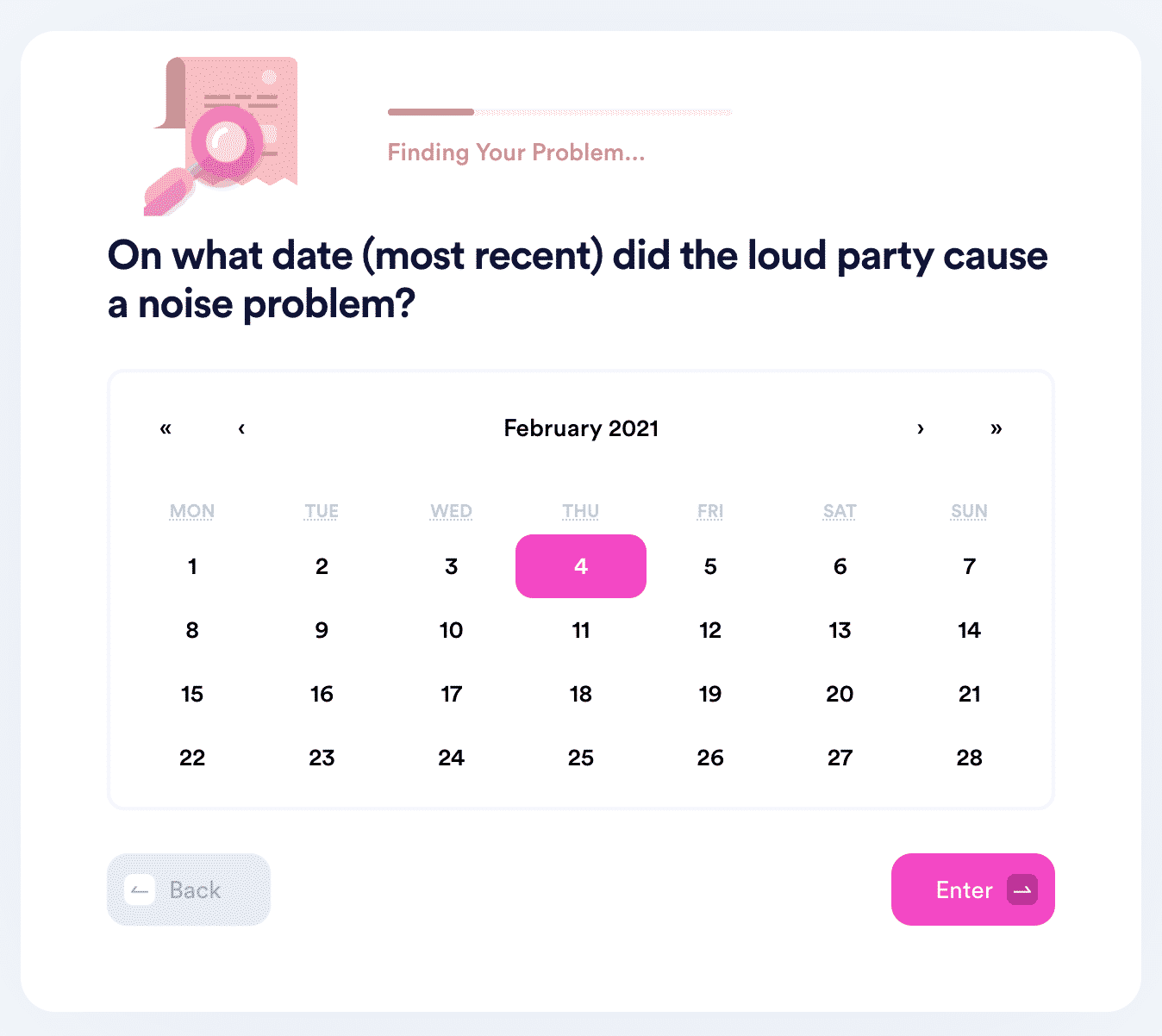 We will prepare the letter and send it to your neighbor. This should be enough to convince them to take appropriate action and respond to your request.
DoNotPay can provide tips and tricks on various neighbor-related issues, such as:
Easy-Breezy Ways To Deal With Not So Breezy Issues
Administrative and similar tasks don't have to be as complicated as we've known them to be. With DoNotPay, dealing with paperwork and companies is done in a few clicks. Let the world's first robot lawyer help you:
Draft various legal documents
Money Troubles? I Don't Know Her!
As our app's name says, DoNotPay's mission is to put a stop to losing money and overpaying. We will help you get your hands on free trials and snatch free raffle tickets. DoNotPay can also provide solutions for you to get help covering bills and reduce your property taxes.
If you want to get some additional funds, use our app to sign up for clinical trials. You may also take our practice tests to ace a government test and land a better-paying job.
It doesn't hurt to check whether you are owed some unclaimed money, and we can help you with the application.