Neighbor's Cat Poops in My Yard? Time To Fix This!
Did you start growing a beautiful garden only to have the neighbor's cat pooping in your yard? How do you politely tell your neighbors to keep their cat away from your homegrown plants?
In this text, DoNotPay will help you learn some methods of dealing with this issue amicably. Restore your garden (and your peace) by following our guide on what to do if a neighbor's cat poops in your yard.
If you need help with filing a complaint against your neighbor or taking legal action, !
Know Thy Neighbor
Before you confront your neighbor about their beloved cat, you need to know who you're dealing with. It's important to understand the following:
What do they know?—Does your neighbor know their cat is pooping in your yard? Do they endorse this behavior, or are they blissfully unaware of the situation?
Who are they, really?—Are they neighbors you want to stay away from? Are they friendly and understanding people who will help you out?
It is crucial to have this information because it will help you figure out how to reason with them.
How Cat Poop Can Affect Your Health
You likely hate cat poop because of the mess and smell it creates, but it can be quite harmful to you. Cat poop contains a parasite called Toxoplasma gondii that can cause:
Cat-scratch disease
Toxoplasmosis
Intermittent explosive disorder
Headaches or pneumonia
How To Negotiate With Your Neighbors (and Their Cat)
Although shouting their front door down might seem like a brilliant idea, it is only going to aggravate your neighbor. You should try negotiating with them first. If you don't know much about negotiations, let us help you out. Start by following these instructions:
Figure out the time of day they are available to talk
Be calm and composed before going to visit them. Angry visits are not going to help anyone
Calmly ring the doorbell or knock on their door
Exchange pleasantries first
Inform them that their cat has been continuously pooping in your yard and creating a mess
Explain the harmful effects of cat poop
Offer solutions, such as keeping a cat litter in their house to train their cat. Be careful with this step because people can become defensive quickly when told how to deal with their pets
Make sure your tone is friendly and polite
How To Stop a Neighbor's Cat From Pooping in Your Yard?
If your neighbor laughed you off or didn't understand why you're so frustrated, it's time to take matters into your own hands. Here is a list of things you can do:
| | |
| --- | --- |
| Possible Remedies | Brief Details |
| Citrus smells | Cats detest citrus smells. You can spread orange or lemon peels over your lawn or use a citrus-scented spray |
| A cat litter attractant | Place a cat litter attractant on your property line. Cats will be more attracted to pooping in cat litter instead of undesirable locations. You might have to keep it in a shady area, away from rain and other weather conditions |
| Sheltered cat litter box | If you're worried that rain might create a bigger mess out of the cat litter, put out a sheltered litter box and use the attractant on it |
| Motion detecting lawn sprinkler | You can find lawn sprinklers online that come with motion detectors. As soon as they detect any motion, they turn on and drench the pet who tried to invade your yard. You can also set a timer to ensure it's the cat that's getting drenched, not you |
Although using mothballs or low voltage electric fences might seem like attractive options, these options are not allowed in the United States.
Can DoNotPay Help Me if a Neighbor's Cat Poops in My Yard?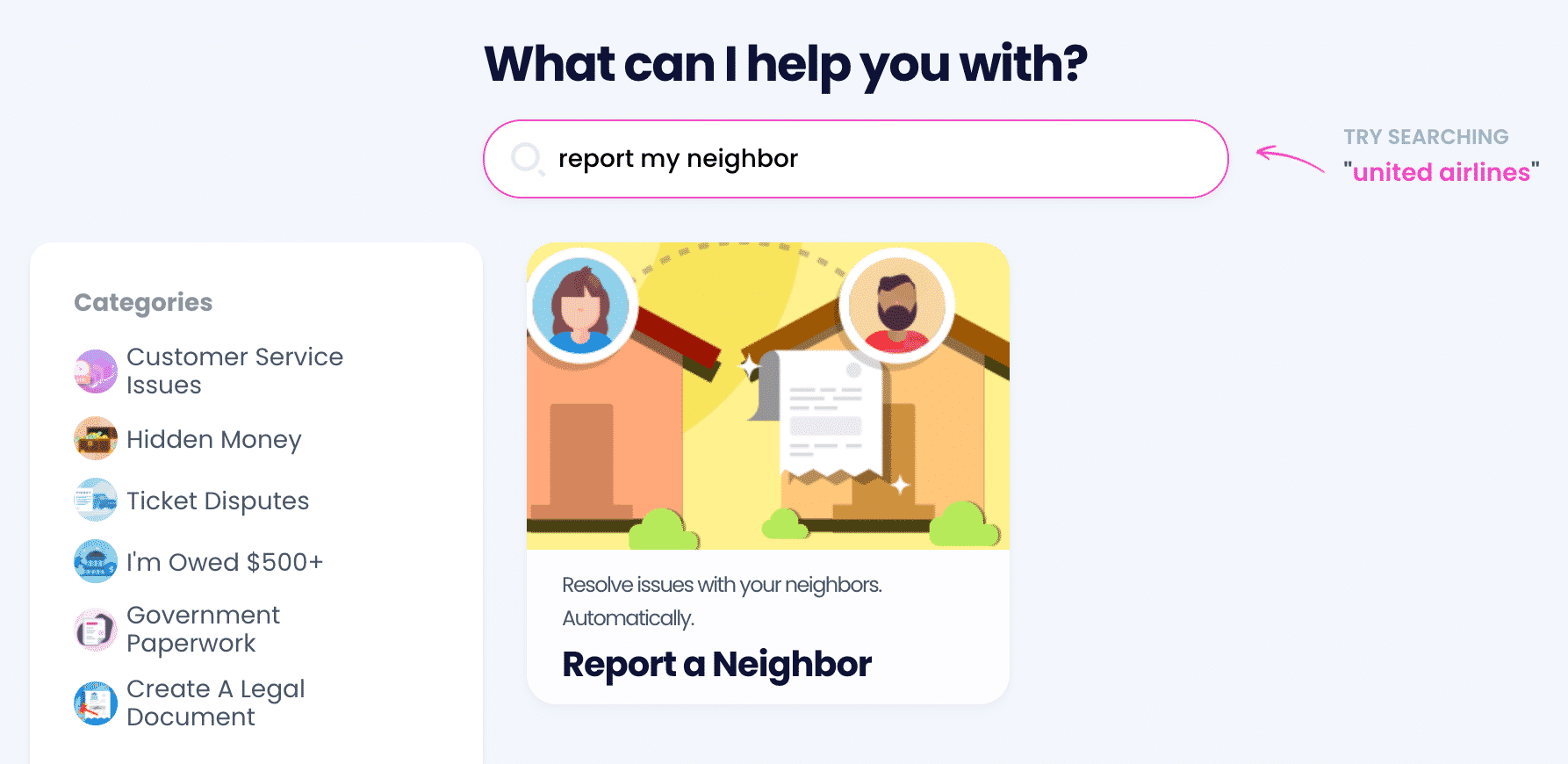 If possible, deal with this unpleasant situation in a friendly manner. If the neighbor's cat is still pooping in your yard after numerous attempts to negotiate, it's time to escalate the issue.
Our Neighbor Complaint tool can summarize all your complaints into a simple demand letter, whether it is a noise or an animal-related problem.
The letter serves as a warning and explains to your neighbor that they risk facing legal consequences if their cat keeps defecating in your yard. You can also send the arbitration notice along with the mention of financial compensation you seek from them.
To create the demand letter, here's what you need to do:
Enter Neighbor Complaint in the search box
State the problem you're having with your neighbor
Add more information about the situation—times when you found the poop, the ways it has impacted your garden, the mess and the smell it creates, compensation you plan to seek, etc.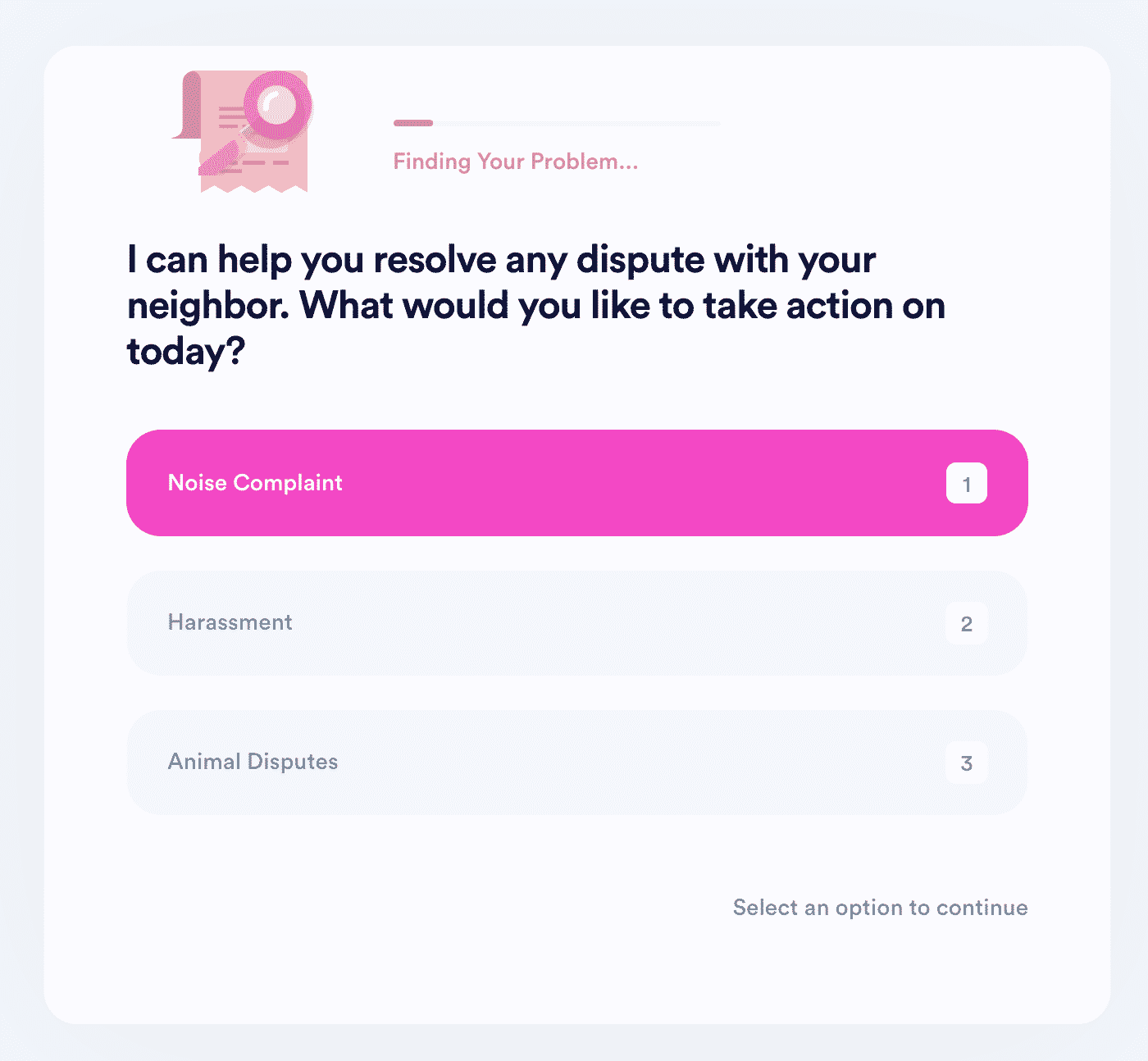 DoNotPay will create the demand letter and send it to your neighbor.
If you need help in dealing with noisy, harassing, or neighbors with a loud dog, we can help you handle that as well!
If this doesn't help either, you might want to consider filing a complaint to your local authorities.
More Nifty Solutions to Annoying Problems
If you're dealing with problematic neighbors or coworkers, you're not alone—our app can help you handle these issues with our Neighbor Complaints and Fight Workplace Discrimination products.
No problem is too big or too small for DoNotPay! Check out the best time- and money-saving solutions to different nuisances:
| | |
| --- | --- |
| Issues | Solutions |
| Email spam | Using DoNotPay's spam collector |
| High college fees | Applying for college fee waivers |
| Bothersome robocalls | Getting back at robocalls |
| Late delivery | Requesting a late delivery refund |
| No fax machine | Sending faxes online |
| High property taxes | Applying for property tax exemptions and appealing your property assessment |
An Array of Hacks To Help You Deal With Greedy Companies
Nobody likes to spend more money than they have to. DoNotPay is here to offer many penny-pinching hacks and also stop companies from taking advantage of you.
Almost every free trial nowadays isn't really free. Companies request your credit card info and auto-renew subscriptions. Fight this sneaky practice by using DoNotPay's virtual credit card next time you want to snatch a free trial. We'll also uncover any unwanted memberships you have mooching off of you and help you cancel them in a few clicks.
If you need to contact a company's customer service, avoid wasting your time and money on hold and count on our app to wait in your stead.
Do you need to get your money back, but you don't know how? Use DoNotPay to: