Neighbor's Tree Damaged My Fence! What Can I Do?
Having a neighbor's tree fall on your property can cause serious damage to your fence or house. When that happens, your first response may be to sue your neighbor and get justice.
Before you get into any legal disputes, you should know what your options are and if there is a way to handle the incident peacefully.
"Neighbor's tree damaged my fence" is the problem you won't have to face anymore if you rely on DoNotPay.
Subscribe to DoNotPay and resolve any other issues you may be having with your neighbors—including noise, harassment, and aggressive pets!
Can I Sue a Neighbor if His Dead Tree Falls on My House?
Before you resort to any drastic measures, you should clarify who bears responsibility for the tree and the incident. Suing a neighbor for damages without having all the facts straight can backfire and end up costing you more than you have anticipated.
Take a look at the table below for more details:
Items To Clarify
Details
Whose tree is it?
You have to be clear about whose tree it is in the first place. If the tree trunk is in your neighbor's yard, it's their tree, and if it's on your property, it's yours, regardless of how much of the tree's canopy hangs over the neighbor's premises. If the trunk is placed on the property line, both you and your neighbor own the tree
Is the neighbor responsible for the fallen tree damage?
The law states that if a neighbor's tree falls on your property through no fault of their own, the neighbor is not responsible for the damage. The possible causes include:

Snowstorm
Wind
Hurricane
Other so-called "Acts of God"

If the tree falls due to the neighbor's negligence, they are considered liable

Does the insurance cover the damage?
You should check your or the neighbor's homeowner's insurance policy to find out if it covers the damage. Possibilities are:

The insurance covers the damage only if there wasn't any negligence
The policy covers damage due to negligence, among other causes
Homeowners insurance covers only certain kinds of damage

What are my legal options?
You have to research your state laws thoroughly if you decide to sue your neighbor. DoNotPay can help you with useful guidelines if the case is eligible for a small claims court
Should I Sue My Neighbor for Damages Straight Away?
That may not be the best solution. Bear in mind that you will continue living next door to your neighbor for a long time after the incident—suing them will likely strain your relationship.
However angry you may be feeling, you should try resolving the situation peacefully.
Talking to your neighbor may help you reach an understanding much faster than by going through an expensive and lengthy court procedure.
You should:
Speak to your neighbor calmly
Present them with the evidence of their responsibility for the damage
Offer payment suggestions
If your neighbor refuses to cooperate, you can send them a demand letter. It outlines legal repercussions your neighbor will face if they continue dodging their responsibility.
A well-drafted demand letter should make your neighbors pay up without involving the court. Let draw up the letter that will show your neighbors you're not messing around!
Neighbor's Tree Fell on My Fence Problem Resolved in Minutes With DoNotPay
DoNotPay's Neighbor Complaint product creates personalized demand letters based on the information you provide! You can skip expensive lawyers and save yourself the trouble of writing the letter yourself.
We help deal with all kinds of neighbor troubles, including:
Noise, such as:
Criminal behavior, for example:
Causing damage to your property, like:
Misbehaving pets, including: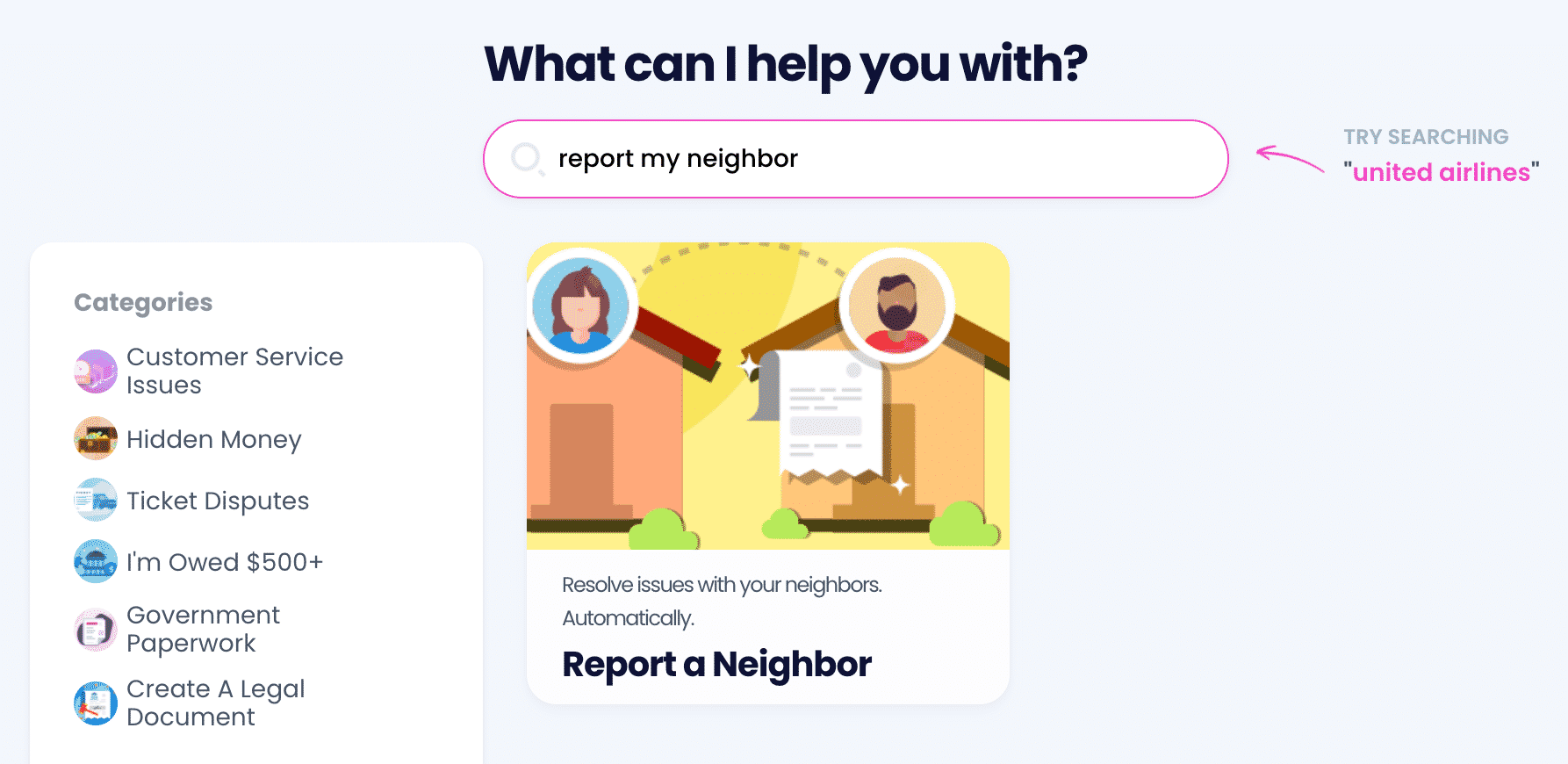 Creating a demand letter with DoNotPay's help is simple. You should:
in a web browser
Go to our Neighbor Complaint product
Indicate the type of problem you are experiencing
Answer questions from our chatbot
Shortly after you complete these steps, we will generate and even send the letter to your neighbor. You can expect them to reimburse you for the damage soon after receiving it.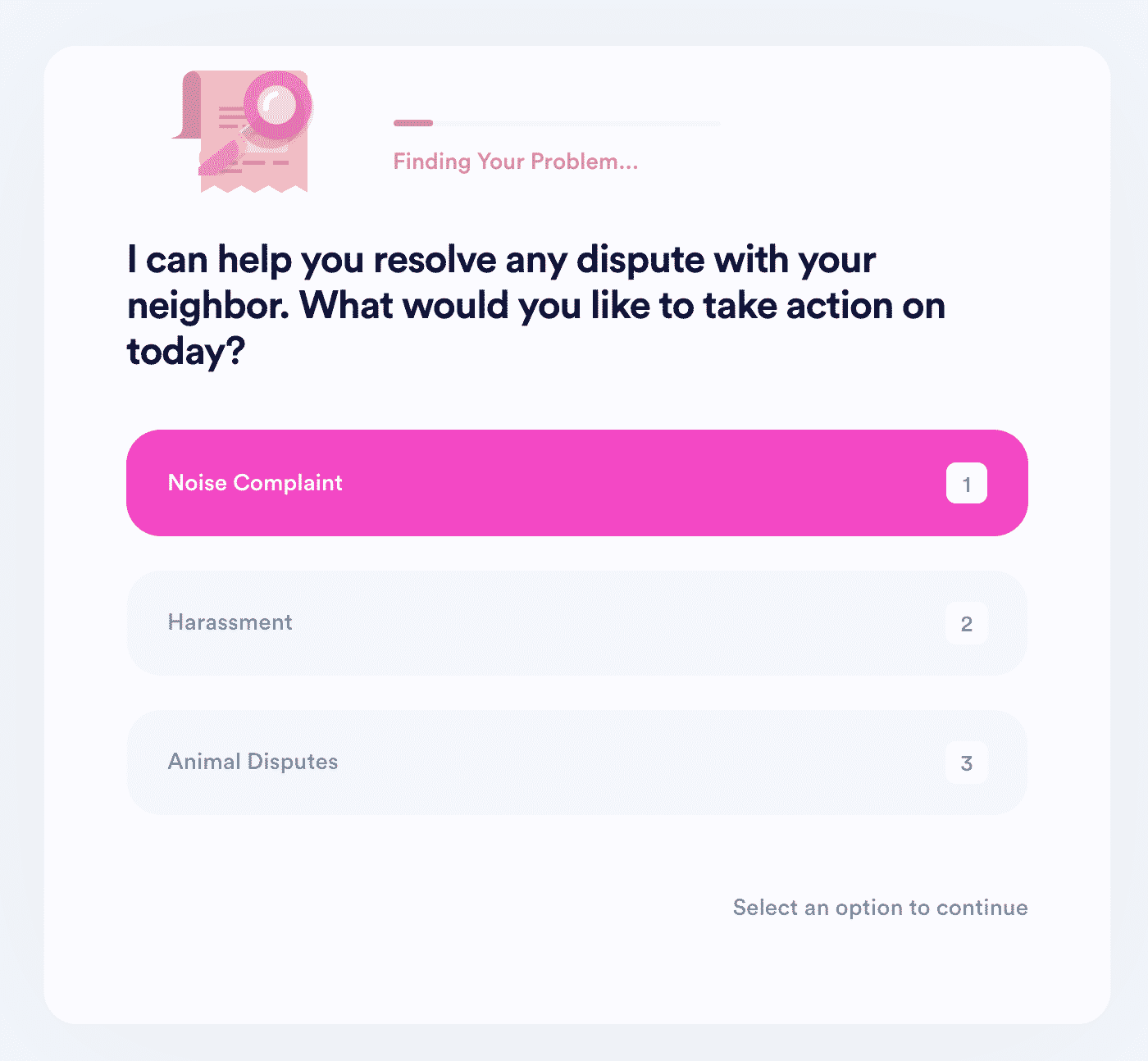 Other Neighbor-Related Questions Answered With DoNotPay
Do you want to know more about dealing with annoying neighbors? DoNotPay's comprehensive learning center can teach you how to write a letter to a noisy neighbor, file a complaint against a neighbor to the authorities, and document your neighbor's harassment.
Check out our other articles and get information on:
Let DoNoPay Help You With Your Paperwork
Why waste time on bureaucracy if you can rely on DoNotPay to handle pesky tasks for you? Cancel all your subscriptions at once, find unclaimed funds in a matter of minutes, appeal parking tickets hassle-free, and discover the best way to get your documents notarized remotely.
In case you need help paying bills or you want to earn some money by participating in paid clinical trials, DoNotPay is here to help you out!
Fighting workplace discrimination is of utmost importance, but the entire procedure seems rather complicated. The same goes for the crime victims compensation application in most states. DoNotPay is here to change that. We will help you file a report, request compensation, and create numerous other documents, including demand letters for neighbor complaints.
Keep Your Online Safety in Check!
While internet safety should be one of your top priorities, staying anonymous while surfing the web is almost impossible. If you want to avoid giving out your number when registering for services, you should try out our Burner Phone product.
DoNotPay can also protect your credit card info, name, and email address, all through our handy virtual credit card. Sign up for free trials without worrying about unexpected charges.
With our app, you will learn how to deal with stalkers and harassers and how to access public records the easy way.
DoNotPay offers many other useful products that can help you prepare for government tests, have your college fees waived, and manage any annoying issue in minutes.