My Neighbor Is Stealing Wi-Fi From Me! How Do I Stop Them?
Did you sit down after a long day at work to browse the internet or play a heavy-duty game only to realize that your internet wasn't working properly? You check everything—everything seems to be fine until you notice the number of devices connected. It turns out your neighbor is using your Wi-Fi without your permission. How do you get them to stop?
This article will help you understand how to protect your Wi-Fi from unauthorized users. If you need help dealing with a neighbor stealing Wi-Fi from you, to solve your problem!
How To Confirm if Your Neighbor Is Stealing Your Wi-Fi
Wi-Fis can slow down if a lot of devices are connected to it. If you suspect your neighbor is using your Wi-Fi without your permission, here are a couple of ways you can confirm that:
Check the list of your connected devices and see if you'll find any unknown ones
Shut down all your Wi-Fi-connected devices and see if your router will keep transferring data to a user
How Can You Protect Your Wi-Fi From Unauthorized Users?
If you want to protect your Wi-Fi from unauthorized access, follow a few steps mentioned below:
Change your Wi-Fi password. If you don't have a password and WPA2 security, enable both
Hide your Wi-Fi's SSID so it doesn't show up as a connectable device
Set a wireless MAC filter to enable access only to authorized devices
Use mobile apps like Wi-Fi Guard or Wi-Fi Thief Detector
Download programs like Wireless Network Watcher, which looks out for any suspicious and unauthorized activity on your Wi-Fi
Is It Illegal To Use Someone's Wi-Fi Without Their Consent?
According to the Computer Fraud and Abuse Act, it is a criminal offense to use anyone's Wi-Fi without their permission. Check your state's internet regulations to confirm if you can press charges.
Can You Be Held Responsible if Someone Carries Out Illegal Activities on Your Wi-Fi?
If you believe someone is doing illicit or illegal activities on your Wi-Fi, whether you gave them consent or not, you need to immediately report it to the authorities. Although you will likely not be held responsible if someone else uses your internet to do something illegal, you should still make sure you're in the clear.
What Steps Can You Take if You Suspect Your Neighbor Is Using Your Wi-Fi?
You can take two steps if you're sure your neighbor is using your internet:
Reason with your neighbor
Send a demand letter
Reason With Your Neighbor
The best way to handle neighbor issues is to confront your neighbor politely. Try being friendly and considerate. Here are some steps you can follow:
Figure out when they're home so you can go and talk
Take some home-baked cookies or muffins to break the ice
Speak calmly and tell them you know they've been using your internet
Explain how it disrupts your bandwidth and download speed
Offer solutions, such as getting a separate internet to connect, sharing costs with the current connection, etc.
If you want to share an internet connection with your neighbor, make sure you read the terms and conditions of the service provider contract. Most internet companies do not allow shared usage of Wi-Fi.
Send a Demand Letter
If your neighbor promised you they'd stop but you still find their devices connected to your Wi-Fi, it's time to escalate the issue. Send them a warning letter that contains all the facts and information about the situation. Let them know you will inform the local authorities if they don't stop.
DoNotPay Can Generate Demand Letters in the Blink of an Eye!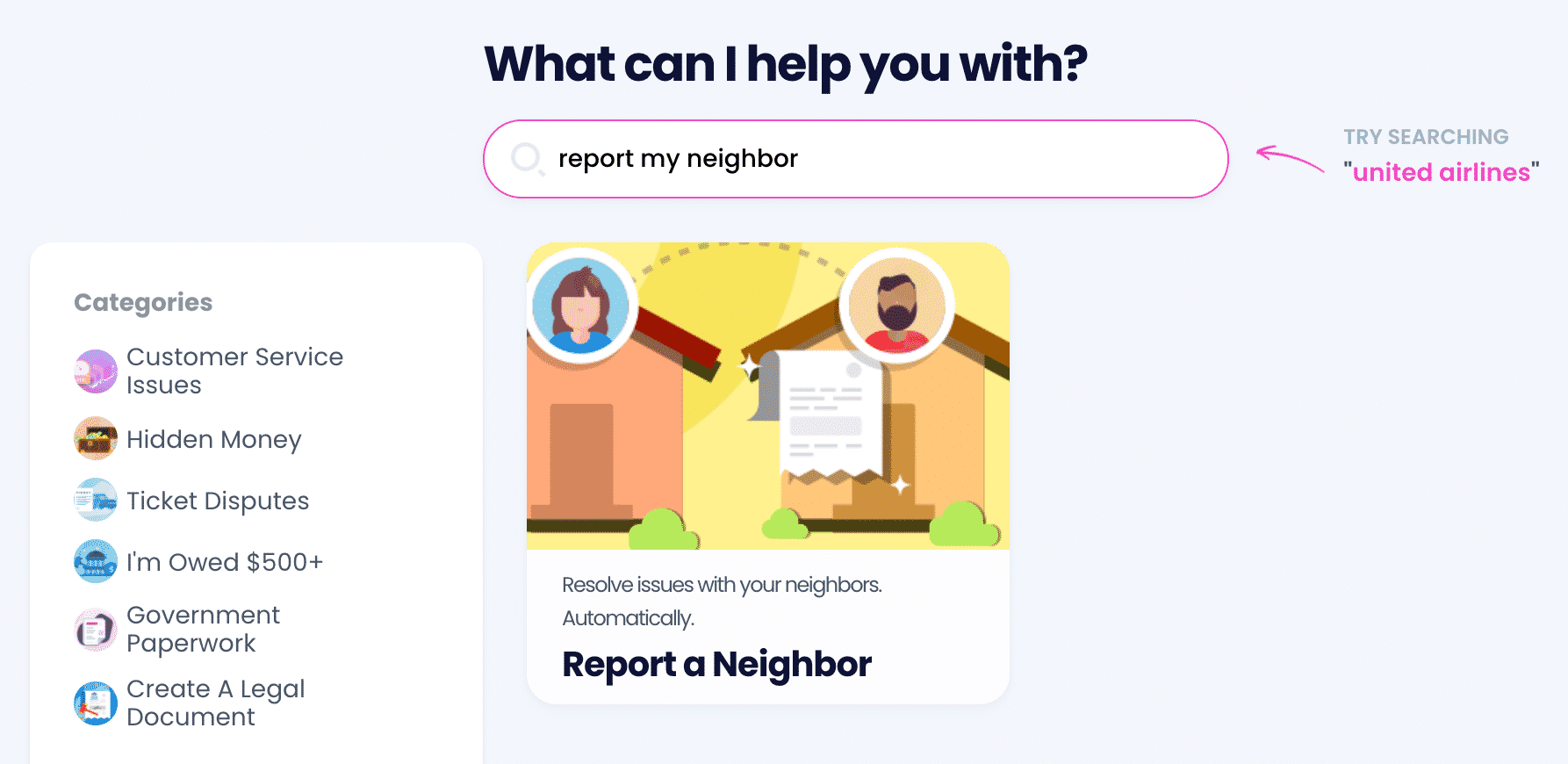 If you want to create a demand letter but don't know where to start, DoNotPay has got you sorted! We can create a demand letter to help you escalate your neighborly concern within minutes.
Here's what you need to do:
in your web browser
Search for the Neighbor Complaint feature
Enter details about your specific issue
Type in additional information about the situation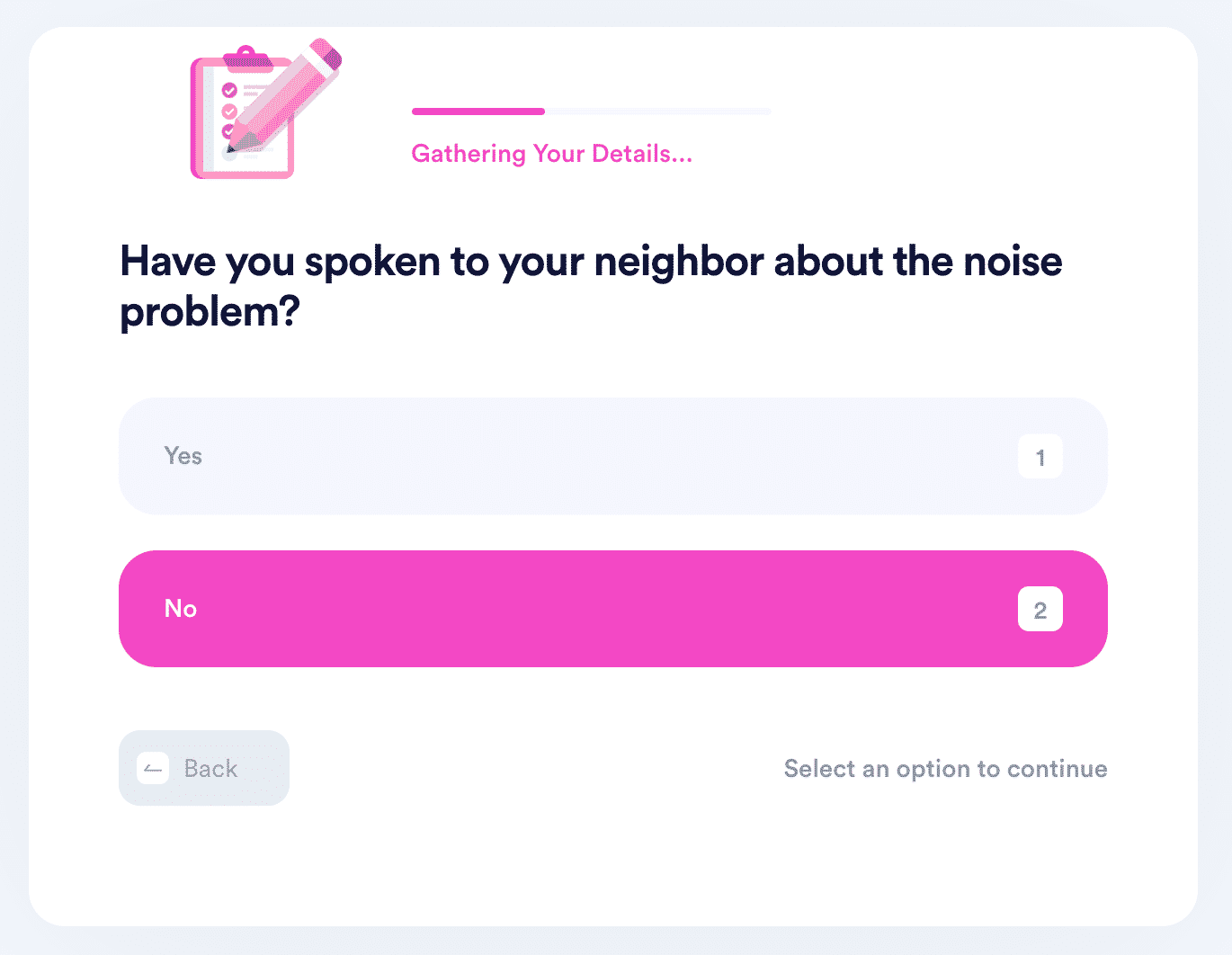 DoNotPay will generate the letter and send it to your neighbor. Most of the time, that is enough to convince your neighbor to back off. If they still don't, file a complaint with the local authorities.
What Neighbor-Related Concerns Can DoNotPay Help You With?
If you have a neighborly concern you're unable to tackle by yourself, let us help you out! With our array of articles on different neighborly issues, we can help you sort your problem in an instant. Wondering what to do about noisy or bad neighbors? Let DoNotPay be your hero!
Check out some of the annoying neighbor behavior we can assist you with:
| | | |
| --- | --- | --- |
| Noisy Neighbors | Criminal Neighbor Behavior | Neighbor's Pets |
| | | |
More Nifty Solutions to Annoying Problems
If you're dealing with problematic neighbors or coworkers, you're not alone—our app can help you handle these issues with our Neighbor Complaints and Fight Workplace Discrimination products.
No problem is too big or too small for DoNotPay! Check out the best time- and money-saving solutions to different nuisances:
| | |
| --- | --- |
| Issues | Solutions |
| Email spam | Using DoNotPay's spam collector |
| High college fees | Applying for college fee waivers |
| Bothersome robocalls | Getting back at robocalls |
| Late delivery | Requesting a late delivery refund |
| No fax machine | Sending faxes online |
| High property taxes | Applying for property tax exemptions and appealing your property assessment |
An Array of Hacks To Help You Deal With Greedy Companies
Nobody likes to spend more money than they have to. DoNotPay is here to offer many penny-pinching hacks and also stop companies from taking advantage of you.
Almost every free trial nowadays isn't really free. Companies request your credit card info and auto-renew subscriptions. Fight this sneaky practice by using DoNotPay's virtual credit card next time you want to snatch a free trial. We'll also uncover any unwanted memberships you have mooching off of you and help you cancel them in a few clicks.
If you need to contact a company's customer service, avoid wasting your time and money on hold and count on our app to wait in your stead.
Do you need to get your money back, but you don't know how? Use DoNotPay to: