How To Stop a Neighbor Stealing Water From You
Have you ever come home from a vacation to an exorbitant water bill? Do you suspect that your neighbor is stealing from your water supply?
In this manual, we will explain how you can find out if your neighbor is stealing water from you and how to file a formal complaint to get appropriate compensation for the sky-high water bills.
can help you create a demand letter in a matter of minutes. If your neighbor is giving you a hard time—whether it's noise, harassment, or their rowdy pets—you've found the right way to stop them once and for all!
How To Find Out if Your Neighbor Is Stealing Water From You
Problems with neighbors stealing water can range from them 'borrowing' your garden hose at night without your authorization to diverting your water supply to their property. If you're not sure whether your neighbor is stealing, you can find that out in the following ways:
Compare your bills—If the water bill has been higher than usual ever since a new neighbor moved in, it might be a good sign that the neighbor is stealing water
Experiment with the valves—If you turn off your water supply for a day, the number of gallons used shouldn't increase
Hire professionals—An official investigator or experienced plumber can help you establish the root cause of your issues with your water meter
What Does the Law Say About Stealing Water?
The law does not allow anyone to steal water from their neighbors. If the neighbors need water access beyond their own, they should always ask you for permission. Stealing water can include:
Using your garden hose to wash their car without informing you
"Borrowing" a hose to water their garden
Tapping into your water supply and using it without permission
Irrigating their farm with your water
If you report your neighbors to the authorities, they risk facing legal action. Most municipal courts will charge them with a felony, depending on how much water they stole. You can also demand financial compensation for the damages you've faced.
Water thieves can risk the following penalties:
Jail time—ranging from a few days to three years
Fines—ranging from $500 to $10,000
How Can You Stop Neighbors From Stealing Water?
There are several tips and tricks to prevent neighbors from stealing your water:
| | |
| --- | --- |
| Tips | Brief Explanation |
| Install a security camera | Get a security camera and casually inform your neighbors about it. If they're stealing your water, this will probably make them stop |
| Check your water bill regularly | Keeping an eye on the water bill will help you figure out if there is any indication of water theft |
| Turn off the main water valve | If you're away on vacation, turn off the main water valve to prevent neighbors from accessing your water supply |
| Use hose bib locks | Hose bib locks ensure that you're the only person with access |
| Hire a plumber | A plumber can help you fix the water pipes to prevent water theft |
How Can You Deal With a Neighbor Stealing Water Situation on Your Own?
There are two methods you can try to stop your neighbors from stealing your water:
Reason with them
Send a demand letter
Reason With Your Neighbor
Talking out your problems is probably the best way to address this issue. Before you storm to their house, it's crucial to find and document the evidence and collect all your facts. Here are a few steps you can take when reasoning with your neighbor:
Figure out a time of the day when you know they're home
Exchange pleasantries before diving into the matter and letting them know how the water theft is affecting you
Offer solutions to prevent this problem from happening again
Most of the time, communicating your problem in person helps resolve it quickly.
Send a Demand Letter
If your neighbors didn't take your concerns seriously and are still stealing your water, you should send them a demand letter. It should contain accurate info, including the extra expense you're paying, the amount of water that was stolen, and the negative effect it has on you.
Your letter should warn them about possible legal consequences, including financial compensation, if they don't stop stealing.
In case you don't know how to draft a demand letter, use DoNotPay to do it!
Stop Neighbors From Stealing Water With the Help of DoNotPay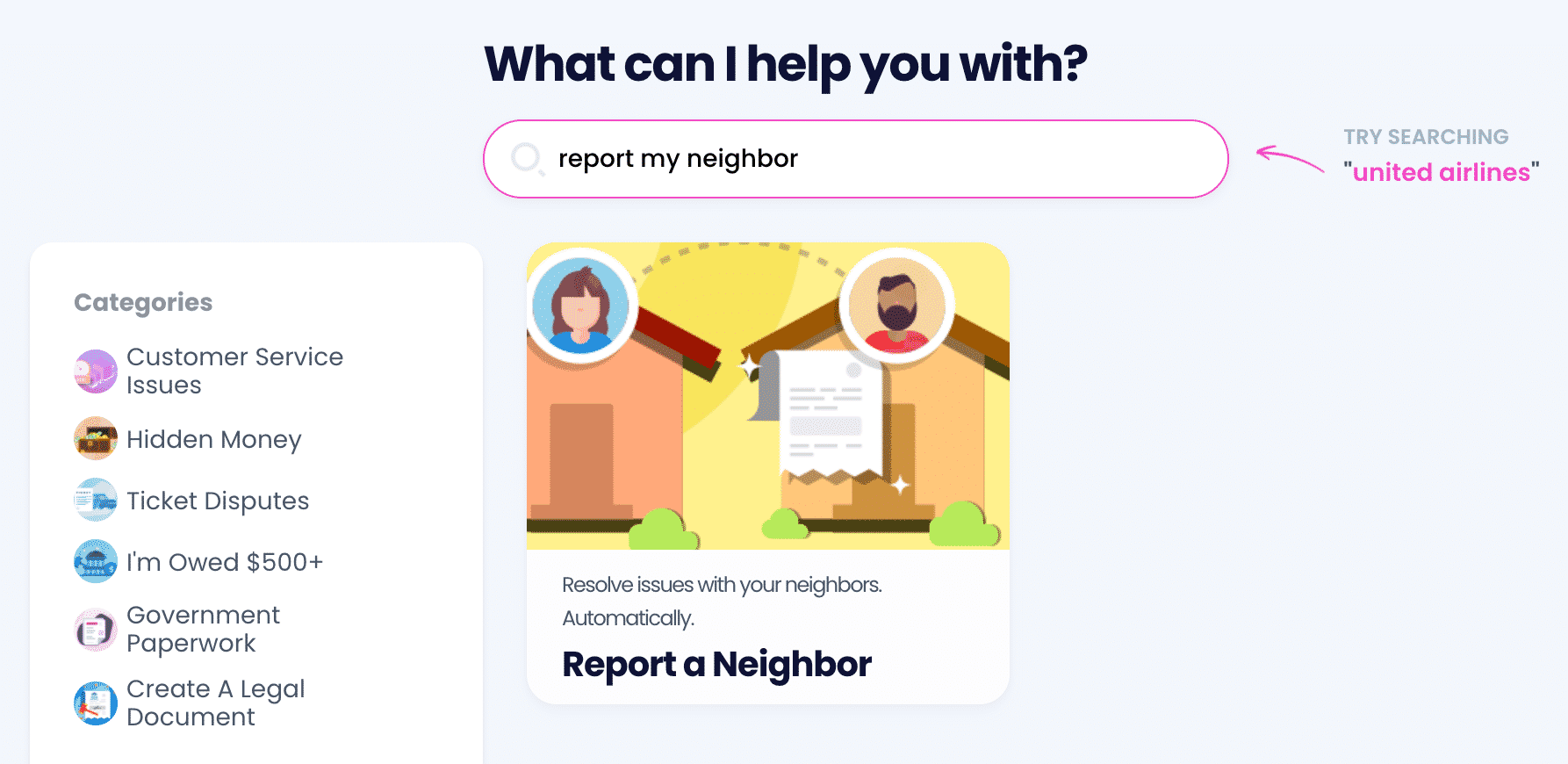 If you have inconsiderate neighbors, use DoNotPay's Neighbor Complaint product to request them to clean up their act. Here's what you need to do:
in your web browser
Select the Neighbor Complaint service
Choose the type of neighbor complaint you have
Answer a few questions about the issue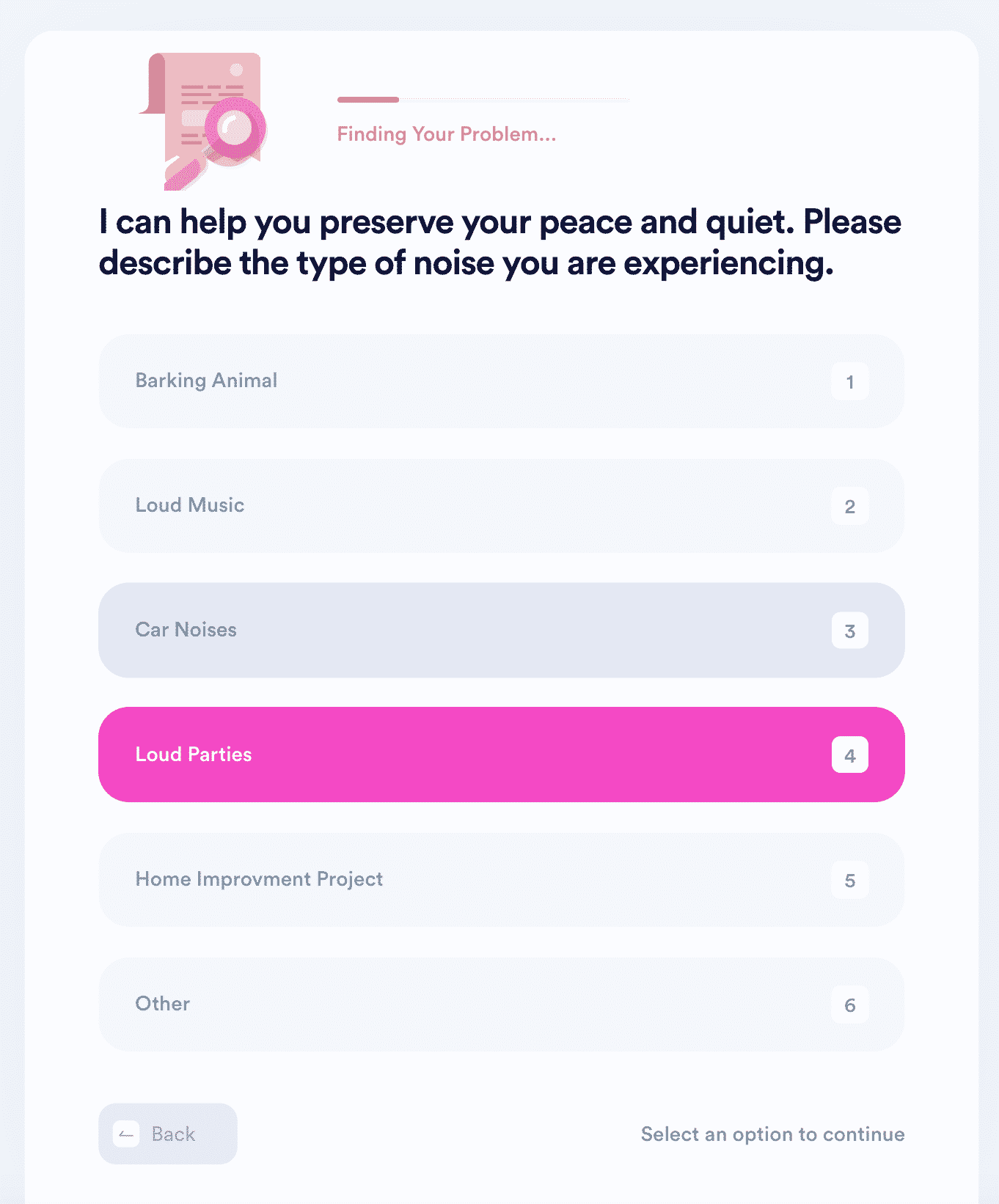 Leave the rest to us! We will generate a personalized demand letter and mail it to your neighbor. The letter will contain the following information:
Your complaint
Arbitration notice
Financial compensation you're seeking for the extravagant bills you've had to pay
Warning of further legal action if the neighbors don't take you seriously
In most cases, that would be enough for your neighbor to come around. If they still don't take you seriously, you should file a formal complaint to the local authorities.
DoNotPay can provide tips and tricks on other neighbor-related issues, such as:
Easy-Breezy Ways To Deal With Not So Breezy Issues
Administrative and similar tasks don't have to be as complicated as we've known them to be. With DoNotPay, dealing with paperwork and companies is done in a few clicks. Let the world's first robot lawyer help you:
Draft various legal documents
Money Troubles? I Don't Know Her!
As our app's name says, DoNotPay's mission is to put a stop to losing money and overpaying. We will help you get your hands on free trials and snatch free raffle tickets. DoNotPay can also provide solutions for you to get help covering bills and reduce your property taxes.
If you want to get some additional funds, use our app to sign up for clinical trials. You may also take our practice tests to ace a government test and land a better-paying job.
It doesn't hurt to check whether you are owed some unclaimed money, and we can help you with the application.