Neighbor Puts Trash Cans in Front of My House! What Can I Do?
Living in a community means you'll have to deal with annoying neighbors at least occasionally. From making noise, damaging your property, or letting their pets use your lawn as a toilet—the nuisance is often difficult to bear.
People littering or leaving garbage in front of other neighbors' houses is a common occurrence that we will address in this article. Learn how to resolve the "my neighbor puts trash cans in front of my house" issue creatively and successfully with DoNotPay!
Do I Have Legal Grounds To Complain About My Neighbor Putting Trash in Front of My House?
Littering is not only inconsiderate and annoying but also dangerous. The negative effect of dumping waste includes:
Endangering the health of children, pets, and landscape
Imposing high cleaning costs
Poisoning the soil, water, and local environment
Providing breeding grounds for rats and pests
If you are sick and tired of your neighbor constantly polluting your yard, know that you have legal grounds to complain. Many U.S. states have imposed strict laws about littering, including charging significant fines to those who leave garbage lying in open space.
Before taking any legal action, you should first get acquainted with your state laws to see where you stand. If you decide to report your neighbors to the authorities, make sure to document their behavior with a security camera—the more evidence you have, the better.
While taking legal action may be your first instinct, you should start with a friendly approach. It will save your relationship with the neighbor, and you won't have to go through unpleasant and time-consuming legal proceedings. You can file a report if the neighbor refuses to cooperate.
How To Deal With a Neighbor Who Puts Their Garbage on My Property
If you decide to address the issue peacefully, you can try one of the techniques presented in the table below:
Methods
Details
Locking the area
A fence will keep the littering neighbors away. Before you install one, make sure to check the local laws for allowed height, safety, or positioning of the fence
Putting up a sign
Putting up a big sign in a convenient place will likely stop most people with a conscience from dumping waste in your yard
Informing the local environmental protection agency
While they're mostly focused on environmental emergencies, the Environmental Protection Agency (ETA) deals with breaching environmental laws and regulations. You should call them and have them remove the waste for you, especially if it is hazardous in any way
Installing a security camera
Letting your neighbors know that your yard is being monitored is typically enough to keep them from dumping trash in your yard. You can also use the footage as proof if you have to confront them
Talking to your neighbor
Coming face to face with your neighbor can have surprisingly positive results if you approach the conversation wisely. You should:

Ask for a minute of their time
Politely state the problem—focus on the hazards of littering
Thank them for listening

Most people will appreciate your concern and correct their behavior. Make sure you don't sound accusatory—your neighbor will likely get defensive and start arguing or even deny any wrongdoing
Send a Demand Letter to Your Neighbor
If your neighbors refuse to change their ways, your next step is to send them a demand letter. It serves as the last warning before you speak to the authorities.
You have to make sure the letter shows your neighbor you are taking the matter seriously and are ready to take the dispute to the next level. That's why you should consider having draw up a letter for you!
DoNotPay Will Create the Demand Letter in a Snap
Our Neighbor Complaint product is here to rid you of all kinds of annoying neighbor-related problems, including aggressive pets, barking dogs, and loud sex. We will create personalized demand letters based on your specific circumstances and send them to your neighbors asap!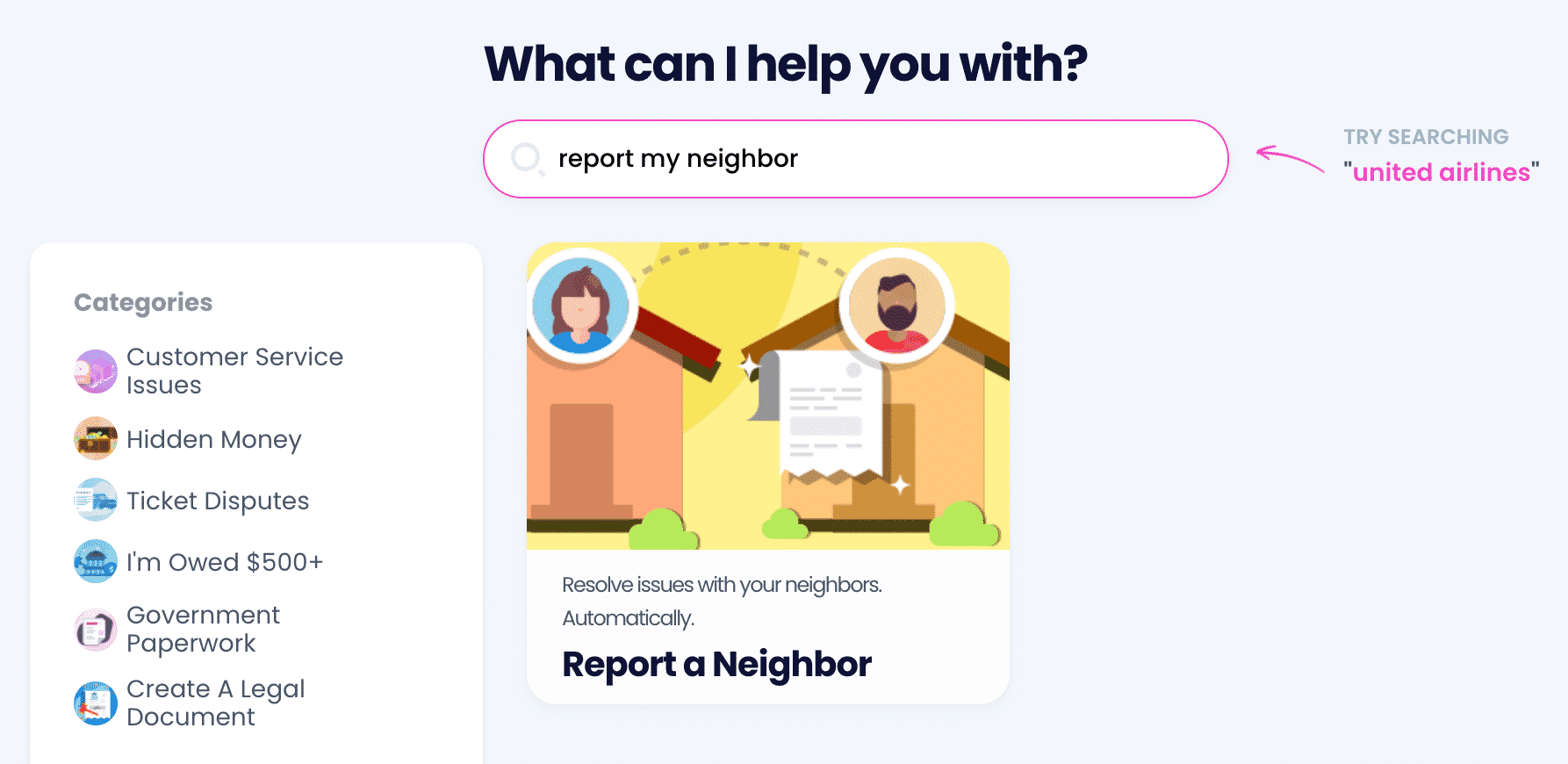 If you are at the end of your rope, we are here to set your littering neighbor straight! Here's what you should do:
Opt for the Neighbor Complaints product
Specify the problem you're having with your neighbor
Provide essential details about your situation
You can expect an appropriate response from your neighbors shortly after!
What if the Neighbor Ignores My Letter?
Neighbors are sometimes either too stubborn or don't believe you will stand behind your words. If that turns out to be the case, you have no choice but to call the authorities.
Depending on the state, type of waste, and the size of the polluted surface, your neighbor could be facing:
Community service
Fine ranging from 50$ to 25 000$
Jail time of up to one year in states where dumping waste is considered a class A misdemeanor
Let DoNoPay Help You With Your Paperwork
Why waste time on bureaucracy if you can rely on DoNotPay to handle pesky tasks for you? Cancel all your subscriptions at once, find unclaimed funds in a matter of minutes, appeal parking tickets hassle-free, and discover the best way to get your documents notarized remotely.
In case you need help paying bills or you want to earn some money by participating in paid clinical trials, DoNotPay is here to help you out!
Fighting workplace discrimination is of utmost importance, but the entire procedure seems rather complicated. The same goes for the crime victims compensation application in most states. DoNotPay is here to change that. We will help you file a report, request compensation, and create numerous other documents, including demand letters for neighbor complaints.
Keep Your Online Safety in Check!
While internet safety should be one of your top priorities, staying anonymous while surfing the web is almost impossible. If you want to avoid giving out your number when registering for services, you should try out our Burner Phone product.
DoNotPay can also protect your credit card info, name, and email address, all through our handy virtual credit card. Sign up for free trials without worrying about unexpected charges.
With our app, you will learn how to deal with stalkers and harassers and how to access public records the easy way.
DoNotPay offers many other useful products that can help you prepare for government tests, have your college fees waived, and manage any annoying issue in minutes.