Neighbor Put a Fence on My Property! Can I Remove It? How To Resolve the Issue ASAP!
"Neighbor put a fence on my property. Can I remove it?" Many people face this problem and wonder the same! Read this article to find out more about a neighbor encroaching on your property and learn some useful tips for resolving this issue amicably.
If the friendly approach doesn't work, to send a demand letter to your neighbor and warn them about filing a complaint.
Is a Neighbor's Fence Over the Property Line? Here's How To Check for Encroachment
Encroachment happens when your neighbor builds a fence on your property or extends an installation over the property line, whether intentionally or by accident. To successfully deal with this issue, first, you have to make sure that the encroachment is happening. Take a look at the following table to learn how to determine whether the land that the neighbor built a fence on is yours:
| | |
| --- | --- |
| Method | Explanation |
| Survey | When you get a survey, a licensed surveyor will detect the physical boundary between your and your neighbor's property. They will perform the survey based on the legal description of the property in your deed |
| Appraisal | The appraisal will determine the market value of the piece of property in question. Knowing the market value of the encroached land could help you during negotiations with your neighbor |
| Title search | Before taking any further steps, you should carry out a full title search. Doing a title search will help you make sure there were no easements or deeds from previous owners, meaning that they didn't strike any deals with the neighbor concerning that or any other part of the property |
What To Do When a Neighbor's Fence Is on Your Property
Once you determine that the neighbor's fence is on your land, it's time to do something about it. Strategies that might work the best include:
Discussing the matter with the neighbor—The best way of dealing with any neighbor-related issue is talking to them. They might not be aware that the fence they built is on your property. Even if they put it there intentionally, it is easier and cheaper to discuss the problem in person than hire lawyers and go to court
Checking the permit for building the fence—In some states, property owners are obligated to acquire a permit for building a fence. This permit should state where they can and cannot build the fence. Sometimes, the permit also requires the owner not to put the fence close to the property border to prevent issues like these. If your neighbor's permit says something like that—especially if it specifies the location of the fence—you can use it as an argument when negotiating or in court
Selling the land to the neighbor—This is where the appraisal of the encroached property comes in handy! You can simply sell that part of the property to your neighbor, thus preventing further disagreements and potential lawsuits. This way, you'll get compensation for your part of the land, and they won't have to remove the fence
Seeking mediation—If talking with the neighbor didn't work out and you don't want to spend money on attorneys to go to court, there is another option. Most states have mediation services that deal with these situations. This option is less costly than hiring attorneys and less serious than taking your neighbor to court
Can I Remove the Neighbor's Fence That's on My Property?
Yes, you can remove the neighbor's fence that's on your property, but it's not the best idea. Consequences of tearing down the neighbor's fence on your own include:
Not getting compensation for the removal
Causing permanent damage to your property
Risking potential violent behavior from your neighbor
Additionally, if you don't have a court order, your neighbor can just put the fence back.
Handle Fence Disputes With Your Neighbor the Easy Way—With DoNotPay
If you cannot resolve this issue by talking to your neighbor, it doesn't mean you should give up! There is a way to handle this situation without going to court, and it involves the world's first robot lawyer—DoNotPay!
We created the Neighbor Complaint product to help our customers deal with harassment, loud noise, aggressive pets, or other neighbor-related issues without having to go to court.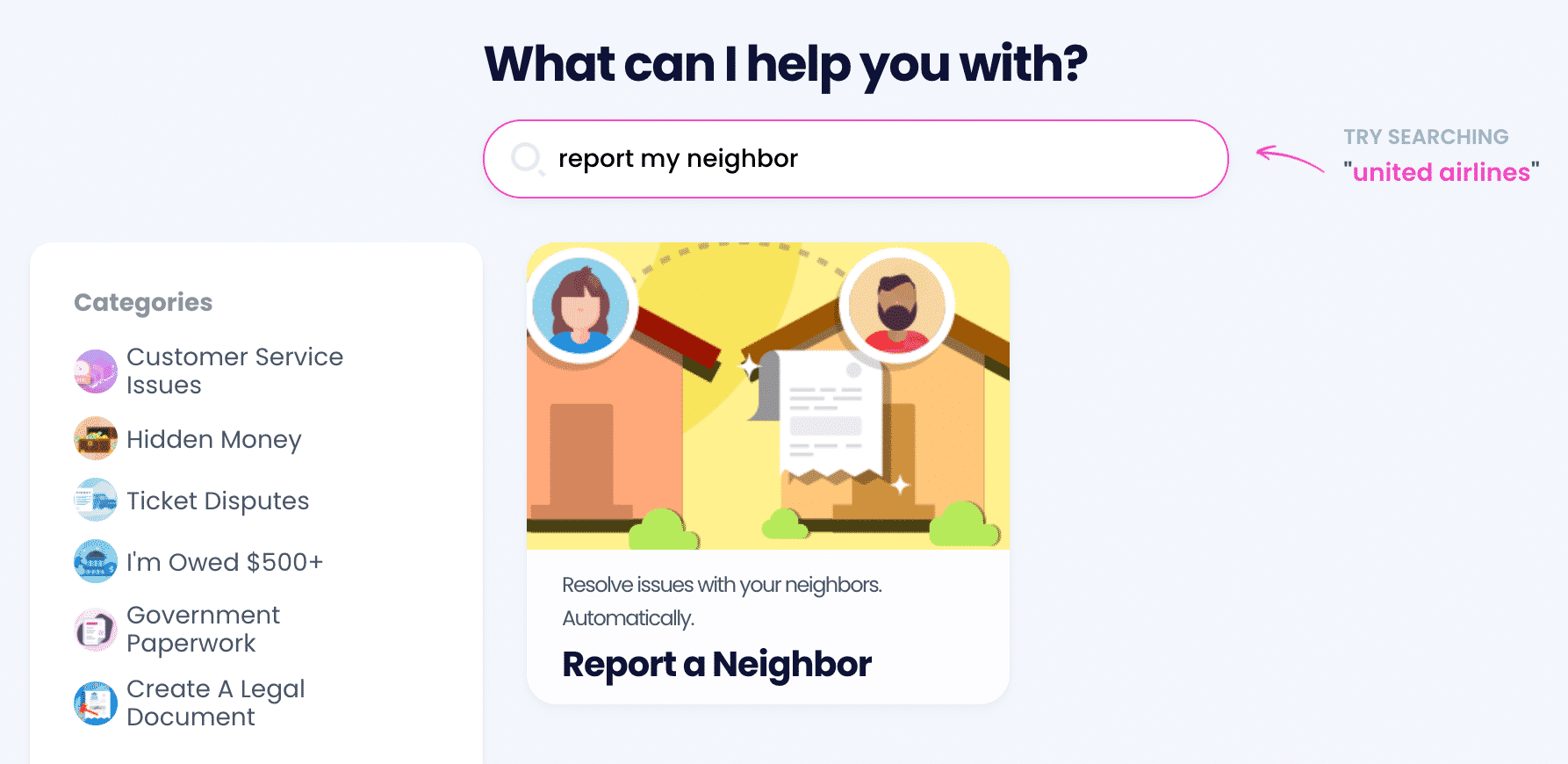 Using our service can't be any simpler! Follow these steps:
Find the Neighbor Complaint tool
Specify the type of problem you're experiencing
Provide us with more details regarding your issue
DoNotPay will customize the demand letter quickly. In this letter, your neighbor will find the following:
Information about your complaint
Arbitration notice
The amount of compensation you seek from them
A warning about legal actions you'll have to take if they choose not to answer your requests
Are There Other Neighbor-Related Issues That DoNotPay Can Resolve?
We are glad you asked! DoNotPay can handle various types of disputes that people have with their neighbors. Use our learning center to get help with:
No Lawyer—No Problem! Rely on the World's First Robot Lawyer
When you're in a bind but you can't afford a lawyer, there is still something you can do—sign up for DoNotPay and let our award-winning app give you a hand. With our expertise, the following tasks will be a piece of cake:
Free Yourself From Boring Tasks With DoNotPay's Help
Our AI-driven app comes in handy for numerous bureaucratic or administrative chores that usually take up a lot of time. With DoNotPay's speedy service, even the most tiresome task will be complete in a flash!
You can forget all about waiting in line at the DMV and being on hold with customer service—we will get you to the finish line in a few clicks. Tired of the old snail mail? Use DoNotPay to mail letters fast. Better yet—fax your documents using our app. If your document requires a notary's signature, we can assist you in scheduling a virtual appointment.