What To Do About a Neighbor Encroaching on My Property—DoNotPay Has Solutions
If you're asking yourself, "what to do about a neighbor encroaching on my property," you're in the right place. This article will explain everything from what encroachment is to how to resolve your neighbor-related disputes in a friendly manner.
If the amicable way doesn't work, DoNotPay has another solution—writing a demand letter to your neighbor and stating your complaints.
What Is Encroachment?
Encroachment typically refers to building a fence or extending a structure beyond one's property line. It can be unintentional, but in most cases, your neighbor knows what they're doing.
If you believe that your neighbor is encroaching on your property line, you must take appropriate action. Before doing anything, check whether the encroached part of the property really belongs to you.
To get information about ownership, you need to:
Have a survey—A licensed surveyor will physically discern the boundary of your and your neighbor's property. They can also determine how much of your land is encroached
Get an appraisal—The appraisal will give you information about the market value of your encroached property
Do a full title search—A title search will ensure that your ownership interest in the property doesn't have any easements or deeds from previous owners. If a previous owner had a deal with your neighbor called an easement, it allows the neighbor to use that part of the property
How To Resolve Property Disputes With Neighbors by Yourself
After determining that your neighbor is encroaching on your property, you should talk to them. Maybe they are unaware of the encroachment, and you can find a solution together. There are many better alternatives to court. We presented some of them in the table below:
| | |
| --- | --- |
| Ways To Solve the Issue | Details |
| Talk to your neighbor | Maybe your neighbor is willing to cooperate. They can move their fence or an imposing object that isn't difficult to move |
| Sell the land to your neighbor | You can offer to sell the encroached part of your land. This will make matters easier for both of you. Your neighbor won't have to tear down a shed, fence, or another object they built on your part of the land, and you'll get compensation |
| Seek mediation | If you and your neighbor cannot agree but don't want to waste money on lawsuits, you can seek mediation from a neutral third party. This approach is less costly than going to court since you can avoid the attorney fees and related expenses |
What To Do When Your Neighbor Refuses To Move a Fence or Another Built Structure
If your neighbor isn't open to negotiation or cooperation, you can seek mediation or go to court.
Going to court will require you to prove two matters:
Your ownership of the property
Your neighbor's improper use of your land
The court should be your last option because it's pricey, and it can cost you more than your encroached property's worth.
Going to court might also not settle the matter in your favor. If your neighbor has been using the land for some time, they could get the court to grant them the right to limited use of the property. This is called a prescriptive easement.
Use DoNotPay To Deal With Neighbor Fence Disputes and Encroachment
After you've tried to settle matters with your neighbors amicably, you can use DoNotPay's Neighbor Complaints product before taking your neighbor to court. Using our services is usually enough to resolve the issue with your neighbor.
Sign up for DoNotPay and follow the steps below to create your demand letter:
Find the Neighbor Complaints product using our search bar
Select the type of issue you're having
Add the necessary details—whether you've tried to talk to your neighbor, whether you have the documentation about encroachment, etc.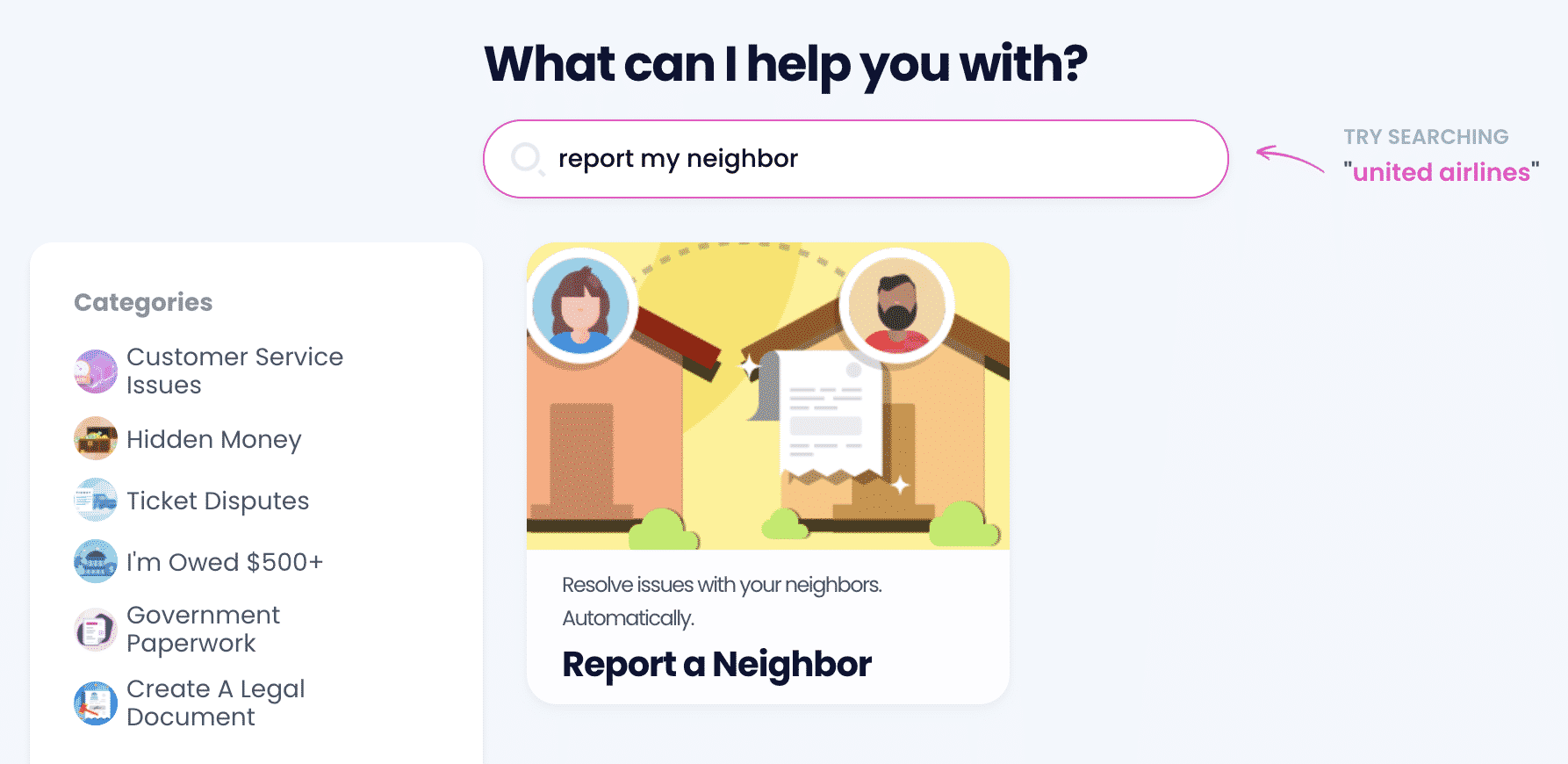 DoNotPay will create a demand letter automatically using all the information you provided. We'll mail the letter to your neighbor on your behalf. It will include the following:
Details of your complaint
Arbitration notice
The compensation you seek
A warning of further legal steps you might take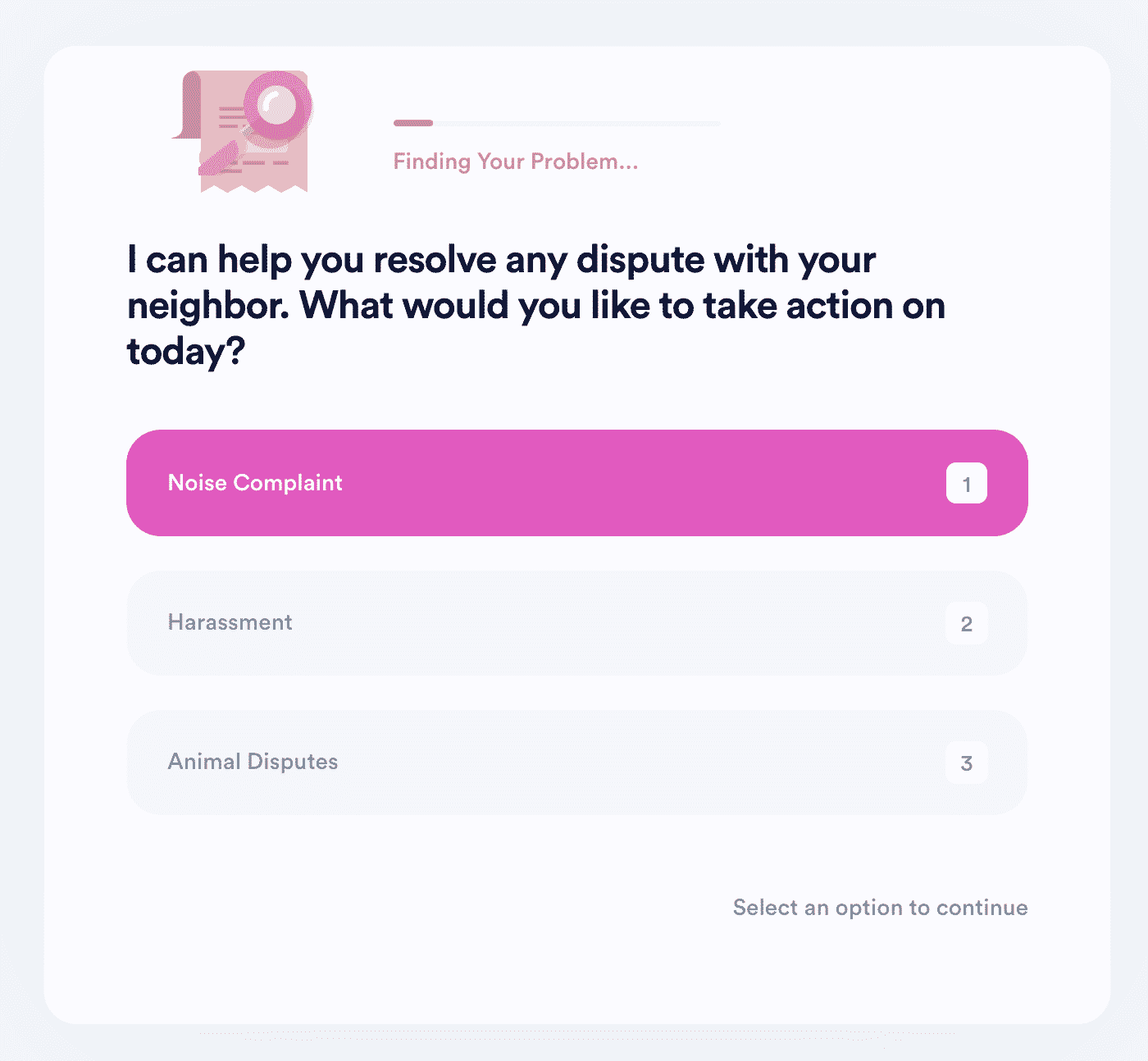 DoNotPay Can Help With Other Neighbor-Related Issues
You can use our learning center to get help with different neighbor-related issues you might have, such as:
Visit our website to find out more or sign up to get your problem solved now!
Explore DoNotPay's Products and Save Both Time and Money
Are you sick and tired of spending ages on the phone with customer support trying to get more info about how to return a faulty product and get a refund? Maybe you'd like to cancel memberships you don't use but can't find that unsubscribe button anywhere? DoNotPay can help you sort out all of these issues in a jiffy!
Contest parking tickets, claim your car warranty and insurance, schedule a meeting with the DMV, and handle your other problems through the same app on your tablet or smartphone.
Getting access to public records or drawing up various legal documents with DoNotPay is child's play.
That's Not All!
The first thing you'll notice when you open DoNotPay is that you can use our app for almost anything.
Do you wish to enter raffles or sweepstakes? Are you interested in applying for paid clinical trials and earning some cash? Would you like to send mail without going to the post office? You're in the right place!
We will help you feel safe while browsing the Internet by assisting you in blocking and reporting spam emails, suspicious text messages, and pesky robocalls.