How To Deal With a Neighbor Dumping Yard Waste in My Yard
Neighbors disrupting your peace with loud music, misbehaving dogs, or constant meddling in your business are annoying, but some neighbor behavior can push you right over the edge.
One of the most common complaints people have is neighbors using their yard as a dumping site. If you are a victim of such behavior, you should take action immediately.
DoNotPay can help you resolve the "neighbor dumping yard waste in my yard" problem with a few simple tricks. Learn how to handle other neighbor-related nuisances as well!
Is a Neighbor Littering in My Yard Considered Illegal?
Littering refers to leaving small amounts of household garbage—such as plastic bottles, wrappers, cigarette butts, or beer cans—in open space. What differs littering from illegal dumping is typically the type, size, and volume of the waste.
Bear in mind that improper disposal of hazardous materials, such as batteries, constitutes illegal dumping regardless of the amount.
While littering is typically treated as a minor offense, some states impose severe penalties for litterers. Depending on the size and location of the litter, a perpetrator can face:
Community service
Hefty fines of up to $25,000
Jail time
Before taking any legal action, you should check out your state laws and determine what case you have against your neighbor.
However rude and irresponsible you think your neighbor's behavior is, you should try a peaceful approach first. You may get results much faster than by implicating yourself in lengthy and expensive legal proceedings.
How Should I Handle a Neighbor Throwing Trash on My Property?
There are numerous ways to prevent the neighbor from throwing their garbage on your property. You can try the following:
Putting up a sign
Locking the area
Installing security cameras
Talking to your neighbor
Involving the police
Put Up a "No Littering" Sign
Putting up a no littering sign is simple but can have a noticeable effect on your neighbors. You have to make sure the sign is big and in a visible spot. It may not prevent the littering completely, but it will probably make anybody with a conscience avoid your yard. You can try with a polite note and, if it's not working, consider a more straightforward message.
Install a Fence
One of the most effective ways to stop the neighbor from dumping waste on your property is to put up a fence and lock the whole area. It will not only keep the litterers but also stray dogs and neighborhood pets away from your yard.
Before installing a fence, you have to check residential fence standards for your city. If you're not allowed to put up a fence, you can place garbage dumpsters in areas of your property monitored by security cameras. That should at least help you identify the littering neighbor.
Use an Outdoor Security Camera
Your neighbors may refuse to admit they are dumping trash in your yard. By installing a security camera, you will deter your littering neighbors and provide proof when confronting them. Documenting the neighbor's behavior is also crucial if you plan to take legal actions.
You can install a motion-detecting camera to monitor your whole yard or just the area with the dumpsters. Even the mere sight of an "under camera surveillance" sign is typically enough to keep the litterers away.
Have a Chat With Your Neighbors
Confronting your neighbor about their behavior is maybe the hardest but also the most effective solution. How you approach the conversation is crucial. Here are some tips for making the chat go well:
Choose an appropriate time to talk, such as when your neighbor is relaxed and in a good mood
Introduce yourself
Focus on the dangers of littering when stating the problem
Try not to sound accusatory to avoid a defensive response
If you fail to see any changes in your neighbor's behavior, you can to send them a demand letter. It should outline legal repercussions your neighbor will face if they don't stop dumping trash in your yard.
Call the Police
If all other methods fail, you have no choice but to file an official complaint to the police. Make sure you have enough proof of your neighbor's behavior before contacting the authorities. You can also call the Environmental Protection Agency (EPA) to get rid of the trash for you, especially if it's hazardous.
DoNotPay's Demand Letter Helps Keep the Trash Away
Contacting the police may not be necessary if you send your neighbor a convincing demand letter. DoNotPay can create a document that will show your neighbor you are not joking!
Creating a demand letter to complain about constant noise, pesky pets, or neighbors littering is simple. All you have to do is:
in a web browser
Select the Neighbor Complaint product
Indicate the problem your neighbor is causing
Answer out chatbot's questions
We will use the info you provide to draft a bullet-proof demand letter and send it to your neighbor. You can expect the situation to improve shortly after!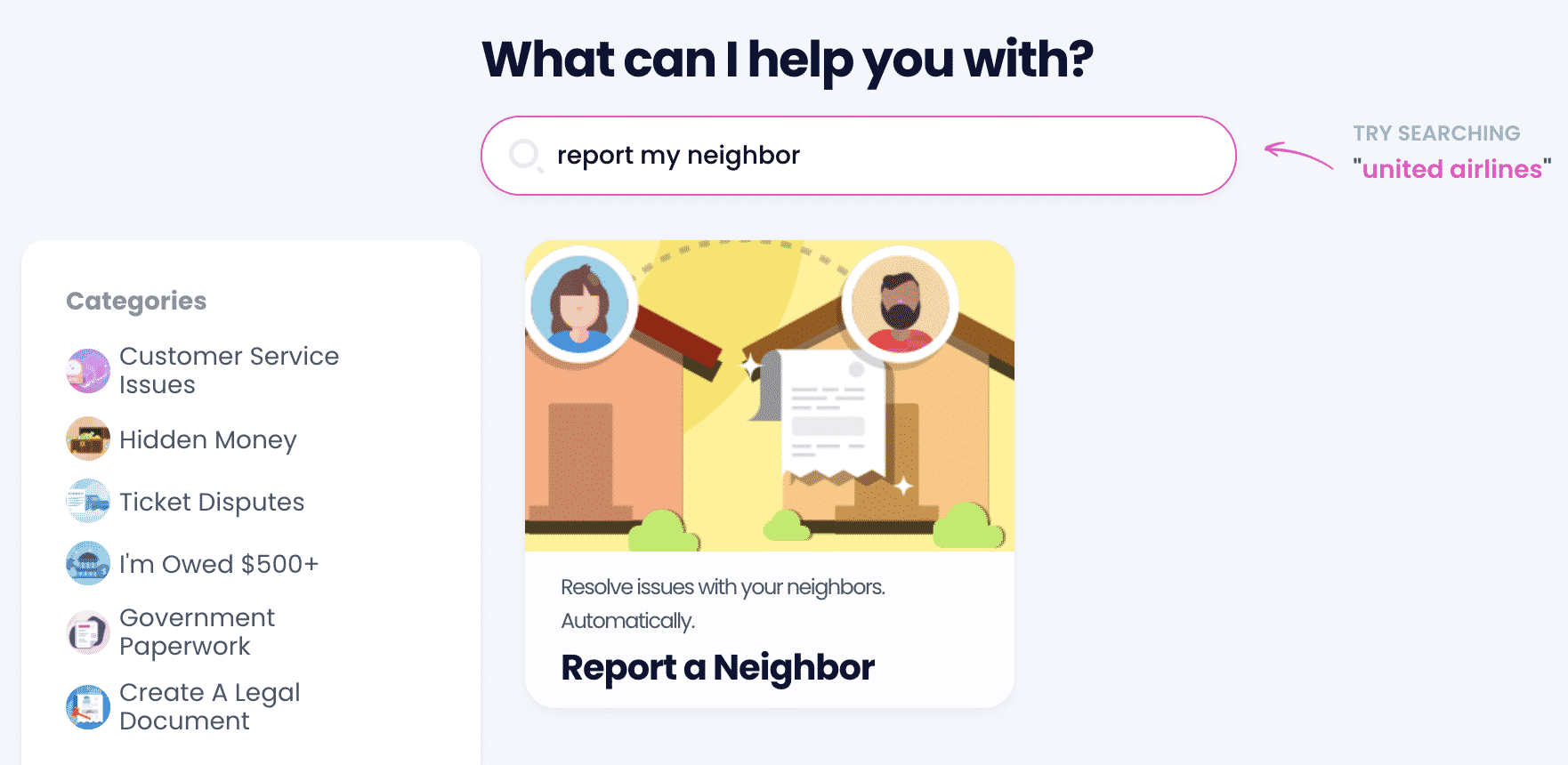 You can use our app to deal with numerous neighbor-related troubles, as presented in the table below:
| | | | |
| --- | --- | --- | --- |
| Noise | Animals | Damage | Harassment |
| | | | |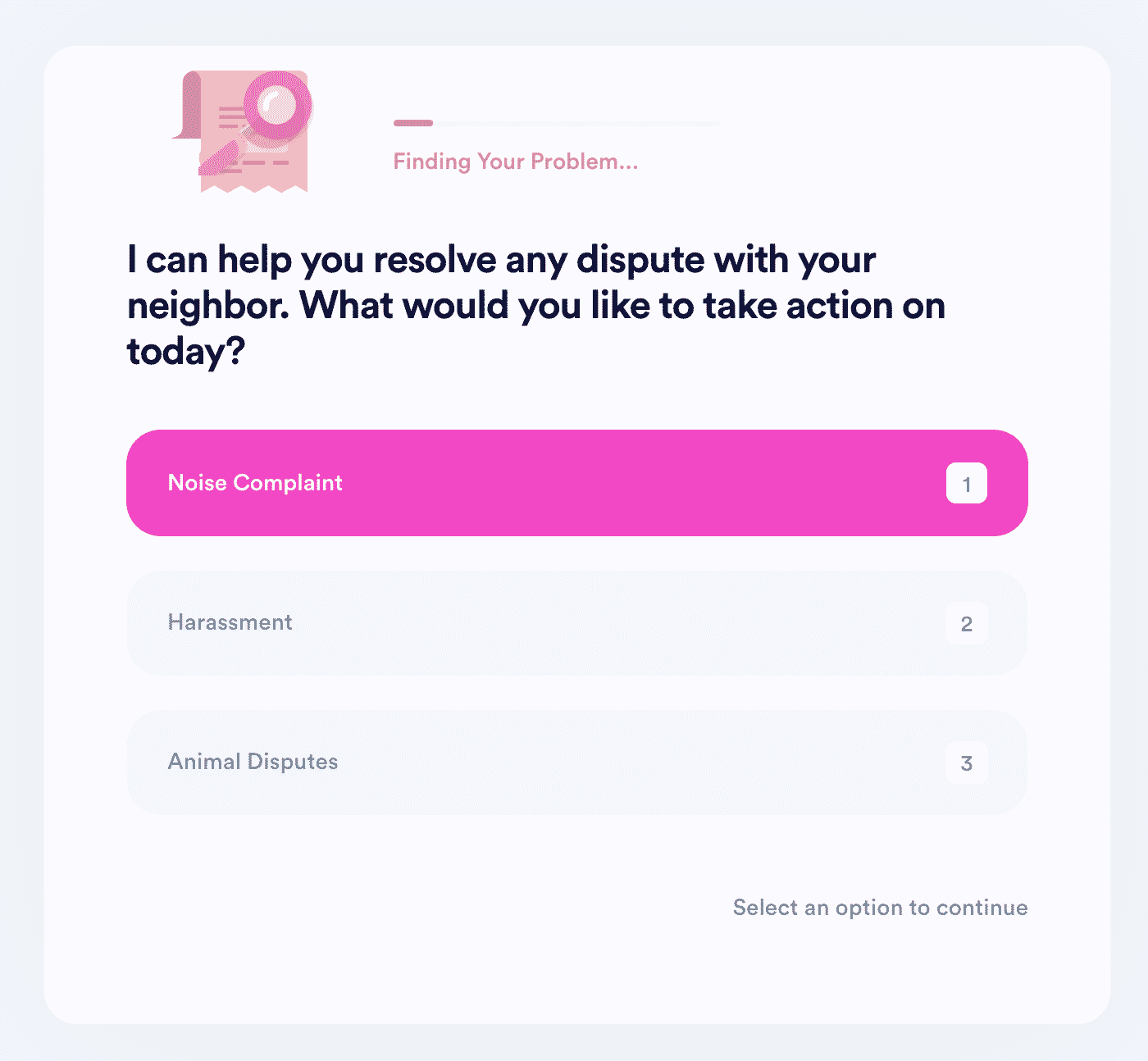 Rely on DoNotPay To Solve Your Administrative Issues
Getting your documents notarized, drawing up legal paperwork, appealing parking tickets, and similar activities usually require a lot of effort. DoNotPay offers various useful products that can help you deal with administrative problems quickly and save a lot of time. We can assist you with:
Protect Your Consumer Rights With DoNotPay
Companies complicate cancellation and refund processes intentionally, hoping that consumers wouldn't want to spend hours trying to solve the issue they're having. DoNotPay knows how important consumer rights are, and that's why we created numerous products that can help you:
Many people forget to cancel their free trials on time and end up paying for the services they don't even use. To prevent that, DoNotPay has developed a nifty virtual credit card that will allow you to enjoy free trials risk-free. Our virtual credit card will also help you avoid spam email notifications by generating a random email address that you can use when signing up for a free trial.