What Can I Do if I'm Fed Up With Finding the Neighbor's Dog in My Yard?
Dogs are loyal, friendly, and loveable... when they are not digging up your flower beds, knocking over gardenias, or doing a number two on your patio. No harm in your pooch breaking a rare plant pot every once in a while, but what if the mess is caused by a pet other than your own?
If you've searched for "how to avoid having a neighbor's dog in my yard" with little success, and you want it out, we can help you deal with the problem! DoNotPay can assist you in handling various neighbor-related issues and solving them in record time.
How To Keep Neighbors' Dogs Out of Your Yard
If you frequently find the neighbor's dog in your yard, here are a few tips and tricks to keep them away:
| | |
| --- | --- |
| How To Keep the Neighbor's Dog Away | Explanation |
| Remove alluring smells | Dogs have a sharp sense of smell. If you leave leftover food out in the open frequently, the dog may be attracted to the mouthwatering smell coming from your yard |
| Close the gate | Make sure to keep your gate closed at all times |
| Build a fence | Install tall fences around your house to prevent dogs from jumping over them. Although it is a costly solution, it is one of the most effective ones |
| Get rid of standing water | Dogs love splashing in standing water. If you have watered your lawn too much or have rainwater puddles on your property, drain them |
| Clean up your yard | Dogs come back to places they've visited before because of their territorial nature. If your neighbor's dog has pooped or peed in your yard, make sure you clean it up and spray the area with water and baking soda to remove the smell |
| Spray dog repellants | Spray your yard with commercial or homemade dog repellents—dogs detest citrus and vinegar smells |
If none of these preventative actions work, it's time to talk to your neighbor.
How To Reason With Your Neighbor
Sometimes, the cause of the problem will not be on your or the dog's end. If your neighbor allows your dog to poop near your yard or roam around the neighborhood freely, the dog feels comfortable enough to come over whenever they need to doo-doo or run around. In such a case, the problem you have is with your negligent neighbor.
Before taking an impulsive action, try talking to your neighbor amicably. Friendly communication is key to solving neighbor-related issues. Here are a few instructions you can follow:
Figure out a time of day your neighbor is available to talk uninterrupted
Go over and explain why you're there
Inform them that you frequently find their dog in your yard and let them know how it is affecting you and disturbing your peace
If they're new dog owners, suggest that they keep their dog on a leash until it is trained; if they are not, be clear on what your demands and expectations are
When talking to your neighbor, make sure you are polite and friendly. Instead of throwing accusations, try understanding their point of view. Maybe they don't even know their dog is hopping over to your yard. Hear their side of the story before coming to any rushed conclusions.
Write a Demand Letter To Keep a Neighbor's Dog Out of Your Yard
If you're unable to get a hold of your neighbors or you feel uncomfortable talking to them about this issue, you can write a letter and drop it in their mailbox. You can add your name and address to it or keep it anonymous. In that case, the neighbors might not know who the letter is from, but they would still get the message to keep a closer eye on their dog.
The demand letter should contain the following information:
Arbitration notice
Documented evidence of the dog's behavior
Warning of possible legal consequences if the neighbors don't respond to your requests
Demands of financial compensation for the damage their dog has caused
Most states have strict animal regulations and leash laws. Inform your neighbor that if they fail to comply with the laws in your state, you will file a formal complaint.
A well-drafted demand letter should be enough for your neighbors to take you seriously. If you don't know the first thing about drafting a demand letter, can come to the rescue!
DoNotPay Can Send Demand Letters to Your Neighbors on Your Behalf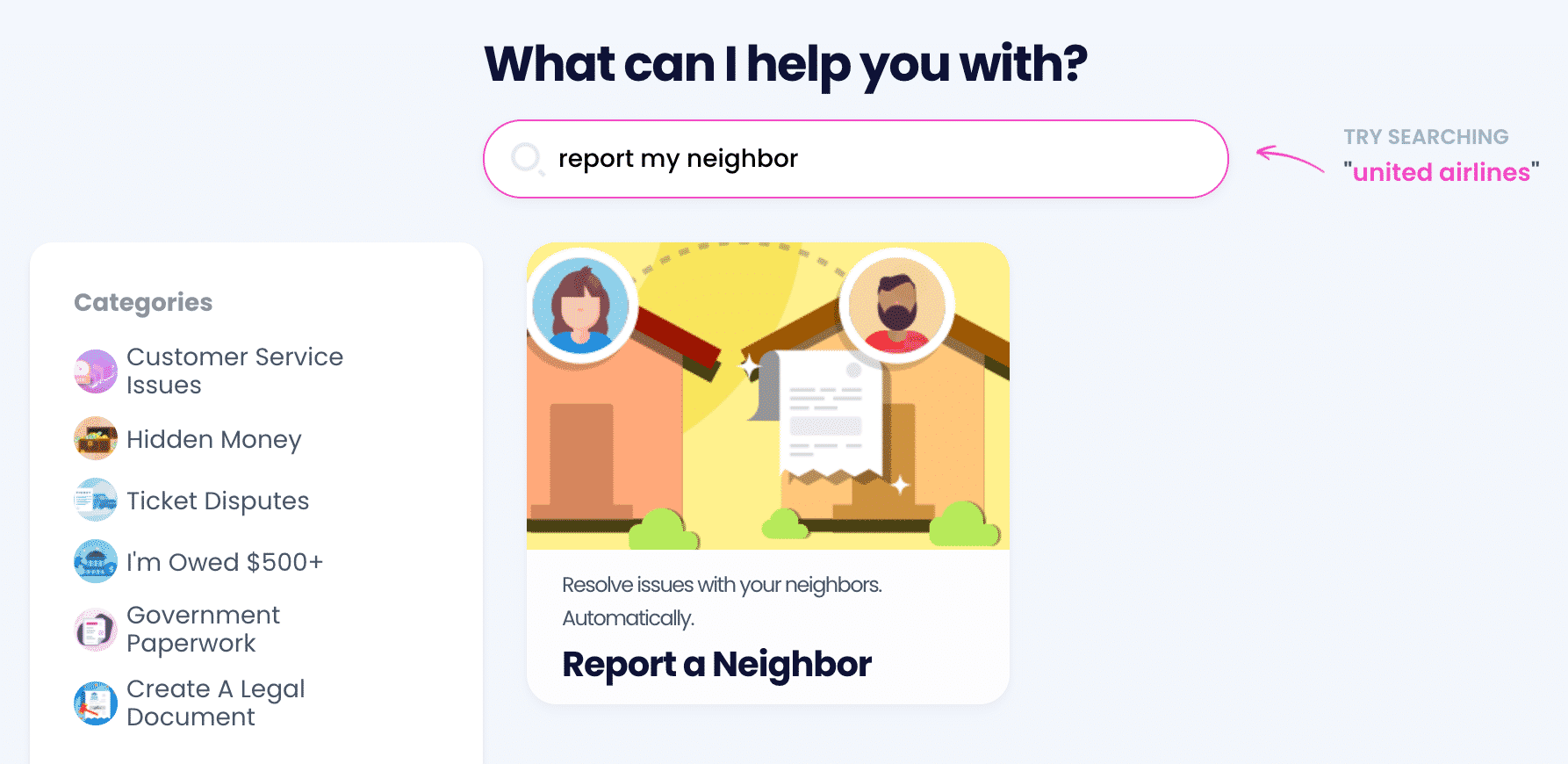 If you are facing problems with your neighbors, it's time to put them in their place. Whether it's a neighbor's dog, cat, or chickens roaming around your property uninvited, DoNotPay offers a solution to the issue.
We can draft and send a demand letter to your neighbors in the blink of an eye. Here's all that you need to do:
in your web browser
Select the Neighbor Complaint tool
Specify the type of problem you're having
Add more info on the issue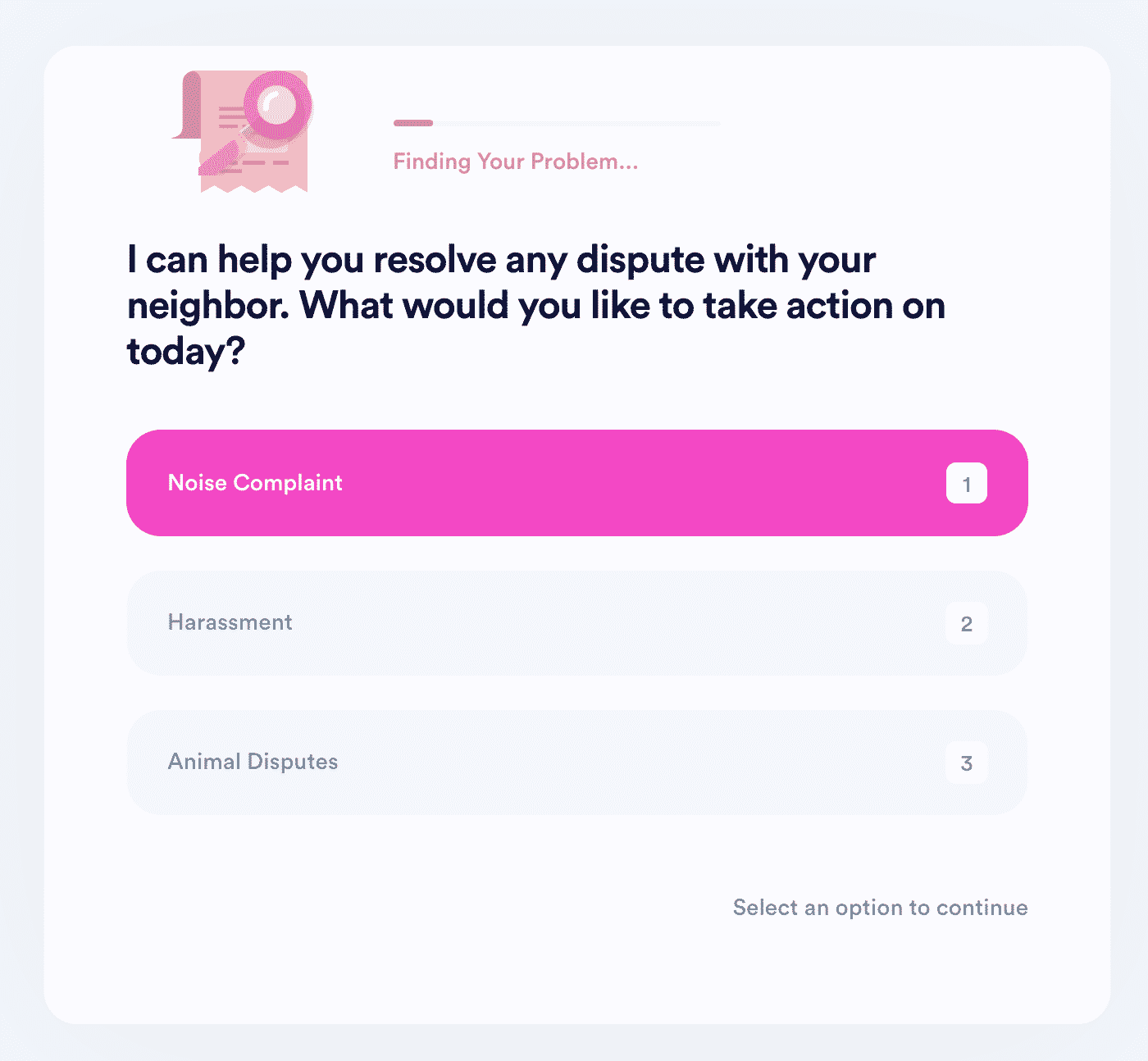 In most cases, a demand letter is more than enough for your neighbors to take corrective action. If they still remain stubbornly inconsiderate, you should report them to the authorities.
How Can DoNotPay Guide Me Through Other Neighbor-Related Matters?
Whether you want to take legal action against bad neighbors or document neighbor harassment, DoNotPay can be your assistant. Here are some other problems that we can provide practical advice on:
More Nifty Solutions to Annoying Problems
If you're dealing with problematic neighbors or coworkers, you're not alone—our app can help you handle these issues with our Neighbor Complaints and Fight Workplace Discrimination products.
No problem is too big or too small for DoNotPay! Check out the best time- and money-saving solutions to different nuisances:
| | |
| --- | --- |
| Issues | Solutions |
| Email spam | Using DoNotPay's spam collector |
| High college fees | Applying for college fee waivers |
| Bothersome robocalls | Getting back at robocalls |
| Late delivery | Requesting a late delivery refund |
| No fax machine | Sending faxes online |
| High property taxes | Applying for property tax exemptions and appealing your property assessment |
An Array of Hacks To Help You Deal With Greedy Companies
Nobody likes to spend more money than they have to. DoNotPay is here to offer many penny-pinching hacks and also stop companies from taking advantage of you.
Almost every free trial nowadays isn't really free. Companies request your credit card info and auto-renew subscriptions. Fight this sneaky practice by using DoNotPay's virtual credit card next time you want to snatch a free trial. We'll also uncover any unwanted memberships you have mooching off of you and help you cancel them in a few clicks.
If you need to contact a company's customer service, avoid wasting your time and money on hold and count on our app to wait in your stead.
Do you need to get your money back, but you don't know how? Use DoNotPay to: