Neighbor's Dog Barks All Night—What To Do
If you're used to living in a secluded area, you have to tolerate all sorts of neighbors, including both the noisy and the mean ones. The worst ones are probably dog owners whose pets keep barking all night, and they don't do a thing about it.
Do your neighbors have a dog that keeps you up at odd hours with its whining and barking? DoNotPay can show you what to do if a neighbor's dog barks all night and how to deal with a neighbor who refuses to cooperate.
Why Does a Dog Bark at Night?
Continuous barking at night can happen due to different causes. Here are some possible reasons:
| | |
| --- | --- |
| Reasons Why a Dog Barks | Brief Explanation |
| Isolation distress | The dog is not used to sleeping alone. They become anxious or distressed if left on their own at night |
| Hunger | Maybe the dog is looking for a late-night snack, much like we all do when we're up at night |
| Strange noises | Dogs are more noise-sensitive than humans. If dogs hear strange noises they may perceive as dangerous or unique, they will react by barking |
| Wildlife | When dogs spot a squirrel, raccoon, or deer, they will bark as a way of communicating with them |
| Other dogs | Dogs have their own "community" of sorts. If a dog hears another dog barking, they respond, and this can go on all night long |
| Boredom and loneliness | A lot of dogs bark because they feel lonely or are bored out of their wits. Dogs are social animals and can feel sad if left alone for too long |
How To Reason With Your Neighbor
Make sure you sleep well before going to your neighbor. Your sleep-deprived self is bound to have a conversation you'll regret later on.
Here are a few steps you can follow:
Figure out a time of day when your neighbor is home and available to talk
Explain what the problem is
Show them documented proof in audio and video form
Let them know how sleep-deprived you are and how it affects your personal and professional life
Offer effective solutions to prevent the dog from barking
Effective Solutions To Prevent the Dog From Barking
Before talking to your neighbor, you should do some research and see what helps prevent continuous barking. Be careful when giving advice to a pet owner—most people don't like being told what to do with their pet.
Here are some common yet effective tips that your neighbor can follow:
Film the dog overnight to see why they might be barking
Figure out the source of their barking
Use bark control collars and ultrasonic bark deterrents
If these tips don't work, you can take the following steps to stop the noise from bothering you:
Soundproof your windows, walls, and doors to prevent barking noises from disrupting your peace
Put up a fence screen to block the noise
Plant trees—vegetation can help absorb sound (this is a long-term solution)
Invest in earplugs or noise-canceling machines
Send a Demand Letter if the Neighbor's Dog Is Still Barking
If your neighbor does not realize how disruptive their pet is to others, send them a demand letter to warn them of possible legal consequences if they don't resolve the situation. A well-drafted demand letter needs to be factual and devoid of emotion. It should clearly state all the times the barking dog kept you up and the ways in which your life was affected because of it.
You could also talk to other people in the neighborhood to see if they're facing the same problem and include it in your letter.
Use DoNotPay To Get Out of Your Fix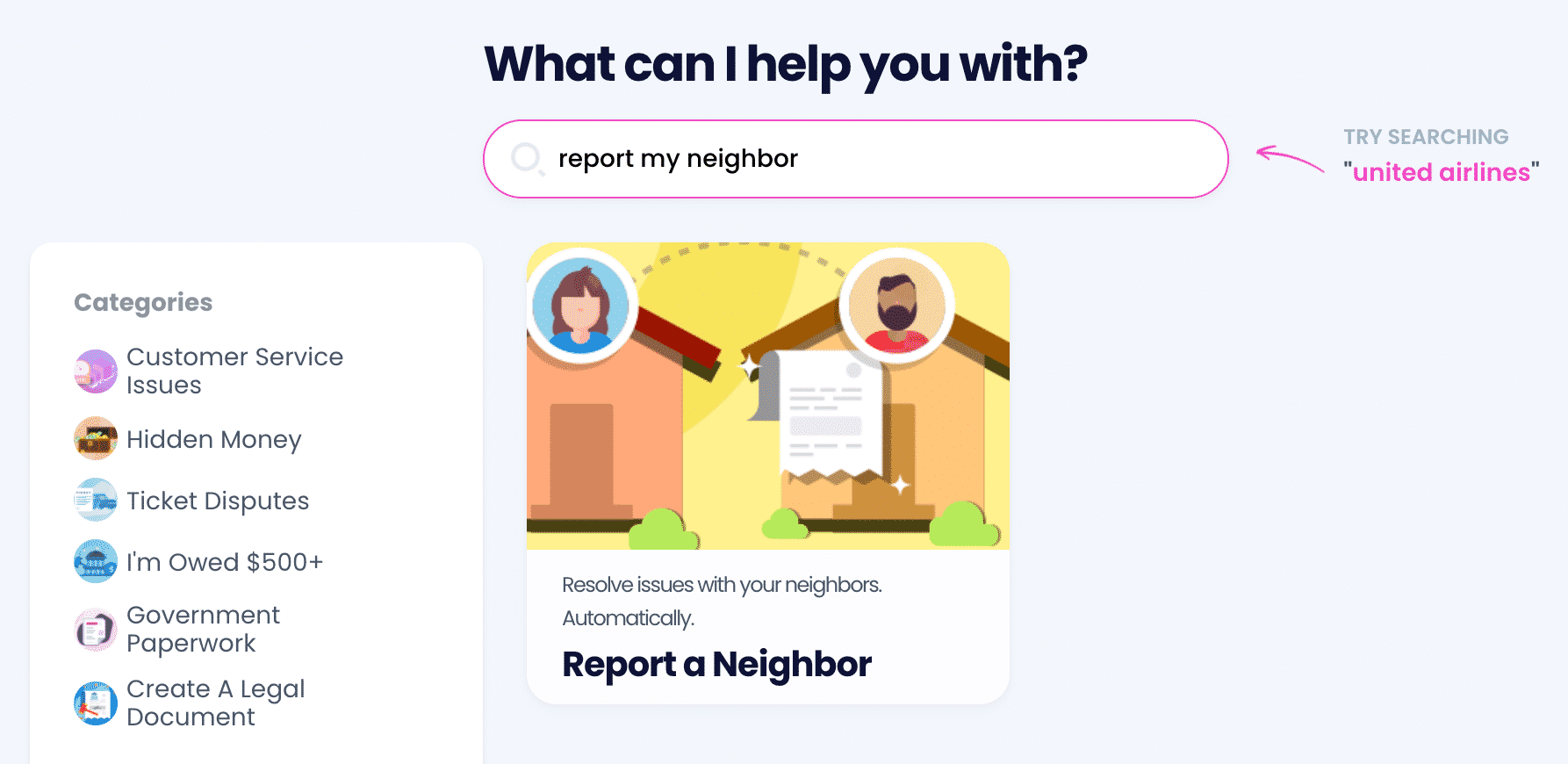 Are you reading this article with red eyes, yawning continuously because the neighbor's dog still won't stop barking? Let us help you out by drafting a demand letter for you!
Here is what you need to do:
Open DoNotPay in your web browser
Look for the Neighbor Complaint feature
Select the specific problem you're having with your neighbor
Provide additional info about the situation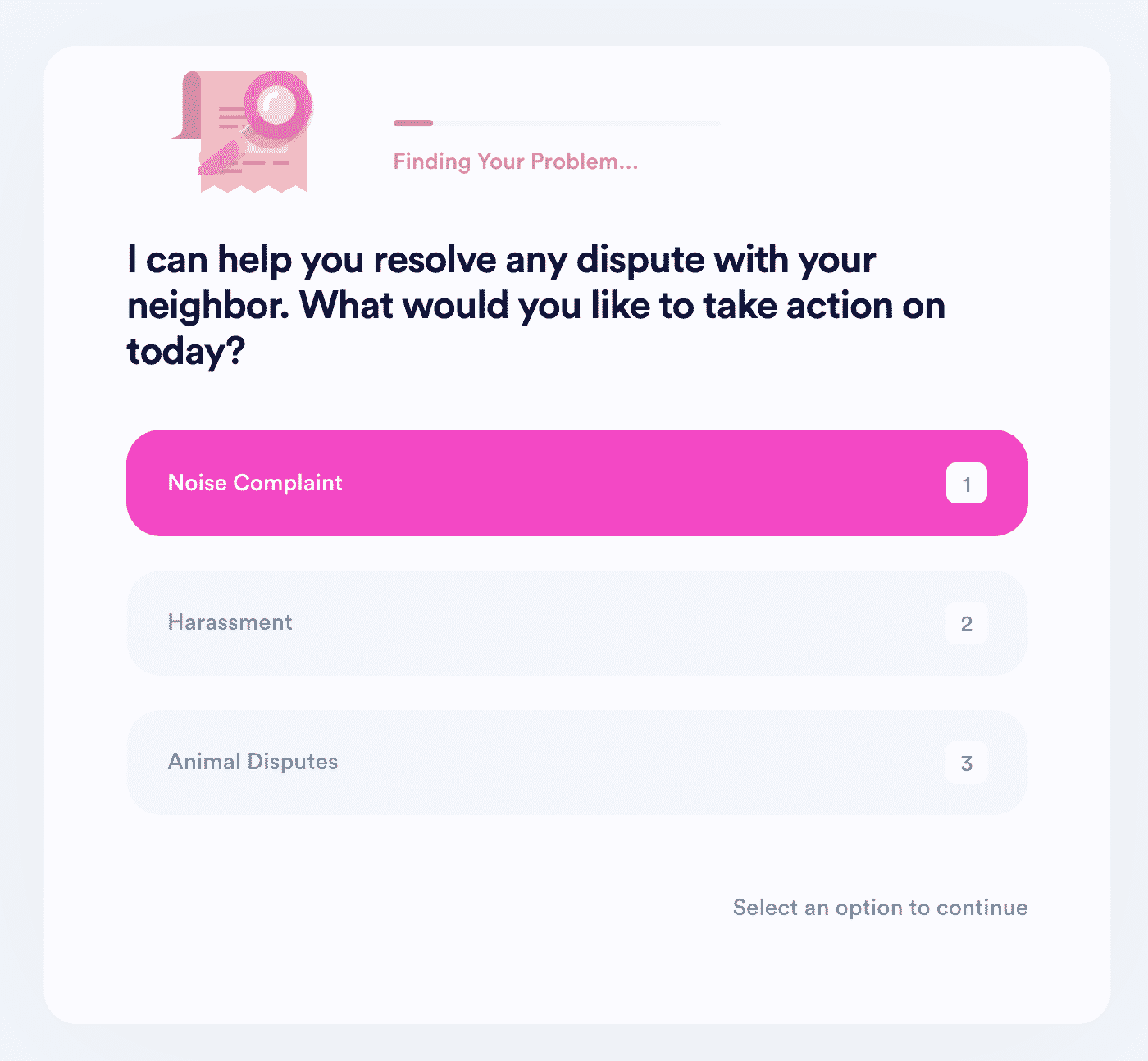 And you're done! Invest in earplugs while we generate a demand letter and send it to your neighbor. In most cases, it is enough to convince the neighbor to take action. If they don't, you can file a complaint with the authorities, call Animal Control, or take legal action.
Want to know what other neighborly concerns we can assist you with? Here are a few examples:
More Nifty Solutions to Annoying Problems
If you're dealing with problematic neighbors or coworkers, you're not alone—our app can help you handle these issues with our Neighbor Complaints and Fight Workplace Discrimination products.
No problem is too big or too small for DoNotPay! Check out the best time- and money-saving solutions to different nuisances:
An Array of Hacks To Help You Deal With Greedy Companies
Nobody likes to spend more money than they have to. DoNotPay is here to offer many penny-pinching hacks and also stop companies from taking advantage of you.
Almost every free trial nowadays isn't really free. Companies request your credit card info and auto-renew subscriptions. Fight this sneaky practice by using DoNotPay's virtual credit card next time you want to snatch a free trial. We'll also uncover any unwanted memberships you have mooching off of you and help you cancel them in a few clicks.
If you need to contact a company's customer service, avoid wasting your time and money on hold and count on our app to wait in your stead.
Do you need to get your money back, but you don't know how? Use DoNotPay to: