SOS! How To Deal With a Neighbor Diverting Water Onto My Property
Living too close to someone can cause many disputes. If a water runoff from your neighbor's property ends up in your yard, it can be super frustrating. Finding out that it's all your neighbor's fault can call for some more serious actions.
"What can I do about a neighbor diverting water onto my property?" is a question many people have. We are here to answer it! to get your issues with bad or noisy neighbors resolved with zero effort!
Possible Water Disputes With Neighbors
Before taking further actions, you should find out whether the water damage is caused by a neighbor or not. Check the following table for clarification:
| | | |
| --- | --- | --- |
| What Is Causing the Problem? | Explanation | Is It the Neighbor's Fault? |
| Surface water | It's the natural water runoff that comes from excessive rain and stays on the surface. It can run off to the nearest yard, especially if it's downhill | In case of a natural runoff caused by rain, neighbors generally cannot be held legally accountable for the damage caused on the property |
| Diversion of water | When a person makes alterations to their property (such as installing pools or pouring concrete decks), it eliminates natural surfaces that soak up stormwater. That way, stormwater runs off to the next yard | A neighbor who made alterations to their property can be held legally accountable for the damage caused on your property |
Stormwater Runoff From Neighbors Property—What Does the Law Say?
Most states have the following laws that cover the issue of water diversion:
Reasonable use rule—In most states, if a neighbor alters the property and, by doing that, causes water damage to your land, they are liable for the damage. First, you need to prove they were "unreasonable" to the judge. Here's what can help determine the neighbor's fault:

The nature and importance of the alteration
The foreseeability of the damage while they were making the alterations
The degree of damage in comparison to the value of alterations

Common enemy rule—This rule states that every landowner is obligated to protect their property from water runoff. Fortunately, not all states rely on the common enemy rule, and those that do now use the modified version. According to the modified common enemy rule, a landowner is allowed to divert water only if the work is necessary and they use reasonable care to avoid damage to nearby properties
Civil law rule—If a landowner disrupted the natural flow of water and caused damage to another property, they can be held accountable in court. It is also called the natural flow rule, and it's more similar to the reasonable use rule
Ways To Prevent Damage Caused by Storm Water From Neighbors Property
Before you file a complaint against your neighbor, you can try to protect your yard from further damage by doing some of the following:
Dig a swale and build a berm—Swales will collect the runoff, and berms will redirect it. This way, you can divert water away from your land. You should plan this carefully to avoid redirecting water to another neighbor's yard
Install in-ground drainage to a dry well—A dry well does not only collect the excess water but also drains it out to the surrounding soil, which can be beneficial if you have a garden
Install French drains to catch runoff water—French drains work on a similar principle as a dry well, except they are easier to install and are more eco-friendly
Will Your Insurance Cover Stormwater Runoff Damage?
It depends. In water damage cases, it's important to determine the source. If the water comes from an inside source, your homeowner's insurance should cover it. If the water damage is caused by an outside source, such as rising water, your flood insurance comes into play.
You should contact your insurance agent to check the specifics and plan further actions.
Use DoNotPay To Send Your Neighbor a Demand Letter
If you tried talking to your neighbor and it didn't work, it may be time to take the next step. Our Neighbor Complaint feature can handle this problem for you!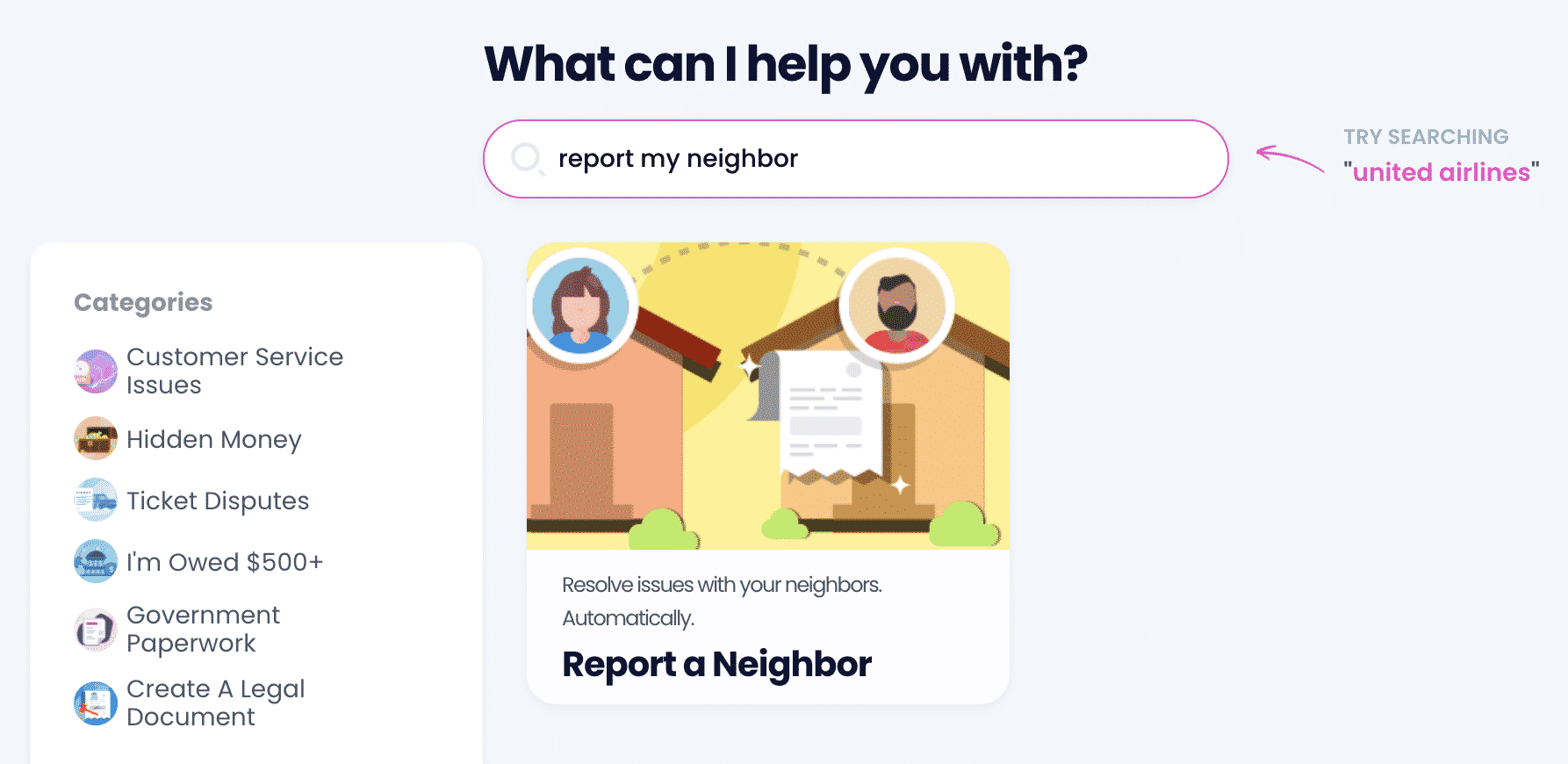 What you need to do is and follow these step-by-step instructions:
Choose the Neighbor Complaint product
Select the type of problem you're experiencing
Give us more details regarding the issue with your neighbors
We will create a customized demand letter containing the following:
Your complaint
Arbitration notice
The amount of compensation you're seeking
Warning about the legal actions that could follow if they choose to ignore your demands
Have any other troubles with neighbors? We can help with the following matters:
DoNotPay—A Pocket-Sized Assistant
If you need protection from stalkers and harassers, we know what to do. Whether you want to deal with a rude or noisy neighbor or fight workplace discrimination, DoNotPay has got your back. Even spammers don't stand a chance against our AI-powered app—both the texters and the robocallers.
If your situation takes a turn for the worse, you may need to take the issue to court. In this case, the world's first robot lawyer swoops in to help! You can count on DoNotPay to assist you every step of the way, regardless of whether you need to take a person or a company to small claims court.
Our App Helps You Through Numerous Red-Tape Issues
Dealing with paperwork doesn't have to be tedious. With DoNotPay's help, cutting through red tape is fast and easy. With a few clicks in our app, you'll be able to: