Neighbor Cut Trees on My Property—What Should I Do?
Your relationship with your neighbor isn't blooming, and your beloved tree went missing overnight. Do you suspect your neighbor cut the tree? As aggravating as your neighbor might be, try resolving the issue calmly before filing a complaint against your neighbor.
to find a solution for all your "Neighbor cut trees on my property" issues and other neighbor tree disputes.
Can My Neighbor Cut My Tree?
No, your neighbor can't cut down your tree. They can only trim branches that stretch over the property line. The law forbids any further cutting or destruction of the tree. For the neighbor to cut your tree, they would have to trespass over your property—which is illegal.
If the tree in question is divided by the property line, it is considered a boundary tree. All property owners share responsibility for the said tree. Removing it requires the consent of all property owners, which means harming or removing it without permission is illegal.
How To Avoid Neighbor Tree Disputes
Most neighbor tree disputes happen because people plant trees too close to property lines. To avoid conflict with your neighbor, you should plant trees four feet away from the boundary. This distance ensures that the tree has enough space to grow and branch out without causing trouble for your neighbor.
Can My Neighbor Force Me To Remove My Tree?
According to the law, your tree can constitute a nuisance if it interferes with your neighbor's property and their right to enjoy it. If this is the case, your neighbor can make you cut your tree in the following ways:
Talk to you—Your neighbor can ask you politely to trim or remove the tree
Involve a mediator—The mediator will try to find a solution that works for both you and your neighbor
Write you a demand letter—Your neighbor can send you a demand letter asking you to remove the tree. This letter should spell out the consequences you will face if you don't respond or fail to obey the demand
Call utility companies—Utility companies can order you to remove the tree if it poses a danger to utility installations
Call your municipality—Municipality representatives can remove the tree themselves or instruct you to do it if the tree is a public nuisance
If none of these methods work, your neighbor can take you to court, but they're not allowed to cut the tree themselves.
What Should I Do if My Neighbor Killed My Tree?
In case your neighbor killed your tree without your permission, you're entitled to compensation, and you can take your bad neighbor to court. If your case is eligible for small claims court, you can sue your neighbor with DoNotPay and avoid paying a small fortune for lawyer fees.
These are the factors that affect the final compensation amount:
Tree replacement costs—The average tree value is between $500 and $2,500. Trees of remarkable cultural, historical, or aesthetic value can cost between $20,000 and $60,000
Property value decrease—Your neighbor needs to compensate you for the property value decrease they caused by destroying your tree
Distress and aesthetic property value loss—Your neighbor might have to pay extra if the tree was of vast sentimental value to you or had an enormous influence on the property's appearance
Cleaning and yard repairing expenses—Any expenses that could occur while removing the remains of the tree and cleaning up the yard
According to the law, you are entitled to compensation of up to three times the value of the tree. Note that—if you choose to take your neighbor to small claims court—you can only sue for up to $10,000.
Create a Demand Letter and Mail It to Your Troublesome Neighbor Using DoNotPay
When your neighbor's acting deaf, warn them about the potential consequences of their behavior in writing. You can do that in no time using our Neighbor Complaints product. To write and mail a demand letter with ease, follow these steps:
in your web browser
Type in Neighbor Complaint in the search bar
Describe your issue—what happened, when it happened, what you tried doing about it—and type in the compensation you want
DoNotPay will generate a customized demand letter using all the information you provided and mail it to your neighbor's address on your behalf.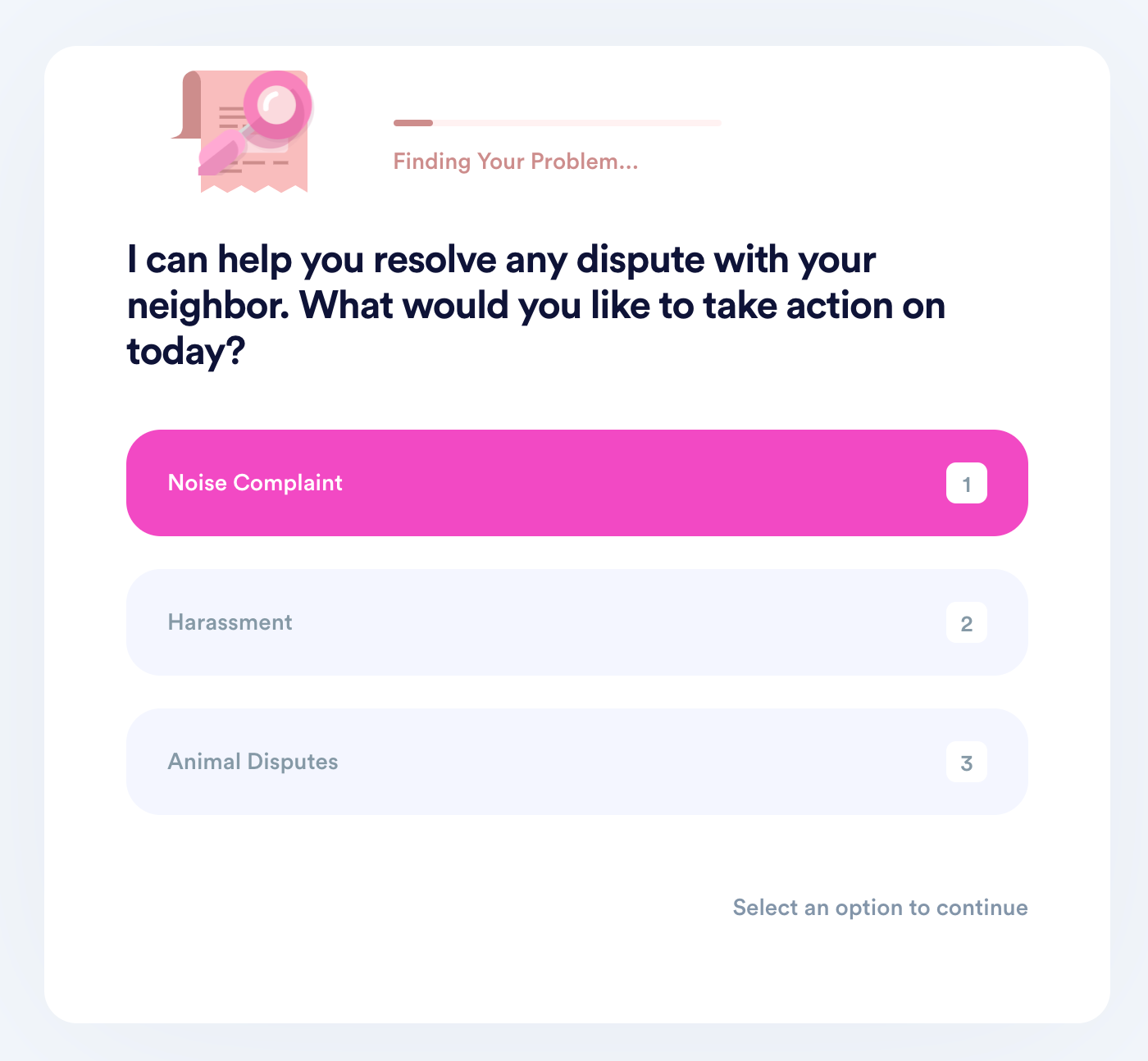 Explore our extensive knowledge base for more information on solving common neighbor issues, such as:
| | |
| --- | --- |
| Noise | |
| Criminal Conduct | |
| Animals | |
| Harassment | |
DoNotPay can also help you:
DoNotPay—A Pocket-Sized Assistant
If you need protection from stalkers and harassers, we know what to do. Whether you want to deal with a rude or noisy neighbor or fight workplace discrimination, DoNotPay has got your back. Even spammers don't stand a chance against our AI-powered app—both the texters and the robocallers.
If your situation takes a turn for the worse, you may need to take the issue to court. In this case, the world's first robot lawyer swoops in to help! You can count on DoNotPay to assist you every step of the way, regardless of whether you need to take a person or a company to small claims court.
Our App Helps You Through Numerous Red-Tape Issues
Dealing with paperwork doesn't have to be tedious. With DoNotPay's help, cutting through red tape is fast and easy. With a few clicks in our app, you'll be able to: