My Neighbor Is Blocking My Driveway. How Should I Handle the Situation?
When someone continuously parks their car on your property, you would understandably want to vandalize their car. If you're tempted to go for it, remember it is a criminal offense, and your neighbor can press legal charges.
So, what can you do if a neighbor is blocking your driveway? is here to help find a solution! We can teach you everything you need to know about dealing with bad neighbors.
How Can I Prevent a Neighbor From Blocking My Driveway?
If a neighbor frequently parks their vehicle on your driveway, it is natural to become exasperated enough to want to slash their tires or throw paint all over their car, but that is not an effective solution. If you want to prevent a neighbor from blocking your driveway, there are several methods you can use, as mentioned in the table below:
Method
Brief Explanation
Parking cones
Place parking cones outside your driveway so no vehicle can enter
Block their car
Park your car behind theirs and block them in. Once they realize the inconvenience they've caused, they may stop.

Make sure not to obstruct the public highway. It is a criminal offense, and you could face legal consequences

Call a tow truck
If you've given several warnings and your neighbor refuses to listen, get a tow truck to tow their car
Should I Talk to My Neighbor About the Issue?
The best possible way to resolve this situation is by talking to your neighbor. It's important to keep your cool when talking to them. Anger and aggression will only worsen the problem.
Explain to your neighbor how their car is constantly blocking your driveway and causing an inconvenience. You could ask why they keep doing it. Do they have an issue with parking space, or do they genuinely not realize they're parking on your property? Request that they find a solution instead of being a trouble to you.
Can DoNotPay Help Me if a Neighbor Is Parked in My Driveway?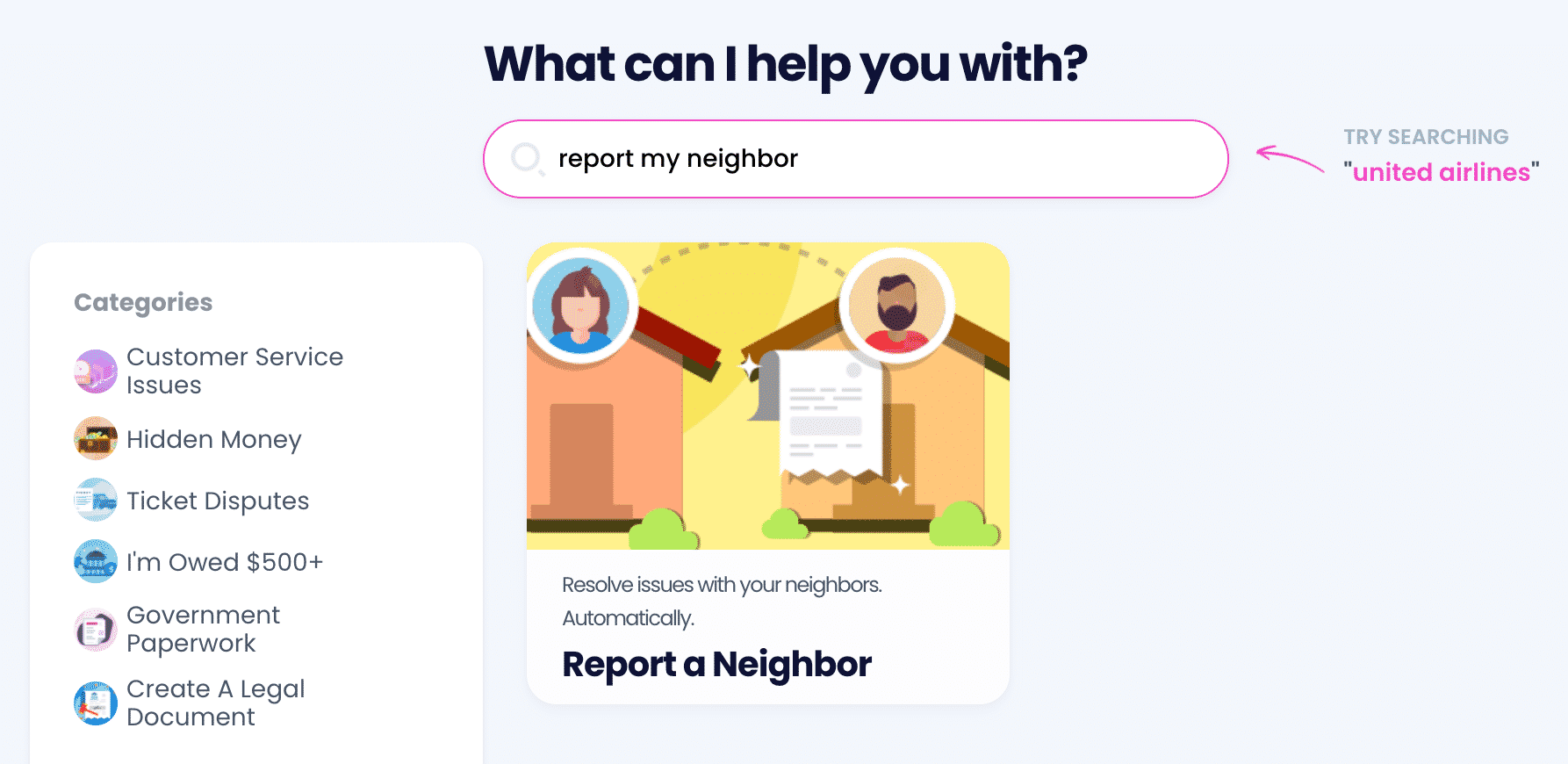 Being polite and trying to solve a problem with a conversation doesn't always work. If this method fails, you can draw up a demand letter and send it to your neighbor. The letter should include all facts, such as:
Documented proof of blocked driveway
Number of instances when they blocked your driveway
The way it affected you
Legal actions if they don't respond
Financial compensation if they have caused any damage
Writing demand letters can be confusing and overwhelming, so let us do the hard work! All you need to do is follow these quick instructions:
in your web browser
Go to the Neighbors Complaints section
Select the type of neighbor problem you're having
Provide additional information to personalize the document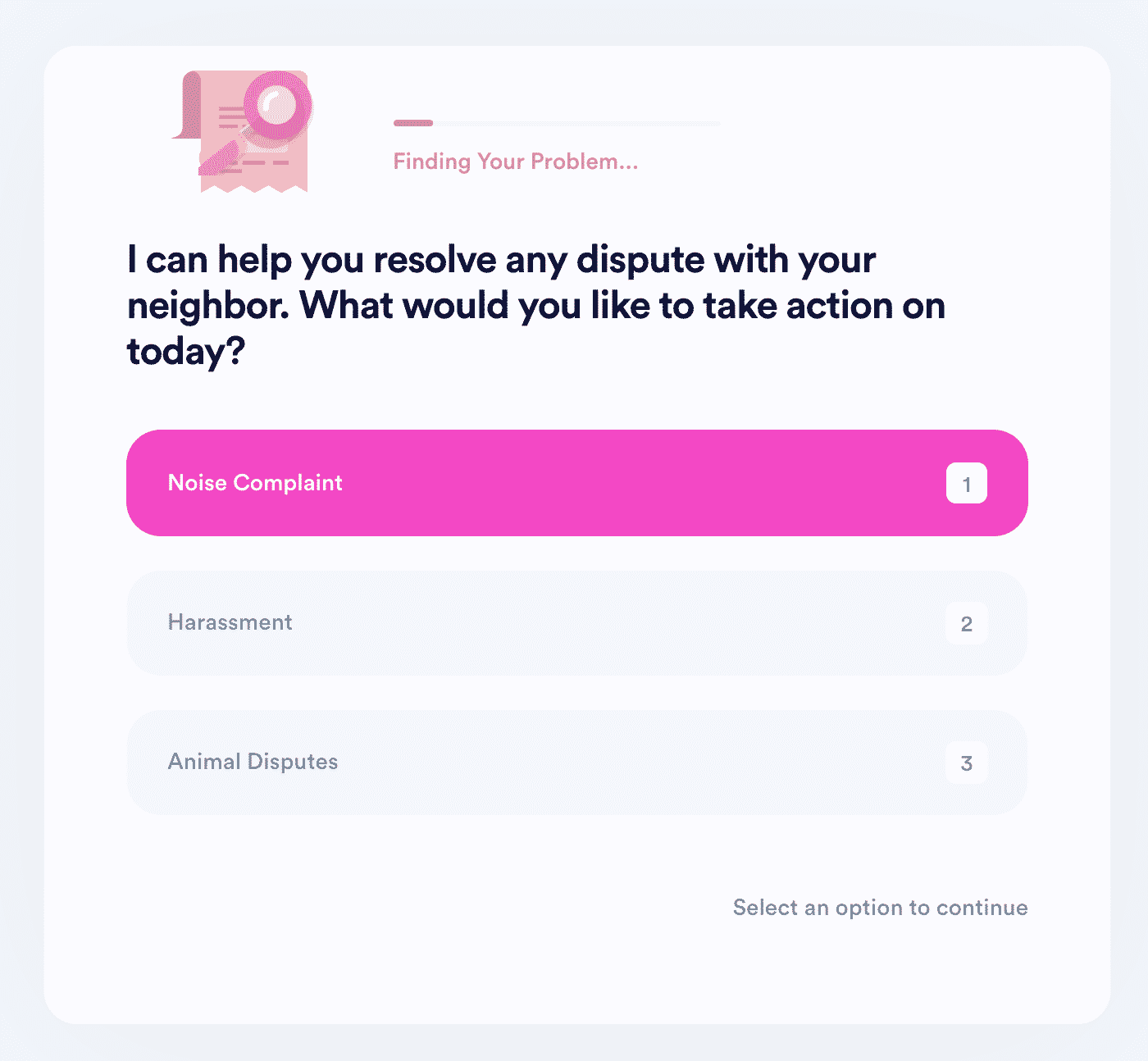 That's it! We'll draft the letter and send it to your neighbor. A demand letter should be enough to convince your neighbor that they need to put an end to their problematic behavior.
If your neighbor still doesn't take you seriously, you should file a formal complaint with the local authorities.
A Neighbor Is Still Blocking Your Driveway? What Are the Next Steps?
As a homeowner, you have special rights to park in your own driveway. A driveway is a private property, and anyone parking on your driveway is trespassing on your property. If any individual wants to park on your driveway, they need your verbal and written consent to do so.
Has a neighbor parked their vehicle on your property? You can file a complaint with the local authorities, but since trespassing is a civil offense, they are not likely to get involved. The most they can do is request the owner to move their vehicle to another location.
Every state has different parking regulations, but most states prohibit parking in front of a public or private driveway. If another vehicle is within four feet of the driveway, the parking police will side with the homeowner.
If your neighbor doesn't stop even after the official complaint, you can push a legal claim for nuisance. You can declare that the driver is interfering with your property use. Make sure you have photographic evidence of the nuisance, along with the date and time of the incidents.
How Can DoNotPay Help Me With Other Neighbor-Related Issues?
We can help you with all types of neighbor-related problems, including:
When You're In Over Your Head, DoNotPay Swoops In
With your virtual assistant extraordinaire, many tasks will be a breeze to deal with.
No fax machine? No problem! Use DoNotPay to send faxes online. If you don't want to waste time waiting in lines or on the phone, we come to the rescue with many of our products that will help you:
What Else Does DoNotPay Have in Store for You?
You can count on our assistance when you want to get rid of:
Our app has even more to offer—try out our hacks that will save you money and do the heavy lifting in numerous tasks: