Neighbor's Barking Dog—A Letter of Complaint To Fix Your Troubles
New neighbors are always exciting—unless they have a loud dog. When the commotion becomes unbearable, don't lose sleep—write a letter to your neighbor about the noise. When trying to find a convenient solution for your neighbor's barking dog, a letter written in a friendly manner is excellent for avoiding conflict.
Are you not sure where to start? Be it noise, harassment, or loud pets—you can resolve any neighbor issue the easy way when you .
Why Write a Letter to a Neighbor About Their Barking Dog?
Besides the apparent reason—it annoying the hell out of you—some reasons why you should write a complaint letter are:
The barking might bother other neighbors as well—you can ask other neighbors to sign your complaint letter and back you up on this issue—the more, the merrier!
The dog might be dangerous to bypassers—if the dog is aggressive, the barking could result in a dog bite
The dog might be suffering abuse or neglect, and the barking could be a cry for help—no animal deserves to suffer, and your actions could save the dog
When Should I Write a Letter to My Neighbors About the Barking Dog?
Before writing a friendly letter to your neighbor or filing a complaint about the barking dog, you should explore other possibilities:
Talk to your neighbor and see what's wrong—maybe the dog is having difficulties adjusting to its new home
Your new neighbor's dog could also be afraid of the moving-in process—for example, people carrying massive furniture around the house— and the dog might calm down when everyone settles
Dogs often bark at people they don't know—let the dog sniff you and give it a few treats so you're not a stranger anymore
You tried everything you could, but the dog is still noisy, and your neighbors won't do anything about it? It might take a complaint letter for your neighbors to take you seriously and to stop the barking.
How To Write a Complaint Letter About the Barking Dog by Yourself
Once you decide to take this step, you should get acquainted with everything your letter needs to contain.
Your complaint letter should include the following information:
Your name and address
The neighbors' names and address
Your reason for writing a complaint letter
Your suggestion on how to resolve the problem
The consequences your neighbors will face if they don't respond to the letter
Your signature
If you're annoyed by the thought of having to write the letter by yourself, you can let DoNotPay make a demand letter for you before you can say 'barking dog.'
Sample Letter to a Neighbor About Barking Dog
Keep the letter simple and straightforward. Cut to the chase—express your concerns and propose a solution. You can use this sample letter as a guide while writing your complaint letter:
[Your name]
[Your address]
[Date of writing]
[Name of neighbor]
[Address of neighbor]
Dear neighbor,
My name is [insert your name], and I live at [insert your address]. I'm writing to you regarding your barking dog. I'm worried about [insert your concerns here].
I suggest [indicate how you'd like them to fix the problem]. I'd like you to fix the issue within [insert preferred time frame], but I would be very grateful if you could resolve it as soon as possible.
If the problem persists, I'm afraid I will have to pursue legal action.
Please contact me via [insert contact information] if you'd like to discuss the issue in detail.
Sincerely,
[insert signature]
[typed name]
Write a Barking Dog Complaint Letter to Your Neighbors Using DoNotPay
DoNotPay made the Neighbor Complaint feature so people like you can sleep without troubles again. To mail a custom complaint letter to your neighbors using DoNotPay, do the following:
in your preferred browser
Select the issue you're dealing with—noise, animals, or harassment
Give us the details—all your attempts at solving the problem and the compensation you demand
After you answer all questions, DoNotPay will send the letter to your neighbor directly and spare you a post office trip.
Check out other articles from our learning center that can help you handle bad neighbors legally with ease:
| | |
| --- | --- |
| Category | Articles |
| Noise complaints | |
| Animal complaints | |
| Harassment | Civil Harassment Restraining Order Against a Neighbor |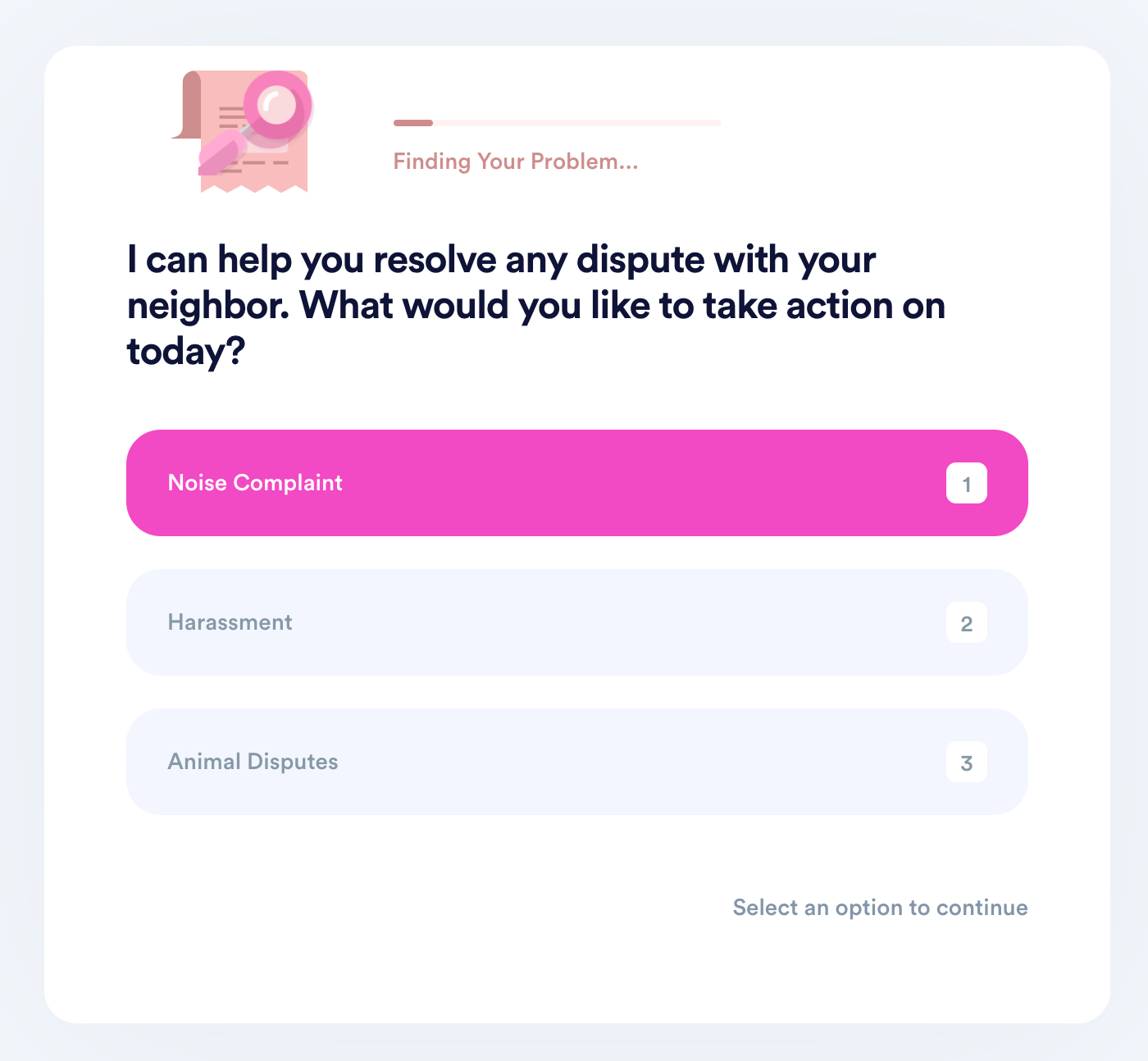 No Lawyer—No Problem! Rely on the World's First Robot Lawyer
When you're in a bind but you can't afford a lawyer, there is still something you can do—sign up for DoNotPay and let our award-winning app give you a hand. With our expertise, the following tasks will be a piece of cake:
Free Yourself From Boring Tasks With DoNotPay's Help
Our AI-driven app comes in handy for numerous bureaucratic or administrative chores that usually take up a lot of time. With DoNotPay's speedy service, even the most tiresome task will be complete in a flash!
You can forget all about waiting in line at the DMV and being on hold with customer service—we will get you to the finish line in a few clicks. Tired of the old snail mail? Use DoNotPay to mail letters fast. Better yet—fax your documents using our app. If your document requires a notary's signature, we can assist you in scheduling a virtual appointment.