A Brief Guide to Finding a Nebraska Scholarship Hassle-Free
Tuition fees for colleges in Nebraska can be quite high, and many U.S. citizens struggle to provide for their education. That's why the government and numerous companies, universities, and non-governmental organizations (NGOs) offer financial aid—such as scholarships and grants—to help students in their quest for knowledge.
The problem with these scholarships is that there are a lot of them, and the relevant information is scattered all over the internet—it's hard to get the best scholarship if you don't know where to look. That's why we've composed this Nebraska scholarship guide to show you how you should go about it.
We'll also explain how you can use DoNotPay to get a list of all scholarships you qualify for and apply hassle-free.
How To Find Scholarships in Nebraska
The first question that comes to mind when trying to find out what scholarships are available is where you should look for them. Here are some options:
Your school's financial aid office—Most high schools have an office where you can find out about scholarships you may be eligible for. The school staff will help you by telling you where to start your search, whether you're a high school senior or junior
College counselors—Similarly, every college has an employee you can turn to if you're looking for a college or graduate school scholarship
Nebraska Department of Education—The NDE has a list of all available scholarships on their website
Different organizations and NGOs—A lot of organizations offer scholarships aimed at a specific group, which you may belong to. For instance, there are scholarships for women, veterans, moms, the disabled, international students, and similar
Organizations devoted to specific ethnicities—As is the case with most states, Nebraska has a plethora of scholarships dedicated to minorities—Hispanics, Muslims, Africans, Filipinos, etc.
Scholarship websites—Scholarship programs run their own websites where they provide all the necessary information
DoNotPay—The chances are that you won't find out about half of the scholarships you're a good match for during your search. The problem occurs because there's no one place that will show you all the available Nebraska college scholarships—except for DoNotPay. By signing up for our app, you can get a list of every Nebraska scholarship you're eligible for in a few minutes!
Nebraska Scholarships Eligibility Requirements
Depending on the ethnicity, gender, and place of residence of the applicant and the scholarship amount (which can go from $250 to $10,000), there are scholarships that have to deal with a significant number of applicants. To make sure they give the opportunity to the right candidates, they set strict eligibility requirements.
To give you an idea of the requirements you need to fulfill, we've selected several popular scholarships. Check out this table for more info:
Scholarship
Eligibility Requirements
Amount
Susan T. Buffett Foundation

2.5 GPA minimum or 80 overall
Full-time matriculate at one of the in-state public colleges
Expected Family Contribution (EFC) below $10,000
Graduated from a high school in Nebraska

$4,350 per semester
Sowers Club of Nebraska

U.S. citizen with residence in Nebraska
Cumulative GPA of at least 3.0
Registered for 12+ credits per term
Regular participation in extracurricular activities

$1,000
Davis-Chambers

Legal U.S. resident of Nebraska
High school diploma or General Education Development (GED) certificate
Enrolled at the University of Nebraska in Omaha, Kearney, or Lincoln
Satisfactory academic standing

$2,000–$4,000
MCC Board of Governors Graduating Senior Scholarship

Resident of Washington, Douglas, Dodge, or Sarpy counties
Graduating high school senior with at least 2.75 GPA
Eligible for financial assistance under FAFSA
Full-time matriculate in an MCC degree

$1,062 per quarter
Lawrence and Pauline Lemons

High school graduate from Scotts Bluff County
Student at nonprofit colleges or trade schools
Maintain full-time student status with a minimum of 12 hours
Cumulative GPA of at least 3.0

$4,000
Kearney Health Opportunities Program

High school diploma or GED certificate
Cumulative GPA of 3.0 or higher
ACT composite score of at least 23
Commitment to rural healthcare

$6,952 per year
How To Apply for a Nebraska Scholarship
Every scholarship program has its own procedure for applying. Still, there are some general steps you need to complete to get yourself a scholarship, as follows:
Find a scholarship that suits your academic ambitions
See if you fulfill all the requirements for the specific scholarship
Check out the deadlines for applying
Prepare all the necessary documentation. Most scholarships require the following:

Financial aid data
Work samples
Transcripts
Finding the Perfect Nebraska Scholarship Using DoNotPay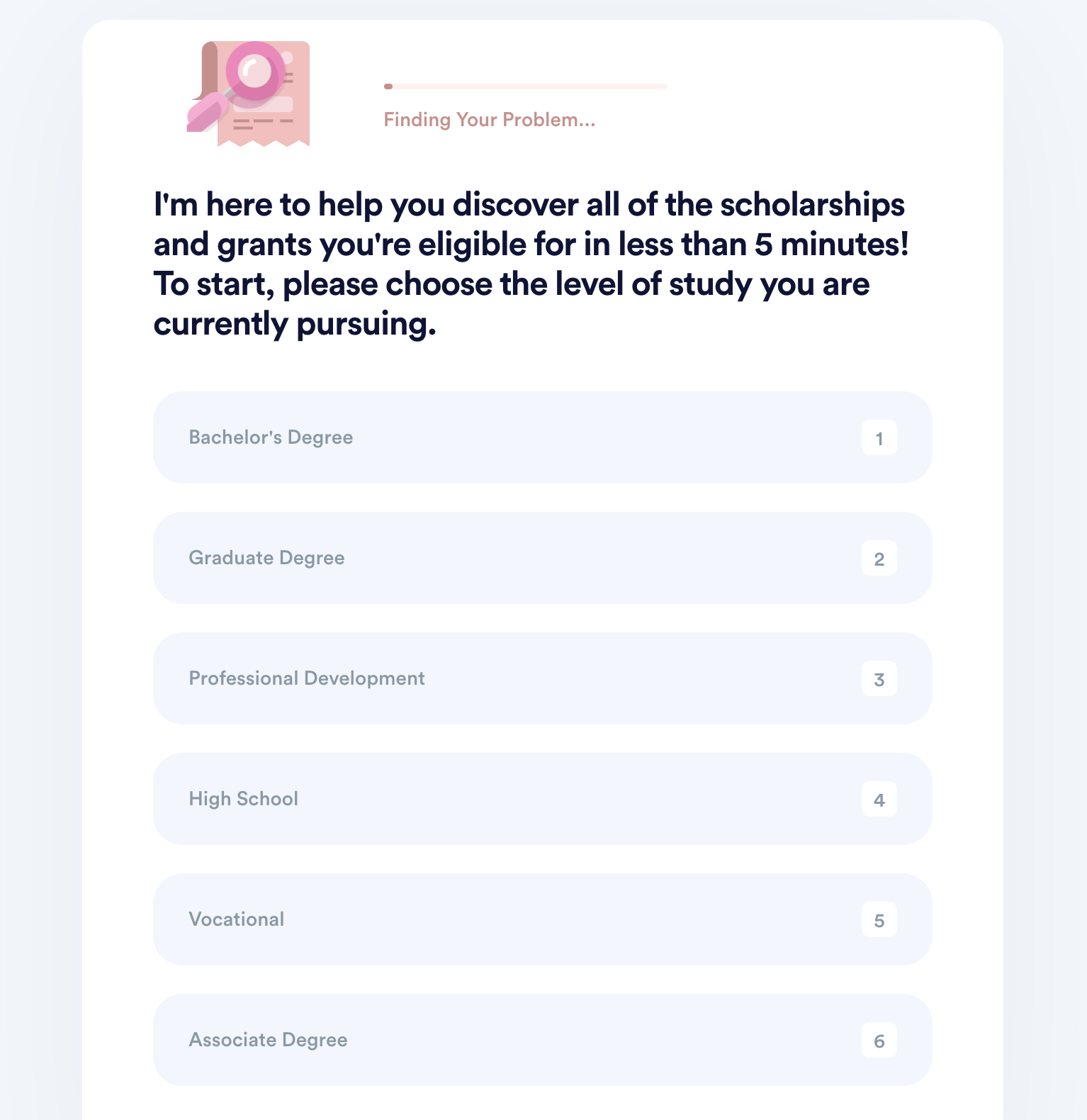 How can you make sure you have not missed out on the scholarship that would fit you best? After all, there's no way of telling if you've seen every available scholarship out there—unless you rely on DoNotPay.
With DoNotPay, you only need to provide info about yourself, and we will give you a list of all scholarships you're eligible for. You can do so in four steps:
Select the Apply for Scholarships tool
Answer a few questions about yourself and your level of study
Select the type of scholarship you're looking for
In a few moments, our app will provide you with the list of scholarships you can apply for.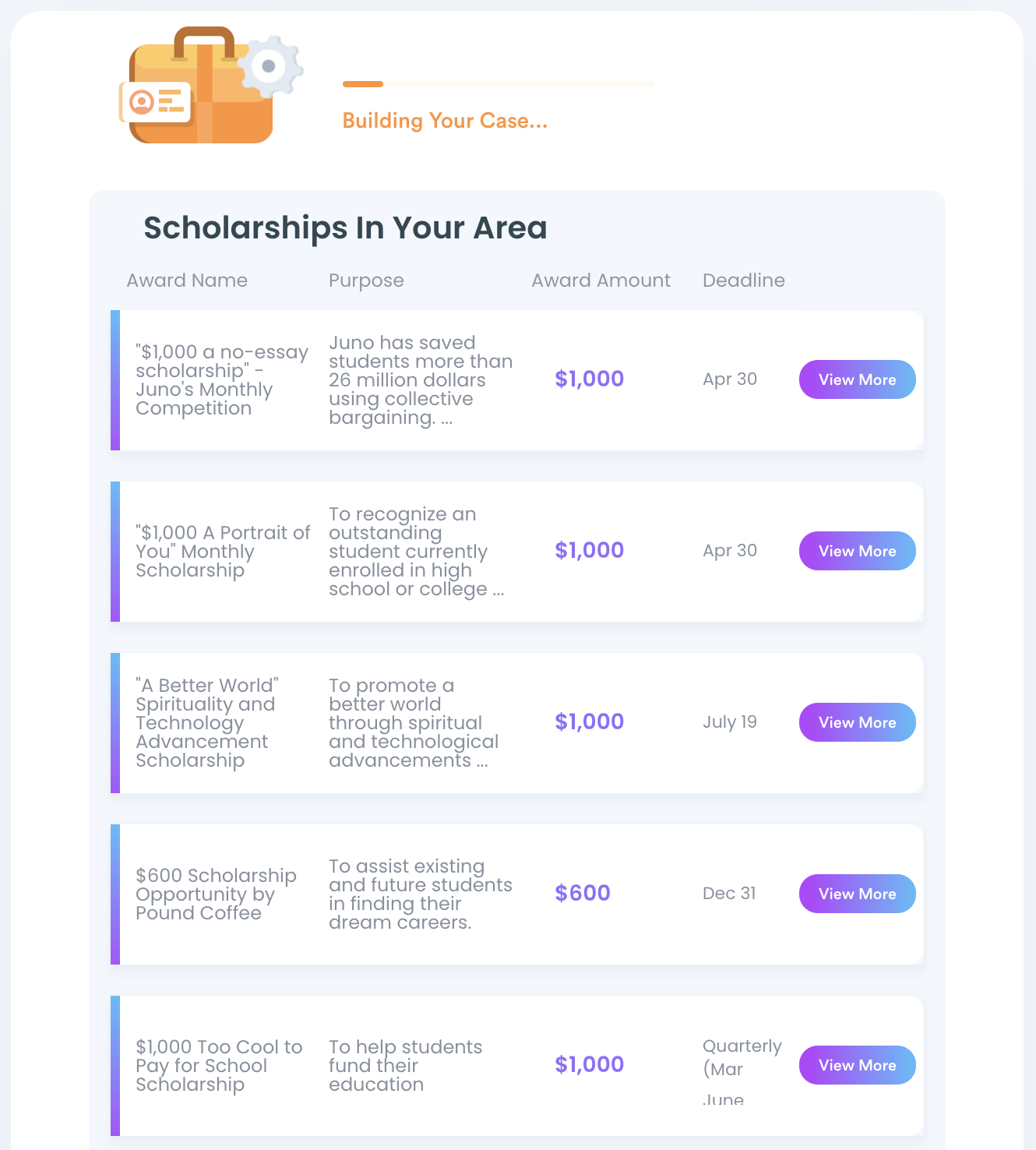 If you want to, you can use our app to apply for no-essay scholarships automatically. Since there's no extra work on your part (i.e., writing the essay), we will use the information you've given us to contact the scholarship program in question. We will inform you about the status of your application.
Explore DoNotPay's Vast Database To Handle Administrative Issues Head-On
Dealing with administrative issues is never a fun experience, but you can save yourself from unnecessary hassle with our app! Once you sign up for DoNotPay, there is little you can't do. Aside from helping you deal with everyday tasks, such as reaching customer services, you can also use our app to:
Make Your Legal Troubles Disappear
Is a company giving you a hard time? Don't fret! DoNotPay can walk you through the process of suing it in small claims court and help you get the justice you deserve!
The best part is that assisting you take companies to court isn't all our app can do! We can also help you with: